The case for the elimination of Shark Week
>When the college football playoff arrives next season, the hope is we will see fewer weeks like this one.
There are no nonconference games matching two ranked teams from big five conferences. Five ranked teams face FCS opponents, although admittedly some of those games have proved tricky.
The still-to-be-named playoff selection committee will be charged with closely scrutinizing strength of schedule. Many hope that will mean a reduction in the number of games that are basically college football's version of Shark Week.
The guarantee games pay the bills for both sides by giving the big teams, the sharks, a home game to fill their stadiums and coffers. The opponents play the role of chum but take a fat paycheck to perhaps fund a new football building or maybe counseling for their players after their horrifying afternoon being shredded by sharks. We have an ocean full of such games this week.
But let's not obsess on college football's great whites gobbling up snacks. Keep your eye out for teams that could prove themselves to be bigger and hungrier fish than originally thought.
Arizona State takes a swing at Stanford in Saturday's only game matching ranked teams. The Sun Devils are ranked but not regarded as being of Stanford's ilk, especially after the chaotic, gift-wrapped finish last week against then-No. 20 Wisconsin.
It's good to be lucky, and Arizona State was.
The officials erred in the waning seconds. It's clear Wisconsin should've had time to spike the ball and try a field goal. Although the umpire (Douglas Wilson) deserves a lion's share of the blame, Arizona State deserves some credit.
The Sun Devils thought the ball was a fumble, so a guy jumped on it. That sparked the confusion. It was an awkward play by Wisconsin QB Joel Stave. He didn't clearly and decisively go down then hand the ball to the official. By the way, some teams planned to work on doing just that this week in case they're faced with similar situations.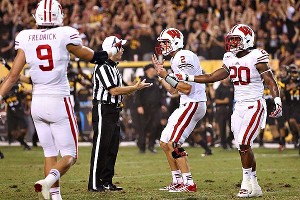 Christian Petersen/Getty ImagesQuarterback Joel Stave (2) and running back James White (20) were among those looking for answers after Wisconsin's bizarre loss at Arizona State on Saturday.
Although the rules say it's allowable to simulate taking a knee; at live speed, it looked to me, initially, as if he just put the ball on the ground. A Wisconsin player even reached for the ball initially.
I don't point this out to blame Stave, and certainly not to defend the officials. We trust officials to clean up odd plays under the rules to ensure the game is decided fairly. They should be decisive and employ a sense of urgency, particularly when faced with an expiring clock. They did neither in this game. It's too late to fix that now, and that is most unfortunate for Wisconsin.
It is quite fortunate for Todd Graham, who said he firmly believes the best team won the game. His Sun Devils are undefeated, but they are not unblemished in the eyes of many after the controversial finish.
The best way to put makeup on that blemish is to knock off the No. 5 team in the country.
For the 23rd-ranked Sun Devils, Saturday night is an opportunity to make a jump. Marion Grice is one of the more underrated running backs in the country. He's also a big-play threat as a pass-catcher. Will Sutton is disruptive on the D-line, but he looks too heavy at 305 pounds. He was 30 to 40 pounds lighter last year and was unblockable at times. If Sutton wants to throw his weight around against Stanford, he'd better do it before the Cardinal reach the red zone.
Since Kevin Hogan took over at quarterback last season, Stanford has scored on all 22 trips inside the 20-yard line. Seventeen of those scores were touchdowns. Getting Grice some space and disrupting Hogan's efficiency are Arizona State's best chances of validating its fortunate "signature" win with one that doesn't need quotation marks around it.
I got a kick out of all of the people in the preseason saying "nobody is talking about LSU." So many people were saying that nobody was talking about the Tigers that it seemed as if everybody was talking about the Tigers. Rightfully so, as new offensive coordinator Cam Cameron seems to have turned Zach Mettenberger from a cannon-armed project into a bona fide quarterback. His QBR in ESPN's new system is 91.6. That's eighth-best in the country and the biggest improvement in our ratings for any quarterback over the past two years.
Everybody knows about the No. 6 Tigers from Baton Rouge. Nobody knows yet about the Tigers visiting LSU on Saturday night. Auburn is 3-0 after pulling out tight wins over Washington State and Mississippi State. But no one will mistake Wazzu and the Stark-Vegas Dogs for the Bayou Bengals. Auburn hasn't won in Baton Rouge this century, dropping six straight.
Gus Malzahn's team is brimming with confidence after snapping a 10-game conference losing streak Saturday night. Auburn has already matched its win total from last season. Nick Marshall has been both erratic and electric at quarterback, but he has provided life to the offense. Like Mettenberger, Marshall started his career at Georgia before off-the-field issues led to a departure. That led Mettenberger to dub this "the Georgia outcast game."
It's also a game in which Auburn could prove to be accepted with the in crowd in the SEC West, but it isn't likely to find Les Miles' team snoozing.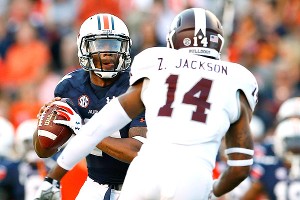 Kevin C. Cox/Getty ImagesNick Marshall is looking to do what no Auburn quarterback has done this decade: beat LSU in Baton Rouge.
"We're a team with real designs on the back end of the season. The time to work is now," The Hat said.
Translated, that means Miles thinks LSU can win the SEC and isn't likely to be cooperative in Auburn's search for a rep-building win.
Michigan State is undefeated heading to No. 22 Notre Dame. Sparty's defense stymies opponents. Sparty's offense stymies itself.
Save for some predictably good numbers against FCS member Youngstown State, the offense has been horrific. Michigan State's offense managed only 19 points in games against FBS opponents Western Michigan and South Florida. Shilique Calhoun scored 18 points by himself in those games. And he's a defensive end. There's no question Michigan State's defense is good enough to contend in the Big Ten, but can the offense find a spark against an Irish defense that wasn't stellar against Big Ten foes Michigan and Purdue?
This is a game in which neither team yet fits the shark role. But the loser is going to feel like chum.
Take note of a few other games.
Clemson goes to NC State on Thursday night. As an unranked team, the Wolfpack beat undefeated, third-ranked Florida State in Raleigh last year and No. 7 Clemson the year before that.
I know what you're thinking. The stage is set for the Tigers to "pull a Clemson." Because I'm a bold sort, I'm going to declare "pulling a Clemson" and "Clemsoning" defined as an inexplicable loss at the most inopportune time as archaic usage. The Tigers are one of seven teams to be ranked in every AP poll of the past 33 weeks. They haven't lost to an unranked opponent since a 2011 loss to … NC State. Don't expect that to come full circle this week.
Boise State at Fresno State on Friday night. The Broncos are the spoiler team this time. This is the toughest game on Fresno State's schedule. Win this and begin the BCS bowl push.
College Basketball and Football studio host; SportsCenter anchor/reporter
Rece Davis joined ESPN in March 1995 and currently serves as studio host for college football and college basketball, including his duties as host of the NCAA Women's Basketball Championship and the college basketball version of College GameDay.
Talking football

ESPN.com reporters Edward Aschoff, Heather Dinich and Ted Miller join host Chantel Jennings to discuss the weekend. Kickoff Live

TV GUIDE / #HASHTAGS
All times p.m. ET
Thursday
7:30: Clemson at NC St. (ESPN)
Tweet about it: #CLEMvsNCST
Friday
9: Boise St. at Fresno St. (ESPN)
Tweet about it: #BOISEvsFRESNO
Saturday
Noon: North Carolina at Georgia Tech (ESPN)
Tweet about it: #UNCvsGT
Noon: Florida A&M at Ohio St. (BTN)
Tweet about it: #FAMUvsOSU
3:30: Purdue at Wisconsin (ABC/ESPN2)
Tweet about it: #PURvsWIS
3:30: Utah State at USC (ABC/ESPN2)
Tweet about it: #USUvsUSC
3:30: Arkansas at Rutgers (ESPN)
Tweet about it: #ARKvsRUTG
3:30: West Virginia vs. Maryland (ESPNU)
Tweet about it: #WVUvsMD
3:30: Tennessee at Florida (CBS)
Tweet about it: #TENNvsFLA
3:30: Michigan St. at Notre Dame (NBC)
Tweet about it: #MSUvsND
7: Arizona State at Stanford (Fox)
Tweet about it: #ASUvsSTAN
7: Colorado St. at Alabama (ESPN2)
Tweet about it: #CSUvsBAMA
7: SMU at Texas A&M (ESPNU)
Tweet about it: #SMUvsTAMU
7:45: Auburn at LSU (ESPN)
Tweet about it: #AUBvsLSU
8: Michigan at UConn (ABC)
Tweet about it: #MICHvsUCONN
8: Kansas St. at Texas (ABC)
Tweet about it: #KSUvsTEX
10:15: Utah at BYU (ESPN2)
Tweet about it: #UTAHvsBYU
10:30: New Mexico St. at UCLA (Pac-12 Net.)
Tweet about it: #NMSUvsUCLA
What to watch in Week 4
Click below to see what our reporters think you should be watching for in each conference this weekend.
---

Raleigh is known for its ability to produce upsets, and Clemson is known to fall victim to an upset or two. They collide Thursday night. ACC
---

Texas and Mack Brown are obviously the biggest story of the week as they head to Kansas State, but don't forget to watch out for West Virginia QB Ford Childress, who had a breakout game last weekend. Big 12
---

Questions abound in the Big Ten: Will Braxton Miller be healthy enough to play? Will the Nebraska faithful continue to support Bo Pelini? And can Wisconsin rebound from last week's bizarre last-second loss? Big Ten
---

USC and Oregon have a chance to extend the Pac-12's phenomenal streak in nonconference games and continue to put up ridiculous offensive numbers. Pac-12
---

The game of the year is behind us, but there are still questions to be answered for both Alabama and Texas A&M. A couple of conference rivalries start up again this weekend. SEC
Upset Pick: Michigan St.-Notre Dame
Recruiting Updates
By
RecruitingNation
| ESPN.com

Led by the No. 2 recruit in the ESPN Junior 300, LSU pledge Kevin Toliver II, Jacksonville Trinity Christian Academy is loaded with big-time Division I prospects in every class, writes Gerry Hamilton. Story

| Junior 300 »
More from RecruitingNation:
• Scouts: Best available prospects in California


• Rankings: ESPN 300 | Class rankings
• Hot Board

| On The Trail

| Home
Fantasy college football
Make GameDay your game day with three ways to play fantasy football.