What does Week 8 say?
>
Maybe you've seen the doltish yet oddly amusing video by Norwegian comics that started as a spoof but went viral and poses the question: "What does the fox say?" It was born of the reality that most every animal has a uniquely distinctive noise yet the identifying sound of the fox remains a mystery.
On Saturday, we won't solve the enigma of the fox, but we'll have clarity on what the Bruin, the Cardinal (the color, not the bird), the Husky, the Seminole and two breeds of Tigers say. Metaphorically speaking, several teams will make the sound that identifies them.
"What Does the Fox Say" has about 120 million hits on YouTube, or approximately the number of hits Stanford's BCS National Championship bandwagon took with the loss to Utah last week. If the Cardinal are to make more than a spoiler's noise, they have to plow straight ahead into another challenge for the UCLA Bruins.
Plowing straight ahead is what they should've done on third-and-2 from the 6-yard line with less than a minute remaining and a timeout left against the Utes, but I digress.
The Stanford stumble came in a predictable environment. It was a letdown game against a better-than-the-record-shows team in a tough environment. Still, champions find a way to win those games.
Throughout the preseason, Stanford heard that the season-defining game would come against Oregon. Not anymore. The Cardinal's season will be defined Saturday against the Bruins. A second conference loss would eliminate Stanford from the national championship chase and likely end its conference title hopes as well. Stanford defeated UCLA twice in six days last season to win the Pac-12. Certainly, the Bruins have a vivid recollection of that disappointing finish.
UCLA can replace Stanford as the biggest threat to Oregon in the conference by winning this game. The Bruins have been stout on defense. They are 11th in the country, allowing just 4.45 yards per play. They get off the field on third down, allowing just a 24 percent conversion rate. That ranks second in the country.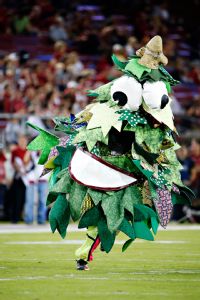 Stephen Lam/Getty ImagesIf Stanford falls at The Farm, does it make a sound?
Anthony Barr is the best linebacker that too few people have noticed. He's sixth in the nation in tackles for loss with 10. Stanford will notice him. He's noticed Stanford and is gleeful over the opportunity to go face mask-to-sternum with the Cardinal's power running attack.
Though UCLA has forced turnovers, they've come in bunches. Six of the Bruins' eight interceptions came against Utah. While the defense is stifling, it's a bit misleading to characterize them as ballhawks. In two games against Stanford last year, UCLA forced only one turnover, although the Bruins did fail to recover three other Cardinal fumbles.
UCLA can live without a bunch of Stanford turnovers, though, if the Bruins continue their defensive success on third down.
They'll have to protect quarterback Brett Hundley much better than they did in the two games last year. Stanford took up residence in the Bruins' backfield, sacking Hundley 10 times last season.
Just as UCLA has stealthily crept up in the polls, Hundley is lurking on the periphery of Heisman consideration. The supremely talented quarterback said this week, "These are the kinds of games I was born to play in."
He can emerge as a legitimate Heisman candidate over the next two weeks. The Bruins follow their trip to the Farm with a date at Oregon. But we won't need two weeks to know if Stanford makes the sound of a contender. We'll know Saturday, and we'll have a pretty good idea of how much noise the Bruins can make, too.
Does the Husky emit a challenger's bark or an also-ran's whimper after two soul-crushing defeats?
Washington has already experienced what UCLA faces: back-to-back games against Stanford and Oregon. The biggest test of the Huskies' readiness to take the next step in their progress isn't fretting over the near-miss against the Cardinal or finding solace in pushing Oregon into the fourth quarter. It is coming back from those games to beat Arizona State on Saturday.
Steve Sarkisian has stuck to the message that his team has been a good second-half team. And the second half of the season kicks off against the Sun Devils.
Washington's gaudy defensive stats took some lumps by giving up 631 yards and 45 points to Oregon. Now it faces Taylor Kelly, who is seventh in the nation in passing yards, and Marion Grice, the national co-leader in rushing touchdowns with 10. Arizona State is 4-2 and lucky not to be 3-3 after the officiating debacle against Wisconsin.
We don't exactly know if the Sun Devil says what contenders say, either, but it will be a noise-making night in the desert for them and Huskies.
An Auburn Tiger's distinctive cry is "War Eagle." How jubilant will that cry be in the second half of the season?
Auburn is 5-1, having lost only to LSU. Gus Malzahn's team has shown it can win close games against mediocre teams. Just what say it'll have to say in the SEC West starts at Texas A&M on Saturday.
We know one thing the Aggie doesn't say: "We can stop the run." A&M's rush defense is less likely to be dubbed "Aggie Wrecking Crew" than the French Maginot Line.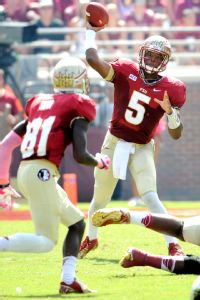 Melina Vastola/USA TODAY SportsJameis Winston might have something to say about his Heisman chances with a good showing against Clemson.
Texas A&M is among the 10 worst teams in the country in running D, allowing 5.75 yards per carry. Auburn is fifth in the country in yards per rush, averaging 6.26 yards.
In the Aggies' 63-21 humiliation of the Tigers last year, Auburn allowed nearly 700 yards and helplessly watched as Johnny Manziel put up a near-perfect QBR.
Now a retooled Auburn defense under defensive coordinator Ellis Johnson can get after the quarterback. CB Robenson Therezie has a knack for timely interceptions.
Auburn definitely has taken a step in the right direction. Stepping up and taking down Johnny Football in Aggieland would be a quantum leap forward. But I'm not sure the Tigers are ready to make that kind of noise yet.
Florida State and Clemson will have a say in the BCS championship race with their epic showdown in Death Valley on Saturday night. Some say this is the biggest game in ACC history, and I don't disagree. Both are strong enough contenders to merit BCS title game consideration with a loss, should we get to such scenario.
Leading the nation with nine sacks, Clemson's Vic Beasley is putting put the numbers many thought his cross-state counterpart Jadeveon Clowney would. How well Jameis Winston handles both the tangible pressure from Beasley and the intangible heat of his first truly hostile environment will go a long way toward telling us whether the Seminole war chant sounds like a national championship battle cry.
Clemson has already stated its case with a huge win at home against Georgia to start the season. Add another marquee win to the résumé and these Tigers will say they deserve one of the top two spots in the BCS standings, regardless of how Alabama and Oregon fare.
The Norwegian comics' query about the fox is largely rhetorical. What the Bruin, the Cardinal, the Husky, the Sun Devil, both Tigers and the Seminole say Saturday will deliver an answer. That answer will resonate long after a viral video has been forgotten.
College Basketball and Football studio host; SportsCenter anchor/reporter
Rece Davis joined ESPN in March 1995 and currently serves as studio host for college football and college basketball, including his duties as host of the NCAA Women's Basketball Championship and the college basketball version of College GameDay.
Five things to watch in Week 8
Five things we'll be watching in college football on Saturday:
1. Can "Famous" Jameis Winson handle the pressure of Death Valley?
Winston, No. 5 Florida State's sensational freshman quarterback, burst onto the scene in his college debut on Labor Day, throwing for 356 yards with four touchdowns on 25-for-27 passing in a 41-13 win at Pittsburgh. He also was very good in his second road start, throwing for 330 yards with four touchdowns and an interception in a 48-34 victory at Boston College on Sept. 28.
But Winston will face an entirely different animal when the Seminoles play No. 3 Clemson at Death Valley on Saturday night. It will be louder and much more hostile. The Seminoles haven't won at Clemson since 2001, when former FSU coach Bobby Bowden defeated his son, Tommy, in the third Bowden Bowl.
Winston looks like a legitimate Heisman Trophy candidate as a freshman, but he'll have to handle both Clemson's pressure defense and the intimidating environment to keep FSU in the BCS national championship hunt.
"The first thing that makes it a hostile environment is you're playing a good football team," FSU coach Jimbo Fisher said. "One who has very good players and knows how to play and is well-coached. They have a fan base that's passionate and they're used to winning. All of those things make it a hostile environment, no doubt."
2. Is No. 9 UCLA the class of the Pac-12 South?
The Bruins definitely look like the most complete team in the Pac-12 South, and we're about to find out how good they really are over the next two weeks. UCLA plays at No. 13 Stanford on Saturday then travels to No. 2 Oregon next week.
The Cardinal are coming off a surprising 27-21 loss at Utah last week, but they have won 12 games in a row at Stanford Stadium. The Cardinal ended the 2012 season by beating the Bruins in consecutive games: 35-17 at UCLA in the regular-season finale and 27-24 at Stanford in the Pac-12 championship game.
The Cardinal sacked UCLA quarterback Brett Hundley seven times in the first meeting last season and returned an interception 80 yards to set up a touchdown in the rematch.
3. Will No. 14 Missouri survive without quarterback James Franklin?
The Tigers are one of the country's biggest surprises, with a 6-0 start after last week's 41-26 upset at then-No. 7 Georgia. But can the Tigers keep rolling without Franklin, who was playing exceptionally well before dislocating his right (throwing) shoulder against the Bulldogs? Franklin, who completed 67.7 percent of his passes for 1,577 yards with 14 touchdowns and three interceptions before his injury, is expected to miss the rest of the regular season.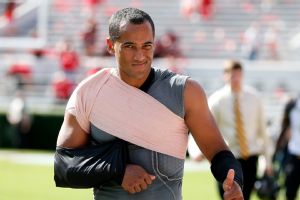 Kevin C. Cox/Getty ImagesMissouri beat Georgia, but lost starting quarterback James Franklin in the process.
Redshirt freshman Maty Mauk will make his first collegiate start in Saturday's home game against No. 22 Florida. Mauk, the younger brother of former Cincinnati quarterback Ben Mauk, was a two-time Gatorade Ohio Player of the Year after a record-breaking career at Kenton High School. He set national prep records for passing yards (18,932), touchdown passes (219), completions (1,353) and total offense (22,681).
Mauk has completed five of six passes in the three games he's seen action this season. He'll face a Florida defense that ranks in the top five nationally in scoring defense (13.0 points), total defense (235.3 yards) and passing defense (152 yards).
4. Does No. 4 Ohio State have anything to worry about against Iowa?
If the Buckeyes have shown a weakness during their 6-0 start, it has been their pass defense, which ranks 77th nationally, allowing 240 yards per game. It didn't help the OSU secondary when safety Christian Bryant was lost for the rest of the season with a broken ankle a few weeks ago.
Fortunately for Ohio State, the Hawkeyes haven't thrown the ball exceptionally well this season. Iowa ranks 85th nationally in passing (209.5 yards), and quarterback Jake Rudock is completing 60.3 percent of his passes for 1,202 yards with eight touchdowns and six interceptions. Worse, the Hawkeyes managed only 23 rushing yards in a 26-14 loss to Michigan State at home on Oct. 5.
The Buckeyes have defeated Iowa six consecutive times at the Horseshoe and 12 of last 13 contests overall.
5. Can No. 24 Auburn take advantage of No. 7 Texas A&M's porous defense?
The Tigers are one of the most-improved teams in the country under first-year coach Gus Malzahn, who directed Auburn's offense during its national championship season in 2010.
The Tigers' defense will face a stiff test trying to slow down quarterback Johnny Manziel, who scored five touchdowns (three rushing) in a 63-21 victory at Auburn last season. He completed 16 of 23 passes for 260 yards, while running nine times for 90 yards.
Auburn's best chance might be a shootout, and quarterback Nick Marshall is coming back after missing last week's 62-3 rout over FCS foe Western Carolina with a knee injury. The Aggies are allowing 321.5 passing yards per game and 13 touchdowns over their last four games. Marshall hasn't thrown a touchdown since Oct. 5, but he also has the mobility to hurt opposing defenses.
ESPN Senior Writer
Senior college football writer
Author of seven books on college football
Graduate of the University of Georgia
Talking football

ACC reporters Andrea Adelson and David Hale join host Chantel Jennings to preview the conference showdown between No. 5 Florida State and No. 3 Clemson. Pac-12 reporter Kevin Gemmell, Big Ten reporter Brian Bennett and SEC reporter Edward Aschoff also join the panel to talk about the other big games around the country in Week 8. Kickoff show

TV GUIDE / #HASHTAGS
All times p.m. ET
Thursday
7:30: Miami at UNC (ESPN)
Tweet about it: #MIAvsUNC
Friday
8: UCF at Louisville (ESPN)
Tweet about it: #UCFvsLOU
Saturday
Noon: South Carolina at Tennessee (ESPN)
Tweet about it: #SCvsTENN
Noon: Georgia at Vanderbilt (CBS)
Tweet about it: #UGAvsVAN
Noon: Texas Tech at West Virginia (FS1)
Tweet about it: #TTUvsWVU
Noon: TCU at Oklahoma State (Fox)
Tweet about it: #TCUvsOKST
12:21: Florida at Missouri (ESPN3)
Tweet about it: #UFvsMIZZ
3: N. Illinois at Central Michigan (ESPN3)
Tweet about it: #NIUvsCMU
3:30: Iowa at Ohio State (ABC/ESPN2)
Tweet about it: #IOWAvsOSU
3:30: UCLA at Stanford (ABC/ESPN2)
Tweet about it: #UCLAvsSTAN
3:30: Auburn at Texas A&M (CBS)
Tweet about it: #AUBvsTAMU
3:30: Oklahoma at Kansas (ESPN)
Tweet about it: #OUvsKU
3:30: Indiana at Michigan (BTN)
Tweet about it: #IUvsMICH
3:30: BYU at Houston (ESPNews)
Tweet about it: #BYUvsHOU
6: Washington at Arizona St. (Pac-12 Net.)
Tweet about it: #UWvsASU
7: Arkansas at Alabama (ESPN)
Tweet about it: #ARKvsBAMA
7: LSU at Ole Miss (ESPN2)
Tweet about it: #LSUvsMISS
7: Iowa State at Baylor (ESPNU)
Tweet about it: #ISUvsBAY
7:30: USC at Notre Dame (NBC)
Tweet about it: #USCvsND
8: Florida State at Clemson (ABC)
Tweet about it: #FSUvsCLEM
8: Wisconsin at Illinois (BTN)
Tweet about it: #WISCvsILL
10: Washington State at Oregon (FS1)
Tweet about it: #WSUvsUO
10:30: Oregon State at Cal (ESPN2)
Tweet about it: #ORSTvsCAL
What to watch in Week 8
Click below to see what our reporters think you should be watching for in each conference this weekend.
---

It's all about the ACC QBs this week. Bryn Renner returns after missing the Virginia Tech game two weeks ago to face Miami on Thursday night. Syracuse's Terrel Hunt looks for a breakout versus Georgia Tech. And then there's that little Tajh Boyd-Jameis Winston showdown at Death Valley. ACC
---

The Red River stunner has come and gone and now it's time for Oklahoma to pick up the pieces against Kansas. Speaking of getting back on track, Oklahoma State's J.W. Walsh has struggled and needs to have a big game against TCU to settle the doubt. Big 12
---

Northwestern and Michigan are coming off conference losses and it's safe to say they aren't the most confident of Big Ten contenders, which could mean Minnesota and Indiana, respectively, could have upsets on their minds. Big Ten
---

The battle of Pac-12 North vs. South continues this week with UCLA-Stanford and Washington-Arizona State. Which division emerges victorious could say a lot about how the country views the conference as a whole. Pac-12
---

Injuries continue to be the name of the game in the SEC. James Franklin, Matt Jones, Todd Gurley and others are still sidelined. On the other hand, Auburn should feel a lot better about its chances versus Texas A&M with the return of starting quarterback Nick Marshall from injury. SEC
Upset Watch: Maryland-Wake Forest
Recruiting Updates
By
RecruitingNation
| ESPN.com

Missouri keeps winning on the field, but now it's trying to make progress recruiting in SEC country, especially talent-rich Florida and Georgia. Derek Tyson »
More from RecruitingNation:
• Best 2014 recruiters


• Rankings: ESPN 300 | Class rankings
• Hot Board

| On The Trail

| Home
Fantasy college football
Make GameDay your game day with three ways to play fantasy football.