So you didn't reach your goals ...
>
"Certain things, they should stay the way they are. You ought to be able to stick them in one of those big glass cases and just leave them alone. I know that's impossible, but it's too bad anyway."
Holden Caulfield's lament in "The Catcher in the Rye" is one that illustrates the sense of resignation several college football teams face right now. These teams started with lofty goals for the season, but now, after devastating losses, those goals can't be reached and big glass cases are going to remain empty.
South Carolina tops the list of teams faced with redefining their goals. It's not a certainty that the Gamecocks' glass case can't hold an SEC championship trophy, but the BCS Championship Game appearance that typically accompanies the conference title is off the table.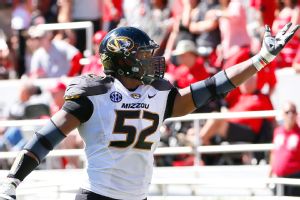 Kevin C. Cox/Getty ImagesMissouri DE Michael Sam leads the nation in sacks.
After a last-second loss to Tennessee last week, Steve Spurrier takes his team to Missouri, where the season hangs in the balance. Motivation will be hard to muster should the Gamecocks fall again this week. Florida State already wrecked Clemson's season, so the Gamecocks won't even have that carrot at the end of the stick when they play to end the regular season.
Now I'm not saying South Carolina would punt the season if it loses to Missouri. Spurrier is way too good and the Gamecocks have too many talented, dedicated players to imply that they'd go in the tank. I'm saying that disappointment and disillusion over botching a game at Tennessee followed by failing to salvage their last shot at the SEC East title will be tough on the players' psyche.
The Gamecocks will have to cobble together the remnants of their goals without first-string quarterback Connor Shaw. The senior quarterback might dress but isn't expected to play. Junior backup Dylan Thompson is a gifted passer, but he's not as elusive as Shaw. Being elusive is a valuable trait against Mizzou defensive end Michael Sam, who leads the SEC and is second in the nation with nine sacks.
Defensive line play is why the Tigers aren't just a team that's taken advantage of opponents with injury-ravaged rosters. They are legit. With Sam and Shane Ray coming from the edges, they don't even have to blitz to put heat on quarterbacks. When sending four or fewer pass-rushers, Missouri leads all schools from AQ conferences with 21 sacks and 61 total pressures (hurries, knockdowns and sacks).
What are the odds that I'd wax effusively about pass-rushers who attend college in Columbia and Jadeveon Clowney wouldn't be the topic?
The battle for the title of top SEC team from Columbia commences in the Show-Me State on Saturday. With less threat of the quarterback run, Sam and Ray might tweak the state nickname to challenge Cocky's offensive line: Show-Me-You-Can-Slow-Me State.
South Carolina's in-state rival has to hit the reset button, too. After touching the rock, running down the hill and face-planting against Florida State, Clemson is fortunate to still be ranked ninth in the BCS. If not for the biggest day of top-10 carnage in six years, the Tigers' tumble would've been much worse.
"It's only one game. We're still in the race."
Those words were no doubt spoken in the Clemson athletic complex this week, but everybody knows the Tigers are only in the race mathematically. The chances of Florida State losing two ACC games without the Tigers falling again is as likely as the "Duck Dynasty" dudes joining the Dollar Shave Club.
A beating like the one Clemson endured leaves scars. Offensive coordinator Chad Morris gently called out quarterback Tajh Boyd. While emphasizing that the whole debacle can't be blamed on the senior, Morris added, "It all starts and ends with the quarterback."
Yes, it does. What will we see from Boyd now that his Heisman hopes are gone along with his team's championship hopes? Ordinarily, this week's game against Maryland would be a snake pit for the Tigers. But the Terps are injury-ravaged again with playmakers Stefon Diggs and Deon Long out for the season. Diggs tweeted a scripture from Proverbs:
"A man's spirit can sustain his broken body, but when spirit dies, what hope is left?" Proverbs 18:14

ACE (@StefonDiggss) October 20, 2013
How vibrant Clemson's spirit is, and Maryland's, too, for that matter, will be the biggest factor in whether either team can successfully pursue new goals.
Like Clemson, Texas A&M, LSU and Louisville can't just leave their old goals alone. All three were unceremoniously bounced from the national championship picture in Week 8.
After a disheartening loss to Auburn, the Aggies face Vanderbilt, which just finished off what was left of Georgia's dreams. The Commodores could turn the Aggies' campaign into a full-blown dumpster fire with a win Saturday.
LSU quarterback Zach Mettenberger had a rough night against Ole Miss. The loss left the Tigers in need of major help to win the SEC West. Not only do they need to beat Alabama, but hope the Tide lose again.
The team that appears to be the biggest threat to the Tide is Auburn. Though LSU beat Auburn, Gus Malzahn's team is ahead of the Bayou Bengals in the standings. LSU has Furman this week and a bye next week, meaning Les Miles has three weeks to gear up for Alabama.
Louisville will bounce back from its loss to UCF against South Florida. The Bulls have improved but they have no shot at winning this game. The more interesting storyline will be whether the Cardinals play angry. Head coach Charlie Strong had told his bunch all season that it is the best team in the nation. Now it's not even atop the American Athletic Conference. Will the Cardinals flourish now that the pressure is off?
UCLA was knocked from the ranks of the unbeatens at Stanford last week. Threatening insult to their injury, the Bruins follow the trip to the Farm with a jaunt to Oregon.
Oddly, of all the teams having to redefine their goals after losses last week, UCLA was largely unaffected. This week won't have much of an impact, either, at least not from a mathematical standpoint in the division race. Even if the Bruins lose they'd, at worst, be a game out of the lead in the Pac-12 South. UCLA would still be in position to win its remaining games and earn a spot in the conference championship game again.
But that's not to say this game doesn't carry stakes for the Bruins.
UCLA failed its first measuring-stick game. Here's another one.
Stanford's pressure got Brett Hundley out of sorts. His 34.7 QBR was his worst of the season. Two of his three worst career performances have come against the Cardinal. Pressure was a common denominator. In those two games, Hundley was sacked 11 times.
Now here come the Ducks, ranking in the top 15 in the nation in sacks. While Hundley is athletic and elusive, pressure has rattled him. To be fair, it bothers all quarterbacks and against Stanford last week, three freshmen on the offensive line were probably far more shaken than Hundley. Hundley did what great leaders do; he took responsibility, saying he can help his inexperienced line more by making better checks and getting the ball out of his hand. Such discipline and composure will be sorely needed Saturday night in Eugene.
UCLA isn't supposed to win. Should the Bruins pull the upset, they would be in as good a position as any one-loss team in the country. Think of it as keeping that ultimate goal stored in one of those glass cases but being agile enough to change objectives if necessary.
That is a level of maturity that will be tested for many on the final Saturday of October.
College Basketball and Football studio host; SportsCenter anchor/reporter
Rece Davis joined ESPN in March 1995 and currently serves as studio host for college football and college basketball, including his duties as host of the NCAA Women's Basketball Championship and the college basketball version of College GameDay.
Five things to watch in Week 9
Five things we'll be watching in college football on Saturday:
1. Will UCLA quarterback Brett Hundley bounce back at No. 3 Oregon on Saturday?
The biggest factor in Saturday's key Pac-12 contest at Oregon might be UCLA's ability to protect Hundley. After allowing a whopping 52 sacks in 2012, UCLA's revamped offensive line played well in the first five games of the season, but then allowed four sacks in last week's 24-10 loss at Stanford. Now the Bruins won't have tackle Conor McDermott (separated shoulder), and tackle Simon Goines (knee) is questionable. UCLA is already playing without left tackle Torian White, who will miss the rest of the season with an ankle injury.
Against Stanford, the Bruins lined up two freshmen on the right side of their offensive line, and Xavier Su'a-Filo moved from guard to tackle on the left side. Hundley threw for a season-low 192 yards and his linemen were penalized four times for false starts.
"If [Goines] plays, at least we'll have some consistency," UCLA coach Jim Mora said. "It was tough [against Stanford]. Three of our top four tackles were out, and we were scrambling a little bit."
Oregon's defense is tied for 13th nationally with three sacks per game, and junior defensive end Tony Washington already has 6.5 sacks. UCLA's running game has also been hampered by the loss of tailback Jordon James, who missed the last two games with a sprained ankle.
2. Is there any chance No. 2 Florida State looks past NC State after last week's big win?
It's highly doubtful. The Seminoles were ranked No. 3 when they lost 17-16 at NC State last season, a defeat that knocked them out of the BCS national championship race. FSU blew a 16-0 lead in the second half of that game, and the Wolfpack won on Mike Glennon's 2-yard touchdown pass to Bryan Underwood on fourth-and-goal with 16 seconds left.
FSU coach Jimbo Fisher has used that loss as motivation for his team all season, and he was quick to remind them about the bitter defeat shortly after FSU blew out then-No. 3 Clemson 51-14 at Death Valley last week.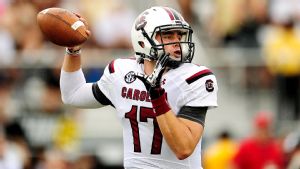 Stacy Revere/Getty ImagesDylan Thompson will step in for Connor Shaw against a Missouri team on a roll.
"Feel that pain," Fisher said. "Pain is preparation. You want that pain again? Don't prepare. You want to eliminate that pain? Prepare and take care of your business."
3. Can No. 5 Missouri keep it going?
The Tigers have obviously benefitted by playing Georgia and Florida at opportune times given those team's injury problems. But the Tigers also defeated the Bulldogs on the road and the Gators at home without starting quarterback James Franklin (for the fourth quarter at UGA and entire Florida game) and cornerback E.J. Gaines. Last year, when Missouri limped through a 5-7 finish in its first season in the SEC, it was plagued by a plethora of injuries.
Now the Tigers have a two-game lead in the SEC East and can essentially wrap up a trip to the SEC championship game in Atlanta by defeating No. 21 South Carolina at home on Saturday. The Gamecocks aren't expected to have starting quarterback Connor Shaw, who sprained his knee in last week's 23-21 loss at Tennessee. The Gamecocks had only 15 yards of offense in the final 15 minutes without him. Dylan Thompson will probably get the start against Missouri, which lost 31-10 to the Gamecocks last season.
4. Will No. 6 Stanford get caught looking ahead to Oregon?
Cardinal coach David Shaw better hope not because Oregon State is playing really good football, winning six in a row after losing its opener 49-46 to FCS foe Eastern Washington. Beavers quarterback Sean Mannion leads FBS quarterback with 2,992 yards and he has thrown 29 touchdowns with three interceptions. OSU receiver Brandin Cooks already has 76 receptions for 1,176 yards with 12 touchdowns.
The Cardinal, which hosts No. 3 Oregon on Nov. 7, leads FBS teams in pass defense, allowing only 247.1 yards per game. Besides holding UCLA to a season-low in offense last week, Stanford held Arizona State to only 50 rushing yards in a 42-28 win on Sept. 21.
5. Does No. 4 Ohio State have anything to worry about against Penn State?
The Buckeyes have won 19 games in a row, but they've hardly been dominant during Big Ten play, beating Wisconsin by seven points, Northwestern by 10 and Iowa by 10. In last week's 34-24 win over the Hawkeyes, OSU's defense allowed 222 yards of offense in the first half and then surrendered an 85-yard touchdown pass that tied the score at 24 late in the third quarter.
Penn State is more than capable of moving the ball against OSU's defense. The Nittany Lions haven't played since their 43-40 win over Michigan in four overtimes on Oct. 12. Freshman quarterback Christian Hackenberg is completing 58.4 percent of his passes for 1,672 yards with 11 touchdowns and six interceptions.
ESPN Senior Writer
Senior college football writer
Author of seven books on college football
Graduate of the University of Georgia
Talking football

ESPN.com reporters Edward Aschoff, Heather Dinich and Ted Miller join host Chantel Jennings at 2 p.m. ET to discuss the weeks news and break down the weekend's biggest games.
Kickoff show

What to watch in Week 9
Click below to see what our reporters think you should be watching for in each conference this weekend.
---

Bobby Bowden will be on hand to help Florida State celebrate its return to Tallahassee and last week's big win over Clemson. But NC State will be in town too, and it has its own celebrations in mind. ACC
---

Unbeaten Texas Tech ended up in the top 10 of the first BCS standings and will get a chance to earn it right of the bat when the Red Raiders head to No. 15 Oklahoma. Big 12
---

The Big Ten will be looking to its quarterbacks to have big games on the road this week. One, Nebraska's Taylor Martinez, may or may not return to the field against Minnesota after five weeks removed because of injury. The other two, underclassmen Connor Cook and Christian Hackenberg, are in their first full seasons running the offenses at Michigan State and Penn State, respectively. Big Ten
---

The state of Oregon will host the two biggest Pac-12 matchups of the weekend. Oregon State hosts Stanford in Corvallis and Oregon gets UCLA in Eugene. Pac-12
---

SEC football starts early this week with a showdown between Kentucky and Mississippi State. Then Saturday, all eyes will be on two quarterbacks who didn't start the season but have big shoes to fill -- South Carolina's Dylan Thompson and Missouri's Maty Mauk. SEC
Upset Watch: Stanford-Oregon St.
Recruiting Updates
By
RecruitingNation
| ESPN.com

DE Da'Shawn Hand, No. 4 in the ESPN 300, will be one of many elite prospects visiting Tuscaloosa when Alabama takes on Tennessee. Derek Tyson

More from RecruitingNation:
• Food matters in recruiting »
• Rankings: ESPN 300 | Class rankings
• Hot Board

| On The Trail

| Home
Prime-time Pregame: PSU-OSU
Fantasy college football
Make GameDay your game day with three ways to play fantasy football.