Gearing up for the second half
The No. 1 team in the polls has lost the past two Saturdays. Nebraska lost at home to a previously unranked Texas team that had been previously pummeled by UCLA. That would be the same Bruins team that is last in the Pac-10 among teams not named Washington State. Accept my quick apology for the gratuitous poke at the improving Cougars. That string of results is surprising.
But nothing, and I mean nothing, brings the tumult of the first half of the season into focus more than this: If Vanderbilt were to beat South Carolina on Saturday, the Commodores would be in first place in the SEC East. First place. Alone. Controlling their own destiny. To Atlanta. As in the SEC Championship game.
The court stipulates that is a most unlikely turn of events, but I point it out for this reason.
The most overused phrase in college football right now is "if they run the table." Run the table? Child please. Teams should be happy just to have a spot at the table. I'm sure some teams in automatic qualifying conferences will likely win the rest of their games. Write me from your new mansion on Maui if you pinpoint exactly who that will be. If you had South Carolina running the table before last week, you lose.
[+] Enlarge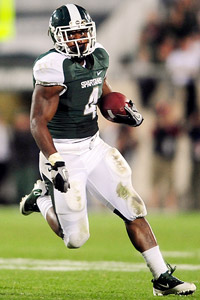 Andrew Weber/US PresswireEdwin Baker and Michigan State have sported one of the nation's most balanced offenses.
So rather than expending a lot of energy on BCS combinations and permutations of teams that could "run the table," let's just try to see who can get the Week 8 ball in the corner pocket without scratching.
The BCS standings are just taking shape, and will change a lot over the second half of the season. Similarly, teams need to make some halftime adjustments as they head to the second half.
Michigan State will have to adjust to its surroundings. Oct. 23 will be the first time this season the Spartans have played a game outside the state of Michigan.
Sure, Ann Arbor is no picnic for the green and white, but the surroundings are still familiar. Mark Dantonio's team showed a lot of maturity to beat back feisty Illinois last week.
They'll need to have a full supply of that maturity this week in Evanston against Northwestern. This is a classic lookahead game. Michigan State has won its past two trips to Ryan Field, but it's an early start, 11 a.m. CT, with a trip to Iowa looming next week.
The Wildcats are sneaky. Did you realize QB Dan Persa is fourth in the nation in passing efficiency and fifth in total offense, accounting for 326 yards per game? I'm sure stud linebacker Greg Jones knows it. He'll be busy trying to corral Persa.
Northwestern also has a knack for getting into and winning close games. Dating to last season, nine of the Cats' past 11 games against FBS opponents have been decided by seven points or fewer. Of those nine games, Northwestern has won seven. It is 3-1 in such games this season.
Michigan State's extraordinary balance on offense could be too much for the Cats' defense to handle. Edwin Baker and Le'Veon Bell are among the top 45 rushers in the country. Kirk Cousins is having an outstanding season.
A win this week sets up Michigan State for a gargantuan showdown with Iowa next week. With Ohio State conspicuously absent from the schedule, it looks as if only that trip to Iowa stands between the Spartans and running the table … oops.
Nebraska's season halftime adjustment comes in terms of focus. The Huskers spent much of the first half of the season pointed toward the Texas game, whether they want to admit it or not. Texas had its pride on the line. The Huskers might have been wound a little tight. They laid a massive egg. Now they have to get over it and get a handle on the ball.
Nebraska remains among the most fumble-prone teams in the country. They are tied with Georgia Tech for most fumbles at 23. The Huskers have lost eight of them, which is third-most in the nation. Eight is also the number of dropped passes Nebraska had against Texas.
[+] Enlarge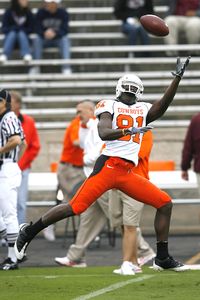 Aaron M. Sprecher/Getty ImagesJustin Blackmon versus the Nebraska secondary will be a matchup to watch this weekend.
Dropped passes aren't a problem for Oklahoma State's
Justin Blackmon
. He leads the nation in receiving yards per game and is second in catches. His battle against the Huskers' stud corners, Prince Amukamara or Alfonzo Dennard, will be the most entertaining individual matchup of the week to me. All three guys have "next level" written all over them. Nebraska leads the nation in pass defense and pass efficiency defense.
Just a week ago, the Huskers were in the national championship conversation. The combination of this game and the Missouri-Oklahoma game could determine whether Nebraska is even realistically in the Big 12 North hunt by the end of the day. It's a rather large game. Oh, and there's the little matter of the Cowboys still being undefeated. This is easily their biggest test. Their thrashing of Texas Tech should have given them a confidence boost.
After beating Ohio State, you'd figure Wisconsin wouldn't need to adjust much. On the field, that's exactly right. It has a tough running game and solid defense. The major adjustment for the Badgers is not to be a South Carolina. The Gamecocks beat then-No. 1 Alabama and spit it right back out by blowing a huge second-half lead at Kentucky.
Now the Badgers have to get back down from the euphoria of beating Ohio State and deal with Iowa. There's one major difference: With all due respect to the Wildcats, they aren't Iowa. Some believe the Hawkeyes are the best team in the Big Ten.
It wouldn't hurt if Wisconsin could work the wide receivers into the mix a little more. Badgers wide receivers have one TD catch this season. Wisconsin won't change who it is. It believes it can run on anyone. But Iowa has the Big Ten's leading rush defense, with a monster D-line that has Adrian Clayborn, Karl Klug and Mike Daniels all ranking in the top 15 in the Big Ten in tackles for loss. There won't be a better battle in the trenches this week than the Hawkeyes' defensive line against the Badgers' behemoths on the offensive line.
Bret Bielema's team is playing for the eighth consecutive week. The bye mercifully comes next week. We'll see how much Wisconsin has left in the tank in a most hostile atmosphere.
This is the first of three huge home games for the Hawkeyes. Michigan State comes calling next week. Ohio State rolls in three weeks after that. If the Hawkeyes stay in the national title conversation, they will earn it.
The LSU-Auburn game has major BCS implications. One gets its first loss and a de facto two-game deficit in the SEC West. Kelvin Sheppard and Drake Nevis lead a defense that is as suited as any could be to slow down Cam Newton. It just remains to be seen whether that's possible.
The problem for LSU is keeping up on the other side of the ball. The Bayou Bengals have shown little capability to mount the type of aerial assault that has given Auburn's defense trouble. Both teams have a way of pulling games out of the fire late. LSU's issue is being productive enough offensively to get it to that point.
I hope you'll join us for "College Football Final" late Saturday night. Mark, Lou and I will put the final stamp on what figures to be a season-shaping day in the SEC West, Big 12 and Big Ten. The "BCS Countdown" show Sunday night (ESPN, 8:15 ET) gives you an exclusive first look at the BCS standings. If we've learned one thing over the past two weeks, it's not to expect the status quo to continue.
Weekend Watch
By Mark Schlabach
ESPN.com
Five things I'll be watching in college football this weekend:
1. Will Auburn quarterback Cameron Newton be able to run the football against No. 6 LSU's defense in Saturday's SEC West showdown at Jordan-Hare Stadium?
Newton leads the SEC and ranks No. 11 nationally in rushing with 122.9 yards per game. He's on pace to become the first SEC quarterback to pass for 2,000 yards and run for 1,000 yards in the same season, and he already has four games with 170 rushing yards or more (the only other Auburn player to accomplish that feat was Bo Jackson).
But LSU's defense leads the SEC and ranks No. 6 nationally in run defense, allowing only 83.6 yards per game. The Tigers might load up the box on defense to try to slow down Newton. Tigers defensive coordinator John Chavis might have to pick his poison, though, because Newton also leads the SEC and ranks No. 2 nationally in pass efficiency with a 180.5 rating.
2. Can No. 18 Arizona beat Washington without quarterback Nick Foles?
Foles isn't expected to play after spraining his right knee in the first half of last week's 24-7 victory over Washington State, and Wildcats coach Mike Stoops isn't sure when his quarterback will be back.
If the Wildcats are going to stay in the Pac-10 race, they'll need a strong effort from backup quarterback Matt Scott, who completed 14 of 20 passes for 139 yards with one interception against the Cougars last week. Scott is a mobile quarterback and might find running room against the Huskies, who rank 98th nationally in total defense, allowing 416.8 yards per game.
Washington is coming off a 35-34 victory over Oregon State in double overtime in which quarterback Jake Locker threw a career-high five touchdowns.
3. Will anyone notice what TCU is doing this season?
The No. 5 Horned Frogs are 7-0 going into Saturday's home game against Air Force and are playing defense as well as any team in the country. TCU came within a field goal of shutting out three straight opponents, which hasn't happened since Boston College did it in 1992.
The Falcons might have got caught looking ahead last week, losing to much-improved San Diego State 27-25 on the road. Air Force has the country's No. 1 rushing offense with 346.9 yards per game, and its option attack will be a big test for the Horned Frogs.
4. Which team will step forward in the SEC East?
Georgia, which started the season by losing four of its first five games, is suddenly only a half-game out of first place. The Bulldogs have won two games in a row and can climb back to .500 by winning at Kentucky on Saturday night.
The Wildcats are coming off a 31-28 upset of South Carolina last week and can climb into the SEC East hunt with another victory. The No. 21 Gamecocks are still in control of the division, but they'll have to play at Vanderbilt on Saturday without star tailback Marcus Lattimore, who is out with a badly sprained ankle. South Carolina has lost eight consecutive SEC road games.
5. Can North Carolina keep on winning?
The Tar Heels have won four games in a row going into Saturday night's game at Miami, which is pretty remarkable given that they are missing most of their star players.
The bad news continues to pile up for the Heels, who learned Wednesday that they'll have to play the rest of the season without junior cornerback Charles Brown and at least one more game without star cornerback Kendric Burney.
Brown is the sixth UNC player to be declared ineligible for the season, joining defensive tackle Marvin Austin, defensive end Robert Quinn, receiver Greg Little and safeties Brian Gupton and Jonathan Smith.
The school said Burney has an "unresolved issue" related to the NCAA's ongoing investigation into improper contact with agents and academic fraud and won't play against the Hurricanes.
Viewer's Guide
All times ET
Thursday
9 p.m.
UCLA at Oregon (ESPN)
Saturday
9 a.m.
: "
College GameDay
" from Columbia, Mo. (ESPNU)
10 a.m.
: "
College GameDay
" from Columbia, Mo. (ESPN)
11 a.m.
: "College Football WhipAround" (ESPNU)
Noon
: Michigan State at Northwestern (ESPN)
Purdue at Ohio State (Big Ten Network)
Syracuse at West Virginia (ESPN2)
Notre Dame vs. Navy (CBS)
3:30 p.m.
: LSU at Auburn (CBS)
Wisconsin at Iowa (
ABC, ESPN
)
Nebraska at Oklahoma State (
ABC
)
Kansas State at Baylor
7 p.m.
: Alabama at Tennessee (ESPN)
7:30 p.m.
: North Carolina at Miami (ESPN2)
8 p.m.
: Oklahoma at Missouri (
ABC
)
Air Force at TCU (CBS College Sports)
10:15 p.m.
: Washington at Arizona (ESPN)
Preview: Oklahoma-Missouri
Blog Network: What To Watch
Each week, our bloggers will take a closer look at the storylines you should be watching. What's on tap for Week 8?

Both Georgia Tech and Virginia Tech can become bowl-eligible this weekend if they win.
ACC

Faurot Field may not have a reputation as one of the toughest stadiums in which to win in the Big 12, but that might change for Saturday's game against No. 1 Oklahoma.
Big 12

Rutgers true freshman quarterback Chas Dodd will be making his first road start. Can he continue the fourth-quarter magic he's showed the past two games?
Big East

If you love line play and power football, pay attention Saturday afternoon at Kinnick Stadium.
Big Ten

Was the win at Washington a breakthrough for Arizona State? Well, we should know Saturday at California.
Pac-10

It looks like Georgia is starting to get it defensively and is playing much more instinctively in Todd Grantham's scheme.
SEC

The Navy senior class is trying to join the Class of 1937 and the Class of 1964 as the only classes to beat Notre Dame three times.
Non-AQs

Notre Dame's biggest issue this week is its receiving unit, and defending the triple option requires major discipline.
Notre Dame
What Scouts Are Watching
Here's a look at five things Scouts Inc. will be watching closely this week.
Air Force's impressive ground attack
Air Force leads the FBS in rushing offense at 346.8 yards per game, thanks in large part to the scheme the Falcons run. Defenses know the run is coming but are kept off-balance by the variety of formations Air Force utilizes.
To read the rest of this breakdown, plus four others, click here

.
Scouts' Edge: Week 7 Previews
Get in-depth scouting reports of key games as Scouts Inc. breaks down what to watch.

• Wisconsin at Iowa | Oklahoma at Missouri
• LSU at Auburn | Nebraska at Oklahoma St.
• UCLA-Oregon | Scouts' edge home

Fantasy College Football
By ESPN Fantasy
Check out College Football Challenge, our new fantasy game. Each week, our fantasy gurus will provide players or units that should be on Challenge owners' radar screens.