Time For Toe To Meet Leather
Over the past month, I've hosted a roundtable discussion aimed at designing a blueprint to fix college football and in addition to that, I interviewed NCAA President Dr. Mark Emmert for an hour. We talked about scandals, reforms, enforcement, ridiculous rules and generally what needs to change in college football.
Make no mistake: There are things that need to change. Players need to be legitimate students. Players don't need to be shopped during recruiting. Players don't need to hang out with people who have more money than morals and engage in all manner of unethical behavior.
I would like to see players be able to capitalize financially on their popularity and do so legitimately in the marketplace. All of those issues are pertinent and must be addressed to "fix" college football. But there's plenty about the sport that "ain't broken."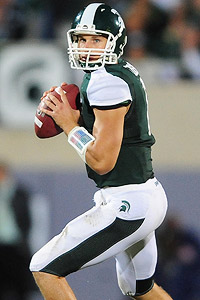 Andrew Weber/US PresswireQuarterback Kirk Cousins is a shining example of what's right with college football.
If you feel a touch of cynicism creeping in, check out Michigan State quarterback Kirk Cousins' speech at Big Ten media days. Cousins epitomizes what's great about the sport and the men who play it. He's certainly not the only one. Stanford's Andrew Luck, new Missouri quarterback James Franklin, Wisconsin's Russell Wilson, Boise State's Chris Potter and Alabama's Barrett Jones are among the numerous shining examples of what's right.
The most significant regular season in sports also remains unbroken. Whether you'd like to see a full-blown playoff, a plus-one model or anything in between, the system we have produces three-plus months of drama that takes the most unexpected turns in the unlikeliest of places. There's nothing like it, whether this is a season in which national-championship contenders can't afford a single blemish -- as we've had the past two years -- or a season like 2007, in which even two losses didn't stop LSU from winning it all.
Either LSU or Oregon will be rooting for a more chaotic campaign by the end of Saturday night. A loss won't eliminate either. But it will eliminate the margin for later error. The winner will almost certainly move to the top spot in my ESPN.com power rankings.
The specter of the offseason looms significantly in this one. Cliff Harris' 118 mph joyride -- which, by the way, would have just been 8 mph shy of the pole-winning speed for the Sprint Cup race on the Watkins Glen road course -- brought new meaning to his description as a speed merchant. It also drove him to Chip Kelly's doghouse with a suspension.
LSU is without QB Jordan Jefferson, suspended indefinitely for his role in a brawl. Given his inconsistent play last season (he led TD drives on only nine of 49 possessions against SEC teams that went to bowls), I'm not sure whether his absence leaves big shoes to fill. But he certainly has lots of shoes to fill. The Baton Rouge police discovered that Jefferson has more shoes than Zappos and confiscated them as part of their bar fight investigation. Jefferson did play well in the Cotton Bowl last season. His finish was one of the reasons so many are so high on LSU. How do the Tigers compensate? How much will Oregon miss Harris' supreme cover and return skills? OK, they'll probably have the return game covered, with all that speed.
[+] Enlarge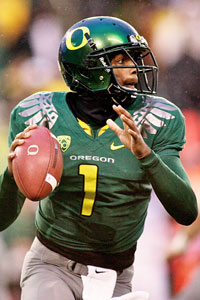 Craig Mitchelldyer/US PresswireDarron Thomas was nearly a member of the Bayou Bengals.
I expect Darron Thomas to be razor-sharp. He was a lock to go to LSU out of high school, but the story is that Tigers coach Les Miles mentioned the word "athlete." Not exactly an insult, but touchy when a recruit wants to hear "quarterback" instead. Thomas has a chance to show the Mad Hatter what he almost had.
It's another one-game season for Boise State against Georgia. The twist is that it's also a two-game referendum on the Dawgs. After Georgia faces the Broncos, it hosts South Carolina. The temperature on Mark Richt's hindquarters will be evident after those two. Kellen Moore will become major college football's biggest winner at some point this season when he breaks Colt McCoy's record of 45 victories. Moore will need to establish a new comfort zone without Austin Pettis and Titus Young. Practice reports say that occasional drops cropped up as BSU coach Chris Petersen and new offensive coordinator Brent Pease search for replacements. Tyler Shoemaker has experience, but he's the only guy on the roster with more than 21 career catches. That was a good game for the combination of Pettis and Young.
What do you want to bet that freshman Isaiah Crowell gets the first touch? He carried his own baby bulldog Uga on signing day. Symbolic, perhaps, of him carrying the Bulldogs' rushing attack, which was the third-worst in the SEC last year. It's a tough two-week stretch to start, but I really like the Dawgs' chances to win the SEC East. No Alabama, LSU or Arkansas on the schedule, and they get Cocky at home. Whether they can take advantage of that might be heavily influenced by their mindset coming out of the Georgia Dome on Saturday night.
This time of year, everyone has questions. How will Oklahoma handle its defensive losses? Who is Alabama's quarterback? Is Florida State ready to handle the hype? What effect will Jim Harbaugh's departure have on Andrew Luck? Who is this year's Auburn? Will Ohio State and Miami band together or melt down? Can Nebraska rip through the Big Ten? Does Wilson make Wisconsin a national title contender?
Mark May and Lou Holtz are stretched and ready. They want to compete with Craig James and Jesse Palmer's Thursday workouts. We've got some cool new things coming on College Football Final Saturdays at midnight ET. All three of us are on Twitter now. Follow us. We'll keep an eye on it all throughout the day. Time to put scandal and reform on the back burner and put the ball on the tee. Time for toe to meet leather.
Weekend Watch
By Mark Schlabach
ESPN.com
Here are five things to watch on the opening weekend of the 2011 college football season:
[+] Enlarge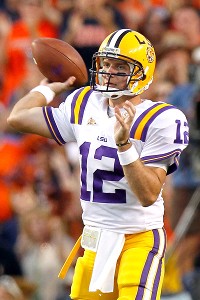 Kevin C. Cox/Getty ImagesJarrett Lee's first go-around as LSU starter did not go smoothly.
1. Can quarterback Jarrett Lee get the job done for No. 4 LSU? Against No. 3 Oregon at Cowboys Stadium in Arlington, Texas, on Saturday night, the Tigers will be without projected starting quarterback Jordan Jefferson, who is suspended indefinitely after being arrested on felony charges of second-degree battery. Lee was forced into action as a redshirt freshman in 2008 (after Ryan Perrilloux was dismissed from the team) and threw 16 interceptions, including seven that were returned for touchdowns. With star receiver Russell Shepard also suspended for alleged NCAA rules violations, the Tigers might hand the ball to tailback Spencer Ware a lot to take some pressure off Lee.
2. Will Georgia's "Dream Team" help the No. 19 Bulldogs put last season's nightmarish campaign in their rearview mirror? Against No. 5 Boise State in Saturday night's Chick-fil-A Kickoff Game in Atlanta's Georgia Dome, the Bulldogs will be counting on freshman tailback Isaiah Crowell, receiver Malcolm Mitchell and juco transfer Jon Jenkins to deliver big performances. A UGA coach described Crowell as the "real deal," and he'd better be as good as advertised because the Bulldogs don't have much depth behind him. But Jenkins and sophomore Kwame Geathers, who will rotate at nose guard, might be the most important players for UGA in the second year of defensive coordinator Todd Grantham's 3-4 defense.
3. How good will Notre Dame quarterback Dayne Crist be coming back from a second knee injury? Crist will test his repaired left knee against South Florida in Saturday's opener at Notre Dame. Crist, who missed parts of the past two seasons after injuring both knees, beat out teammate Tommy Rees and two underclassmen for the starting job during preseason camp. If Crist stays healthy, the No. 16 Irish might have a chance to challenge for a BCS bowl bid. If Crist struggles, Irish coach Brian Kelly won't hesitate in turning to Rees, who played well in Crist's absence in 2010.
4. What will No. 18 Ohio State look like in Saturday's opener against Akron? The Buckeyes won't have former coach Jim Tressel or former starting quarterback Terrelle Pryor on the sideline. Leading rusher Dan "Boom" Herron and top receiver DeVier Posey are suspended for five games, along with two other starters. The Buckeyes probably won't be tested by the Zips, but OSU interim coach Luke Fickell needs to figure out whether he'll go through his first season with either senior Joe Bauserman or freshman Braxton Miller as his starting quarterback.
5. Alabama still hasn't settled on a starting quarterback heading into Saturday's opener against Kent State. The No. 2 Crimson Tide figures to play two quarterbacks -- AJ McCarron and Phillip Sims -- for at least the first game. McCarron has a better knowledge of the offense and makes fewer mistakes, but Sims outplayed him in scrimmages during training camp. Alabama coach Nick Saban will let them settle the battle on the field.
Viewer's guide
All times ET
Thursday
8 p.m.
: UNLV at Wisconsin (ESPN)
Friday
8 p.m.
: TCU at Baylor (ESPN)
Saturday
9 a.m.
: "
College GameDay
" from Arlington, Texas (ESPNU)
10 a.m.
: "
College GameDay
" from Arlington, Texas (ESPN)
11 a.m.
: "College Football WhipAround" (ESPNU)
Noon
: Utah State at Auburn (ESPN2)
Akron at Ohio State (ESPN)
Northwestern at Boston College (ESPNU)
3:30 p.m.
: Minnesota at USC (
ABC/ESPN2
)
W. Michigan at Michigan (
ABC/ESPN2
)
South Florida at Notre Dame (NBC)
4:45 p.m.
: BYU at Ole Miss (ESPN)
7 p.m.
: Fresno State vs. Cal
8 p.m.
: Boise State vs. Georgia (ESPN)
Oregon vs. LSU (ABC)
Rice at Texas (Longhorn Network)
Tulsa at Oklahoma (FX)
10:15 p.m.
: Colorado at Hawaii (ESPN2)
Sunday
3:30 p.m.
: Marshall at West Virginia (ESPN)
7:30 p.m.
: SMU at Texas A&M
Monday
8 p.m.
: Miami at Maryland (ESPN)
•
TV coverage maps
Blog Network: What to watch
Each week, our bloggers will take a closer look at the storylines you should be watching. What's on tap for Week 1?

Four first-year starting QBs will be introduced this weekend in Clemson's Tajh Boyd, NC State's Mike Glennon, UNC's Bryn Renner and UVa's Michael Rocco.
ACC

Everything else aside, Garrett Gilbert is ultimately the one guy who will decide how far Texas gets this season.
Big 12

There are plenty of anticipated debuts throughout the Big East: Dana Holgorsen, Todd Graham, Savon Huggins and Teddy Bridgewater are some.
Big East

After three years of relative stability in the Big Ten coaching ranks, four leading men will debut with new teams Saturday.
Big Ten

USC shouldn't have too many problems with Minnesota, but the biggest question is whether the Trojans will again show flashes of playing good defense.
Pac-10

The absences of Jordan Jefferson and Russell Shepard have the Tigers in a bit of an offensive bind to start the season.
SEC
Musburger: Offseason; Oregon-LSU
Upset watch
Georgia is coming off a 6-7 finish in 2010, and Bulldogs coach Mark Richt is under fire as he enters his 11th season at UGA.
Boise State is 38-2 in the past three seasons under coach Chris Petersen and enters the 2011 season ranked No. 5 in the preseason Associated Press poll.
The Broncos won their first 10 games in 2010 and were in the BCS national championship hunt until suffering a shocking 34-31 overtime loss at Nevada.
The Boise State bus won't make it out of Week 1 this season. Story »
Herbstreit: BCS predictions
Scouts' Edge: Week 1 previews
Get in-depth scouting reports of key games as Scouts Inc. breaks down what to watch.

• Oregon-LSU | Boise State-Georgia
• South Florida-Notre Dame
What scouts are watching
Here's a look at three things Scouts Inc. will be watching closely this week.
Georgia's challenge against Boise
The more film we watch on Georgia's offense, the clearer it becomes that the Bulldogs must dominate up front to be successful.
To read the rest of this breakdown, plus two others, click here

.
Fantasy college football
By ESPN Fantasy
Make GameDay your game day with three ways to play.


• Pick 'Em: How confident are you?
• College Challenge: Build the best team
• College Showdown: Choose wisely