Can LSU-Alabama Deliver?
It's not the guy wanting 10 grand to sell his ticket. It's not even the fact that we had a Super Bowl-like extra week to delve into every angle of the game. What really makes the LSU-Alabama game gargantuan is the fact that there's so much talk about a rematch before the first game has even been played. One of the most significant questions posed to our BCS guru, Brad Edwards, has been, "What happens to the loser in the BCS standings?" That puts the anticipation scale off the charts. Now, the question becomes: Can the game live up to the hype?
[+] Enlarge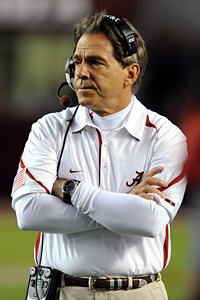 Chuck Cook/US PresswireNick Saban is as much a part of Alabama as he was LSU.
In some ways, that seems impossible. But often highly anticipated regular-season clashes between the top two teams deliver great drama. Ohio State-Michigan did that in 2006, when the Buckeyes edged the Wolverines. Notre Dame beat Florida State in a similarly hyped game in 1993.
One of those losers, Florida State, still went on to win the national title. (Mere mention of that fact sends Dr. Lou's blood pressure up quicker than Kim Kardashian files divorce papers.) So all is not lost for the team that loses, but it will certainly feel that way Saturday night.
Have you noticed how little has been made of Nick Saban facing his old school? Sure, the magnitude of the game overshadows subplots, but there are other factors. First, this is Saban's fifth season at Alabama, meaning by the end of the season he will have been in Tuscaloosa as long as he was in Baton Rouge. Second, Les Miles finally feels a full, warm embrace on the bayou. These two appear poised to build a modern-day high-stakes coaching rivalry.
For Alabama, no rivalry will ever run as deep as the one with Auburn. No rivalry will eclipse the tradition of the one against Tennessee. But in the precious present, LSU is Alabama's most significant rival. With all due respect to the history of the Bayou Bengals' rivalry with Ole Miss, in some quarters, Alabama is LSU's most important game no matter what the circumstances. One writer on an LSU blog this week wrote that Alabama is worthy of the Tigers' respect and hate.
For years, LSU viewed Alabama with the disdainful envy that the Red Sox had for the Yankees. Some sort of mishap always foiled the Tigers while the Tide rolled up championships. It gave Alabama a sense of entitlement about the rivalry.
Former Alabama coach Bill Curry has a great story about his first season in Tuscaloosa as his team was about to face an undefeated top-five LSU team. Curry wanted to make sure his team understood the difficulty of playing in a hostile Tiger Stadium at night. As he continued to try to impress upon his team the Herculean task in front of them, one player kept interrupting him by raising his hand. Finally, an exasperated Curry said to Willie Wyatt, "What is it Willie?" Wyatt responded, "Coach, the Tide don't lose in Baton Rouge." Wyatt was right. For 31 years, Alabama didn't lose in Tiger Stadium. There were a few scattered wins on the Tide's turf, but that home winless streak gnawed at the Tigers faithful.
Of course, the Red Sox got over the hump and won a couple of titles. LSU began on that path in 2000. The Tigers finally beat Alabama at home and tore down the goal posts. The goal posts haven't been touched since.
Saban coached the Tigers that day. In many ways, even against a bad Alabama team, that game signaled LSU's arrival.
Two national championships followed and the Tigers fared well against Alabama, including a couple of wins in Tuscaloosa to give the Tide a taste of frustration. LSU knocked Alabama out of the national championship race in overtime in 2005. The Tigers' 2007 national championship team made some big fourth-quarter plays in Bryant-Denny to keep Alabama from playing spoiler.
Saturday night, neither merely plays the role of spoiler. One coach dines on grass, the other on Little Debbie's. Saban and Miles may differ stylistically, but in effect they are the same. Both will roll out rosters rife with NFL prospects. They'll play pro-style, fully-grown-man-sized football. The hitting will be vicious, relentless, brutal and beautiful. These two teams are worthy of the attention, hype and even a little premature discussion of a rematch.
For the record, I'm generally against rematches. But I oppose more vehemently the notion of voters altering their ballots to manipulate the outcome. By that, I mean the loser shouldn't be voted lower than they deserve in order to avoid the rematch. Vote with your conscience and live with the consequence. Rematch or no rematch. We'll know whether we'd pay 10 grand to see it again late Saturday night.
One quick thing to watch: With so many matchups being even or the slightest of edges one way or the other, the one significant nod I'd give is to the guys who actually kick the ball for LSU. The Tigers' Australian punter, Brad Wing, could be known for more than a premature taunting penalty that cost him a TD by the end of the night.
---
Meanwhile, there are other games.
Oklahoma State welcomes Kansas State. The Pokes will be under some scrutiny to put a number on the Wildcats the way the Sooners did. K-State is still a great story, but stopping Brandon Weeden, Justin Blackmon, Joseph Randle and friends will be about the same as dealing with Oklahoma.
The Cowboys were razor-sharp against Baylor. Will they bring that same level of performance? The good news is Oklahoma State appears to be past the style points stage. Just winning will be good enough. Even so, I suspect they'll hang up some style points anyway.
By the way, put me down as believing the Cowboys' defense is better than advertised. Forcing a nation-leading 29 turnovers isn't an accident. They aren't dominant like Alabama or LSU on defense. But just as those two teams often use their offense to play to their defensive strength, the Cowboys do the opposite. They get the ball back for their offense.
---
I'm interested to see how Texas A&M handles its trip to Norman. The Aggies have now blown three double-digit second-half leads. Their season is on the verge of being the biggest disappointment in the nation relative to their expectations. Four losses after the first Saturday in November? That's not what the Ags had in mind.
Oregon has a difficult trip to Washington. The Ducks have won seven straight against the rival Huskies. All of those wins have come by at least three touchdowns.
Remember, Washington's two losses both came to top-10 teams, Nebraska and Stanford. Of course, both of those were double-digit losses, too. This is the last game in Husky Stadium before it closes for renovations. UW will be amped up. Chris Polk and LaMichael James both rank in the top five in rushing. What will Chip Kelly do with his quarterbacks? He says he won't juggle them. Darron Thomas got yanked last week in the Wazzu game. Was his knee still bothering him? Kelly won't say. Ducks who would talk say they expect Thomas to be the starter.
This countdown clock hits zero Saturday night. The BCS picture takes shape. We'll have LSU-Alabama from every angle on College Football Final. See you then.
Weekend Watch
By Mark Schlabach
ESPN.com
Here are five things to watch this weekend:
1. Can Arkansas protect quarterback Tyler Wilson?
The No. 7 Hogs have struggled to protect Wilson for much of the season, allowing 15 sacks in eight games. They'll have to keep No. 9 South Carolina's menacing defensive linemen away from him in Saturday's game at Razorback Stadium. The Hogs didn't look inspired in their past two victories (29-24 at Ole Miss and 31-28 at Vanderbilt) and fell behind by double-digits in both contests. The Razorbacks can't afford another slow start against South Carolina, which ranks No. 14 nationally in scoring defense (17.1 points per game).
2. Can Kansas State slow down Oklahoma State's passing game?
The Wildcats were exposed in a 58-17 loss to Oklahoma last week, allowing 690 yards of offense. Sooners quarterback Landry Jones threw for 505 yards with five touchdowns against the Wildcats, who suffered their first loss of the season. It won't be any easier on Saturday at No. 3 Oklahoma State, which ranks No. 2 nationally in scoring offense (49.9 points) and No. 4 in passing (373 yards). Quarterback Brandon Weeden and receiver Justin Blackmon are difficult to stop, and tailback Joseph Randle ran for 300 yards in the past two games combined.
3. Will Texas A&M rebound against Oklahoma?
The Aggies defeated the Sooners 33-19 last season, but they might be reeling after blowing a big second-half lead for the third time this season. Worse, Texas A&M's pass defense ranks dead last among FBS teams, allowing 318.3 yards per game. The Sooners won't have leading rusher Dominique Whaley, who broke his ankle against Kansas State last week. Roy Finch and Brennan Clay will probably share carries, but Jones figures to throw the ball a lot against the Aggies.
4. Does Oregon have a brewing quarterback controversy?
Oregon quarterback Darron Thomas didn't look good in last week's 43-28 victory over Washington State, and he was replaced in the second half by freshman Bryan Bennett, who threw two touchdown passes for the second game in a row. With a Nov. 12 showdown at Stanford looming on the schedule, how much patience will Ducks coach Chip Kelly have in Saturday night's game at Washington? The No. 8 Ducks also need tailback LaMichael James to get rolling again. He gained 53 yards on 13 carries against the Cougars, after missing a few weeks with a dislocated elbow.
5. Can Michigan win at Iowa?
The No. 15 Wolverines have come up empty in their past two trips to Iowa, but the Hawkeyes might be reeling after losing to lowly Minnesota 22-21 last week. The Wolverines aren't relying solely on quarterback Denard Robinson for offense anymore. Sophomore Fitz Toussaint ran for a career-high 170 yards in last week's 36-14 win over Purdue. Iowa's defense is allowing 194.8 rushing yards per game. The Wolverines will have to slow down Iowa tailback Marcus Coker, who ran for a career-high 252 yards in the loss to the Gophers.
For more things to watch this weekend, click here.
Viewer's guide
All times ET
Thursday
8 p.m.
: Boston College at Florida State (ESPN)
Friday
9 p.m.
: USC at Colorado (ESPN/ESPN3D)
Saturday
9 a.m.
: "
College GameDay
" from Tuscaloosa, Ala. (ESPNU)
10 a.m.
: "
College GameDay
" from Tuscaloosa, Ala. (ESPN)
11 a.m.
: "College Football WhipAround" (ESPNU)
Noon
: Michigan at Iowa (ESPN)
Texas Tech at Texas (FX)
2 p.m.
: TCU at Wyoming
3:30 p.m.
: Texas A&M at Oklahoma (
ABC/ESPN2
)
Stanford at Oregon State (
ABC
)
Purdue at Wisconsin (
ABC/ESPN2
)
4 p.m.
: Southern Miss at East Carolina
7 p.m.
: Cincinnati at Pitt (ESPNU)
7:15 p.m.
: South Carolina at Arkansas (ESPN)
8 p.m.
: LSU at Alabama (CBS)
Kansas State at Oklahoma State (
ABC/ESPN2
)
Notre Dame at Wake Forest (
ABC/ESPN2
)
10:30 p.m.
: Oregon at Washington (FSN)
Blog Network: What to watch
Each week, our bloggers will take a closer look at the storylines you should be watching. What's on tap for Week 10?

Maryland has questions on offense and defense. Will the Terps find answers against Virginia?
ACC

Can No. 3 Oklahoma State keep its focus against a talented and hungry No. 14 Kansas State squad?
Big 12

Cincinnati's found success in the second half, but can the Bearcats show up in the first half?
Big East

Will we see a shakeup in the division races? Not if things go as expected … which they rarely do.
Big Ten

After a triple-overtime thriller, are Stanford and USC doomed for letdown games in Week 10?
Pac-12

The focus may be on LSU-Bama, but there's plenty of other matchups to watch this week as well.
SEC
Preview: Kansas State-Okla. State
Upset watch
Kind of like last week's upset pick of Georgia Tech over Clemson, there's seemingly little reason to pick Iowa to beat No. 13 Michigan at Kinnick Stadium on Saturday. But the Hawkeyes have beaten the Wolverines in their past two meetings, scoring 68 points and gaining 750 yards in those victories.
To read the rest of this entry, click here.
Yale QB's difficult decision
Scouts' Edge: Week 10 previews
Get in-depth scouting reports of key games as Scouts Inc. breaks down what to watch.

• LSU Tigers-Alabama Crimson Tide
Fantasy college football
By ESPN Fantasy
Make GameDay your game day with three ways to play.


• Pick 'Em: How confident are you?
• College Challenge: Build the best team
• College Showdown: Choose wisely