Friday afternoon fight
The SEC currently occupies the top three spots in the BCS standings. That's unprecedented in BCS history. Whether that remains the case when the penultimate standings are released Sunday night largely depends on what happens Friday afternoon in Baton Rouge, La.: No. 1 LSU hosts No. 3 Arkansas.
[+] Enlarge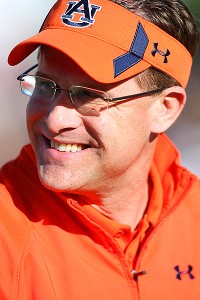 Nelson Chenault/US PresswireGus Malzahn may take a page out of LSU's book when it comes to game planning for the Tide.
The Razorbacks played in a game of the last century in 1969 against Texas. With all due respect to that game -- which saw President Nixon declare the winner, Texas, the national champion -- this one could make a case for the biggest game in school history. It's certainly the Hogs' biggest game this century.
With the exception of Alabama, no one has stayed close to the Bayou Bengals this year, but the Razorbacks have played LSU extremely well in recent years. They have won three of the last four, and none of the last five have been decided by more than eight points. The Hogs have recovered from a midseason malaise that saw them escape with wins against Ole Miss and Vanderbilt. Some of that is a return to health, but part of it is a team peaking at just the right time. Tyler Wilson has been every bit as good as I thought he'd be. His receivers are dangerous. Joe Adams is a force as a receiver and return man. But even as good as the Razorbacks are, is there anything other than recent history to indicate they match up well with this Tiger team?
I'm not sure. Arkansas has been mediocre protecting the quarterback. Wilson is getting sacked a little less than two times per game, but he's been hit even when he didn't get sacked. Alabama unleashed vicious shots on him. So did Texas A&M. Can the Hogs keep Sam Montgomery, Keke Mingo, Michael Brockers and Co. away from Wilson long enough to allow him to get the ball to Adams, Cobi Hamilton and Jarius Wright?
Arkansas hasn't been particularly stout against the run, and LSU runs a bevy of backs at you. From game to game, the feature back may be Spencer Ware, Michael Ford, Alfred Blue or Kenny Hilliard -- all of whom are physical and tough. The Razorbacks will have to stand up to that challenge. Arkansas will also be playing just days after the tragic death of TE Garrett Uekman. Football pales in comparison to the loss of a young life. By all accounts, the game and being a Razorback were important to Uekman. Playing in a manner that honors him will be important to his friends and teammates as well.
To the victor go the spoils
The winner of Friday's Arkansas-LSU tilt will eagerly await the outcome of Saturday's Alabama-Auburn game. An Arkansas win opens the door for the much discussed three-way tie in the SEC West. If LSU and Alabama both win, the Tide almost certainly advance to the national championship game while LSU would be left with another hurdle against Georgia in the SEC championship game.
While we'd have to wait on the final BCS numbers to be sure, my suspicion is that LSU has a spot in the national championship game locked up, even if it stumbles against the Dawgs. That's just a hunch. It's happened before: The formula was different, but Oklahoma didn't need to beat Kansas State in the 2003 Big 12 championship game to play in the big one. Even though Les Miles said after LSU edged Alabama in overtime, "I'd be honored to play that team again," the Bayou Bengals can be excused for rooting for Auburn. Several LSU players have tweeted that they didn't mind a rematch scenario with either Alabama or Oregon. Still, they've beaten them once. Plus, getting Alabama out of the way would further strengthen LSU's position in terms of making the national title game regardless of what happens in Atlanta next week.
[+] Enlarge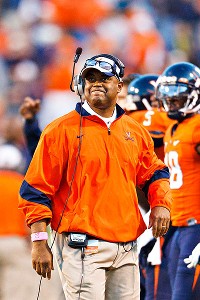 Jason O. Watson/US PresswireMike London and the Cavs are a win away from the ACC championship game.
I've often said that dragging the record books to the recycle bin when Alabama and Auburn meet is the waste of a good file. Usually, the better team and, more importantly, the team with more to play for, wins. That doesn't mean there aren't scares. Alabama needed a great final drive from Greg McElroy and Julio Jones in 2009 to outlast Auburn on their way to a national title. In 2004, a mediocre Alabama team uglied up the game enough against undefeated Auburn that some believe the pedestrian 21-6 Tiger victory sunk any chance the team had of nudging Oklahoma out of the national championship game against USC.
But the piece of recent history that is the elephant in the room is Auburn's scintillating rally from a 24-0 hole to beat Alabama 28-27 last year and save their national championship season. Signs that read "Never Again" were posted in the Alabama locker room shortly thereafter. That collapse is something they've had to live with for a year. Their chance for a measure of redemption comes on the Plains on Saturday.
Alabama's defense has been otherworldly, but looked mortal against Georgia Southern's triple option. Auburn doesn't run that style of option, but don't be surprised to see plenty of QB runs and option runs from the spread. LSU's primary running success came on the speed option. Don't think ol' Gus Malzahn won't dial up a ball play he's seen have success. Don't think Nick Saban and Kirby Smart don't realize this. Malzahn's offense has struggled this year, but has been better at home. The Tide players expect a bevy of misdirection and trickeration.
Few rivalries can match the vitriol exhibited in this one. Lately, few can match the stakes. This is the fourth straight meeting in which the national championship has been at stake for one team or the other. There hasn't been a spoiler yet.
Feast on a few rivalries
In 40 years of following college football, the only thing I can compare last weekend to is one of those old school New Year's Days from the pre-BCS era. Each game toppled another domino and cast the national title picture in a different light. The drama and the fallout were exhilarating.
This is not a call for a return to the old days; rather, context for what we experienced last weekend. For the first time in 10 years, three of the top five teams in the BCS standings lost on the same weekend. College football's preternatural upset force, Joe Tessitore, was a major factor in two of those upsets. Our buddy Joe T called Oklahoma State's loss to Iowa State and the Sooners' loss to Baylor. Guess where Joe is this week? Charlottesville, Va., for No. 5 Virginia Tech-Virginia. Frank Beamer, say hello to Dr. Chaos, the grim reaper of BCS dreams, Joe Tessitore. I'm kidding & I think.
The stakes are high in Charlottesville: The ACC Coastal Division is on the line. The Hokies are going for their fifth title in eight years. And with a bit of help (let's say, Alabama, Oklahoma State and Stanford all suffering losses), Frank Beamer's team could be playing for the national title.
But first things first: The Cavaliers have ripped off four straight wins, three on the road, to make it to the showdown. Virginia coach Mike London is a leading candidate for coach of the year along, with Kansas State's Bill Snyder. But the Cavs will need more than Tessitore's upset magic to stop David Wilson and Logan Thomas. Wilson is as dynamic as any runner in the country. Thomas isn't Cam Newton, but he has a similar frame and many of the same dual threat qualities.
---
Clemson had enjoyed a dream season before its loss to North Carolina State last Saturday. Following it with a loss to rival South Carolina could really send the Tigers to the ACC title game on a bitter note. The Wolfpack had the Tiger offense nailed. Tajh Boyd has thrown six of his nine interceptions in the last three games. He has only three touchdown passes in that span. It's quite apparent the Tigers need Sammy Watkins back and healthy. The Gamecocks are the quietest nine-win team in the country. A win in what Steve Spurrier calls our "big championship" would give Cocky just its second 10-win season in school history.
---
Georgia travels to Atlanta to take on Georgia Tech. The legendary voice of the Dawgs, Larry Munson, died this week. He was a connection to college football for me throughout my life. This rivalry was especially important to Larry. There are so many memorable Munson calls. In this rivalry game, the one I remember came in 1997. Munson said, "Our heart was torn out and bleeding, we picked it up and we stuck it back inside. I can't believe this. We won 27-24, and at the end we had no business winning this game." One of a kind. Nobody captured the passion of rivalries better than Munson, another college football treasure for which to be thankful this holiday.
---
We hope you'll spend Thanksgiving night with us in College Station for the Texas-Texas A&M game. Never have the words in the Aggie War Hymn "Goodbye to Texas University, so long to the orange and the white" been more pertinent. Barring a massive change of heart, the 118th meeting of a series that dates to 1894 will be the last for the foreseeable future. As the Aggies head to the SEC, the official reason for ending the series is that schedules are already filled. The actual reason is pride. Somebody needs to swallow that pride and keep this rivalry alive. It would take some maneuvering. It would take writing some checks to buy out of contracts. Whatever it takes, some rivalries are worth preserving. This is one of them.
Viewer's guide
All times ET
Thursday
8 p.m.
: Texas at Texas A&M (ESPN)
Friday
Noon
: Iowa at Nebraska (ABC)
Houston at Tulsa
2:30 p.m.
: Arkansas at LSU (CBS)
7 p.m.
: Pitt at West Virginia (ESPN)
Saturday
9 a.m.
: "
College GameDay
" from Auburn, Ala. (ESPNU)
10 a.m.
: "
College GameDay
" from Auburn, Ala. (ESPN)
11 a.m.
: "College Football WhipAround" (ESPNU)
Noon
: Ohio State-Michigan
Georgia-Georgia Tech (ESPN)
Michigan State-Northwestern (BTN)
Iowa State-Oklahoma (FX)
2 p.m.
: Wyoming-Boise State
3:30 p.m.
: Penn State-Wisconsin (ESPN)
Va. Tech-Virginia (
ABC/ESPN2
)
Oregon State-Oregon
(ABC/ESPN2
)
Alabama at Auburn (CBS)
7 p.m.
: Texas Tech-Baylor
7:45 p.m.
: Clemson at South Carolina (ESPN)
8 p.m.
: Notre Dame at Stanford (ABC)
Blog Network: What to watch
Each week, our bloggers will take a closer look at the storylines you should be watching. What's on tap for Week 12?

Can the ACC finally turn the tables on the SEC? Maybe, but it won't be easy. Plus, Clemson is eager to get Sammy Watkins back into the mix.
ACC

Texas A&M needs to be able to run the ball against Texas. That's why Cyrus Gray's status is so important. If he's not available, the Aggies will have to play into the Longhorns' strength.
Big 12

The Big East's BCS representative can be decided this weekend. But things have rarely been so simple in this league this season.
Big East

One half of the championship matchup is set; who will join Michigan State in Indianapolis next week? Penn State-Wisconsin should be a good one.
Big Ten

Will Matt Barkley put on a show in his final game at USC? Or is this not his final game at USC? Plus, does Oregon State have any chance in the Civil War?
Pac-12

The national championship talk is intoxicating, but the SEC also has a chance to have 10 bowl-eligible teams by weekend's end. It won't be easy though.
SEC
Upset watch
If Virginia can upset No. 5 Virginia Tech at Scott Stadium in Charlottesville, Va., on Saturday, it will win the ACC's Coastal Division and play in the Dec. 3 ACC championship game in Charlotte, N.C. The Hokies have won 11 of 12 games -- including seven straight -- against the Cavaliers.
To read the rest of this entry, click here.
Fantasy college football
By ESPN Fantasy
Make GameDay your game day with three ways to play.


• Pick 'Em: How confident are you?
• College Challenge: Build the best team
• College Showdown: Choose wisely