A most satisfying rivalry week feast
ideo1>
In the state of Alabama, life seems to revolve around family, religion and football. Robin Thicke couldn't imagine the blurred lines between those tenets when Alabama and Auburn meet in a game the magnitude of the Iron Bowl.
This rivalry is full of landmark moments and defining games. Many carry significance beyond the playing field and into the culture of the state and fan bases. After decades of opposition to moving the game from Birmingham, Ala., the teams finally agreed to play in Auburn in 1989. Former Auburn coach Pat Dye likened it to the Berlin Wall falling. Former Auburn athletic director David Housel described it using a religious connotation: "Our people came home, came to Mecca."
Hyperbolic religious metaphors that imply the Almighty smiles more favorably on Auburn chafe Alabama fans. The Crimson Tide faithful's reverence for Bear Bryant and Nick Saban as coaching deities similarly irritate Tigers fans. Let's face it. They just don't agree on much.
For all of the memorable games in this series, few have carried the national stakes that this one does. The one that most closely aligns is the 1971 clash. Both teams were undefeated and ranked in the top five and Auburn quarterback Pat Sullivan won the Heisman Trophy that year. But Alabama, in its first year running the wishbone, rolled over the Tigers 31-7 and went on to play for the national championship.
There have been countless other games in which one team was playing for a title and the other was trying to be a spoiler. There are a handful of meetings in which one was trying to keep its rival from winning an outright SEC crown or gain a share for itself.
But for the first time since the SEC split into divisions in 1992, Alabama and Auburn play for one spot in the SEC championship game. Winner take all.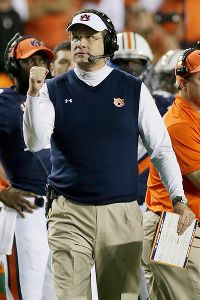 AP Photo/Dave MartinGus Malzahn-led offenses haven't been great against Alabama defenses in the past.
Technically, if the Tigers win, the two will be SEC West regular-season co-champs. But make no mistake: This is all or nothing. Considering the national championship implications also in play, the stakes have never been higher in this series.
Auburn is second in the nation and leads the SEC in rushing, averaging 285 yards per game in conference play. Alabama has held the last three Tigers offenses designed by Gus Malzahn to at least 60 yards under their SEC average, never allowing more than 151 total yards. Absent turnovers or special teams play, Auburn will need to run the ball better than that to beat a Crimson Tide defense that has allowed only five touchdowns in the post-Johnny Football part of the season.
Watch where the Auburn running backs first take contact. The Tigers get at least 5 yards past the line of scrimmage before taking a hit 31 percent of the time. That leads the conference. Alabama allows runners, on average, to get just 2 yards past the line before getting a hit on them. That also leads the SEC.
Alabama's C.J. Mosley has been brilliant at linebacker, and managing his unit's aggression early will be key.
AJ McCarron ranks 10th in the country in QBR and his importance to the Crimson Tide's offense can't be measured by the most advanced metrics. He orchestrates the running game while using his arm to keep Alabama among the most balanced offenses in the country.
Alabama seems to have used more zone runs this year, and Auburn has been vulnerable at times against the running game. If the Tigers sell out to stop the Bama ground game and dare McCarron to beat them, Alabama will have to take advantage with big plays. The Tide have the weapons to do it. Amari Cooper, Kevin Norwood and Christion Jones are dynamic threats on the outside.
Keep an eye on freshman tight end O.J. Howard in this game, too. Georgia made big plays with its tight end against Auburn. Howard is a veritable nightmare matchup for anyone.
The strength of the Tigers' defense is its pass rush, led by Dee Ford and the playmaking ability of cornerback Robenson Therezie. Veteran defensive coordinator Ellis Johnson might choose to try to force the Tide to throw it even more than normal in hopes of getting those two guys in position to make game-changing plays.
Alabama is accustomed to playing in gargantuan, hyped games. Will Auburn feel the heat or will playing at home to cap their massive turnaround season make the Tigers feel as if they're playing with house money? The mental approach will be huge.
Bragging rights will still be earned. The consequences of losing will be felt for an entire year, but this Tide-Tigers showdown is unique. The ramifications extend well beyond the borders of the Yellowhammer State and into the national championship picture.
---
Once upon a time, Ohio State-Michigan was a high-stakes affair for both sides in the national landscape. But the Wolverines' rough season has reduced them to spoiler. The Buckeyes need just one more upset above them to have a shot at playing for the national championship. Michigan could salvage its season by putting an end to that dream.
The Wolverines have lost three of the past four games and are fortunate that the slide isn't worse. Michigan gains only 3.16 yards per rush, ranking 112th in the country, and to say it has a turnover problem is like saying Two Chainz is less than subtle with his lyrics.
Michigan's defense has turned in respectable numbers, but the offense has put the defense in too many bad spots. The Wolverines will have to play at a level we haven't seen from them to have a chance. Throw in some rivalry week magic and there's always a chance. But what does it say about where Michigan is right now that I'm looking forward more to Ohio State-Michigan State than I am the Buckeyes and Wolverines? I doubt I'm alone in that assessment.
---
Clemson's season will be defined by whether it beats South Carolina.
That's harsh for a 10-win team with one of the ACC's all-time greats at quarterback, but that's the way it is.
The Tigers face-planted in their marquee moment against Florida State. They've wilted against the Gamecocks recently, too, losing four straight in the series. They've had to endure barbs from Steve Spurrier and assertions from Jadeveon Clowney that Tajh Boyd is afraid of him.
Boyd has passed for just 339 yards and has more picks than touchdowns in three games against the Gamecocks. He's also been sacked 14 times. Now is the Tigers' chance to stand up to Cocky or face having a somewhat hollow 10-win season. Beating Georgia when the Dawgs were near full strength was a great win. But that seems like a long time ago.
South Carolina is peaking and hopeful that a Missouri stumble will land them in the SEC championship game. Both South Carolina and Clemson have BCS bowl aspirations. This game will have a tinge of nasty Saturday night, and it will be delicious.
---
Watch the final score of the Florida State-Florida game. Gators brass continue to insist Will Muschamp will get one more year. How would the Noles hanging a huge number on the Gators impact that thinking? How would the appearance that the Noles were trying to hold the score down affect it?
There are no Pac-12 South implications, but Ed Orgeron could make one final statement to get the USC job by beating UCLA. I would be shocked if Coach O hops aboard Traveler on a permanent basis, but he's already given Trojans AD Pat Haden something to think about. He'd make him think even harder by avenging last year's beatdown at the hands of the Bruins.
On this Thanksgiving weekend, we have a bountiful harvest of football. Overindulge. It's worth every bite.
College Basketball and Football studio host; SportsCenter anchor/reporter
Rece Davis joined ESPN in March 1995 and currently serves as studio host for college football and college basketball, including his duties as host of the NCAA Women's Basketball Championship and the college basketball version of College GameDay.
Five things to watch in Week 14
Five things we'll be watching in college football Saturday:
1. Can No. 4 Auburn's defense slow down No. 1 Alabama's running game?
One of the biggest reasons for Auburn's sudden improvement in coach Gus Malzahn's first season is its turnaround on defense. Defensive coordinator Ellis Johnson deserves much of the credit and should be one of the favorites for the Broyles Award, which goes to the country's top assistant coach.
If the Tigers are going to upset two-time defending BCS national champion Alabama in Saturday's Iron Bowl at Jordan-Hare Stadium, they'll have to slow down the Crimson Tide's running game. After starting the season slowly, Alabama's offense has run for at least 180 yards in each of the past eight games. Sophomore tailback T.J. Yeldon has run for 1,022 yards with 12 touchdowns this season, and sophomore Kenyan Drake has added 661 yards with eight scores.
Alabama needs to run the ball effectively to keep Auburn's pass rush honest. The winner of the Iron Bowl wins the SEC West and plays in next week's SEC championship game at Atlanta's Georgia Dome.
"Defensively they have played really, really well," Crimson Tide coach Nick Saban said of Auburn. "They are hard to score on. That's the most important thing about playing defense. They create a lot of negative plays for you offensively. They have a really good pass-rushing team."
2. Does Michigan have any chance against No. 3 Ohio State?
The Buckeyes have won 23 games in a row and still haven't lost under coach Urban Meyer going into Saturday's game at Michigan Stadium. If Ohio State beats the Wolverines in The Game for the ninth time in 10 meetings, it will finish the regular season unbeaten for the second season in a row -- and still might be left out of the Jan. 6 BCS National Championship if both No. 1 Alabama and No. 2 Florida State win out.
Michigan has lost three of its past four games, including a 24-21 loss at Iowa last week. The Wolverines' offense has been especially bad, struggling to protect quarterback Devin Gardner and failing to run the ball consistently. Over the past month, Michigan has produced the lowest net rushing total for a single game in team history (minus-48 against Michigan State) and became the first FBS team in the past 10 seasons with consecutive games of minus-20 rush yards or fewer (minus-48 against MSU, minus-21 against Nebraska).
The Wolverines might have trouble keeping up with OSU's offense, which is averaging 48.7 points and 314.7 rushing yards.
"This game has always been different in some ways," Michigan coach Brady Hoke said. "Are they a good football team? Yeah, they're a very good football team. Do we have to play better than we've played? I don't think there's any doubt about that."
3. Can No. 5 Missouri finish the deal against No. 21 Texas A&M?
In their first season in the SEC in 2012, the Tigers looked overmatched, going 5-7 and losing six of eight SEC games. Now Missouri is one victory away from winning the SEC East outright. If the Tigers beat the Aggies at home on Saturday, they'll earn a trip to the SEC championship. If the Tigers lose, South Carolina will play for a championship next week.
Missouri hasn't won a conference championship since sharing a Big Eight title in 1969.
The Tigers will have to slow down reigning Heisman Trophy winner Johnny Manziel, who could be playing in his final regular-season college football game Saturday. Manziel, a redshirt sophomore, is eligible to enter the NFL draft and is expected to turn pro. He passed for 372 yards with three touchdowns and ran for two scores in Texas A&M's 59-29 victory over Missouri last season.
"I think this is fun," Missouri coach Gary Pinkel said. "This is really fun, competing for a championship. This is why you do it. It's the fourth time this has happened to us in the last seven years. It's neat to be a part of. The reason I talk about clutter and all those things is because it's still about playing well. How are you going to play your best football game?"
4. Will No. 10 South Carolina beat No. 6 Clemson for the fifth season in a row?
Although South Carolina needs Missouri to lose to play in the SEC championship and Clemson won't play in the ACC championship, there's still plenty at stake for both teams in Saturday's game at Williams-Brice Stadium in Columbia, S.C. It's the first time both teams have been ranked in the top 10 heading into the in-state battle.
"It's sort of neat that we've got two teams in the top 10 that started the season there and are still there after 11 games," South Carolina coach Steve Spurrier said. "So I know our state is proud of the two football schools we've got in the state of South Carolina. Should be a heck of a game, looking forward to seeing what happens here Saturday night."
As long as Florida State wins its next two games -- at reeling Florida on Saturday and next week's ACC championship game in Charlotte, N.C. -- Clemson might be the favorite to replace the Seminoles in the Discover Orange Bowl. But the Tigers might have to end a four-game losing streak to the Gamecocks to earn a trip to South Florida for the postseason. Clemson hasn't won in Columbia since a 23-21 victory in 2007; the Gamecocks have the longest home winning streak among FBS teams at 17 games in a row.
The Gamecocks might still be in position for a spot in the Allstate Sugar Bowl if Alabama plays in the BCS National Championship. At worst, USC would improve its position in the SEC's bowl pecking order with a fifth consecutive win over the Tigers.
5. Can No. 23 USC keep the Orgeron train going against No. 22 UCLA?
Many of USC's legendary players are closing ranks around interim coach Ed Orgeron, who has guided the Trojans to a 6-1 record since replacing the fired Lane Kiffin. USC has won five consecutive games going into Saturday night's regular-season finale against rival UCLA in the Crosstown Rivalry at the Coliseum.
USC won 12 of 13 games against UCLA from 1999 to 2011, but UCLA won last season 38-28. Orgeron knows the Trojans will have to a better job of containing Bruins quarterback Brett Hundley, who completed 22 of 30 pass attempts for 234 yards and a touchdown in last season's victory.
"We cannot let Hundley run the ball or throw the ball deep," Orgeron said. "We need to be great on coverage and great on our rush."
ESPN Senior Writer
Senior college football writer
Author of seven books on college football
Graduate of the University of Georgia
Talking football (1 ET)

SEC reporter Edward Aschoff, Big Ten reporter Austin Ward and Pac-12 reporter Kevin Gemmell join host Chantel Jennings to discuss the biggest and most storied rivalries taking place this weekend. Kickoff Live

TV GUIDE / #HASHTAGS
All times ET
Thursday
7:30: Texas Tech at Texas (FS1)
Tweet about it: #TTUvsTEX
7:30: Ole Miss at Mississippi State (ESPN)
Tweet about it: #MISSvsMSST

Friday
Noon: Iowa at Nebraska (ABC)
Tweet about it: #IOWAvsNEB
Noon: SMU at Houston (ESPN2)
Tweet about it: #SMUvsHOU
1:30: Bowling Green at Buffalo (ESPNU)
Tweet about it: #BGSUvsBUFF
2:30: Arkansas at No. 17 LSU (CBS)
Tweet about it: #ARKvsLSU
3:30: Miami (FL) at Pittsburgh (ABC)
Tweet about it: #MIAvsPITT
3:30: Fresno State at SJSU (CBS Sports)
Tweet about it: #FRESvsSJSU
3:30: Washington St. at Washington (FOX)
Tweet about it: #WAZZUvsWASH
7: Oregon State at Oregon (FS1)
Tweet about it: #ORESTvsORE
8: South Florida at UCF (ESPN)
Tweet about it: ##USFvsUCF

Saturday
Noon: Ohio State at Michigan (ABC)
Tweet about it: #OSUvsMICH
Noon: Florida State at Florida (ESPN)
Tweet about it: #FSUvsUF
Noon: Duke at North Carolina (ESPN2)
Tweet about it: #DUKEvsUNC
Noon: Minnesota at Michigan St. (BTN)
Tweet about it: #MINNvsMSU
3:30: Alabama at Auburn (CBS)
Tweet about it: #BAMAvsAUB
3:30: Penn State at Wisconsin (ESPN)
Tweet about it: #PSUvsWIS
3:30: Baylor at TCU (ESPN2)
Tweet about it: #BAYvsTCU
3:30: Georgia at Georgia Tech (ABC)
Tweet about it: #UGAvsGT
3:30: Virginia Tech at Virginia (ESPNU)
Tweet about it: #VTvsUVA
3:30: BC at Syracuse (ESPN3)
Tweet about it: #BCvsCUSE
7: Clemson at South Carolina (ESPN2)
Tweet about it: #CLEMvsSC
7: Notre Dame at Stanford (Fox)
Tweet about it: #NDvsSTAN
7:45: Texas A&M at Missouri (ESPN)
Tweet about it: #TAMUvsMIZZ
8: UCLA at USC (ABC)
Tweet about it: #UCLAvsUSC
9:30: Arizona at Arizona St. (Pac-12 Net.)
Tweet about it: #AZvsASU
10:30: San Diego St. at UNLV (ESPNU)
Tweet about it: #SDSUvsUNLV

What to watch in Week 14
Click below to see what our reporters think you should be watching for in each conference this weekend.
---

The ACC has a realistic chance to sweep its SEC rivals 4-0 this week. Florida State has a distinct advantage over Florida. Georgia Tech's opportunity just got stronger with Aaron Murray ruled out because of injury. Wake Forest is better than anyone expected and could put an exclamation point on the season with a win over Vanderbilt. And if Clemson can beat top-10 South Carolina, it would be a big, big boost for the ACC overall. ACC
---

Ohio State has already punched its ticket to the Big Ten title game, but it still has its most hated rival standing in the way of back-to-back undefeated regular seasons. Michigan State also has a confirmed trip, but a Minnesota team with renewed confidence is the regular-season finale opponent. Big Ten
---

Baylor lost its BCS title chance last week but still has had a brilliant season that could be capped by a rebound performance against TCU. In the Thanksgiving game, Texas also looks to get back on track versus Texas Tech. The new-life Longhorns lost to Oklahoma State in their last outing but they can keep their Big 12 hopes alive with a win over the Red Raiders. Big 12
---

The Territorial Cup between Arizona and Arizona State will be a battle for home-field advantage in the Pac-12 title game. USC-UCLA gets the credit as the Pac-12's most famous rivalry week game, but Arizona-Arizona State is probably the one with the most on the line this week. Pac-12
---

You may have heard that this year's Iron Bowl has a lot on the line. The winner will play for the SEC championship and possibly the national title. A few more rivalry games are in the cards this week, too. Three ACC versus SEC matchups Saturday will mean a year of in-state pride in the states of South Carolina, Georgia and Florida. SEC
Prime-time Pregame: UCLA-USC
Fantasy college football
Make GameDay your game day with three ways to play fantasy football.