Florida State On The Spot
"A lot of people have been waiting for a game where they can finally say FSU is back, and they keep pointing to this year's Oklahoma game."
Those are the words of Florida State quarterback EJ Manuel. That pretty much sums up what Saturday night's showdown in Tallahassee means to Florida State.
The Seminoles had a 10-win season last year. They beat South Carolina in a bowl game. They beat Florida. But they were obliterated by Oklahoma 47-17. They weren't conference champs after falling in the ACC title game to Virginia Tech by double digits. They lost four games.
So here it is. The moment has arrived in Year 2 of the Jimbo Fisher era. Of all the questions, none is more pertinent than the one derived from Manuel's words. Is Florida State ready to return to prominence and contend for the national championship?
Oklahoma knows the Noles have drawn the proverbial circle around this game. If Digger Phelps covered college football, he'd deem all analysis secondary to the motivation of a "payback" game.
[+] Enlarge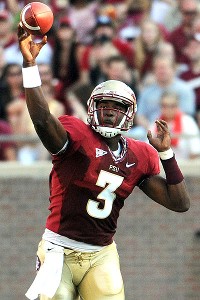 Melina Vastola/US PresswireFSU quarterback EJ Manuel knows a lot is riding on a victory over Oklahoma.
"They can talk and continue to do what they've been doing for the past year," Sooners safety Javon Harris said. "Are they really going to walk the walk? We're going to go down there and walk the walk."
Though I have found no concrete, credible evidence supporting this notion, the Sooners somehow believe the Noles have been woofing about this game. I suspect at least some of it might be derived from time-honored tradition of taking literary license with a few otherwise innocuous quotes to fire up a team. I can't prove that either, but it's a good hypothesis.
What isn't guesswork is that the Seminoles' secondary will have to bear no resemblance to the sad-sack group that showed up (or didn't show up) for the beatdown in Norman last season. Landry Jones and friends torched FSU for nearly 400 yards passing.
Seminoles cornerback Greg Reid has been a favorite of our "College Football Final" team since we saw his freshman debut against Miami. Typically, he's an explosive force. Last season against Jones and the Sooners, he was an implosive target. Sooners receiver Ryan Broyles totaled 12 catches for 124 yards and a touchdown.
Reid would've been better off trading his cleats for asbestos armor. A litany of burns are featured in an online video set to the quintessential goofy gaffe music. Aficionados of British comedy might call it the Benny Hill chase tune. Reid is too good and too prideful not to desperately want to atone for last season's performance.
He is in coach Jimbo Fisher's doghouse after being suspended last week, but I anticipate seeing a lot of No. 5. Reid and fellow cornerback Xavier Rhodes against the Sooners receivers are the matchups that Mark May, Lou Holtz and I will watch closely Saturday night. Who knows? We might even do that viewing from our new couch set.
While the Sooners' future might lie on the Pacific Coast, their immediate destiny will be greatly impacted by what happens in the Eastern time zone on Saturday night during Road Test Weekend.
Reid isn't the only guy with demons to exorcise in this game. Landry Jones has a mere 4-5 record as a starter in true road games. Since 2005, OU is just 16-10 in true roadies. Trust me, when Chief Osceola throws down that spear in front of a frenzied Doak Campbell crowd, there is no truer road game. The Sooners' national title hopes might well rest on passing this road test.
---
In all, a dozen ranked teams get road tests this weekend. Ohio State, fresh off its close shave against Toledo, heads to Miami. QB Jacory Harris is one of five Canes returning from suspension. The Buckeyes are still without a handful of guys due to their various indiscretions. Harris admits the NCAA woes tarnish the matchup to a degree. Even with all their woes, it would be a signature win for either first-year coach (Miami's Al Golden or OSU's Luke Fickell).
If you looked at stats other than the 10 turnovers, the most devastating ones coming in the red zone, you'd swear Notre Dame is 2-0. Instead it's 0-2 and provides the road test for No. 15-ranked Michigan State. It's a test Sparty has aced, winning six of the last seven beneath the Golden Dome.
After Auburn's latest escape against Mississippi State, the Tigers take the nation's longest winning streak (17 games) to Clemson. Coach Dabo Swinney's Tigers have been shakier than Snooki's tattoo choices. They've trailed Troy at halftime and escaped against the Fighting Wendi Nixes of Wofford. Auburn has given up yards and points by the tractor-trailer load, but knows how to make plays in the clutch. A tough stretch of schedule starts with a road test at Howard's Rock on Saturday at noon ET.
The road tests wrap up Saturday night, with QB Andrew Luck and Stanford paying a visit to Arizona. Stanford takes the nation's second-longest winning streak (at 10) in against a team that hasn't beaten an FBS team since just before Halloween. Coach Mike Stoops' troops desperately need a signature win.
Check in with Mark, Lou and me on Twitter. We want you involved in "College Football Final." See you then.
Weekend Watch
By Mark Schlabach
ESPN.com
Here are five things to watch this weekend:
STATS & INFO: NICKEL PACKAGE
Miami is trying to avoid its first 0-2 start since 1978, the year before Howard Schnellenberger took over and began building a perennial powerhouse. Only three current FBS schools have gone longer without suffering an 0-2 start. Nebraska hasn't begun a season with two straight losses since 1957, while Florida (1971) and the Clemson Tigers (1975) are the others.

For more of this story, click here.
1. Will Miami quarterback Jacory Harris redeem himself against No. 17 Ohio State? Harris threw four interceptions in last year's 36-24 defeat at Ohio State. Harris, who was suspended for his team's 32-24 loss at Maryland in the Labor Day opener, has thrown 32 interceptions over the past two seasons. He can't afford to make more mistakes against the Buckeyes, who barely survived a 27-22 win over Toledo last week. If Harris struggles, how quickly does Hurricanes coach Al Golden go back to Stephen Morris?
2. Are Tennessee quarterback Tyler Bray and receivers Justin Hunter and Da'Rick Rogers really that good? The UT trio lit up its first two opponents to the tune of 31 catches for 502 yards with five touchdowns in routs of FCS foe Montana and Cincinnati. But the Vols will face a stout defense when they open SEC play at No. 16 Florida on Saturday. The Gators allowed only three points combined in victories over Florida Atlantic and UAB, and they rank No. 1 nationally in scoring defense (1.5 points per game) and No. 12 in pass defense (124 yards). Bray has produced five 300-yard passing games in seven career starts, but only one came against a top-30 defense (he threw for 312 yards with four touchdowns in a 30-27 loss in two overtimes to North Carolina in the 2010 Music City Bowl).
3. Will Notre Dame start the season with a 0-3 record? The Irish can blame only themselves for their 0-2 start; they turned the ball over 10 times combined in losses to South Florida and Michigan. Notre Dame's 10 turnovers are the most among 120 FBS teams, and the Irish will have to take better care of the football to win Saturday's home game against No. 15 Michigan State. Notre Dame ranks in the top 15 nationally in total offense (510.5 yards per game) and passing (353 yards) but is averaging only 25.5 points because of the turnovers.
4. Will Alabama open up its passing game? The No. 2 Crimson Tide shouldn't have much trouble in Saturday's home game against woebegone North Texas, but coach Nick Saban might allow quarterback AJ McCarron to take more shots downfield to build his confidence. McCarron was pretty good in wins over Kent State and Penn State, completing 33 of 54 passes for 389 yards with two touchdowns. But if the Tide are going to win the SEC West and compete for the BCS national title, they will need more production in the passing game to take defensive attention off tailback Trent Richardson.
5. Can Arizona keep pace with No. 6 Stanford in their Pac-12 opener? Wildcats quarterback Nick Foles has played well in two games, completing 76.3 percent of his passes for 810 yards with six touchdowns and no interceptions. But Foles can't do it by himself. The Wildcats rank last in the Pac-12 in rushing (58 yards per game). Foles is hoping for the return of top receiver Juron Criner, who is questionable to play after having an appendectomy last week. Arizona will have to score a bunch of points because its defense is probably going to have a difficult time slowing down Cardinal quarterback Andrew Luck.
For more things to watch this weekend, click here.
Viewer's guide
All times ET
Thursday
8 p.m.
: LSU at Mississippi State (ESPN)
Friday
8 p.m.
: Boise State at Toledo (ESPN)
Saturday
9 a.m.
: "
College GameDay
" from Tallahassee, Fla. (ESPNU)
10 a.m.
: "
College GameDay
" from Tallahassee, Fla. (ESPN)
11 a.m.
: "College Football WhipAround" (ESPNU)
Noon
: Auburn at Clemson (ABC)
West Virginia at Maryland (ESPNU)
Pitt at Iowa (ESPN2)
12:30 p.m.
: Kansas at Georgia Tech (ESPN3)
3:30 p.m.
: Texas at UCLA (
ABC/ESPN
)
Washington at Nebraska (
ABC/ESPN
)
Tennessee at Florida (CBS)
Michigan State at Notre Dame (NBC)
Virginia at North Carolina (ESPNU)
6 p.m.
: Navy at South Carolina (ESPN2)
7 p.m.
: Arizona State at Illinois (BTN)
7:30 p.m.
: Ohio State at Miami (ESPN)
8 p.m.
: Oklahoma at Florida State (ABC)
9:15 p.m.
: Utah at BYU (ESPN2)
10:45 p.m.
: Stanford at Arizona (ESPN)
Preview: Oklahoma-Florida State
Blog Network: What to watch
Each week, our bloggers will take a closer look at the storylines you should be watching. What's on tap for Week 3?

For the first time in conference history, the ACC is hosting four ranked teams.
ACC

It happens every year. Some teams do just fine. Others struggle. But six teams across the Big 12 are going on the road for the first time this season.
Big 12

The Big East has a chance to make the nation notice in Week 3 with five games against teams from AQ conferences.
Big East

Even if you hate Ohio State and Miami, you'll have a tough time turning away from Saturday night's game at Sun Life Stadium.
Big Ten

Andrew Luck vs. Nick Foles, and Nebraska's O-line vs. Washington's D-line are things to keep an eye on this weekend.
Pac-12

The Florida-Tennessee rivalry has always come down to the running game.
SEC
McShay/Kiper: Notre Dame, top QBs
Upset watch
A year ago, Notre Dame didn't think the end of a game could get any worse after it lost at Michigan State 34-31 on a successful fake field goal in overtime.
But then the Fighting Irish played at Michigan last week.
Notre Dame blew a 24-7 lead in the fourth quarter, and then allowed the Wolverines to march from the UM 20 to its 16 in about 28 seconds in the final minute. Michigan won 35-31 after quarterback Denard Robinson threw a 16-yard touchdown to Roy Roundtree with 2 seconds to play.
Notre Dame has turned the ball over 10 times in its losses to South Florida and Michigan. That kind of poor play -- and bad luck -- can't continue. Notre Dame's defense will take advantage of MSU's suspect offensive line and will force quarterback Kirk Cousins into a couple of turnovers to win another close game.
Scouts' Edge: Week 3 previews
Get in-depth scouting reports of key games as Scouts Inc. breaks down what to watch.

• Tennessee-Florida | Michigan State-Notre Dame
• Ohio State-Miami | Oklahoma-Florida State
Fantasy college football
By ESPN Fantasy
Make GameDay your game day with three ways to play.


• Pick 'Em: How confident are you?
• College Challenge: Build the best team
• College Showdown: Choose wisely