It's Been A While ...
Imagine the atmosphere in College Station on Saturday. For the first time in 36 years, top-10 teams will clash at Kyle Field.
The fact that it is likely the last time for a long time that Oklahoma State will arrive in any fashion is beside the point. So too is whether the yell leaders will come up with a hand signal to have the always synchronized A&M faithful chanting S-E-C, S-E-C.
It is a bizarre time in college football with new alliances being formed and decades old ones being fractured. It seems everybody's shuffling.
Even the Big 12's tenuous footing can't cloud the showdown between Texas A&M and Oklahoma State. The winner emerges not only as the top challenger to Oklahoma in the Big 12 but a legitimate contender for the national title. I know. It seems like a giant jump. But both of these teams are capable of making a run. Do they have holes? Sure, but who doesn't, other than Oklahoma?
I called this game last season. It was wildly entertaining and oddly painful -- at least for the Aggies. Despite the prolific offense the Cowboys touted, it was the Pokes' defense that won it. OSU snared five turnovers, including a fumble returned for a touchdown. The Pokes finished off a rally from a 21-7 halftime deficit with a Dan Bailey field goal at the final gun for a 38-35 win.
The Aggies felt the sting. Ultimately, that loss kept them out of the Big 12 championship game. A&M running back Cyrus Gray says he circled this game right after A&M's bowl game.
[+] Enlarge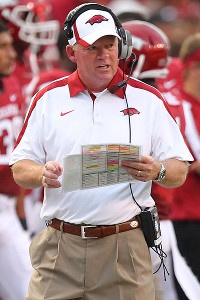 Nelson Chenault/US PresswireBobby Petrino might have his best defense during his tenure at Arkansas.
Since Mike Sherman took the helm, he's beaten Texas, Nebraska and Oklahoma but not Oklahoma State. The Cowboys have won three straight in the series.
When we saw the Pokes against Arizona a couple weeks ago, I was surprised by their athleticism on defense. Linebacker Alex Elkins should return from injury this week. He has terrific speed and explosion. Oklahoma State will need him to deal with Gray and the Aggies' balanced offense. When the Pokes saw the Aggies last season, Ryan Tannehill was known mostly as a threat to have a 100-yard receiving game. Now, he's a threat to throw for three bills on you. Tannehill waited his turn to play quarterback and the senior looks poised and sharp.
No one in the country has thrown for more yards than Brandon Weeden this year. But the big-armed senior has thrown six interceptions, including a couple of pick-sixes. He knows he's got to take care of the ball. That's not always as easy as it sounds against Aggies defensive coordinator Tim DeRuyter. Weeden said this week that the Aggies are good at creating confusion. That means Oklahoma State will have to recognize where the Aggies are coming from and be sound in its protection. It's too early to put much stock in any stat, but the Aggies do lead the nation in sacks with 11 in two games. Underscoring Weeden's point, the 11 sacks have come from seven different guys. Tony Jerod-Eddie leads the way with three.
If you're wondering about the Tulsa hangover after playing until nearly 4 in the morning last week, Weeden says it only took a day to get over the all-nighter. Youth is resilient.
But there are cases in which the previous week's game can leave you drained. Oklahoma-Florida State was as physical as any game you'll see this season. Both teams have big tests this week. The Sooners play Missouri while the Noles go to Clemson.
Oklahoma stifled Florida State on the ground. That doesn't bode well for a Tigers team that has been decimated by injuries in the backfield. De'Vion Moore and Kendial Lawrence won't play. Henry Josey used a 263-yard game against Western Illinois to move into the top 10 of the rushing rankings. Even Josey had a tender hammy last week. It's hard enough to run on the Sooners when you're at full strength.
Florida State expended not only physical energy but a ton of mental energy in the Oklahoma game. Fueled by the embarrassment of last season's blowout, the Seminoles stood toe-to-toe with the Sooners but came up short.
Now, they have to bring that same type of intensity to a Clemson team that believes it has greatness inside it, to borrow a phrase from Dabo Swinney. I don't know about greatness inside, but the Tigers have greatness outside in receiver Sammy Watkins. The freshman was the best player on the field against Auburn and it wasn't close. He had 155 yards receiving and another 44 rushing. He looks like a sure-fire future superstar. If he delivers like that against the Noles, the future might be now.
The mental approach in this game will be fascinating. The Noles have to pick themselves up off the deck. The Tigers have to get themselves back down to earth after stopping the nation's longest winning streak and beating the defending national champion in Death Valley for the third time in three tries.
Alabama-Arkansas has huge BCS implications as well. It wasn't dubbed as such, but maybe this is "calendar circle Saturday." Why doesn't anyone use squares on their calendars? Or just plain underlines? Maybe a highlighter?
Anyway, Bobby Petrino says this is a win the Hogs need for their program. They've been preparing for it. It seems as if Arkansas is just starting the season after playing three preseason games. I'm not taking a shot at their schedule. It's like almost everyone else's. They just played their "guarantee" games first instead of spreading them out.
Under Nick Saban, Alabama is 4-0 against the Razorbacks. Twice, the Tide has rolled easily and twice Alabama has snatched victory from under the Hogs' snouts. Last season was particularly galling to Razorbacks fans as the Tide came from two touchdowns behind to beat Arkansas by four.
Two years ago, Greg McElroy emerged as a first-year starter with a huge game against the Hogs. Could AJ McCarron follow the same script?
Even with Alabama's defense, you can't rely exclusively on the D when you face Arkansas. The Tide will need production from McCarron because you know Arkansas will dare the Tide to throw. The Alabama D will face by far its toughest test. The Hogs have the best group of receivers in the country and they are explosive. Joe Adams is also dynamic on punt returns. He's housed two already. Keep an eye on whether the Tide can contain Adams. Alabama's punting isn't a strong suit.
Check out "College Football Final." Reach out to Mark May, Lou Holtz and me on Twitter. We'll be with you all day Saturday.
Weekend Watch
By Mark Schlabach
ESPN.com
Here are five things to watch this weekend:
STATS & INFO: NICKEL PACKAGE
The LSU Tigers have won 35 straight regular season nonconference games. That's the longest such streak in FBS. LSU's last loss came against Virginia Tech in the 2002 season opener. It is also the third longest streak in the FBS era (since 1978). A win at the West Virginia Mountaineers would tie the Miami Hurricanes for the second longest streak.

For more of this story, click here.
1. Can West Virginia hit big plays against LSU? The No. 2 Tigers' menacing defense is built around stopping the run and preventing big plays; LSU has allowed only three offensive plays of 20 yards or more and hasn't allowed a run longer than 15 yards in three games. The No. 16 Mountaineers' offense under first-year coach Dana Holgorson is predicated on hitting big plays; WVU had 16 offensive plays of 20 yards or more in its first three games. Can the Mountaineers block LSU's ferocious front enough to give quarterback Geno Smith enough time to throw?
2. Can Vanderbilt go 4-0 under first-year coach James Franklin? The Commodores are 3-0, their best start since going 5-0 at the start of the 2008 season. Vanderbilt is doing it with defense, leading FBS teams with 10 interceptions and ranking fourth in the SEC in total defense. They'll have to do another good job against the run when they play at No. 12 South Carolina on Saturday. Gamecocks coach Steve Spurrier doesn't seem to trust quarterback Stephen Garcia late in games, so he's leaning heavily on sophomore tailback Marcus Lattimore. Lattimore carried the ball on 26 of USC's 37 plays in the second half of last week's 24-21 win over Navy.
3. Will No. 22 Michigan's defense slow San Diego State's running game? If the Aztecs are going to hand former coach Brady Hoke his first loss at Michigan in the Big House on Saturday, they'll need another big performance from tailback Ronnie Hillman, who is second nationally with 497 rushing yards in three games. Michigan's defense has performed better during its 3-0 start, but the Wolverines still allowed an average of 202.5 rushing yards in their past two wins, over Notre Dame and Eastern Michigan.
4. Can Arizona State's offensive line slow No. 23 Southern California's pass rush? The Sun Devils were supposed to be very good up front, after returning all five starting offensive linemen from 2010. But quarterback Brock Osweiler was sacked six times in last week's 17-14 loss at Illinois. Arizona State will have to protect him much better against the Trojans, who had eight sacks and 17 tackles for loss in their first three wins.
5. Will North Carolina slow No. 25 Georgia Tech's triple-option offense? The Yellow Jackets are clicking on all cylinders right now, after piling up 604 rushing yards and 768 yards of offense in last week's 66-24 rout of Kansas. The Tar Heels have had problems against the Yellow Jackets' ground-oriented attack recently, allowing 400 yards or more in each of their three games against a Paul Johnson-coached Tech team. UNC has lost 11 of its past 13 games to Georgia Tech heading into Saturday's game in Atlanta.
For more things to watch this weekend, click here.
Viewer's guide
All times ET
Thursday
8 p.m.
: NC State at Cincinnati (ESPN)
Friday
8 p.m.
: UCF at BYU (ESPN)
Saturday
9 a.m.
: "
College GameDay
" from Morgantown, W.Va. (ESPNU)
10 a.m.
: "
College GameDay
" from Morgantown, W.Va. (ESPN)
11 a.m.
: "College Football WhipAround" (ESPNU)
Noon
: North Carolina at Georgia Tech (ESPN)
Notre Dame at Pitt (ABC)
San Diego State at Michigan (BTN)
3:30 p.m.
: Oklahoma State at Texas A&M (
ABC/ESPN2
)
Arkansas at Alabama (CBS)
Colorado at Ohio State (
ABC/ESPN2
)
Florida State at Clemson (ESPN)
Kansas State at Miami (ESPNU)
7 p.m.
: Florida at Kentucky (ESPN)
Vanderbilt at South Carolina (ESPN2)
7:30 p.m.
: Nebraska at Wyoming (Versus)
8 p.m.
: LSU at West Virginia (ABC)
Missouri at Oklahoma (FX)
10:15 p.m.
: USC at Arizona State (ESPN)
Oregon at Arizona (ESPN2)


Preview: Oklahoma St.-Texas A&M
Blog Network: What to watch
Each week, our bloggers will take a closer look at the storylines you should be watching. What's on tap for Week 4?

Florida State knows the run game must improve if it is going to repeat as Atlantic Division champ.
ACC

The Aggies already have the best atmosphere in the Big 12, and this is the most impactful game of the year in College Station.
Big 12

The Big East has three national games this weekend, its biggest chance yet to get people talking about good performances as opposed to the survival of the league.
Big East

Michigan coach Brady Hoke goes up against his former team as San Diego State visits the Big House.
Big Ten

USC QB Matt Barkley comfortable in the pocket? That's not a good thing for a defense, particularly when he can find receiver Robert Woods.
Pac-12

The area of the game that Arkansas has to win Saturday if it's going to take down No. 3 Alabama is special teams.
SEC
Upset watch
This was supposed to be the season in which Arizona State finally made a move under coach Dennis Erickson.
With USC on probation -- and ineligible to play in the first Pac-12 championship game -- the Sun Devils were a popular choice to win the Pac-12 South. But after beating Missouri 37-30 in overtime on Sept. 9, the Sun Devils lost at Illinois 17-14 last week.
The Sun Devils don't have much time to recover from their deflating loss, with No. 23 USC coming to Tempe, Ariz., on Saturday night. The Trojans were unspectacular in close wins over Minnesota and Utah, before defeating Syracuse 38-17 in the Coliseum last week.
I have a feeling ASU quarterback Brock Osweiler will make a few more plays than USC's Matt Barkley in a classic shootout.
Scouts' Edge: Week 4 previews
Get in-depth scouting reports of key games as Scouts Inc. breaks down what to watch.

• LSU-West Virginia | Florida State-Clemson
• Arkansas-Alabama | Oklahoma St.-Texas A&M
Fantasy college football
By ESPN Fantasy
Make GameDay your game day with three ways to play.


• Pick 'Em: How confident are you?
• College Challenge: Build the best team
• College Showdown: Choose wisely