Best & worst 2013 debuts
On the opening weekend of the 2013 college football season, teams like Clemson, Louisville, LSU and Washington made big first impressions.
Conversely, it might seem like the sky is falling at Boise State, Georgia, Nebraska and Oregon State.
Fortunately for those teams and others, there are 14 weeks left to go in the regular season, so there's still plenty of football to be played.
Here's a closer look at the best and worst debuts on the opening weekend of the 2013 season:
Best debuts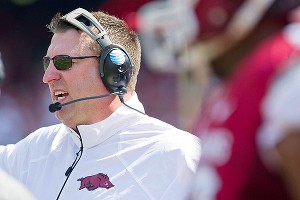 Beth Hall/USA TODAY Sports
Bret Bielema: When Bielema left Wisconsin after three straight Rose Bowls, it figured to be a couple of seasons before he really put his stamp on the Arkansas program. But the Razorbacks sure looked like a Bielema-coached team in Saturday's 34-14 victory over Louisiana-Lafayette, running 51 times for 292 yards and holding possession for more than 37 minutes. Tailbacks Jonathan Williams and Alex Collins combined to run for 282 yards, and quarterback Brandon Allen completed 15 of 22 passes for 230 yards with three touchdowns. The Ragin' Cajuns are hardly Alabama or LSU, but they brought back 14 starters from a team that finished 9-4 and won the R+L Carriers New Orleans Bowl in 2012.
Husky Stadium: The venerable stadium on the shores of Lake Washington in Seattle underwent a $280 million face-lift last season, and the Huskies opened it by blasting No. 19 Boise State 38-6 on Saturday night. Quarterback Keith Price completed 23 of 31 passes for 324 yards with two touchdowns, as Washington finished with 592 yards of offense. In handing Boise State coach Chris Petersen the worst loss of his tenure, the Huskies gave notice that the Pac-12 North race might involve more than Oregon and Stanford this season.
LSU's revamped offense: With former NFL offensive coordinator Cam Cameron at the controls, the No. 12 Tigers rolled up 448 yards of offense in a 37-27 win over No. 20 TCU in the Cowboys Classic in Arlington, Texas. Senior quarterback Zach Mettenberger looked a lot more confident in completing 16 of 32 passes for 251 yards with one touchdown. He was sacked twice and didn't commit a turnover. Most importantly, Cameron found ways to get the ball into the hands of LSU's best playmakers: Odell Beckham caught five passes for 118 yards and Jarvis Landry had eight catches for 109 yards.
"I think that Zach will have nights like that pretty routinely from this point forward," LSU coach Les Miles said.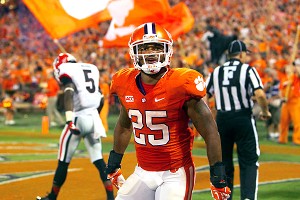 Joshua S. Kelly/USA TODAY SportsRoderick McDowell carried the load on the ground for Clemson versus Georgia.
Roderick McDowell: After waiting patiently behind Clemson starting tailback Andre Ellington the past three seasons, McDowell proved to be the difference in the No. 8 Tigers' 38-35 victory over No. 5 Georgia on Saturday night. "Hot Rod" ran 22 times for 132 yards, giving Clemson's spread offense much-needed balance. With McDowell keeping UGA's defense honest, Clemson quarterback Tajh Boyd completed 18 of 30 passes for 270 yards with three touchdowns, while running for 42 yards with two more scores.
Ole Miss freshmen: Now we know why so many rivals were upset when the Rebels surprisingly landed one of the country's top recruiting classes in February. Ole Miss' crop of rookies was as good as advertised in Thursday night's 39-35 victory at Vanderbilt. Freshman receiver Laquon Treadwell caught nine passes for 82 yards; defensive end Robert Nkemdiche had two tackles and one tackle for loss; and safety Tony Conner had three tackles and one interception. Two more freshmen, tackle Laremy Tunsil and guard Austin Golson, played quite a bit in the second half, too. After Saturday's home game against FCS foe Southeast Missouri State, the Ole Miss freshmen will really get a crash course: They play back-to-back road games at No. 15 Texas on Sept. 14 and No. 1 Alabama on Sept. 28.
Bobby Petrino: The once-disgraced former Arkansas coach guided Western Kentucky to a 35-26 victory in his first game at his new school on Saturday night. If the Hilltoppers can upset Tennessee on the road next week to improve to 2-0 against the SEC, Petrino might not be at WKU for very long. WKU produced 487 yards of offense against the Wildcats, including 271 yards on 27-for-34 passing by quarterback Brandon Doughty. Petrino improved to 9-0 in season openers.
Texas' offense: The Longhorns' new up-tempo offense got off to an inauspicious start, with its first five possessions against New Mexico State going like this: fumble, stuffed on fourth-and-2, punt, interception, interception. But then UT scored five touchdowns in 16 plays to run away from the Aggies in a 56-7 rout.
"We can get better," Texas coach Mack Brown said. "That's the key for us. We've got to keep improving. It's the first time we've done it as a group in a ballgame."
Quarterback David Ash completed 20 of 28 passes for 343 yards with four touchdowns and two interceptions, while running eight times for 91 yards with one score. The Longhorns set a school record with 715 yards of offense (359 rushing and 356 passing) and averaged 9.9 yards on 72 plays. Coach Mack Brown should have a better idea of how good his new offense is when Texas plays at BYU on Saturday and home against Ole Miss.
Worst debuts
American Athletic Conference: Outside of No. 9 Louisville's 49-7 rout of Ohio on Sunday and Cincinnati's 42-7 trouncing of Purdue on Saturday, the former Big East didn't have a lot to cheer about in its first weekend of football. On Thursday night, FCS opponent Towson beat Connecticut 33-18 on the road. Rutgers lost 52-51 at Fresno State after the Scarlet Knights failed to convert a two-point conversion in overtime. Then on Saturday, South Florida lost to FCS foe McNeese State 53-21 at home. The AAC went a combined 4-5 in its first weekend. How does the AAC still have an automatic BCS bid this season?
Nebraska's defense: After the Cornhuskers surrendered 115 points in losses to Wisconsin in the Big Ten championship game and Georgia in the Capital One Bowl to close the 2012 season, coach Bo Pelini hoped to see some improvement in Saturday's opener against Wyoming at Memorial Stadium. After a 37-34 victory, in which the Cornhuskers nearly blew a 16-point lead and had to hold off the Cowboys at the end, it's clear Big Red still has big problems. Wyoming gained 602 yards of offense, including 383 yards on 29-for-43 passing by quarterback Brett Smith, who threw four touchdowns and ran for 92 yards.
Oregon State: Beavers coach Mike Riley has long been regarded among the country's most underrated coaches, but his team laid an egg in Saturday's 49-46 loss to FCS foe Eastern Washington. Eagles quarterback Vernon Adams accounted for 518 of his team's 625 yards of offense, passing for 411 and running for 107. Adams had four touchdown passes and two scoring runs, including a go-ahead 2-yard run with 18 seconds to go. After his defense missed several tackles and blew coverage assignments, Riley might be second-guessing his decision not to scrimmage during preseason camp.
Purdue: The Boilermakers didn't put up much of a fight in new coach Darrell Hazell's debut. Purdue's 35-point loss at Cincinnati was its worst in a season opener since losing 52-14 at Michigan State in 1996. The Boilermakers managed only 226 yards of offense and 12 first downs, while turning the ball over four times and committing seven penalties. Quarterback Rob Henry was run over by a pulling guard and fumbled and then threw an interception that was returned 41 yards for a touchdown.
South Florida: New Bulls coach Willie Taggart spent the offseason asking fans to "get on the bus," but the wheels came off in USF's ugly 32-point loss to McNeese State at Raymond James Stadium in Tampa. The Cowboys, who went 7-4, 4-3 in the Southland Conference last season, gave up an 80-yard touchdown run on USF's first play from scrimmage and then scored 40 consecutive points. McNeese State's 53 points were the most ever scored by an FCS team against an FBS foe, and the Cowboys went home with a $400,000 paycheck for embarrassing the Bulls in Taggart's debut.
"I'd like to apologize to the Bulls Nation for that performance," Taggart said afterward. "That was awful. I'm very disappointed. It was just a piss-poor effort by our guys all around."
Texas A&M's defense: If Heisman Trophy quarterback Johnny Manziel's antics don't derail the Aggies' SEC championship hopes, their porous defense might. Playing without five suspended starters, Texas A&M's defense surrendered 509 yards of offense in Saturday's 52-31 win over Rice. Three defensive starters -- nose guard Gavin Stansbury, linebacker Steven Jenkins and cornerback De'Vante Harris -- are suspended for another week.
Virginia Tech's special teams: Virginia Tech's defense played well enough to upset the No. 1 Crimson Tide, allowing only 206 yards of offense, including 96 on 38 carries, which will only increase Alabama's concerns about its rebuilt offensive line. But the Crimson Tide still walked away with a 35-10 victory in the Chick-fil-A Kickoff Game at Atlanta's Georgia Dome because of their special teams. Virginia Tech surrendered a 72-yard punt return for a touchdown and a 94-yard kickoff return for another score to the same player. Alabama's Christion Jones also scored on a 38-yard touchdown catch to become the first FBS player since 2002 to score on a kick return, punt return and on offense in the same game. Whatever happened to Beamer Ball?
ESPN Senior Writer
Senior college football writer
Author of seven books on college football
Graduate of the University of Georgia
Game Changer

LSU running back Terrence Magee, who had one carry last season, ran 13 times for 95 yards and scored two second-half touchdowns to help the No. 12 Tigers defeat No. 20 TCU 37-27 in the Cowboys Classic in Arlington, Texas, on Saturday night. Magee, a junior, moved to receiver after getting lost in the Tigers' crowded backfield, before moving back to tailback. He looks like he'll have a permanent spot in the tailback rotation, even after Jeremy Hill returns from suspension.
On The Mark: Precision Passers

1. C.J. Brown, Maryland
Brown posted the highest Total QBR of Week 1 (98.1) during Maryland's 43-10 win over Florida International. That is 9 QBR points higher than Maryland had in its last five games of 2012 combined. Brown finished the game with career highs in passing yards (281), touchdowns responsible (5) and total yards (386).
2. Marcus Mariota, Oregon
Mariota had a Total QBR of 97.7 during Oregon's 66-3 rout of Nicholls State. It was the fourth game of his career with a Total QBR of more than 95, tied for the most such games in FBS during the past two seasons. Mariota had the second-best Total QBR last season, behind only Johnny Manziel.
3. Tajh Boyd, Clemson
Boyd had three passing and two rushing touchdowns in Clemson's 38-35 win over Georgia. It was the second game of his career with at least two touchdowns passing and rushing. Boyd has led Clemson to victories over top-10 SEC teams in back-to-back games (beat No. 8 LSU in Chick-fil-A Bowl). Clemson is the first non-SEC team to accomplish this feat.
4. Tommy Rees, Notre Dame
Rees had a Total QBR of 94.9 in Notre Dame's 28-6 win over Temple. It was his second-highest Total QBR in any game in which he had at least 10 action plays. His career-high Total QBR is 96.4, set against Air Force on Nov. 8, 2011.
5. Brett Hundley, UCLA
Hundley was responsible for 337 yards and four touchdowns in UCLA's 58-20 win over Nevada. He finished the game with a career-high Total QBR of 96.9. It was his first game with multiple pass and rush touchdowns.
On The Mark: Ground-Gaining RBs

1. Duke Johnson, Miami
Johnson had a career-high 186 rushing yards on 19 carries in the Hurricanes' 34-6 win over Florida Atlantic. It was his fifth career 100-yard rushing game, his fourth in his past five games.
2 Todd Gurley, Georgia
Gurley was not to blame for Georgia's 38-35 loss at Clemson. He finished with a career-high 154 yards and two touchdowns on 12 carries. He gained almost half of his yards on a career-long 75-yard touchdown in the first quarter.
3. Tevin Coleman, Indiana
Coleman set career highs in rushing yards (169) and touchdowns (2) in Indiana's 73-35 win over Indiana State. He had four rushes that gained at least 20 yards, including touchdowns of 34 and 20 yards. Entering the season, the longest run of his career was 17 yards against Massachusetts on Sept. 8, 2012.
4. Bishop Sankey, Washington
Sankey had 161 rush yards and two touchdowns in Washington's 38-6 rout of Boise State. It was Sankey's second straight 100-yard rushing game and fifth in his past six games. Since the start of last November, he is averaging 155.7 rushing yards per game, the most by an active FBS player.
5. Jordan Hall, Ohio State
Hall had a career game filling in for suspended Carlos Hyde. He finished with career highs in carries (21), rush yards (159) and touchdowns (2). His 49-yard touchdown in the first quarter was the longest run of his career.
On The Mark: Big-Play WRs

1. Justin Hardy, East Carolina
Hardy tied his own school record with 16 receptions and had a career-high 191 receiving yards in East Carolina's 52-38 win over Old Dominion. His 191 yards were the second most receiving yards in school history. Terry Gallaher had 218 on three receptions against Appalachian State on Sept. 13, 1975.
2. Jamarcus Nelson, UAB
Nelson set two school records in UAB's 34-31 loss to Troy. He had the most all-purpose yards (367) in school history and the longest kickoff return (97). He also set career highs in receptions (10) and receiving yards (199).
3. Rickey Bradley, Southern Miss
Bradley was outstanding in his FBS debut. The junior college transfer had seven receptions for 193 yards in Southern Miss' 22-15 loss to Texas State. It was the fourth most receiving yards in school history.
4 Brandin Cooks, Oregon State
Cooks set career highs in receptions (13), receiving yards (196) and touchdowns (2) in the Beavers' 49-46 upset loss to Eastern Washington. It was his sixth career 100-yard receiving game, tied for eighth all-time at Oregon State.
5. Sammy Watkins, Clemson
Watkins had six receptions for 127 yards in Clemson's 38-35 win over Georgia. It was his eighth career 100-yard receiving game, but only his third since he had five as a freshman. He gained the majority of his yards on a career-long 77-yard touchdown in the first quarter.