The SEC cannibalizes its own
Even with a freshman quarterback, No. 2 Florida State might be good enough to end the SEC's unprecedented string of seven consecutive BCS national championships at the Rose Bowl on Jan. 6.
Or maybe it will be No. 3 Oregon, which has a stout defense to go along with its high-scoring offense.
Or maybe even No. 4 Ohio State, which doesn't look as strong as the three teams ranked ahead of it, but probably has the easiest path to finishing the season unbeaten.
Ever since Urban Meyer guided Florida to a BCS national championship in 2006 and an SEC team won every BCS title since, we've wondered what it would take to finally end the SEC's dominance.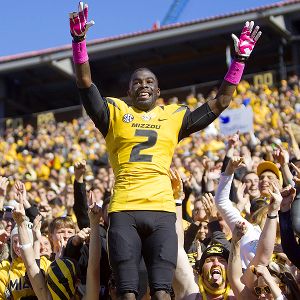 Shane Keyser/Kansas City Star/Getty ImagesNo. 5 Missouri joins Alabama in the top 10 of the BCS standings after wins over Georgia and Florida.
NCAA sanctions?
Alabama coach Nick Saban returning to the NFL?
Meyer using an SEC blueprint to build a championship team at Ohio State?
Well, if we've learned anything over the past two weeks, it's that the SEC might end up beating itself.
Over the past two weeks, five ranked SEC teams lost to lesser-ranked or unranked opponents. On Saturday alone, unranked Vanderbilt upset No. 15 Georgia 31-27, unranked Tennessee knocked off No. 11 South Carolina 23-21, No. 24 Auburn outlasted No. 7 Texas A&M 45-41 and unranked Ole Miss stunned No. 6 LSU 27-24.
As a result, with seven weeks left in the regular season, the SEC suddenly looks a lot like the ACC, Big Ten and Pac-12, with all of its eggs sitting in one or two baskets. When the initial BCS standings were released Sunday night, only two SEC teams -- No. 1 Alabama and No. 5 Missouri -- were ranked in the top 10. It's the first time since 2006, when the SEC's record streak of consecutive national titles began, that at least three of its teams weren't included in the top 10 of the initial BCS standings.
The SEC is its own worst enemy.
Remember what Oklahoma coach Bob Stoops said about the SEC last spring, that it was a top-heavy league in which half of its teams "haven't done much at all"? Well, the bottom half -- and myriad injuries -- just ended the BCS title hopes of four of its so-called upper-echelon teams.
In Stoops' defense, he was half-right. The SEC's cellar dwellers -- Arkansas, Kentucky, Mississippi State and Vanderbilt -- aren't going to play in a BCS bowl game any time soon.
But Tennessee, which has been an afterthought for much of the past decade, is getting better in a hurry under first-year coach Butch Jones. The Volunteers nearly knocked off Georgia three weeks ago and then ended a 19-game losing streak against ranked foes by stunning the Gamecocks on Saturday. Ole Miss enjoyed earlier-than-expected returns from its recruiting prowess by upsetting LSU, and Vanderbilt has rarely been as relevant as it currently is under coach James Franklin.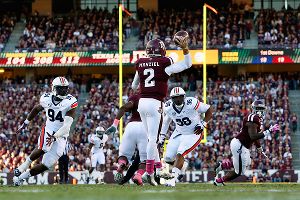 Soobum Im/USA TODAY SportsJohnny Manziel could not muster the requisite heroics to spare Texas A&M a home defeat against Auburn.
Missouri might be the biggest beneficiary of the SEC's parity (or mediocrity). The Tigers, who limped to a 5-7 record in their first season in the league in 2012, have defeated nationally ranked Georgia and Florida in each of the past two weeks. Missouri played at UGA a week after the Bulldogs lost tailback Keith Marshall (star running back Todd Gurley was already hurt) and two of their top receivers against the Vols. Remarkably, the Gators are more banged-up than Georgia and lost tailback Matt Jones before traveling to Missouri.
On Saturday, the Tigers will host South Carolina, which isn't expected to have quarterback Connor Shaw, who injured his knee in the loss to Tennessee.
Don't look to the Tigers for any sympathy. They pulled out the Georgia win without injured starting quarterback James Franklin in the fourth quarter and then beat Florida without him.
"I think we all know there's still a lot of ball left for everyone," Gamecocks coach Steve Spurrier said.
But most SEC teams are re-evaluating their goals a lot sooner than expected.
During an SEC season chock-full of surprises, the only constant has been two-time defending BCS national champion Alabama, which has rolled through a less-than-arduous schedule. Since defeating then-No. 6 Texas A&M 49-42 on the road on Sept. 14, the Crimson Tide have blasted their last five opponents by a combined score of 201-16. Even after getting shredded by Aggies quarterback Johnny Manziel, Alabama still leads FBS in scoring defense, allowing only 9.7 points per game.
Alabama probably won't be tested until it hosts No. 13 LSU on Nov. 9, and again when it plays at No. 11 Auburn in the Iron Bowl on Nov. 30.
"I think it's important that our team continues to focus on improving," Alabama coach Nick Saban said, after the Tide rolled past Arkansas 52-0 on Saturday. "I still don't think we've played our best game."
When will the SEC's dominance end? Only when Alabama slips, which is something we haven't seen yet. The Tide have lost in November each of the last two seasons but have managed overcome those losses because of the strength of the SEC. That might not be the case as long as Florida State, Oregon and Ohio State keep winning.
On the Mark
Former Texas defensive coordinator Manny Diaz probably still has nightmares about BYU quarterback Taysom Hill shredding his defense with zone reads. Diaz, who was fired one day after the Longhorns gave up 550 rushing yards in a 40-21 loss at BYU on Sept. 7, isn't the only coach losing sleep over Hill.
In Saturday night's 47-46 win at Houston, Hill completed 29 of 44 passes for 417 yards with four touchdowns and three interceptions, while running 34 times for 128 yards. He threw a game-winning 11-yard touchdown pass to Skyler Ridley with 1:08 left to play and became the first FBS player to pass for more than 400 yards and run for 100 in the same game this season.
BYU ran 115 plays, tying an FBS record.
Off the Mark
Will Maryland coach Randy Edsall ever get a break? After his first two Terrapins teams were undone by a plethora of injuries, Maryland was off to a 4-0 start this season. But then the Terps lost quarterback C.J. Brown to a concussion and were trounced 63-0 at Florida State on Oct. 5. In Saturday's 34-10 loss at Wake Forest, Maryland lost its two top receivers to broken legs.
Junior Deon Long broke the tibia and fibula in his right leg early in the second, and sophomore Stefon Diggs broke the fibula in his right leg in the fourth quarter. Long and Diggs combined for 66 catches for 1,076 yards with four touchdowns this season. No other Maryland player has more than 13 receptions.
On the Mark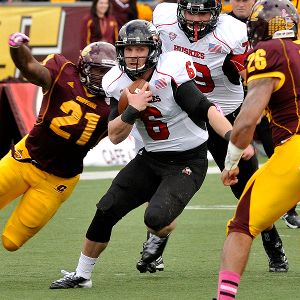 AP Photo/John L. RussellJordan Lynch set a FBS record for quarterbacks in Northern Illinois' win over Central Michigan with 316 rushing yards.
After losing to UCF 38-35 on Friday night, Louisville fell to No. 20 in the initial BCS standings, which means they're all but eliminated from the national championship race. That's good news for No. 17 Fresno State and No. 18 Northern Illinois. If those teams finish in the top 16 and ahead of Louisville or the AAC champion (the Knights are currently No. 23) in the final BCS standings, they'll be guaranteed a spot in a BCS bowl game. A team from a non-AQ league is also guaranteed a spot if it finishes in the top 12 of the final BCS standings.
The Huskies reached the Orange Bowl last season, losing to Florida State 31-10. They've picked up where they left off this year, starting 7-0 with victories over Big Ten foes Iowa and Purdue. On Saturday, NIU quarterback Jordan Lynch set an FBS rushing record for a quarterback with 316 yards with four touchdowns (three rushing, one passing) in a 38-17 win at Central Michigan. He ran for 232 yards in the second half and finished with 471 yards of total offense, averaging 7.6 yards on 62 passing or rushing plays.
Off the Mark
Remember when Florida fans thought their team might be better off without quarterback Jeff Driskel, who broke his leg in a 31-17 win over Tennessee on Sept. 21? Backup Tyler Murphy, who didn't play much at all in his first three seasons at UF, played well in his first two starts, leading the Gators to easy wins over Kentucky and Arkansas. His QBR was 93.8 in his first three games after replacing Driskel against the Vols.
But the road hasn't been kind to Murphy the past two weeks. Murphy had a 3.0 QBR in the Gators' 36-17 loss at Missouri on Saturday, the lowest by a Florida starter in the last 10 years, according to ESPN Stats & Info. Coupled with his performance in Florida's 17-6 defeat at LSU on Oct. 12, Murphy has an 8.9 QBR in his last two games.
Murphy isn't getting much help from Florida's offensive line or its receivers. Missouri outgained the Gators 500-151 in total offense.
"We're just not a very good football team," UF coach Will Muschamp said.
On the Mark
How unlikely were a handful of big upsets this past weekend? According to ESPN Stats & Info, UCF, Vanderbilt and Auburn had less than a 10 percent chance of winning their respective games in the third quarter.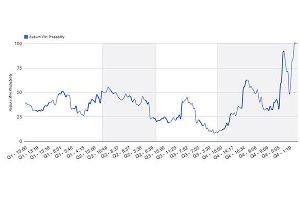 ESPN Stats and InfoAuburn's win probability against Texas A&M was at 8.5 percent on the last play of the third quarter with the Aggies facing first-and-goal. It increased throughout the fourth quarter.
The Knights trailed Louisville 28-7 on the road with about eight minutes to go in the third. When UCF faced third-and-3 at its 33-yard line, it had a 2.2 percent chance of winning the game. Of course, UCF scored 24 straight points and then won the game on Blake Bortles' 2-yard touchdown pass to Jeff Godfrey with 23 seconds left.
Likewise, Vanderbilt only had a 7.4 percent chance of winning the game when it faced fourth-and-15 at its 19 late in the third quarter. But UGA's Damian Swann muffed a punt, and the Commodores recovered at the UGA 36. The Commodores outscored UGA 17-0 in the fourth quarter.
On the last play of the third quarter, Texas A&M had a 31-24 lead and faced first-and-goal at the Auburn 8. The Tigers, who had a 8.5 percent chance to win at the time, forced a 20-yard field goal and trailed by 10. Auburn scored touchdowns on each of its next three drives and won on Tre Mason's 5-yard run with 1:19 to go.
Off the Mark
The last time we checked, college football games still last 60 minutes. So it's hard to figure out why Oregon defensive coordinator Nick Aliotti was so upset that Washington State coach Mike Leach was trying to score in the final minutes of the Ducks' 62-38 victory, other than UO's defensive statistics taking a hit. Aliotti, one of the most respected defensive coordinators in the country, called Leach "low-class" for throwing the ball late in the fourth quarter.
"That's total bulls--- that he threw the ball at the end of the game like he did," Aliotti said. "And you can print that and you can send it to him, and he can comment, too. I think it's low-class and it's bulls--- to throw the ball when the game is completely over against our kids that are basically our scout team."
Aliotti later apologized for his remarks, but isn't a team supposed to fight until the end? The Ducks certainly fought to the end in a 66-3 rout of FCS foe Nicholls State on Aug. 31, throwing a 23-yard touchdown pass with 3:45 left.
ESPN Senior Writer
Senior college football writer
Author of seven books on college football
Graduate of the University of Georgia
Game-changer

It seems that just about any quarterback will flourish in Texas Tech first-year coach Kliff Kingsbury's offense. Starting for the injured Baker Mayfield, Davis Webb became the first Red Raiders freshman to surpass 400 passing yards in his first two starts, throwing for 462 yards with two touchdowns on 36-for-50 passing in a 37-27 win at West Virginia on Saturday. Webb broke the Tech freshman single-game record of 422 yards set by Billy Joe Tolliver against TCU in 1985. Webb had 415 passing yards against Iowa State last week.
On The Mark: Precision Passers

1. Jameis Winston, Florida State
Winston had a career-high 444 passing yards and was responsible for four touchdowns in Florida State's 51-14 win at Clemson. His Total QBR for the game was 89.4. Winston, Louisville's Teddy Bridgewater and Fresno State's Derek Carr are the only three players who have had a Total QBR of at least 75 in all their games this season (minimum four games).
2. Devin Gardner, Michigan
Gardner completed 21 of 29 passes for a school-record 503 yards and two touchdowns in Michigan's 63-47 win against Indiana. The previous record was 389 set by John Navarre against Iowa in 2003. Gardner is the first Big Ten player to have at least 500 passing yards in a game since Mike Kafka held 532 in the 2010 Outback Bowl against Auburn.
3. Sean Mannion, Oregon State
Mannion completed 35 of 45 passes for 481 yards and four touchdowns in Oregon State's 49-17 win at California. He has had at least 350 pass yards and three passing touchdowns in seven games this season, five more such games than any other FBS player.
4. Derek Carr, Fresno State
Carr had 412 passing yards and four touchdowns in Fresno State's 38-14 win against UNLV. During the game, he became the school's all-time leader in both passing touchdowns and completions. He also joined Georgia's Aaron Murray and Troy's Corey Robinson as the only active players with at least 10,000 pass yards.
5. Jordan Lynch, Northern Illinois
Lynch had 316 rush yards and 155 pass yards in Northern Illinois' 38-17 win against Central Michigan. It was the most rushing yards ever by an FBS quarterback and the most by any player this season.
On The Mark: Ground-Gaining RBs

1. Bronson Hill, Eastern Michigan
Hill had a season-high 257 rushing yards and a touchdown in Eastern Michigan's 56-28 loss against Ohio. Hill is one of three players who have had at least 250 rushing yards in two games since the start of last season.
2. Isaac Bennett, Pittsburgh
Bennett had career highs in carries (30), rushing yards (240) and rushing touchdowns (three) in Pittsburgh's 35-24 win against Old Dominion. He had more rushing yards, touchdowns and runs of 10 yards or more in this game than he had in his first five games of the season combined.
3. Ka'Deem Carey, Arizona
Carey had a career-high 40 carries for 236 yards and a touchdown in Arizona's 35-24 win against Utah. It was his ninth straight game with at least 100 rush yards, the longest active streak in the nation.
4. Melvin Gordon, Wisconsin
Gordon had 17 carries for 142 yards and three touchdowns in Wisconsin's 56-32 win at Illinois. Including his 26-yard touchdown in the first quarter, Gordon has six touchdown runs of at least 25 yards this season, two more than any other FBS player.
5. Tyler Gaffney, Stanford
Gaffney had career highs in carries (36) and rushing yards (171) in Stanford's 24-10 win against UCLA. It was his fourth game with at least 100 rush yards this season. He had one such game in his first three seasons.
On The Mark: Big-Play WRs

1. Jeremy Gallon, Michigan
Gallon had a career-high 14 receptions for a school-record 369 yards and two touchdowns in Michigan's 63-47 win against Indiana. It was the second-most receiving yards ever by an FBS player behind Louisiana Tech's Troy Edwards, who had 405 in 1998 against Nebraska.
2. Mike Evans, Texas A&M
Evans had a career-high 11 receptions for a school-record 287 yards in Texas A&M's 45-41 loss against Auburn. Evans owned the previous school record of 279 receiving yards, set Sept. 14 against Alabama. He had four touchdown receptions Saturday, tying Ryan Swope for the most in a game in school history. Swope did it in 2011 against Baylor.
3. Brandin Cooks, Oregon State
Cooks had 13 receptions for a career-high 232 yards and a touchdown in Oregon State's 49-17 win at California. It was Cook's fourth game with at least 10 receptions and 100 receiving yards this season, tied with SMU's Jeremy Johnson for the most in the FBS. Cooks leads the nation with 1,176 receiving yards and 12 touchdown receptions.
4. Davante Adams, Fresno State
Adams had eight receptions for career highs in yards (221) and touchdowns (four) in Fresno State's 38-14 win against UNLV. Adams and Texas A&M's Mike Evans are the only two players with at least four touchdown receptions in a game this season.
5. Rashad Greene, Florida State
Greene had eight receptions for a season-high 146 yards and two touchdowns in Florida State's 51-14 win at Clemson. Greene's 72-yard touchdown reception in the second quarter was the longest catch of his career.