Streaking to the finish of the regular season
With three weeks to go in the 2013 college football regular season, No. 1 Alabama and No. 2 Florida State still seem to be streaking toward the final BCS National Championship at the Rose Bowl on Jan. 6.
Georgia fans aren't likely to forget the image of Auburn receiver Ricardo Louis streaking down the middle of the field after catching a deflected ball off a Bulldogs defender for a 73-yard touchdown with 25 seconds left in the Tigers' 43-38 victory anytime soon. Northwestern fans will be similarly disgusted at the sight of Michigan streaking onto the field to line up for a game-tying field goal at the end of regulation. The kick was good, and then the Wildcats lost 27-19 in triple overtime, seriously damaging their hopes of playing in a bowl game.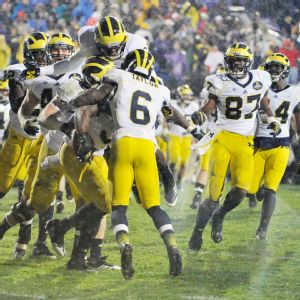 David Banks/USA TODAY SportsMichigan eked out a 27-19 win over Northwestern in three overtimes Saturday.
With the regular season heading toward its close, On the Mark takes a look at some of the more significant active and recently retired streaks in college football:
1. Alabama has occupied the No. 1 spot in the Associated Press Top 25 poll for 13 consecutive weeks this season and 14 in a row dating to last season. Only six other teams -- 1943 Notre Dame (nine weeks), 1945 Army (nine), 1971 Nebraska (14), 1972 USC (14), 1999 Florida State (16) and 2004 USC (16) -- were ranked No. 1 for an entire season.
Alabama's 20-7 win over Mississippi State on Saturday also secured the Tide's sixth consecutive 10-win season. In 118 seasons of football, the Crimson Tide have won 10 games or more 33 times, tied with Oklahoma for the most in major college football history. Nebraska (28) and Michigan (26) are next.
2. After trouncing Illinois 60-35 on Saturday, Ohio State has won 22 consecutive games, the longest active streak in FBS. For Buckeyes coach Urban Meyer, it's the fifth-best start to a tenure at a new school in major college football history, trailing only Pittsburgh's Pop Warner (30 in a row from 1915-18), Michigan's Fielding Yost (29 from 1901-03), Yale's Walter Camp (28 from 1888-89) and Miami's Larry Coker (24 from 2001-02).
Meyer is also the first coach in major college football to have three separate winning streaks lasting 20 games or more. Meyer won his final 16 games as Utah's coach in 2003-04 and then his first four games as Florida's coach in '05. His 2008-09 Gators teams combined to win 22 games in a row, and now his first two Ohio State teams have matched the streak.
3. Florida lost its fifth game in a row, 19-14 at No. 10 South Carolina on Saturday night, its first five-game losing streak since it went winless in 1979, which was also the last time the Gators finished below .500. The Gators' streak of 32 consecutive non-losing seasons, which will end with a loss against either FCS foe Georgia Southern or No. 2 Florida State, is the eighth longest in major college football history and the second-longest active streak among FBS teams. FSU has 35 consecutive non-losing seasons since 1977.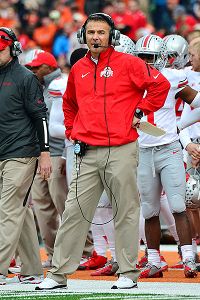 Icon SMIUrban Meyer has yet to lose as Ohio State head coach.
The Gators' streak of 22 consecutive bowl games, the longest among FBS teams, also is in jeopardy if they don't win their final two games. Florida State has played in a bowl game after each of the previous 31 seasons, but it was forced to vacate its 2006 Emerald Bowl appearance because of NCAA violations, so its streak officially stands at six seasons in a row.
4. Northern Illinois has a 23-game winning streak against MAC foes after beating Ball State 48-27 on Wednesday night, the longest active streak in FBS. On the flip side, Illinois has a 20-game Big Ten losing streak after falling to Ohio State, which is the second longest in conference history behind Northwestern (38 games). Illinois' conference losing streak is also the longest active drought among FBS teams after Kansas ended a 27-game losing streak in Big 12 games with a 31-19 win over West Virginia on Saturday.
The Huskies claim to have the longest active home winning among FBS teams at 25 games and counting. But the NCAA doesn't recognize the streak because the Huskies' losses to Wisconsin in 2011 and Iowa in 2012 at Chicago's Soldier Field were technically home contests. So the NCAA says South Carolina has the longest home winning streak in FBS at 16 victories in a row, the longest such streak in school history.
5. The longest active streak of a team forcing a turnover belongs to Missouri at 40 games; the longest active streak of a team turning the ball over belongs to Tulsa at 41 games. The last Tulsa game in which it didn't turn over the ball was a 64-27 victory over Rice on Nov. 6, 2010.
6. Wyoming quarterback Brett Smith has accounted for a touchdown in 33 straight games, the longest active streak by an FBS player and a Mountain West Conference record. In fact, the junior has been responsible for at least one touchdown in every game of his career.
7. Michigan's offense has been unspectacular the past three weeks, but the Wolverines still have the longest active streak of not being shut out in FBS. The Wolverines have scored in 361 consecutive games; their last shutout loss was a 26-0 defeat against Iowa on Oct. 20, 1984. The NCAA record of scoring in a game was set by BYU in 361 straight games from 1975 to 2003. Michigan State came close to blanking the Wolverines this season; Ohio State might be able to pull it off in "The Game" in two weeks.
8. Michigan State's stout defense went more than three hours (194 minutes, 33 seconds) without giving up a touchdown until Saturday's game at Nebraska. The Spartans allowed Indiana to throw a late touchdown with 2:17 left in the fourth quarter of a 42-28 victory on Oct. 12, and then allowed only three field goals combined in victories over Purdue, Illinois and Michigan. The Cornhuskers finally scored a touchdown against MSU on Tommy Armstrong Jr.'s 32-yard scoring pass to Sam Burtch with 2:44 left in the first quarter of the Spartans' 41-28 win in Lincoln.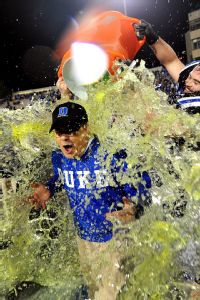 Grant Halverson/Getty ImagesDuke has won six games in a row and is in control of its destiny in the ACC Coastal.
9. Duke ended a 47-game losing streak against ranked opponents by defeating then-No. 14 Virginia Tech 13-10 on the road Oct. 26. Now the Blue Devils have won back-to-back games against ranked foes after upsetting No. 23 Miami 48-30 at home Saturday. Duke has won more games the past two seasons combined (14) than they did under coach David Cutcliffe's previous two predecessors combined (13 wins from 1999 to 2007).
10. Texas A&M has scored at least 40 points in 13 straight games. FSU has scored 40 points in each of their 10 games this season for the first time in school history.
11. Stanford quarterback Kevin Hogan threw two interceptions in a 20-17 loss to USC on Saturday night, but he's still 8-0 against AP Top 25 opponents.
12. Oregon's Marcus Mariota hasn't thrown an interception in his past 353 passing attempts, a Pac-12 record and the longest such streak among FBS quarterbacks. His last pick came in a 17-14 overtime loss to Stanford on Nov. 17, 2012. The last FBS quarterback to throw at least 150 passes and not throw an interception in an entire season was Virginia's Matt Blundin in 1991.
Mariota is now the NCAA's career leader in interception percentage at 0.97 percent among quarterbacks with at least 600 pass attempts.
13. Southern Miss suffered its 22nd consecutive loss Saturday, falling to Florida Atlantic 41-7 at home. The Golden Eagles' last win was a 24-17 victory over Nevada in the Sheraton Hawaii Bowl on Christmas Eve 2011. Southern Miss' drought is tied for ninth longest in FBS history with Duke (2005-07). Northwestern set the FBS record with 34 losses in a row from 1979-82.
14. Baylor piled up 675 yards of offense in its 63-34 win over Texas Tech at AT&T Stadium in Arlington, Texas on Saturday night. The Bears have had 400 yards or more of offense in 36 consecutive games, the longest streak among FBS teams. Texas A&M is second at 21 games in a row. Bears QB Bryce Petty and Fresno State's Derek Carr are the only players to have thrown at least two touchdown passes in every game this season.
15. UNLV is sitting at 5-5 with two regular-season games left: at Air Force on Thursday and home against San Diego State on Nov. 30. If the Rebels win one of their two remaining games, there's a good chance they'll go bowling for the first time since beating Arkansas 31-14 in the 2000 Las Vegas Bowl. Only New Mexico State (no bowl since 1960) and Eastern Michigan (1987) have longer active bowl droughts.
On the Mark
Over the past month of the season, quarterbacks have been falling in and out of the Heisman Trophy race every week. How about Boston College tailback Andre Williams? The senior ran for 634 yards with four touchdowns in his past two games and 972 yards with seven scores in the past four. His four-game total is more than 11 FBS teams have totaled the entire season.
In the Eagles' 38-21 victory over NC State on Saturday, Williams set an ACC single-game rushing record with 339 yards on 42 carries. He had 295 yards in a 48-34 win at New Mexico State his previous game. Williams leads FBS players with 1,810 yards and needs 190 in his final two games (at Maryland and at Syracuse) to become only the 15th player in FBS history to run for 2,000 yards in a season.
"He's the leading rusher in America," BC coach Steve Addazio said. "He stands for what's right in college football. He's certainly without a doubt one of the more dominant players in college football. He's an unselfish guy who realizes that he has a great offensive line in front of him and he realizes that this is a team game."
Off the Mark
The worst home loss of his 16-year Texas tenure couldn't have come at a worst time for Longhorns coach Mack Brown. Just as it seemed Brown was beginning to quiet his critics with a six-game winning streak, the Longhorns were embarrassed in a 38-13 loss to No. 12 Oklahoma State in Austin on Saturday. It was UT's eighth consecutive home defeat against a ranked foe.
Now, the Longhorns might have to beat Texas Tech at home on Thanksgiving night and Baylor on the road on Dec. 7 to win the Big 12.
"If there's nothing to play for, it's a very difficult thing," Brown said. "But we're still in November with a conference championship sticking right in our face."
Quarterback Case McCoy threw three interceptions, including one the Pokes returned 43 yards for a touchdown just before the end of the first half.
On the Mark
I'll say it again: It would be a shame if the final chaotic seconds in Wisconsin's 32-30 loss at Arizona State on Sept. 14 keep it out of a BCS bowl game. The Badgers' only other loss came against Ohio State and they've won five games in a row, including a 51-3 rout of Indiana on Saturday.
Wisconsin is simply running over opponents. Tailback James White scored on a 93-yard touchdown run on the Badgers' first play from scrimmage Saturday and finished with a career-high 205 yards. Two other Wisconsin tailbacks, Melvin Gordon (146) and Corey Clement (108) also ran for more than 100 yards against a very porous IU defense. The Badgers finished with 554 rushing yards on 50 carries, nearly breaking the school record of 564 yards set last season against, you guessed it, Indiana.
Off the Mark
In less than a year, West Virginia coach Dana Holgorsen went from offensive genius to the Big 12 coach who finally let Kansas end its Big 12 losing streak. The Mountaineers, who were the toast of college football in the first half of the 2012 season because of their high-scoring offense, lost at Kansas 31-19 on Saturday, knocking them out of contention to play in a bowl game.
The Jayhawks ended a 27-game losing streak against Big 12 foes and did so in dominant fashion. West Virginia trailed 24-7 at the start of the fourth quarter, before scoring two meaningless touchdowns in the final five minutes. Kansas fans stormed the field and tore down the goal posts after witnessing the Jayhawks' first Big 12 win in more than three years.
ESPN Senior Writer
Senior college football writer
Author of seven books on college football
Graduate of the University of Georgia
Game-changer

Colorado State running back Kapri Bibbs, a sophomore from Plainfield, Ill., is shattering the Rams' rushing record books. In Saturday's 66-42 victory over New Mexico, Bibbs ran for 291 yards with six touchdowns, helping the Rams become bowl eligible. Two weeks ago, Bibbs set a CSU single-game record with 312 rushing yards in a 38-17 win over Nevada. He has run for 1,439 yards with a school-record 25 rushing touchdowns this season, scoring three times or more in each of the past five games.
On The Mark: Precision Passers

1. Blake Bortles, UCF
Bortles passed for a career-high 404 yards and four touchdowns in UCF's 39-36 win at Temple. He had two touchdowns in the fourth quarter, including a 30-yard pass to J.J. Worton with 1:06 remaining to tie the score. It was his second career game with at least four passing touchdowns and no interceptions. The other was Oct. 26 against Connecticut.
2. Rakeem Cato, Marshall
Cato completed 33 of 58 passes for a career-high 456 yards and five touchdowns in Marshall's 45-34 win at Tulsa. It was his third game this season with at least five passing touchdowns, tied for the most such games in the FBS with East Carolina's Shane Carden.
3. Garrett Gilbert, SMU
Gilbert passed for 353 yards and four touchdowns in SMU's 38-21 win against Connecticut. It was his fifth straight game with at least 300 passing yards, the longest active streak in the FBS. During that streak, Gilbert has 17 passing touchdowns and one interception.
4. Jameis Winston, Florida State
Winston completed 19 of 21 passes for 277 yards and two touchdowns in Florida State's 59-3 win against Syracuse. He is the only player since 2000 to complete at least 90 percent of his passes in two games in the same season (minimum 20 attempts).
5 Joe Licata, Buffalo
Licata passed for a school-record 497 yards and had career highs in completions (36), attempts (58) and passing touchdowns (four) in Buffalo's 51-41 loss at Toledo. His 382 passing yards in the second half were the most by an FBS player after halftime this season and the second most in any half. Fresno State's Derek Carr had 390 in the first half against Idaho.
On The Mark: Ground-Gaining RBs

1. Andre Williams, Boston College
Williams rushed for a school-record 339 yards and two touchdowns in Boston College's 38-21 win against NC State. He broke his school record, which he set the previous Saturday with 295 rushing yards against New Mexico State. Williams leads the FBS with four 200-yard rushing games this season.
2. Cartel Brooks, Heidelberg
Brooks set an all-division NCAA record with 465 rushing yards in Heidelberg's 42-14 win against Baldwin Wallace. The previous record was 455, set this season by Western Connecticut's Octavias McKoy.
3. Kapri Bibbs, Colorado State
Bibbs had 38 carries for 291 yards and a school-record six touchdowns in Colorado State's 66-42 win at New Mexico. He is the first FBS player to rush for at least six touchdowns in a game since Temple's Montel Harris did it Nov. 17, 2012, against Army.
3. Carlos Hyde, Ohio State
Hyde rushed for a career-high 246 yards and four touchdowns in Ohio State's 60-35 win at Illinois. It was his fifth straight game with at least 100 rushing yards. Hyde had six such games in his first three seasons at Ohio State.
5. Charles Ross, Rice
Ross had career highs in rushing yards (215) and rushing touchdowns (five) in Rice's 52-14 win against Louisiana Tech. The Owls are 4-0 this season when Ross rushes for at least 150 yards and 1-3 when he does not.
On The Mark: Big-Play WRs

1. J.J. Worton, UCF
Worton had 10 receptions for a career-high 179 yards and three touchdowns in UCF's 39-36 win at Temple. He had one of the plays of the season with a diving, one-handed catch on a 30-yard touchdown pass from Blake Bortles to tie the score with 1:06 remaining in the fourth quarter.
2. Da'Ron Brown, Northern Illinois
Brown had career highs in receptions (eight) and receiving yards (209) in Northern Illinois' 48-27 win against Ball State. It was his first game with at least 100 yards receiving during his three years at Northern Illinois.
3. Martavis Bryant, Clemson
Bryant had five receptions for a career-high 176 yards in Clemson's 55-31 win against Georgia Tech. In the second quarter, he caught a career-long 76-yard touchdown pass. The Tigers are 11-0 during Bryant's career when he has had at least 50 receiving yards.
4. Levi Norwood, Baylor
Norwood had a career day filling in for the injured Tevin Reese during Baylor's 63-34 win against Texas Tech. He had seven receptions for a career-high 156 yards and had three touchdowns of at least 40 yards, including a 58-yard punt return in the second quarter.
5. Robbie Anderson, Temple
Anderson had eight receptions for 184 yards and two touchdowns in Temple's 39-36 loss to UCF. He has 480 receiving yards and five touchdowns in the Owl's past three games.