On Any Given Saturday
By Mark Schlabach
ESPN.com
The night before James Madison University pulled off the biggest upset of the 2010 college football season, Dukes coach Mickey Matthews asked his players if any of them made a recruiting visit to Virginia Tech.
None of the Dukes raised his hand.
[+] Enlarge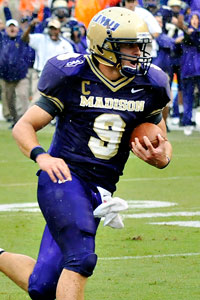 AP Photo/Don PetersenJames Madison QB Drew Dudzik ran for two scores against VT.
"I promise you they're going to want a lot of you after tomorrow," Matthews told his team.
Matthews' promise proved prophetic as the Dukes did the unimaginable Saturday, shocking the No. 13 Hokies 21-16 at Lane Stadium. It was Virginia Tech's first home loss to a Football Championship Subdivision foe since falling to Richmond 24-14 in 1985.
"The dirty little secret is the top six to eight teams at our level can play with anyone," Matthews said. "We struggle to find guaranteed games because no one wants to play us. I don't know if we're a Top 25 team on the FBS level, but I'm sure we're better than Virginia Tech wanted us to be. They needed to play somebody they could dominate."
More and more, FBS teams are having difficulty beating FCS foes, let alone dominating them. FBS teams looking for easy victories might have more luck scheduling New Mexico than FCS teams like James Madison.
In the first two weeks of the season alone, five FCS teams have defeated FBS opponents: Jacksonville (Ala.) State stunned Ole Miss 49-48 in two overtimes, North Dakota State beat Kansas 6-3, South Dakota defeated Minnesota 41-38, Gardner-Webb beat Akron 38-37 in overtime and Liberty shocked Ball State 27-23.
It was the second time in as many seasons that James Madison had an ACC opponent on the ropes. In their 2009 opener, the Dukes led Maryland 35-28 late in the second half before losing 38-35 in overtime.
"There are great players, no matter what league or what division," James Madison quarterback Drew Dudzik said. "We've got great players. We just don't have the same number of scholarships and don't have the depth. It just goes to show that on any given day anyone can beat anyone."
Appalachian State proved that point when it stunned Michigan 34-32 at Michigan Stadium on Sept. 1, 2007.
"I think when Appalachian State beat Michigan, you didn't hear any football coaches saying it was a big upset," Matthews said. "You heard a lot of media saying it was the greatest upset in college football history, but you didn't hear any football coaches saying it."
Matthews believed his team would have a chance to be competitive against the Hokies, who were playing their second game in six days. Virginia Tech lost to No. 3 Boise State 33-30 on Labor Day night.
"The biggest thing when you play Virginia Tech is surviving the first quarter," Matthews said. "They blow everybody out in the first quarter at Lane Stadium. I told the kids, 'Let's make sure it's a game at the end of the first quarter. Let's survive the noise and the crowd.' I told them we weren't playing the concrete and their fans."
The Dukes trailed Virginia Tech 7-0 after the first quarter and were behind 13-7 at the half.
When Matthews walked back on to the field for the second half, he told his coaches the Dukes had a chance to win the game.
"I don't know if we're going to beat them, but it's going to be close," Matthews told his coaches. "Our kids believe they can beat them."
After falling behind 16-7, James Madison took the lead for good after Dudzik scored on two touchdown runs.
"We've got a great bunch of guys, and we've all bought into the program," Dudzik said. "All week we believed we could win, and we believed we could win throughout the whole game. We believed we were going to win the game."
The Dukes might have defeated more than Virginia Tech on Saturday, too. Their stunning upset of the Hokies also put a dent in Boise State's chances of playing in the BCS National Championship Game.
The Broncos' come-from-behind victory over Virginia Tech looked a lot less impressive less than a week later. Boise State plays only one more team from a BCS conference, hosting Oregon State at Bronco Stadium on Sept. 25.
At least two voters in the Associated Press Top 25 poll were impressed by the Dukes. James Madison received 11 points in this week's AP poll, with Ray Ratto of Comcast SportsNet Bay Area and Jon Wilner of the San Jose (Calif.) Mercury News including the Dukes on their ballots.
The AP changed its voting rules to include FCS teams after Appalachian State stunned Michigan three years ago.
Matthews doesn't care what others say about his team's monumental upset. He knows the Dukes were better than the Hokies, for one day at least.
"Their top 50 players are better than our top 50 players," Matthews said. "But when you get out there 11-on-11, we can play with anyone."
Conference Rankings
By Mark Schlabach
ESPN.com
Ranking the BCS conferences after two weeks of the 2010 college football season:
1. SEC: Alabama looked like the country's most dominant team the first two weeks -- even without reigning Heisman Trophy winner Mark Ingram -- after crushing San Jose State and Penn State at home. Florida has to fix its offensive problems to become a real BCS title threat, but Arkansas, Auburn, LSU and South Carolina all look like legitimate Top 25 teams.
2. Big Ten: Ohio State showed its muscle in a 36-24 rout of Miami at home and looks like the league's best team once again. Iowa and Wisconsin are both capable of reaching a BCS bowl game, and Michigan appears to be the league's most improved team with quarterback Denard Robinson carrying the load on offense.
3. Big 12: Any of three Big 12 teams -- Nebraska, Oklahoma and Texas -- look like they're capable of winning the conference. With new quarterback Taylor Martinez playing well, the Cornhuskers finally have a potent offense to go with their stout defense. Texas A&M and Texas Tech won't be pushovers, either.
4. Pac-10: Oregon looks like the Pac-10's best team, even without quarterback Jeremiah Masoli. California and Stanford have staked early claims as the league's best threats to Oregon, but Oregon State and Washington will probably have some say in the Pac-10 race by season's end. USC hasn't looked impressive in coach Lane Kiffin's first two games.
5. ACC: The league's big weekend for redemption turned into a nightmare. Virginia Tech lost to FCS foe James Madison. Miami was routed by Ohio State. Florida State was crushed by Oklahoma. Georgia Tech was upset by Kansas. Each of the five teams that were ranked in the preseason coaches' poll have already lost at least once.
6. Big East: It looks to be a wide-open race, especially after Pitt lost at Utah in Week 1 and West Virginia had to come from behind to beat Marshall on Friday night. Cincinnati doesn't look nearly as good as it did last year after losing to Fresno State in its opener. Connecticut, Rutgers and South Florida haven't been overly impressive, either.
On The Mark: Proficient Passers

1. Denard Robinson, Michigan
The sensational sophomore did everything in the Wolverines' 28-24 victory at Notre Dame, finishing with 502 yards of offense, including 258 rushing yards, a Big Ten single-game record for quarterbacks.
2. Ryan Mallett, Arkansas
Mallett was fantastic in his final pre-SEC warm-up, completing 28 of 43 passes for 400 yards with three touchdowns in a 31-7 win over Louisiana-Monroe.
3. Terrelle Pryor, Ohio State
Pryor outshined Miami's Jacory Harris at the Shoe on Saturday, throwing for 233 yards and one touchdown and running for 113 yards and one score in a 36-24 victory over the Hurricanes.
4. Landry Jones, Oklahoma
After a subpar performance against Utah State in the opener, Jones completed 30 of 40 passes for 380 yards with four touchdowns in a 47-17 rout of Florida State.
5. Jerrod Johnson, Texas A&M
Johnson is staking his claim to being the best quarterback in Texas, throwing for 349 yards with four touchdowns on 25-for-38 passing in a 48-16 blowout of Louisiana Tech.
Off The Mark: Hot-Seat Coaches

1. Mike Locksley, New Mexico
The Lobos have been outscored 124-17 in their first two games, after losing 52-17 to Texas Tech on Saturday.
2. Tim Brewster, Minnesota
The Gophers lost to North Dakota State in 2007 and then lost to South Dakota 41-38 on Saturday. East Dakota is trying to get on Minnesota's schedule.
3. Paul Wulff, Washington State
The Cougars had to rally from a 15-point deficit for a 23-22 victory over FCS foe Montana State, which ended their 10-game losing streak.
4. Dan Hawkins, Colorado
Welcome to the Pac-10. The Buffaloes, who are expected to join the league in 2012, lost at California 52-17 on Saturday.
5. Todd Dodge, North Texas
The not-so-Mean Green lost to Rice 32-31 on Saturday, dropping their record to 0-2.
On The Mark: Ground-Churning RBs

1. Bryce Beall, Houston
Beall helped the Cougars overcome the loss of quarterback Case Keenum (concussion), running 19 times for 195 yards with three touchdowns in a 54-24 victory over UTEP.
2. Marcus Lattimore, South Carolina
Lattimore is already drawing comparisons to SEC legends Bo Jackson and Herschel Walker after running over Georgia with 182 yards and two touchdowns on 37 carries in a 17-6 win.
3. Trent Richardson, Alabama
Mark Ingram, the reigning Heisman Trophy winner, might have to share carries when he returns from a knee injury. Richardson ran 22 times for 144 yards with one touchdown in a 24-3 victory over Penn State.
4. LaMichael James, Oregon
James returned from a one-game suspension in a big way, running for 134 yards on 16 carries -- including a dazzling 72-yard touchdown -- in a 48-13 rout of Tennessee.
5. Jeff Demps, Florida
The country's fastest running back ran 11 times for 139 yards with one touchdown in a 38-14 win over South Florida.
Off The Mark: Un-ACC-eptable

1. Virginia Tech
The Hokies, a preseason top-10 choice, are 0-2 after inexplicably losing to FCS foe James Madison at home.
2. Georgia Tech
The defending ACC champions committed nine penalties in a 28-25 loss at Kansas, which had lost eight games in a row.
3. Florida State
The Seminoles were embarrassed at Oklahoma, allowing five touchdowns in the first half of a 47-17 loss.
4. Miami
Jacory Harris threw four interceptions in the loss at Ohio State and has 12 interceptions and five touchdowns in Miami's past five losses.
5. North Carolina
The Tar Heels didn't play after losing to LSU in the opener, but they're still not sure how many of their 13 suspended players will be available for Saturday's game against Georgia Tech.