Montee Ball: The Point Machine
I'm going to give you a list of teams, and you tell me what they have in common:
Florida International, Pittsburgh, Florida, Ball State, Ohio State, Utah State, San Jose State, Auburn, UConn, Syracuse, Iowa State, Rice, Virginia, Maryland, Western Kentucky, Illinois, Central Michigan, Duke, Troy, Kansas, Middle Tennessee State, Buffalo, Marshall, Oregon State, Louisville, Colorado State, Indiana, Miami of Ohio, Eastern Michigan, Tulane, Tennessee, Idaho, UAB, Colorado, Penn State, Minnesota, Boston College, UNLV, Kent State, Memphis, Ole Miss, Kentucky, Akron, Florida Atlantic and New Mexico.
[+] Enlarge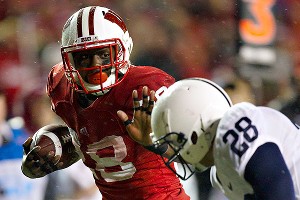 Jeff Hanisch/US PresswireWisconsin RB Montee Ball is averaging 6.4 yards per carry and three TDs per game this season.
Give up? Those 45 teams -- or about 37 percent of the entire FBS -- all have fewer touchdowns this season than one man: Wisconsin running back Montee Ball.
The Badgers junior is one of five Heisman Trophy finalists primarily because of his preposterous penchant for finding the end zone. He has 38 touchdowns in 13 games this season, just one shy of Barry Sanders' record of 39 set in 1998. Throw in Ball's passing touchdown to Russell Wilson against Indiana, and he has averaged three touchdowns per game this season.
OK, you say, but Sanders didn't get to count his bowl stats and played in only 11 regular-season games, while Ball has had 13 games and the Rose Bowl is still to come. Agreed. Still, Sanders -- who added four touchdowns in his bowl game -- averaged a score every 8.67 touches. Ball is scoring a touchdown in every 7.24 touches this year. The goal for every offensive skill player is to reach the end zone, and nobody does that better than Ball, who has scored at least three times in eight games this season.
It's not like he is just some battering ram who plunges in after others have done the hard work, either. Ball has rushed for 1,759 yards -- more than any other FBS player this season -- and is averaging 6.4 yards per carry. In fact, his numbers compare very favorably with Wisconsin's 1999 Heisman winner, Ron Dayne:
Dayne, 1999: 303 carries, 1,834 yards, 19 touchdowns, 6.1 yards per carry; one catch for 19 yards.
Ball, 2011: 275 carries, 1,759 yards, 32 touchdowns, 6.4 yards per carry; 20 catches for 255 yards and six touchdowns.
Like Dayne, Ball plays for a two-loss Badgers team that is going to the Rose Bowl. If the argument against Ball is that his team is not in the title hunt, then why does Robert Griffin III have so much support for leading a 9-3 Baylor team? Ball's numbers across the board are better than Alabama's Trent Richardson, and he has played just as many tough defenses as Richardson has faced. The only thing that gives an edge to Richardson is SEC bias.
Andrew Luck is great, but his stats are down from last year, while LSU's Tyrann Mathieu could have hurt his team by incurring a one-game suspension earlier this season.
Sanders' record has stood for nearly a quarter-century, and Ball will fly past 40 touchdowns if he has an average game against Oregon in Pasadena. That record could last a long, long time. And if Ball doesn't win Saturday night, future college football fans may look back and wonder how a guy with the most touchdowns ever, one who outscored more than a third of the teams in his sport that year, could have possibly been snubbed for the Heisman Trophy.
Tyrann Mathieu: The Game Changer
The catchy nickname is one of the reasons Tyrann Mathieu has become the rage this season in college football.
He'll forever be known as the "Honey Badger." It's just one of those monikers that sticks.
[+] Enlarge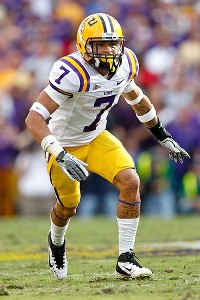 Derick E. Hingle/US PresswireTyrann Mathieu has consistently made big plays when the Tigers seem to need them most.
Something else that sticks is the way he plays the game, the impact he has on the game and his uncanny ability to make game-changing plays when his team needs them most.
This LSU football team is crawling with talent. Anybody who doesn't think so might want to turn on the television in a couple of years and watch the NFL.
Where Mathieu fits into that equation remains to be seen. His teammate, junior receiver Russell Shepard, said it best last week following the Tigers' SEC championship game win over Georgia.
"He's not the fastest, and he's not the biggest," Shepard said. "But he plays with a lot of passion."
And it's no secret to anyone who's played against him why he just happens to always be around the ball.
"When you play as hard as he does, good things happen to you," Georgia coach Mark Richt said.
Indeed they do. There's a reason the 5-foot-9, 175-pound dynamo has recovered five fumbles, tied for the most in the country. The same goes for his six forced fumbles, which is tied for third nationally.
He's scored two of his four touchdowns on fumble returns and the other two on punt returns. His 92-yard punt return against Arkansas two weeks ago was jaw-dropping. His 62-yard return last week against Georgia was even better, and then came one that topped them all.
Mathieu didn't score on his 47-yard return, but he left as many as seven Georgia defenders in his wake while cutting, starting and stopping, and weaving his way to the Bulldogs' 17-yard line before the last guy finally got him.
Here's the common denominator on all three returns: They came at points in the game when the Tigers needed a spark.
Mathieu, who's played cornerback, nickelback and safety on defense this season, has his own built-in clock. He can sense when his team needs that big play.
And the way he attacks the ball, you'd swear he also has a built-in homing device.
"It goes deeper than football what Tyrann Mathieu means to this team," LSU defensive end Sam Montgomery said. "He might be a young guy, but we have a lot of young guys who are leaders that make plays, and nobody has made more of them this season than Tyrann.
"He's a leader of leaders."
Also the Tigers' leading tackler, Mathieu hit a lull late in the season when he was suspended for the Auburn game for reportedly testing positive for synthetic marijuana.
It's the reason some people may choose not to vote for Mathieu for the Heisman Trophy.
That's a whole different debate.
But if you're looking for the player who has impacted his team in the most areas and has done it on the brightest stages, the next thing the "Honey Badger" takes will be the Heisman Trophy on Saturday night in New York City.
Heisman Memorial Trophy
The 77th Annual Heisman Memorial Trophy will be awarded Saturday at 8 p.m. ET on ESPN. Who will win? Our experts weigh in.
Heisman Watch
Heisman Watch: Final Votes
Andrew Luck: The Favorite
By Kevin Gemmell
I'm tasked with making a case for Stanford quarterback Andrew Luck to win the Heisman Trophy. Shouldn't take much. Luck did most of the work himself -- and head coach David Shaw did a pretty good job last week filling in any blanks that might have been left out.
Luck
No question, Luck is a victim of his own success. When he opted to return to college ball for another season, the hype machine went into overdrive. He was given almost impossible standards to live up to. Funny thing is, he did.
Consider:
He more than satisfied the "team success" criterion, leading the Cardinal to an 11-1 record, the No. 4 ranking in the BCS standings and a second straight BCS bowl berth.
He was perfect in the red zone -- 26 touchdowns and zero interceptions. No one else can make that claim.
For more, check out the Stanford blog.
Trent Richardson: The Contender
By Edward Aschoff
Don't let Trent Richardson fool you.
His humble demeanor is a coach's dream, and I respect the fact he says "We" and "They" more than "Me" or "I."
Richardson
But when you're talking about the Heisman Trophy, only one person can win it. Only one person can have his named etched into that bronze beauty. Only one player has his photo plastered on the Heisman Hall of Funny Smiles each year.
This year, Trent, your cheesy smile should join the group.
However, someone should have informed Alabama's mild-mannered, bulldozing running back that it's OK to be a little selfish sometimes when you're trying to sell your Heisman campaign.
You can't hate Richardson for his team-first attitude, and it just goes to show you that the award that judges both on-field AND off-field actions should return to Tuscaloosa, Ala.
For more, check out the SEC blog.
Robert Griffin III: The Trendy Pick
By David Ubben
Saturday night, the best and most hallowed individual award in all of sport will be handed out for the 77th time.
The award, as anyone who has won it can attest, is anything but a handout. It's earned.

Griffin
Baylor quarterback Robert Griffin III has earned it, and none of the five finalists deserves it more than he does. There's no definite criteria for the award that means different things to different people.
Best player?
Most outstanding player?
Most valuable player?
Griffin is all of these things, and the odds-on, heavy favorite to win the award on Saturday night since voters began revealing their ballots after voting closed on Monday.
For more, check out the Big 12 blog.
Video: Robert Griffin III