It's true: Throw out the record books when rivals meet
Don't Make Those Plans Just Yet
By Ivan Maisel, ESPN.com

The BCS Championship Game is the kind of girl that Mom warned you about. She flirts, she dangles her heart, and when you reach for it, it's not there. Ask Texas Tech.

The rivalry game is the kind of girl you can take home to Mom. Year in, year out, she will always be there. She may bring joy. She may stomp on your heart. But you can depend on her. She is frequently kind and she's suddenly cruel. She can do as she pleases -- oh wait, that's a Billy Joel song.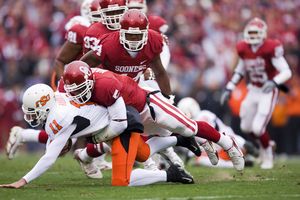 Wesley Hitt/Getty Images

Despite its historical success, Oklahoma shouldn't look past Oklahoma State.
The point is, as the back half of the Rivalry Fortnight begins, four of the top five teams -- No. 1 Alabama, No. 2 Texas, No. 3 Oklahoma and No. 4 Florida -- play in-state rivals this week, and the fifth, No. 5 USC, plays Notre Dame. All five games could have an impact on who plays for the crystal football. But even if they didn't, all five games would be charged with emotion.
That's the thing about rivalry games. It doesn't matter what the records are. Take Alabama, the last remaining unbeaten team among the six automatic-bid conferences. One week before the Crimson Tide play the Gators for the SEC championship in a game that has been billed as a BCS semifinal, Alabama must first play 5-6 Auburn.
If you have no knowledge of the Iron Bowl, you might think that the Tide could overlook its mediocre opponent. But the last time Alabama beat Auburn, in 2001, Dennis Franchione was the winning coach. It was so long ago that Alabama freshman receiver Julio Jones was in sixth grade. And let me be the first to tell you what you will hear dozens of times in the coming days: Alabama has never beaten Auburn in Tuscaloosa (they played there in 1895 and 1901, and not again until 1999).
In the wake of Oklahoma's crushing 65-21 defeat of Texas Tech, the Sooners must refocus on playing at No. 12 Oklahoma State. The rivalry is called the Bedlam Series, which is mostly wishful thinking. The results have been downright orderly. Oklahoma, winner of five straight over Oklahoma State, leads the series 79-16-7.
Florida is 3-0 against Florida State during coach Urban Meyer's tenure in Gainesville. Seminoles coaching legend Bobby Bowden's record against the Gators has been a yo-yo. In 32 seasons, with two bowl games tossed in for good measure, Bowden is 17-16-1 against Florida.
While Texas jockeys for position in the BCS standings, rival Texas A&M will attempt to shore up its precarious footing. The Aggies (4-7) have never gone winless against the Big 12 South teams in 12 seasons of conference play.
Notre Dame, like Texas A&M, is playing both for an upset and to salvage a season gone awry. Though the Irish (6-5) have improved since going 3-9 in 2007, the fourth-quarter collapse and loss at home to Syracuse on Saturday sucked away all the goodwill Notre Dame had created this season. Playing a USC team fighting for a foothold in the BCS is no way to regain that goodwill.
Whither Notre Dame? Take out the first "h" and the answer is "Yes."
Defense Answers Call
By Tim Griffin, ESPN.com
NORMAN, Okla. -- If Oklahoma defensive players needed any real inspiration during the past two weeks, all they needed to do was watch television.
Most-Lopsided Losses By A Top 2 Team
| | | |
| --- | --- | --- |
| Margin | Teams | Date |
| 48 | No. 1 Army 48, No. 2 Notre Dame 0 | 11/10/45 |
| 44 | No. 5 Oklahoma 65, No. 2 Texas Tech 21 | 11/22/08 |
| 43 | Holy Cross 55, No. 1 Boston College 12 | 11/28/42 |
| 38 | No. 1 Nebraska 62, No. 2 Florida 24 | 1/2/96 (Fiesta Bowl) |
| 36 | No. 1 USC 55, No. 2 Oklahoma 19 | 1/4/05 (Orange Bowl) |
The Sooners apparently were listening, especially when Graham Harrell and his Texas Tech teammates were talking about the things he would do against Oklahoma's defense.
"Graham said earlier that he wasn't going to get sacked and nobody would get to him," Oklahoma defensive tackle Gerald McCoy said. "We took that as a challenge. Everybody realized how big this game was. We knew we had something to show."
Harrell had been sacked only five times entering Saturday night's contest, but the Sooners nearly matched that total in a ferocious four-sack performance that sparked their 65-21 victory over the Red Raiders.
"We watch TV and ESPN," Oklahoma freshman linebacker Travis Lewis said. "They weren't really giving our defense a chance and it got under our skin. We came out hungry tonight."
To read the rest of Tim Griffin's story, click here.
Two Years In The Making
By Graham Watson, ESPN.com
SALT LAKE CITY -- As the media started to leave the press area and Utah coach Kyle Whittingham was left with his family at his side, he sat in a chair, fingers folded, and said, "How about that."
It wasn't really a question per se, but rather a statement, a testament, to a gut feeling he'd had about his team more than a year ago, and then he finally saw that feeling come to fruition.
After a 27-0 loss at UNLV on Sept. 22, 2007, which put the Utes at 1-3 to start the season, Whittingham and his Utes vowed to never have a performance like that again.
Despite injuries to key players, Utah went on to win eight of its last nine -- its only loss to BYU -- and beat Navy in the Poinsettia Bowl. It laid the foundation for a belief that an undefeated season was not out of the realm of possibility. It became a reality after Utah's 48-24 win over Brigham Young completed a 12-0 season.
"Last year, we had a very good team and the injuries kind of hurt us," cornerback Sean Smith said. "But to see us fight back and have that little streak we had, we knew that next year was going to be something special. Going through fall camp, all the pieces started to come together, not to mention the recruits we had coming in. We knew the defense was going to be dominant and Brian Johnson was going to lead this offense. And then to do it. To finish 12-0 is just amazing, especially seeing how we came from last year."
To read the rest of Graham Watson's story, click here.
Falling Short
By Heather Dinich, ESPN.com
COLLEGE PARK, Md. -- None of the wins over ranked teams matters now.
Not when Maryland couldn't beat the unranked team that mattered most.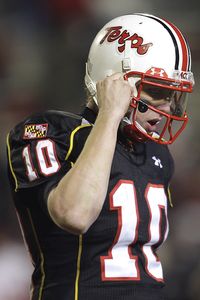 AP Photo/Rob Carr
Chris Turner was sacked six times Saturday night.
Good teams are consistent, take care of business at home and win the games they have to win.
In Saturday's 37-3 loss to Florida State, the Terps swung and missed in all three categories, and because of that, they're out.
For the second time in three years, Maryland squandered its opportunity to win the Atlantic Division. For anyone paying any attention to the Terps this season -- or even in the past few -- it shouldn't come as a complete surprise. They rise and fall to the occasion.
Even Bobby Bowden expected it.
"To be honest with you, I had a feeling that their win last week might hurt them in regard to this week," Bowden said of Maryland's 17-15 upset of North Carolina. "I think that teams play tougher when they come off of a loss and they won last week, beating a heck of a football team. I thought we might catch them a little flat."
Flat on their backs. Quarterback Chris Turner was sacked six times and pressured all night. Florida State controlled the line of scrimmage for four quarters -- something the Noles couldn't do in last week's costly home loss to Boston College. They beat Maryland's defense with their speed and athleticism.
To read the rest of Heather Dinich's story, click here.
Legacy Complete
By Adam Rittenberg, ESPN.com
COLUMBUS, Ohio -- Ohio State's senior class always will be viewed through two different prisms.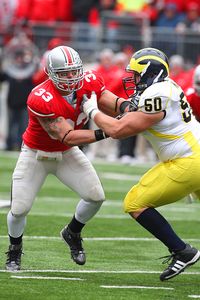 Matthew Emmons/US Presswire
James Laurinaitis never lost to Michigan.
Within Buckeye Nation, these seniors will forever remain conquering heroes, a group that dominated the Big Ten Conference and archrival Michigan like none before. Ohio State won outright Big Ten titles (2006, 2007) or shared the championship (2005, 2008) in all four seasons that they played.
Ever since the fifth-year seniors set foot on campus back in 2004, Ohio State hasn't lost to Michigan. The Buckeyes' 42-7 victory against Michigan on Saturday ensured the seniors their own chapter in team history.
"I don't think we really realize it now," senior linebacker and co-captain James Laurinaitis said, "but as we get older, we'll look back on our career and stuff and realize to be a part of the first team to win five times in a row is something that is very special."
Backup quarterback and co-captain Todd Boeckman will always remember Ohio State's dominance of Michigan.
"When you get five pairs of gold pants, that's something you never forget," said Boeckman, referring to players' reward for beating Michigan.
To read the rest of Adam Rittenberg's story, click here.
Apple Cup: We're not No. 120!
By Ted Miller, ESPN.com
PULLMAN, Wash. -- Wearing flushed faces and disbelieving grins, they leaped over the railing at Martin Stadium and stormed the field, a spontaneous and joyous crimson tide flowing over the turf and meeting in a pulsating mass for a raucous celebration.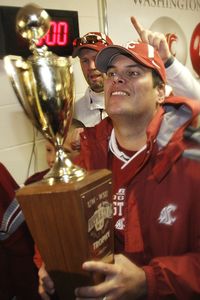 AP Photo/Ted S. Warren
It took two overtimes, but Washington State won the Apple Cup.
"Wooooooo! No. 1 baby!" bellowed a middle-aged man as he flung himself into the swirl of humanity.
Victory. So sweet.
It looked and felt like the scene at Texas Tech a few weeks back, when the Red Raiders announced themselves as national title contenders.
Only this was Washington State, and the team trudging off the field with grim and nearly catatonic faces was Washington.
Washington State had triumphed in the 101st Apple Cup, 16-13 in double-overtime, overcoming a 10-0 halftime deficit.
The Cougars and Huskies entered the game with a combined 1-20 record, the lone victory being Washington State's win over Portland State, a mediocre FCS team.
The stakes were simple, thereby earning this train wreck of a game national attention. The loser would be known as the nation's worst BCS conference team.
"That's really disrespectful but there's really nothing you can do about it," Washington State cornerback Romeo Pellum said. "We are one of the worst teams in the nation."
To read the rest of Ted Miller's story, click here.
Pike Shines
By Brian Bennett, ESPN.com
CINCINNATI -- The second week of training camp in August, Cincinnati coach Brian Kelly called Tony Pike in for a meeting.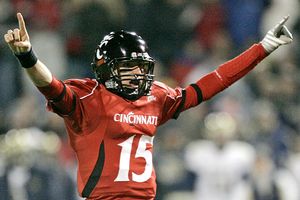 AP Photo/Al Behrman
Bearcats quarterback Tony Pike came up big versus Pitt.
The fourth-year junior quarterback had shown some potential during his time on campus but not much else. And Kelly told Pike that if that's all there was, he need not stick around for his senior season, because the team could use his scholarship on younger players.
"It was now or never for me," Pike said.
There's not much chance Pike will have to foot his own tuition bill anytime soon. Firmly entrenched as the Bearcats' starter, he turned in a dazzling performance in his team's most important game. Pike completed 26 of 32 passes for 309 yards and tossed three touchdown passes in Cincinnati's 28-21 win over Pittsburgh on Saturday night. He was so in control that the occasional incompletion felt like an upset.
"We could have thrown for as many yards as we wanted to throw for with him," Kelly said. "He was outstanding tonight."
To read the rest of Brian Bennett's story, click here.
Three Weekend Observations
By Ivan Maisel, ESPN.com

1.
It turns out that Florida State safety Myron Rolle is not the only football player to win a Rhodes Scholarship this weekend. Former UCLA center Chris Joseph, who graduated earlier this year and finished his career last season, won one of two Rhodes Scholarships awarded in San Francisco on Saturday. Unlike Rolle, Joseph, who will study geography at Oxford, asked his school not to publicize his quest for the scholarship. The good news: At least one Bruin will win a major award this season.

2.
Party like it's 1964: Oregon State is one win away from clinching its first Rose Bowl berth since then. Cincinnati could win its first outright conference championship (Missouri Valley then, Big East now) since 1964. Alabama is one win away from finishing the regular season undefeated and No. 1. The Tide could play Texas in Miami in January. That matchup also occurred in 1964, but this time, a Longhorns victory would give them the national title. Back then, it didn't.

3.
Lumping Kevin Sumlin of Houston and Turner Gill of Buffalo together because they are African-American is arbitrary. But so is decrying the firings of African-American coaches Ty Willingham at Washington and Ron Prince at Kansas State. They got fired because their schools didn't think they succeeded. So here it is: Give it up for Sumlin, one win away from a berth in the Conference USA championship game, and Gill, who led the Bulls to the MAC East title.
GameDay Recaps Weekend
GameDay Crew Final Thoughts
RECE DAVIS

A three-way tie like the one in the Big 12 South always brings up an interesting dilemma. Oklahoma is probably playing the best football of anyone in the country, but you can't just totally dismiss the head-to-head loss to Texas.
Helmet Stickers Go To:
• QB
Pat White
, West Virginia
200 rush yards, 5 total TDs vs. Louisville
• DT Arthur Jones, Syracuse
15 tackles, 4 TFL, 1½ sacks vs. Notre Dame
---
LOU HOLTZ

I hope people have an open mind in the Heisman race, because I've never seen so many viable candidates for the trophy. So don't vote early. Let's let this thing play out until the very last game on Dec. 6 -- and then decide.
Helmet Stickers Go To:
• LB Travis Lewis, Oklahoma
13 tackles, INT, forced fumble vs. Texas Tech
• QB Brian Johnson, Utah
30-36, 303 yards, 4 TDs vs. BYU
---
MARK MAY

These things change and one should reassess every week, but right now my top 5 would look like this (in order): Alabama, Oklahoma, Florida, Texas and USC.
Helmet Stickers Go To:
• QB
Daryll Clark
, Penn State
341 yards, 4 TDs vs. Michigan State
• QB Tony Pike, Cincinnati
26-32, 309 yards, 3 TDs vs. Pitt
Blog Network: Helmet Stickers
Every week, our bloggers will hand out helmet stickers to the week's top players, coaches, teams or anything else worth this honor.
• ACC: FSU defense, Jonathan Dwyer
More ACC Stickers
• Big 12: Oklahoma's offense, Alex Hrebec
More Big 12 Stickers
• Big East: Pat White, Mike Teel
More Big East Stickers
• Big Ten: Daryll Clark, Curtis Painter
More Big Ten Stickers
• Pac-10: Sean Canfield, Jahvid Best
More Pac-10 Stickers
• SEC: Jevan Snead, Peria Jerry
More SEC Stickers
• Non-BCS: Tarrion Adams, Phillip Tanner
More Non-BCS Stickers
Highlights: Texas Tech-Oklahoma
Blog Network: What We Learned

In the Atlantic Division, it's down to Florida State and Boston College. In the Coastal Division, it's down to Virginia Tech and Georgia Tech.
ACC

Texas Tech's dream season came to a crashing thud Saturday night thanks in large part to Brent Venables, whose luster has been restored.
Big 12

Brian Kelly should get national coach of the year consideration, and Syracuse should rehire Greg Robinson and then fire him again this week.
Big East

The league has clear separation heading into the postseason, and Penn State's big-play offense can hang with anyone.
Big Ten

Oregon State is the sum of its parts and that sum has figured out how to win.
Pac-10

We're down to the final week of the regular season and then it's on to Alabama versus Florida in the SEC championship game.
SEC

Non-BCS:
After a long 13-week season and several key games and scenarios, the Mountain West finally has a champion.
Around the nation
Highlights: Florida State-Maryland
Going And Going
By Brett Edgerton, ESPN.com
Michael Crabtree's streak of 13 straight games with a receiving touchdown may have ended Saturday, but one even-longer streak reached the pages of the record book. He might be anonymous to the casual fan, but Cal Poly WR Ramses Barden extended his TD streak to 19 this weekend, setting a Division I record on a list that includes Jerry Rice and Larry Fitzgerald.
Highlights: Michigan-Ohio State
Another Irish Low
By Brett Edgerton, ESPN.com
No matter what happens in its season finale at Cincinnati, Syracuse will finish with at least eight losses. What does that mean? It means Saturday marked the first time in Notre Dame's long and storied history the Irish lost to a team that will finish the season with eight or more losses. It had never happened. Ever. Against Division I opponents that had eight losses or eventually ended up with that many, the Irish were previously 99-0-2 all time, with two ties on the road (Georgia Tech in 1980 and Oregon in 1982).