Under-the-radar story lines, Week 10's top matchups and coaching tips
Situation Room: Story lines you may have missed
Nebraska's and Notre Dame's struggles are shocking
By Bob Davie, ESPN.com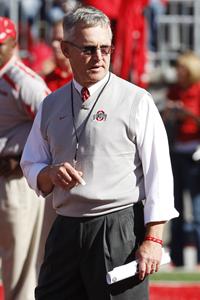 Matthew Emmons/US Presswire
Ohio State's Jim Tressel has the Buckeyes in a unique position.
In an amazing year filled with unbelievable story lines, the struggles of Nebraska's defense and Notre Dame's offense haven't received the type of attention they otherwise may have. Over the years, these units have set the bar in terms of their success and consistency. Now, both are among the worst in Division I-A. Look at the numbers: Nebraska ranks No. 119 (of 119) in rushing defense. The infamous Blackshirts are last in the very thing they're known for! The Huskers rank 107th in total defense. Texas' Jamaal Charles rushed for 290 yards and three touchdowns -- nearly doubling his season highs in those categories. In South Bend, things aren't much better. The Irish rank last or next to last in rushing offense, scoring offense and total offense. They're marginally better in passing offense (No. 112). With those types of numbers, it's no surprise that one of the few areas Notre Dame excels in is punting -- the Irish certainly get many opportunities. Neither school has been this bad in a very, very long time -- if ever. But the landscape of college football has changed dramatically -- probably by design -- and probably for the best. It's certainly more interesting to see new team names among the top 10 or 15 teams. Traditional programs can no longer assume to win 10 or 11 games; they can no longer take anything for granted. That's why I am so impressed with what Jim Tressel has done at Ohio State. He's kept the Buckeyes at the top of the Big Ten and national races despite drastic changes at the top of nearly every other conference. Tressel has relied on really good defense and a solid kicking game to stay at the top, and he generally puts together an offense that can keep up with the other two units. It's unique in college football, but not surprising; Tressel did the same thing at Youngstown State, building it into a Division I-AA power. Tressel has the luxury of coaching at the major college football program in a state rich with high school talent. The Buckeyes do a great job of keeping the top players in-state. Other states with high levels of high school talent like Florida, Texas and California have multiple schools competing over the same players. Schools like Tennessee, which doesn't have another top-tier program in the state to compete with, doesn't have the same caliber of talent in-state. LSU is really the only other program in a situation like Ohio State. Nebraska and Notre Dame will improve and return to the top tier of college football. But it certainly won't be as easy as it was just a few decades ago.
Why a season full of upsets is not a surprise
By Bill Curry, ESPN.com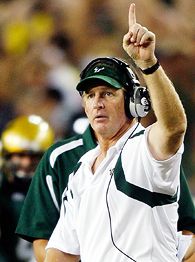 J. Meric/Getty Images
A decade or two ago, you never would have seen a program compete at an elite level as quickly as South Florida has.
Everyone is talking about the amount of upsets we've witnessed this season, but what is really surprising is that it hasn't happened more often. There was a time before scholarship limits when dominating programs could sign 200 players. They would sign every top player in the state -- they'd even sign players they knew would never play, just so they wouldn't have to play against them. These practices forced the NCAA to institute scholarship limits, and, more recently, monitor players' graduation rates. These changes have allowed smaller colleges and those with tougher academic standards to become more competitive. Each year, there are hundreds of great high school players to come out of states like Florida, and they can't all go to Miami, Florida State or Florida. They often wind up at nontraditional schools, making those programs dangerous. In addition, the level of coaching has improved. It's almost impossible to fool people or just outnumber them and win. There are a lot of innovative coaches like West Virginia's Rich Rodriguez, and there are even more who can copy and improve upon what Rodriguez has done. And there are great coaches at every level. For example, Oregon can thank new offensive coordinator Chip Kelly for opening up the offense. Ducks coach Mike Bellotti hired Kelly away from Division I-AA New Hampshire, where his teams averaged more than 400 yards of total offense and 30 points per game. Another cause for the increasing parity is national television exposure. When I was a college player, I had never seen or experienced anything like Tiger Stadium in Baton Rouge, La. These days, players have watched games in all the big stadiums, and know what to expect. The Appalachian State players who went to the Big House and beat Michigan weren't intimidated; they had been watching games there since they were young kids. These days, a school like Northwestern can reach the Rose Bowl. Schools like South Florida can be competitive within a few years of starting a new program. Teams are no longer scared of traditional powers -- and that's great for the sport.
Breaking Down The Games
By Jim Donnan, ESPN.com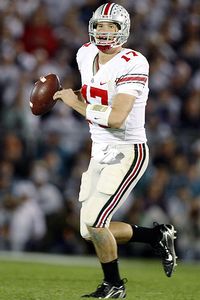 Matthew Emmons/US Presswire
Todd Boeckman has provided consistent leadership for Ohio State.
Wisconsin at Ohio State
I was impressed by the way Ohio State attacked Penn State. The Buckeyes moved the ball so easily, and the offense was functioning on all cylinders, starting with their big, physical offensive line. We knew Ohio State's defense would be great, but now the offense is playing like a true championship contender. Wisconsin hasn't been consistent enough on offense or defense to really compete with Ohio State, particularly away from home.
Todd Boeckman
has done a great job of managing the game and has a number of weapons. The Badgers can also be dangerous on the offensive side of the ball. Ohio State is going to gang up on the run and lock down on everyone outside. Will Wisconsin's receivers get open? Playing at Ohio State might be insurmountable for the Badgers.
LSU at Alabama
With the way Alabama WR D.J. Hall has been playing the last two weeks, it will be very interesting to see how LSU combo covers him. One of the keys will be the status of Glenn Dorsey. If he is healthy, LSU will put pressure on the running game. On the offensive side of the ball, LSU seems to be getting a lot healthier;
Early Doucet
and
Matt Flynn
are returning to 100 percent. The story of the game has been the battle of the coaches: Nick Saban is playing his former team for the first time. Both coaches have deflected the attention, saying the game is about the players -- and of course it is. But both have a lot of pride. There's an inherent competition between all coaches, no matter who you're playing. Of course, when two passionate fan bases are involved, like at LSU and Auburn, it's even more heated. We saw this in coach Steve Spurrier's first year at South Carolina after he left Florida for the NFL. Beating both Florida and Tennessee that season must have been incredibly satisfying for him. Saban is in a similar position. Entering the season, fans might not have been surprised if you said the team would be 6-2 at this point, but there's no doubt the fans are happy with wins over Arkansas and Tennessee. Alabama's players have responded to Saban, and in turn, have shown an ability to play hard and beat teams in the fourth quarter -- something previous Tide teams had struggled with. It will be interesting to see whether Alabama can keep the Tigers from reaching their SEC and national title goals.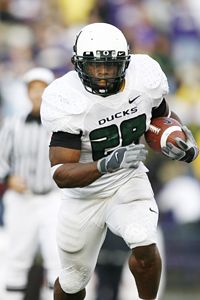 Joe Nicholson/US Presswire
Jonathan Stewart is the unsung hero of Oregon's offense.
Arizona State at Oregon
Oregon showed me a lot last week, performing well offensively against a stellar Trojans defense. Statistically, USC ranks in the top 10 in total defense, rushing defense and passing efficiency defense -- and yet
Dennis Dixon
,
Jonathan Stewart
and the rest of the Ducks' offense were able to rack up nearly 400 yards of offense. Dixon did a very good job of managing the game. He was careful when taking risks and was able to capitalize on field position. Oregon's defense was opportunistic on critical turnovers -- something we're used to seeing from USC. Oregon got over a big hurdle in beating a perennial power, which will give the Ducks confidence as they take on an undefeated Arizona State team at home Saturday (
ESPN, 6:30 p.m. ET
). On the other hand, Arizona State also looked calm and composed against a Cal team only weeks removed from being the No. 2 squad in the country. Under coach Dennis Erickson, we're seeing a new team that has the ability to play smart under pressure. The Sun Devils are winning games in the second half, and that's a mark of good coaching: Erickson is making the right adjustments and his players are buying in to his system. As good as Arizona State has become, Oregon still has the edge in this contest. The Ducks have more offense thanks to their accurate, mobile quarterback (Dixon) and bruising back (Stewart). They also have home-field advantage, which could be key against a team that hasn't faced this big of a challenge yet on the road.
Coach Class: LSU-Alabama
By ESPN The Magazine
Editor's note: Each week, analysts from ESPN.com and ESPN The Magazine will tackle a game plan for one of the biggest games on the schedule.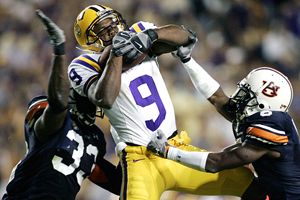 Jerry Lai/US Presswire
Now healthy, Early Doucet could pose problems for Alabama's defense.
Sure, next season in Baton Rouge will be worse. But when LSU goes to Alabama on Saturday, don't expect visiting Tigers fans to keep their voices down as former coach Nick Saban takes the field. We asked our coaches, Bill Curry and Mike Gottfried, to draw up game plans for both teams. Then we had Jim Donnan pick a winner. On paper, anyway.
Curry takes over LSU
The Saban factor doesn't worry me. When our guys get smacked on the first play, they'll forget who recruited them. Bama QB
John Parker Wilson
is solid but can be rattled. He'll get to know DT Glenn Dorsey, who's playing angry after the UK loss. If he's healthy, expect sacks, TFLs and some decleatings from him. Shutdown CBs Jonathan Zenon and Chevis Jackson allow us to blitz, too. On offense, we'll counter Bama's blitzes by having QB
Matt Flynn
audible right before the snap. We'll run our backs inside early then go deep to
Early Doucet
.
Read the full story here.

What To Watch
By Rod Gilmore, ESPN.com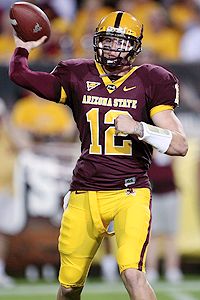 Stephen Dunn/Getty Images
The health of Arizona State QB Rudy Carpenter could be the difference in Saturday's game.
Here are a few players, matchups and story lines to keep in mind on Saturday: • The big question facing Arizona State is Rudy Carpenter's thumb. Will he have the accuracy he'll need? It's one thing to be able to toss the ball in practice, but it's quite another to be able to fit the ball in tight spaces in big games. To have to deal with overcoming an injury as well as playing on the road and the crowd noise at Autzen Stadium and the communication problems it poses could be too much for the junior quarterback. • It's Heisman time. Oregon QB Dennis Dixon has a chance to make a statement in front of a national television audience against Arizona State. Matt Ryan and BC also will have a national platform this weekend. Will either solidify a trip to New York this weekend? There are only a few weeks left for both candidates to pad their résumés. • I was surprised by Cal's mental and emotional breakdown in the second half of the season. When Cal needed senior leadership against UCLA and Arizona State, it didn't have it. The Bears don't have a player like Michigan's Mike Hart, who can put the team on his back and carry it through the rough spots. … Last week I asked whether Georgia redshirt freshman tailback Knowshon Moreno was ready to carry the load for the Dawgs. He answered the question definitively: 188 yards and three touchdowns on 33 carries -- including a 42-yard jaunt -- and two catches for 17 yards in a 42-30 upset of Florida. • Saturday's Navy-Notre Dame game won't get top billing this season, but it's a really big game for the Irish. Navy's defense is not very good -- the Mids gave up 59 points in a loss to Division I-AA Delaware -- and this is a perfect opportunity for Notre Dame's beleaguered defense to gain some confidence. If the Irish roll, it sets up a three-game stretch to end the season, with an improved Air Force, Stanford and Duke to end the season. If Notre Dame struggles with Navy, however, it could spell trouble for the remaining three weeks.
Viewer's Guide
(All times ET)
Saturday:
10 a.m.:
"
College GameDay
" from Eugene, Ore. (ESPN)
3:30 p.m.:
Michigan at Michigan State (ABC)
Texas at Oklahoma State (ABC)
6:30 p.m.:
Arizona State at Oregon (ESPN)
7:15 p.m.:
Rutgers at Connecticut (ESPNU)
8 p.m.:
Florida State at Boston College (ABC)
Texas A&M at Oklahoma (ABC)
Oregon State at USC (ABC) •
College football schedule
|
ESPN GamePlan
•
Coverage maps:
3:30 p.m. ET
|
8 p.m. ET
Three-Point Stance
By Ivan Maisel, ESPN.com

Spurrier
1.
Asked what he would do if the entire Georgia team left the sideline to celebrate a touchdown against South Carolina, coach Steve Spurrier said he would have sent a third-teamer onto the field to pick a fight. Any player who leaves the bench to fight is thrown out of the next game. The Spurrier plan could too easily get out of hand -- just as Mark Richt's plan for his 11 offensive players to celebrate did -- but Spurrier's plan sounds more genius than evil to me.

2.
One big add to the I-Formation item about New York running backs who did not sign with Syracuse, currently suffering from a lack of iron in its rushing diet: Wisconsin sophomore
P.J. Hill
, one of a stream of East Coast players who have pipelined to Madison since former coach Barry Alvarez arrived there in 1990, is from East Elmhurst.

3.
No athletic director has been more supportive of his coach in the face of continued fan disgruntlement than UCLA's Dan Guerrero. Until now. In the wake of the Bruins' third loss, all by at least 14 points, Guerrero said he would watch the last four games with interest and, as if Karl Dorrell wouldn't be able to read the 72-point type between the lines, added, "You can print that." Sounds like Dorrell better lease, not buy.
Struggles of Young Teams
By Bill Curry, ESPN.com
Success is a very tough thing for young men to handle, and we've seen it get the best of two talented teams recently. Florida, which starts and plays more underclassmen than any other top team, and Kentucky, a team that isn't used to the limelight, faltered in the last week or two. When 19-year-olds are told that they are the greatest, they believe it. Publicity unhinges young players.

Teams need veteran players who have dealt with these circumstances before and understand how to focus on the next team. Chris Leak served that role for Florida last season, and the Gators miss him more than they probably thought they would. Leak was certainly human, but he always had a presence on the field, and no matter what the situation, he never lost that. He brought such poise and dignity to the team. As good as quarterback Tim Tebow is -- and he's very good -- he is in just his second year at the helm of a young team.
EA Game Simulator: ASU at Oregon
Lou Holtz: Navy-Notre Dame
Looking Forward, Looking Back
By Bob Davie, ESPN.com

• Going into last week's Kansas-Texas A&M game, I could tell the Jayhawks were well-coached and played hard, but I was skeptical about how they would look athletically. But Kansas is much better-looking physically and more athletic than I gave it credit for. The Jayhawks are legit. Are they a great team? No. They can lose as easily as they can win. But they've exceeded all expectations and have a very good chance to go into their season-ending game with Missouri undefeated.

• Bad weather hampered Boston College against Virginia Tech, but the Eagles proved they can win even when they don't play well. Boston College has everything going for it: a great quarterback in a great scheme and a defense playing much better than most thought it would. Ryan will be a great NFL quarterback -- he's athletic, tough, can move around and is accurate. I'd take him first.

Dixon
• The top teams in the national title race are proving just how important the quarterback position is. Schools like Oregon, Boston College and Kansas have emerged because of the strong play of their QBs. The biggest reason Ohio State is No. 1 is because Todd Boeckman has played much better than anyone dreamed. Look at Arkansas: As good as Darren McFadden has played, the team has still struggled. Quarterbacks in the right schemes can be the difference between winning and losing (see: Patrick White, Sam Bradford, Rudy Carpenter, Chase Daniel). There's a correlation there. That's why the Heisman race will most likely boil down to a race between signal-callers.

• Everyone thinks Oregon will beat Arizona State on Saturday. I'm not so sure it will be an easy win for the Ducks. The Sun Devils are fast and will match up pretty well with Oregon. They play loose and with a lot of emotion -- much of which they get from their coach, Dennis Erickson. He succeeds on the college level because he knows how to get guys that age to play their best: by keeping the game fun.
ESPNU Preview: Rutgers vs. UConn
Todd McShay: Upset Special
Coach's Corner
By Jim Donnan, ESPN.com
As we head down the stretch, coaches will be emphasizing a few key things in practice:
1.
Working with punt returners on fair catching the ball and making good decisions. It's critical not to give up lost yardage in big games, and it's important for your team to know what to do in every situation.
2.
Working with linemen on recovering fumbles. We saw in the South Carolina-Tennessee game how important recovering a fumble can be.
3.
Working with the offense on tackling, so that if the unit turns the ball over, it limits the opponent's field position and yardage.
4.
Working with defensive backs and linebackers on catching balls. Often they're in position to catch an interception, but aren't used to the velocity of the ball. A few minutes each day with the ball machine gets them used to catching an opposing quarterback's pass.
5.
Working with the defense on stripping balls. At this point in the season, you need every advantage, and finding ways to cause and prevent turnovers will give your team an edge.
By The Numbers
By ESPN Research

• After playing seven straight games as a more-than-a-touchdown underdog (four straight as more-than-a-two-TD underdog), the 1-7 Notre Dame Fighting Irish will take the field as a favorite Saturday against Navy -- and they might even be favored in all four of their remaining games. The only way an already-disastrous season could get worse would be to take a couple more losses down the stretch against the likes of Navy, Air Force, Duke and Stanford.

• Texas A&M has made a habit in recent years of late-season flops. As a matter of fact, in the Dennis Franchione Era (since 2003), the Aggies are 3-12 in games after the calendar turns to November (includes bowl games). Doesn't end there. Going back to 2000, A&M is 6-21 in that time period.

• Michigan's apparent turnaround has been caused by its ability to force turnovers. After coming up with just four turnovers in their 0-2 start, the Big Blue have now forced 26 turnovers (second in the country), converting them into 87 points.

• After being one of the nation's best teams in turnover differential throughout Pete Carroll's first five seasons, the Trojans took a step backward last season and have now done the unthinkable, dropping below even in 2007 to minus-5. They were minus-1 in last week's loss at Oregon and minus-4 in the loss to Stanford.