Even with national buzz missing, Michigan-Ohio State still has meaning
Not What It Was
By Rece Davis, ESPN.com
What if a tree falls in the forest and no one is there to hear it? Does it make a noise? In a related story, what if Ohio State and Michigan played Saturday and no one realized it?
OK, so maybe people realize they're playing -- at least people in Michigan and Ohio do -- but I can't remember a season in which this game has generated less buzz. Everybody believes their rivalry is the best. But in recent years, Ohio State and Michigan carried the trump card of national significance that transcended bragging rights. National championship game berths, BCS berths and lofty rankings were the spoils to the victors, valiant or otherwise.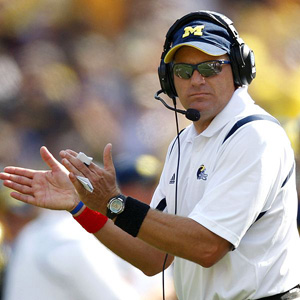 Gregory Shamus/Getty Images
Rich Rodriguez needs his Wolverines to beat the Buckeyes to become bowl eligible.
This year, Ohio State is still playing for gold pants (charms given to Buckeyes players and coaches for wins over the Wolverines). Michigan is playing to perhaps keep Rich Rodriguez from needing asbestos pants. The Buckeyes have tickets to Pasadena. The Wolverines have workout logs. Finally.
With Michigan's defense often treating opponents as if they carried H1N1 instead of the ball, you couldn't blame the Buckeyes if they were feeling a little cocky.
Ohio State coach Jim Tressel said this week, "if there's any inkling of overconfidence, it will get knocked out of their throwback uniforms on the first play." That's not coachspeak. That's respect for a rivalry and the opponent.
While the stakes aren't what they have been, this is still a must-see game every year for me. The Justin Boren subplot will be intriguing, too. The highly regarded offensive lineman made the unthinkable Michigan-to-Ohio State transfer and took some less-than-kind parting shots at Rodriguez's program on his way out. He reportedly dressed as Rich Rod for Halloween, too. Take your eyes off the ball long enough to watch No. 65 for the Buckeyes and see how hard the guys in maize and blue go after him. Michigan certainly has larger worries than a disgruntled former player, but I'm sure the thought of Boren coming to his former (big) house and sticking it to his old mates is galling.
No matter what the records, Ohio State and Michigan always has some juice. It's never just another game on the schedule. This is the 40th anniversary of perhaps the most memorable upset in series history, when Bo Schembechler made his rivalry debut and upset the undefeated, top-ranked Buckeyes. I'm just saying. Then again, those Wolverines came in having allowed 13 points in three games since Halloween. These Wolverines have allowed nearly 10 times that many since Halloween arrived.
The former Michigan man, Stanford head coach Jim Harbaugh, pulled one straight out of the Woody Hayes playbook when he went for two trying to hit 50 in the blowout of USC last week. He later got another touchdown and rolled double nickels on the Trojans anyway. Now there's an entirely different challenge for the Cardinal. Will they still play with that chip on their shoulder now that the national media is loving them up? Guilty as charged.
Stanford scored 50-plus on two defenses, Oregon and USC, against which Cal could only muster single field goals. Cal running back Jahvid Best is out. Based on that, the Bears would appear to be overmatched in the Big Game.
But Cal is coming off a win against Arizona, the same Wildcats team that beat Stanford. Harbaugh warns that hubris or overconfidence could be a killer for them. But the Cardinal subtle-as-a-wrecking-ball approach can be an inoculation against too much cockiness. Bang away with Heisman-worthy running back Toby Gerhart and go for knockout blows with rifle-armed Andrew Luck.
This is huge for the Cardinal. It's their last Pac-10 game. If they win this, they can sit back and hope for a little conference chaos that could still land them in Pasadena.
The Cardinal would still need plenty more help, but the most direct path to the Rose Bowl for Stanford would start with Arizona beating Oregon on Saturday night. A Cats victory could conceivably leave four teams tied with two losses in Pac-10 play.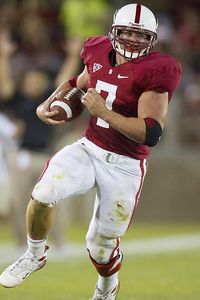 Jason O. Watson-US PRESSWIRE
Will Toby Gerhart and Stanford be able to enjoy their recent prosperity?
Arizona would have beaten the other three head-to-head. It was once said a "cosmic block" was keeping Arizona from making its first Rose Bowl appearance. Even a win wouldn't lock up much. The Cats would still have to go through USC to make it to Pasadena. Isn't that always the way it is? To win the Pac-10, you have to beat USC.
Mike Stoops' defense has been good statistically against the run, but Cal's Shane Vereen gashed them last week. Ducks running back LaMichael James has exploded on to the scene as the nation's ninth-leading rusher.
Oregon's offense is cold-blooded in its attack mentality. The Arizona offense had its worst performance of the season against Cal. To me, the most important thing for Arizona will be getting Nic Grigsby back to 100 percent. The Cats not only need the threat he brings in the running game; he also helps an Arizona strong suit: controlling the clock. The Wildcats are sixth in the nation in time of possession. I admit, that stat is often meaningless. But in this case, keeping the Ducks from getting their hands on the ball is of paramount importance.
It's worth noting that Oregon is sixth-worst in time of possession. Of course, that's the result of the Ducks scoring quickly. Obviously, that's not the way Arizona needs to win the time-of-possession battle.
Home games are a great tonic for the Cats, too. They're undefeated in front of the Zona Zoo, one of the most organized student sections in the nation. It will be a great "red-out" scene in Tucson, with everyone encouraged to don red, a rosy hue if you will. Who knows what color the Ducks will wear, but with a win everything will come up roses for the Civil War showdown against Oregon State. The winner would go to the Rose Bowl, if the Beavers handle Washington State this week.
The Big 12 consolation division, uh, I mean Big 12 North will be settled in Lincoln. Kansas State has to win to make the championship game. A loss makes them ineligible for a bowl game. While that might be the definition of mediocrity, the job Bill Snyder has done is anything but mediocre. He deserves some coach of the year consideration. As much progress as K-State has made, I don't think the Wildcats quite have the chops to beat Nebraska in the Huskers' house. The Huskers might be a little tougher for Texas in the Big 12 title game than some might imagine.
Only one team in the top six faces a team with a winning record. That winning record belongs to FCS team Chattanooga, which goes to Alabama to take a paycheck and a beating. Don't look for giant upsets this week, but there are titles to be claimed, bragging rights to grab and closing statements to make. See you Saturday night on "College Football Final."
Weekend Watch
By Mark Schlabach, ESPN.com
With only three Saturdays to go in the 2009 regular season, you'd expect a buffet of games with serious postseason implications.
Instead, No. 1 Florida is playing Florida International and No. 2 Alabama is hosting FCS foe Chattanooga.
But there are at least a few games on this weekend's schedule that will have some impact on how the postseason turns out.
Can California slow down Stanford's Toby Gerhart?
Oregon and Southern California couldn't do it the past two weeks, and few teams have slowed down the Cardinal's bruising running back.
According to ESPN Stats & Information, Gerhart leads the Pac-10 with 39 runs of 10 yards or more and has been one of the country's best short-yardage runners. On third- and fourth-down plays of two yards or less, Gerhart has converted 83.3 percent of the time.
With a victory over the No. 25 Bears, No. 17 Stanford would stay in the Pac-10 title race and enhance its bowl possibilities. Cal is coming off a 24-16 upset of Arizona, in which backup running back Shane Vereen ran for 159 yards. Star tailback Jahvid Best will miss his second straight game with a concussion.
Can Oregon move a step closer to the Rose Bowl?
Oregon and Stanford all but ended USC's hopes of playing in a fifth straight Rose Bowl.
The Ducks can earn a trip to Pasadena for the first time since 1995 by beating Arizona on the road Saturday night (ABC, 8 p.m. ET) and rival Oregon State at home on Dec. 3.
Tailback LeGarrette Blount has been reinstated to the team, but he'll have a hard time getting LaMichael James off the field. James has already run for 1,139 yards, an Oregon freshman record, and has posted five straight 100-yard games.
Viewers' Guide
(All times ET)
Saturday:
10 a.m.: "College GameDay" from Tucson (ESPN)
Noon: Ohio State at Michigan (ABC)
Minnesota at Iowa (ESPN)
North Carolina at Boston College (ESPN2)
3:30 p.m.: LSU at Mississippi
Penn State at Michigan State (ABC)
7:30 p.m.: Cal at Stanford
7:45 p.m.: Kansas State at Nebraska (ESPN360)
8 p.m.: Oregon at Arizona (ABC)
Kansas at Texas (ABC)

•
College football schedule
|
ESPN GamePlan
•
Coverage maps
:
Week 12
Herbie: Heisman Preview
Blog Network: What To Watch
Each week, our bloggers will take a closer look at the storylines you should be watching. What's on tap for Week 12?

It will be Senior Day at several schools throughout the ACC, and there are two farewells that will be tougher for two particular fan bases.
ACC

Will Zac Robinson play tonight for Oklahoma State? Can Colorado respond to its role as a spoiler?
Big 12

UConn's running game against the Notre Dame defense and Jimmy Clausen versus UConn's secondary will be worth watching Saturday.
Big East

Iowa won't be going to the Rose Bowl, but the Hawkeyes still are well-positioned for a BCS at-large berth, most likely in the Fiesta Bowl.
Big Ten

Will the Arizona defense approximate the first half or the second half of 2008 versus Oregon?
Pac-10

Tennessee can become bowl eligible by winning this weekend, and Arkansas can improve its standing in the SEC's bowl pecking order by winning.
SEC

Non-AQs:
TCU players say they can see the light at the end of the tunnel, but they better hope that light isn't a train in Laramie this weekend.
Around the nation
Tressel on Ohio State-Michigan
Picking The Winners
By ESPN.com
Want to know what our experts think will happen this weekend? Our bloggers and ESPN The Magazine's Bruce Feldman give their predictions for Week 12.
•
Feldman

|
ACC
|
Big 12
|
Big East
•
Big Ten
|
Pac-10
|
SEC
|
Non-AQs
CFB Live Extra: Weekend Preview
The Nickel Package
By ESPN Stats & Information
Boise State QB Kellen Moore is on the verge of a record-breaking season. He enters Friday night's game at Utah State as the nation's most efficient passer, having thrown 32 TD passes and just three interceptions in 2009. The FBS single-season record for TD-INT ratio (with a minimum of 30 TD) is 10.3 by Omar Jacobs of Bowling Green in 2004 (41 TD, 4 INT).
Each week, ESPN Stats & Information provides five nuggets on the upcoming games. For the rest of the list, click here.

CFB Live Extra: Heisman Dark Horses
Fantasy College Football
By ESPN Fantasy
Check out College Football Challenge, our new fantasy game. Each week, our fantasy gurus will provide players or units that should be on Challenge owners' radars.
Weis' Future At ND