League Of Extraordinary Defenders
Teams on the West Coast always have loved to throw the ball. The Big 12 has become a treasure trove of quarterbacks and has the inflated numbers to prove it. But the Southeastern Conference offenses this season look lost, as if they haven't heard how everyone is playing basketball on grass.
Offenses are suffering in the SEC. The argument that the SEC is the home of great defense, while true, is irrelevant when seven league teams haven't played a conference game. September is the time of the season when SEC teams rent victims, win games and fatten their statistics. Yet only four SEC teams rank among the top 50 in total offense, and only four rank among the top 59 in passing efficiency.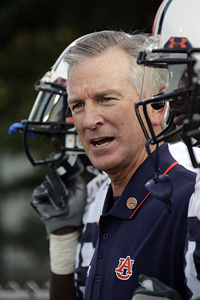 AP Photo/Rogelio V. Solis
Tommy Tuberville thinks a strong defense is the biggest SEC key.
Georgia, the league leader, is 19th nationally in passing efficiency. Four other SEC teams -- Kentucky, Tennessee, Mississippi State and Auburn -- rank 93rd or lower among the 119 FBS teams.
Kentucky, Tennessee and LSU all are replacing quarterbacks good enough to be drafted in the NFL, but a lack of experience isn't entirely the issue. Alabama, Arkansas, Auburn, Ole Miss and Tennessee are installing new schemes. Auburn coach Tommy Tuberville, whose Tigers won at Mississippi State, 3-2, looked at the bright side.
"I'd rather beat someone 3-2 than 41-40," Tuberville said. "I'd rather have a defense than an offense in this league."
That is the prevailing sentiment in the SEC, and has been for, oh, the entire 76 years of the league's existence. It comes as no surprise to see that eight SEC teams are in the top 30 in total defense.
Tuberville hired offensive coordinator Tony Franklin from Troy after the 2007 regular season to install his up-tempo spread offense. Auburn, using a rudimentary version of the offense, defeated Clemson in the Chick-fil-A Bowl this past December. But the Tigers have taken several steps backward in their quest to master the full version.
At Starkville, Auburn committed 12 penalties and three turnovers, dropped passes and generally got in its own way. Tuberville said his players are still getting used to the tempo.
"In this heat, when you run a play every 20 seconds, the 300-pounders suffer," Tuberville said. "They lose their concentration. We had three holding calls and six false starts. Seven times we were in first-and-15 or first-and-20."
Don't misinterpret Tuberville's frustration for cold feet. He thinks the Tigers are close to unleashing the offense.
"It's still got more firepower than what we were doing," he said. "We got the ball downfield a lot better. … I like the offense. The players like it. We're in the experimental stage of what they can handle and what they can't. We're trying to settle on a quarterback."
Junior Chris Todd has played most of the past two games. Sophomore Kodi Burns, hampered by an 80-stitch gash on his shin that he suffered in the opener against Louisiana-Monroe, is still learning the offense.
The Crimson Tide, without All-SEC left tackle Andre Smith (sprained knee) in their second game against Tulane, managed only 172 total yards and one offensive touchdown in a 20-6 victory. Smith is expected to play Saturday at Arkansas.
The offenses in the league may get better, and no one will notice. The defenses in the league await them.
Hurricane Damage Assessment
Hurricanes may not hit the Pacific coast, but they've done a pretty good job of wreaking havoc with Pac-10 football teams over the past decade.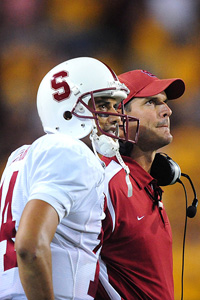 Mark J. Rebilas/US PRESSWIRE
An early start didn't help Jim Harbaugh (right) and the Cardinal.
In 1998, Hurricane Georges forced Miami to postpone its home game with UCLA from Sept. 26 to Dec. 5. That subjected the Bruins to the maturation that Miami underwent over the course of the 1998 season. The Hurricanes, coming off a 5-6 season, suited up 71 freshmen and sophomores. They upset the Bruins 49-45, and UCLA played Wisconsin in the Rose Bowl instead of Tennessee in the Fiesta Bowl for the BCS championship.
"They weren't that good early in the year," said Bob Toledo, then the head coach at UCLA and now the head coach at Tulane. "Edgerrin James wasn't ready. That [postponement] hurt us. It was the week after USC, a big emotional game. We had to fly all the way across the country. It was hot, the humidity. We gained 670 yards and scored 45 points. We just couldn't stop them."
In 2004, Hurricane Ivan postponed California's visit to Southern Mississippi from Thursday, Sept. 16 to Saturday, Dec. 4. The Bears, 9-1, ranked fourth and angling for a BCS at-large bid, beat the Golden Eagles 26-16. If Cal had won by that margin in September, it wouldn't have mattered. However, with BCS voters and bowl executives looking for style points, the 10-point victory didn't generate enough "Wow!" Texas went to the Rose Bowl, and a disappointed Cal team lost the Holiday Bowl to Texas Tech.
Given those losses, the problems of Washington State and Stanford don't seem quite as bad. Still, when Baylor and Washington State decided mid-Thursday to move their game in Waco from Saturday to Friday night to get out of the way of Hurricane Ike, the decision came too late for the Cougars to rearrange their charter flight.
That forced Washington State to fly three hours on the day of the game. The Cougars were tied with the Bears 14-14 midway through the second quarter, and then the travel seemed to catch up to them. Baylor cruised to a 45-17 victory.
Ike also forced TCU and Stanford to move their game Saturday from 6 p.m. to noon CT. The 10 a.m. PT kickoff couldn't have helped the Cardinal, which lost to the Horned Frogs 31-14.
Hurricane Damage, Part II
For all the games that moved up or back to get away from Hurricanes Gustav and Ike, only two of them moved off of their original weekends. Troy at LSU moved from Sept. 6 to Nov. 15, and Arkansas at Texas moved from Sept. 13 to Sept. 27. In each case, the two schools happened to have the same Saturday off.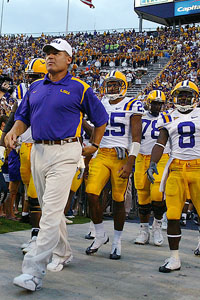 Crystal LoGiudice/US PRESSWIRE
Les Miles and LSU will get no off weeks down the stretch.
Which teams gain an advantage from the postponements? Which get hurt?
LSU: Hurt
The Tigers went from having idle Saturdays on Oct. 4 and Nov. 15 to having two idle Saturdays in the first six weeks. They play eight straight games to finish the season, five in a row at home (Georgia, Tulane, Alabama, Troy, Ole Miss). The new schedule is tolerable, but LSU surely would prefer to have that off week after Alabama and before Ole Miss.
Troy: Help
The Trojans caught a big break. They had been scheduled to play at LSU, at Ohio State and at Oklahoma State, all before Oct. 1. Troy now goes into Columbus this Saturday with a 2-0 record and not having had to play an opponent as physical as the defending national champion. The LSU game on Nov. 15 fits between home games against Western Kentucky and Louisiana-Lafayette, with a week off afterward. Not bad at all.
Texas: Hurt
The Longhorns had set up their schedule so that they played four nonconference games and then took a week off before diving into the Big 12. That seemed ideal because the first three conference opponents are at Colorado, No. 2 Oklahoma in Dallas and No. 5 Missouri. Now Texas must play nine Saturdays in a row. The Longhorns won't be off again until Nov. 22.
Arkansas: Hurt
Bad enough that the Razorbacks had to play at No. 7 Texas and No. 9 Alabama on consecutive Saturdays, but at least they had Sept. 27 off. Now Arkansas gets them in reverse order and, without a week off, follows up by playing No. 4 Florida and at No. 10 Auburn. The Razorbacks ought to root for LSU, if only to drop Auburn in the rankings and eliminate the possibility of playing four consecutive top-10 opponents.
Ivan Maisel is a senior writer for ESPN.com. Send your questions and comments to Ivan at ivan.maisel@espn3.com.
3-Point Stance

1. In a profile of head coach Jim Harbaugh in the new issue of Stanford Magazine, athletic director Bob Bowlsby estimated that only 400 high school seniors across the nation have a chance of being accepted at The Farm. Said Harbaugh, "The professors here aren't looking for the 15th guy in their classroom, or the fourth-stringer. They don't want to slow their classes down. We're not looking to bring in the 15th guy on the football team, either." That's why Stanford resembles a batter starting every at-bat with an 0-2 count.

2. North Carolina's 44-12 rout at Rutgers didn't look like a fluke, which is what makes the game in Chapel Hill on Saturday against Virginia Tech (ABC, 3:30 ET) so interesting. If the Tar Heels upset the Hokies and go 3-0 for the first time since Mack Brown's last season (1997), watch out Coastal Division. Three of North Carolina's ACC road games are at Miami, Virginia and Duke.

3. Matchup to watch Saturday: Arkansas senior center Jonathan Luigs, the reigning Rimington Award winner, is 6-foot-4 and 314 pounds and gives up 50 pounds to Alabama junior nose tackle Terrance Cody. Listed at 6-5 and 365, Cody has made a tackle behind the line of scrimmage in each of the first three games. You'd think if anyone could handle Cody, it would be Luigs. Watch them for a few plays.
State Of Optimism
Though wide receiver Preston Parker and defensive tackle Budd Thacker return this week from disciplinary suspensions, 11 other Florida State players have one more game to sit out for their role in an academic scandal. The Seminoles could use them when No. 18 Wake Forest comes to Tallahassee on Saturday night (ESPN2, 7 ET).

Ponder
However, there is optimism at Doak Campbell Stadium for the first time in a few years. The influx of quarterbacks
Christian Ponder
and
D'Vontrey Richardson
, as well as 22 true freshmen, has given the Seminoles the oomph that has been missing for several seasons.
After two games, Ponder and Richardson rank 1-2 in the ACC in passing efficiency. More important, in two games, the Seminoles have scored five touchdowns of 40 yards or more. That's one more than they scored in all of 2007. Caliber of competition is a point well taken. The touchdowns are a lot of points well taken.
"We've got the wins," Florida State head coach Bobby Bowden said. "I think we can qualify for that I-AA playoff. Don't know about that I-A playoff."
Mountain West 5, Pac-10 Zip
Don't think too hard about why the Mountain West went 4-0 against the Pacific-10 Conference on Saturday. It's simple: Three of the four victories came on the MWC campuses. UCLA lost at BYU, 59-0; Stanford lost at TCU, 31-14; Arizona lost at New Mexico, 36-28.
The task for schools in conferences that don't have automatic BCS bids is difficult. They have to convince the wealthy, automatic-bid schools to treat them as equals and schedule home-and-home deals. Schools that give away two road games to get one home game, or play on the road without a return trip, have difficulty keeping their competitive balance.
MWC deputy commissioner Bret Gilliland said the league has given a soft-sell to its members throughout its 10-year existence.
"You have to play good people and you have to win," Gilliland said. "… What we have now is fairly well-established programs that have built some stability and had some success. They are able to schedule home-and-home." No. 20 Utah has been an exception, scheduling one-timers at Michigan this season and at Notre Dame in 2010. The Utes, Gilliland said, did so as recruiting lures. Beating the Wolverines 25-23 in the season opener surely will help in that regard.
BYU has been able to schedule teams from around the nation for 25 years. For everyone else, the Mountain West schools can offer their Pac-10 opponents the benefit of geography. That's the foundation of that relationship. What the Pac-10 didn't count on was getting shown up. The Pac-10 is 0-5 this season against the MWC, with two chances left for redemption. Colorado State plays at Cal on Sept. 27, and Oregon State plays at Utah on Thursday, Oct. 2.
They represent the old way of doing things and the new. CSU's visit completes a two-for-one with Cal. Oregon State and Utah are playing a home-and-home.
Podcast: Ivan and Beano
Beano Cook joins Ivan in the ESPNU College Football Podcast to preview a big weekend in the SEC, discuss big problems for the Big East and more. Listen

How to Become a Starter
Florida head coach Urban Meyer told a story at his press conference Monday about how 5-7, 186-pound junior kick returner Brandon James won his job at the 2006 Tennessee game.

James
"He was a freshman, 18 years old, hadn't played a game and we were getting ready to go play a good Tennessee team," Meyer said, according to the press conference transcript. "I hadn't decided on a return guy and wasn't sure about putting a true freshman in there to return.
"I jogged out of the tunnel at Neyland Stadium behind him," Meyer continued, "and it is unbelievable the things people are saying. I look at him and he starts doing the Gator chomp. That kid is not intimidated by anything, so I grabbed him and I said, 'You're the punt returner today.' That's how the decision was made."
In that game, James returned four punts for 65 yards. A 57-yard return was truncated to 22 yards by an illegal block penalty against the Gators. He also returned one kickoff for 8 yards. He's been a threat for the Gators ever since.
James is averaging 20.6 yards per return this season. Over his career, James has returned 54 punts for 761 yards (14.1-yard average) and three touchdowns, including a 74-yarder in the season opener against Hawaii. He also averages 24.1 yards per kickoff return.
Measuring Up
Reader Pat Hamblin points out that in one game, UCLA coach Rick Neuheisel has measured up to USC coach Pete Carroll. The Trojans' 14 losses over the course of Carroll's seven-plus seasons have been by a total of 59 points. The Bruins needed only one loss for Neuheisel to tie Carroll.
It's probably not the efficiency for which Neuheisel is searching.