BCS Is Not Wrong, Just Different
If it's November, it's time for every Tom, Dick and Barack to weigh in on the BCS. President-elect Barack Obama declared his support for an eight-team playoff in an interview during "Monday Night Football."
Not that I-Formation would suggest Obama would play politics with an issue of such vital national importance, but it didn't hurt that Obama's view would meet approval in the key state of Pennsylvania, where Penn State coach Joe Paterno has been tub-thumping for a playoff for decades (if it was a political decision, good playcall -- Obama carried the Nittany State with 55 percent of the vote).
Obama's belief in a playoff isn't from experience. His alma maters, Columbia and Harvard, would rather start giving out scholarships than vote for the Ivy League to participate in the Football Championship Subdivision playoff.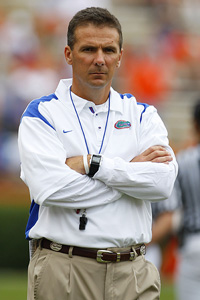 Kim Klement/US Presswire
Urban Meyer's Gators are playing well, but there's a reason No. 5 Florida isn't at the top of the BCS standings.
The rest of us have begun the annual BCS rituals. Nothing brings out the pessimist in American sports quite like the doomsday scenarios of the BCS. If this, this and that happen, it will cost such-and-such an opportunity to play in the BCS National Championship Game. Blah, blah, blah.
The BCS stands in the way of a playoff, and we all channel our inner Ronald Reagans, crying for freedom: "Mr. Delany, tear down that wall!"
Given that neither Big Ten commissioner Jim Delany nor the others in the majority of commissioners who like the BCS have signaled any intent of changing their minds, it's time you look at the BCS anew.
Think of it as American sports' version of home schooling.
College football doesn't declare its champion the way the other sports do. It chooses an alternative route. What if that's not wrong? What if that's just different?
Home-schooled children, once considered unusual, swim in the mainstream. Children with learning disabilities, once considered slow or unteachable, graduate from college -- and play in BCS games.
Maybe that's the way to look at the BCS -- it's a postseason that learns differently.
But that doesn't mean it's not an effective way to determine the two best teams. For instance:
Playoff proponents, even ones who have not signed a four-year lease at 1600 Pennsylvania Ave., have begun to make their case. A reader suggested the two teams playing the best right now are Florida and USC. It's unfair, the reader said, that the two best teams would not get the opportunity to play for it all.
I happen to agree with this reader that the Gators and the Trojans are playing better than just about anybody else right now (see the USC defense item in 3-Point Stance). Both teams need some help to get to the top. The reader suggested Florida and USC ought to be able to decide it -- all together now -- on the field.
Back up a minute. Why aren't Florida and USC at the top right now? Each of them lost a game. Where did they lose it? In the polls? The computers? No, both of them lost on the field. Florida lost at home to an Ole Miss team that is 5-4. USC lost on the road to an Oregon State team that is 5-3. Didn't that prove something?
Interest is higher than it has ever been. College football didn't become a staple of Saturday night network prime time because TV executives wanted to promote the BCS. College football is on network prime time because it attracts viewers.
Over the 11 years of the BCS's existence, the number of viewers has risen significantly. That might be coincidence. But I'm guessing that, no matter how maddening it might be, it is because of the BCS.
No Experience Required
There are coaches who have outsized personalities, and there is Miami coach Randy Shannon. When he walks into a room, he does not take it over. He's so quiet, librarians beg him to talk.
Tough? Yes. Stoic? Absolutely. Suffice it to say that Shannon is not a man who caves to impulse.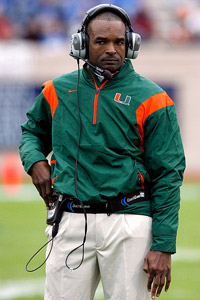 Kevin C. Cox/Getty Images
Randy Shannon's patience is paying off for the Hurricanes.
All of which makes his decision to stake the Hurricanes' future on their freshmen that much more interesting. Give Shannon credit: After the Hurricanes' 2-3 start, they have won four consecutive games, including that 24-17 comeback victory in overtime this past Saturday at Virginia.
Alabama has climbed to No. 1 in the nation in part because of the contributions of freshmen like wide receiver Julio Jones and tailback Mark Ingram. But the Crimson Tide have veterans on both lines, at quarterback and in the secondary. Miami has 31 true freshmen, 12 on the depth chart, four of them starting. Coaching freshmen has made for a different experience for Shannon and his staff.
"You have to be very patient," Shannon said. "You can't destroy them. We coach them. We coach them hard. But we coach them on the little things. You can't beat them up when they play as freshmen."
It can be difficult for coaches not to light into their players. Coaches are intense, demanding teachers in a physical sport. It's easy to instruct in a manner that would be R-rated. But Shannon doesn't want them scorched by invective, no matter how well meant.
"A couple of weeks ago," Shannon said, "Aldarius Johnson dropped a couple of passes. I asked him to tell me what he was thinking when the ball arrived.
"He said, 'I was thinking about getting upfield.'
"I asked him, 'What do I always tell you? Secure the football, and then get upfield.'"
Shannon has scheduled 6:15 a.m. team meetings on Tuesdays and Wednesdays in which the coaches dole out the game plan for Saturday. Not only do the meetings instill discipline in his young players, Shannon said, the meetings allow them to digest what they must learn.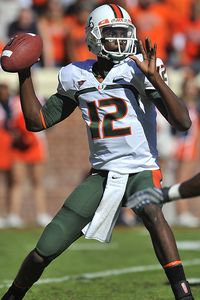 Randy Litzinger/Icon SMI
Freshman QB Jacory Harris sparked the Canes past Virginia.
"They got all day to look at their game plans when they get a minute," Shannon said. "We come back in the afternoon and say, 'Any questions?' We do a lot of reps in practice. The more reps they can get, the better off they can become. We don't give them a million plays to learn. If we get perfect at 10 plays, learn them with reps, then we can get two more yards upfield after a catch or two more yards upfield on a pass rush."
He plays freshman quarterbacks Robert Marve and Jacory Harris because he realized that if he picked one to start and that one got hurt, the offense would have to start from scratch with the second one. Marve starts and Harris finishes. Harris made an incredible athletic play to throw the game-tying, fourth-quarter touchdown at Virginia. On third-and-15, the right-hander scrambled to his left and flung a 26-yard pass to Laron Byrd.
Shannon doesn't say he is coaching a high school team. It's not that he considers that an insult. It's a goal.
"It's like elementary school," Shannon said. "Many, many parts of this young football team are just doing a tremendous job. They don't know better. They don't understand about not fighting hard. They just go out there and play and keep going."
Ivan Maisel is a senior writer for ESPN.com. Send your questions and comments to Ivan at ivan.maisel@espn3.com.
3-Point Stance

1. The Pac-10's troubles have cast doubts on USC (7-1) as a contender for the national championship. But keep in mind that USC has allowed only seven touchdowns, four of them to Oregon State. Two of the touchdowns came on drives of 2 and 15 yards. The Trojans have given up 57 points, 27 of them to the Beavers, and shut out three of their past four opponents. Only one other team, BYU, has shut out even two Football Bowl Subdivision opponents. Here's my analysis: Wow.

2. When the Rose Bowl reached down to No. 15 to select Big Ten runner-up Illinois to play No. 8 USC last season, only two members of the selection committee voted against the Illini. The Trojans won 49-17, and that lesson isn't lost. If Penn State plays in the BCS National Championship Game, the Rose Bowl is wary of Ohio State, even though the Buckeyes haven't played there in 11 years. USC's 35-3 victory over Ohio State in September would provide the cover not to take the Buckeyes.

3. It's been four days. I've moved past my gut reaction. I have enough distance to make a calm judgment. And I still think Florida coach Urban Meyer strayed way off base by calling those two timeouts in the final minute of the 49-10 rout of Georgia. The Gators said all they needed to say on the scoreboard. Meyer's choice revealed more about him than it did anyone else, none of it good.
The Curse Of The Crystal Football

You remember Clemson? The team that began the season in the top 10? The team that's 4-4 and playing for an interim coach?
If you believe in omens, it's safe to say we should have seen this coming. This past April, Clemson allowed a photographer access to the trophy case that holds the crystal football, the trophy that represents the Tigers' 1981 national championship.
The photographer took the crystal football out and placed it on a cloth on an office couch. When he sat on the couch, the impact bounced the trophy off the couch and onto the hard floor below.
(Pause here for you to say, "Oh my God!")
You might not know how a football bounces, but a crystal football doesn't bounce. It shatters into, oh, about a million pieces.
The cost, covered by insurance, to purchase a replacement crystal football from Waterford: $7,000. The cost of angering the football gods, however, might have been priceless. Maybe that explains why Clemson has struggled this season.
What Comes Around …

In 2005, Penn State suffered its only loss on the road at Michigan with :01 to play. The Nittany Lions had to stand and watch as Texas played for and won the BCS championship.
Fast forward three years. Texas has suffered its only loss on the road with :01 to play, but Longhorns fans already are campaigning to jump past undefeated Penn State and into the BCS National Championship Game should Texas Tech lose.
Granted, a lot would have to happen for this scenario to come true. But it will be interesting to see how Texas coach Mack Brown handles it. In 2004, Brown promoted his Longhorns past California into a Rose Bowl. Will he try to wage that kind of campaign at the expense of Nittany Lions coaching legend Joe Paterno?
Need For Speed

Before the season, Oklahoma coach Bob Stoops described the steps defenses would have to take to slow down the spread offense that has spread the width of the nation. Stoops described defenses that would sacrifice size for speed in order to be able to make tackles all over the field.
Take a look at the NCAA sack leaders. TCU junior defensive end Jerry Hughes, who is 6-2, 248, leads the nation with 14 sacks. Hughes came to Fort Worth after an all-district career at Austin High School in Sugar Land, Texas, -- as a running back. In second place, with 11 sacks, is Penn State sophomore Aaron Maybin. At 6-4, 236 pounds, Maybin barely would qualify as a linebacker at some schools.
For the record, no one is lining up and running down either defense's throat. The Horned Frogs lead the nation in rushing defense, allowing 38.9 yards per game. The Nittany Lions are first in the Big Ten and 11th overall, giving up 99.1 yards per game.
Running Wild

Boy, Northwestern has really suffered from the loss of senior tailback Tyrell Sutton (776 yards) for the season with a wrist injury. Backup quarterback Mike Kafka came in and set a school record for rushing by a quarterback with 217 yards in the Wildcats' 24-17 victory at Minnesota this past Saturday.
Kafka, a redshirt junior, played because starter C.J. Bacher was out with a hamstring injury. Kafka is more of a runner than Bacher, and Northwestern coach Pat Fitzgerald said Sunday night that the game plan included Kafka as a runner. Kafka is a big (6-3, 220) man with good feet. As a senior at St. Rita High in Chicago in 2004, he threw for 1,004 yards and rushed for 806.
The Northwestern coaches knew Kafka could run. They had seen it in practice for three seasons. But you don't script the impromptu.
"When Mike made big plays is when the play would break down and he would try to keep the play alive," Fitzgerald said Sunday night from his office. It felt like every time Minnesota failed to contain the gaps at the line of scrimmage, Kafka made the Golden Gophers pay.
There is poetic justice in Kafka's big game. Two years ago, Kafka started the first four games of the season, suffered a hamstring injury and got Wally Pipped by Bacher. Since returning to health late in the 2006 season, Kafka had thrown nine passes before his star turned at Minnesota.
"Mike has been very patient, very, very supportive of the program and of C.J.," Fitzgerald said. "He has prepared every week to be the starter. … He's really mature. That's what I'm most proud of. As a football player, you don't want to learn patience. You want to play. He came to me earlier this season and said, 'Coach, I'll go cover kicks.' I said, 'Mike, you're one play away.'"
Fitzgerald said Sunday night, and again Monday, that Bacher will start Saturday at Ohio State if he is healthy. He loves the idea that defenses now must be aware of the Wildcats' two quarterbacks.
"The program needed Mike to play his best, and he did," Fitzgerald said.