Office Of Protocol
It is the time of year when all of college football obsesses about protocol. Making the BCS National Championship Game is neither cut nor dried. It is a mix of performance, opinion and computer magic. The recipe changes from year to year, like flu shots.
Some years, performance is everything, as when USC and Texas romped to the Rose Bowl three years ago. Some years, computer magic trumps opinion, as in 2003, when No. 1 USC didn't play in the BCS title game.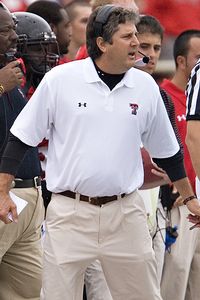 L. Scott Mann/Icon SMI
Mike Leach doesn't have to worry about style points as long as the Red Raiders are No. 1 or 2.
This is one of those years when performance has the lead in the homestretch. If Alabama and Texas Tech finish undefeated, they will play in the BCS National Championship Game. But if either the Crimson Tide or the Red Raiders falter, protocol will be needed. It will be time to measure the desire for a championship against the musty creed of sportsmanship.
It's not just the final score, but how the final score is interpreted by the media, the poll voters and the fans. USC beat Washington 56-0, and the BCS meter did not flicker. That's a dog-bites-man final score. Florida humiliates South Carolina 56-6 and, rather than take the final margin at face value, we parse the play-by-play, trying to decide whether the Gators ran up the score to impress the voters.
(Verdict: No. Florida played that much better).
Gators coach Urban Meyer said two years ago that he worried that pressure to succeed in the BCS would throw "sportsmanship out the window." Meyer said that moments after Florida had beaten Florida State 21-14. Offensive coordinator Dan Mullen had to talk Meyer out of trying to score from the Florida State 8-yard line in the final minute.
Some coaches try to drive around the Mixmaster that is the road to the BCS. Texas Tech coach Mike Leach returned a call Tuesday night as he sorted through his mail. He professed to long ago having given up the idea that he might understand the BCS. He is a playoff proponent. Until then, and especially as the coach of the No. 2 team in the nation, Leach doesn't need to campaign.
But the more he talked, the more he began to entertain the issues inherent in the BCS. For instance, Leach said, "The most important thing we can do is play the best we can." But, he added, that goes for the entire depth chart. Leach doesn't adhere to the belief that a coach shouldn't run up the score. It's not that he wants to embarrass the other team. With Leach, it's not about the other team.
"I believe in trying to play the best I can," Leach said. "If my [second- and third-stringers] are in the game, we are trying to score. Game reps are hard to come by. I don't say, 'Full speed, full speed, work, work, work, unless we're way ahead.'"
USC coach Pete Carroll has said for years that he doesn't understand the BCS. When the Trojans were ranked No. 1, where they spent much of three seasons (2003-05), Carroll could afford not to understand it. This season, when the No. 6 Trojans still are dealing with the effects of an early loss at Oregon State, the circumstances are different. Carroll said two weeks ago of the BCS, "I think it stinks."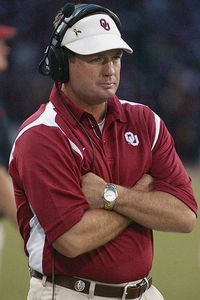 Jesse Beals/Icon SMI
Oklahoma's Bob Stoops prefers coaching to campaigning.
Coaches try to calibrate whether, when or how often to mount a soapbox for their teams. Oklahoma coach Bob Stoops told me last week that he prefers being a coach to being an advocate.
"If you lost a game, you have to admit there's an argument," said Stoops, whose No. 5 Sooners lost to No. 3 Texas 45-35 last month. "That's what I'm tired of. Then it gets down to who wants to trumpet who. You're subject to all of that."
In college football, as in politics, negative campaigning is seen as beneath the dignity of the process, except when it works.
A minute or so after Leach hung up Tuesday night, he called back.
"I just thought of something," Leach said. "That week we played Oklahoma State, who we massacred [56-20], Alabama barely eked by LSU [27-21 in overtime]. I don't know whether style points or extra touchdowns have any effect or not. If so, we should have popped ahead of them."
Being No. 2 instead of No. 1 doesn't matter. In BCS politics, three is the loneliest number. Texas is currently No. 3, and should the Crimson Tide or the Red Raiders lose, the Longhorns might move up. "Might," because if the two teams ahead of the Longhorns lose, it most likely would be to No. 4 Florida and No. 5 Oklahoma, respectively.
Texas coach Mack Brown, like Stoops, Leach and Carroll in recent weeks, has wished aloud for a playoff. It seems as if more and more coaches are becoming proponents of a post-bowl playoff. That would put an end to the need for protocol. Until then, coaches will swallow hard and sell their team to the public.
All that sweet-smelling salesmanship will dissipate when it clashes with the sweatified air of the locker room. The only people coaches don't want to convince of their players' greatness are the players themselves.
Campus Connection
Without an encyclopedic knowledge of high school alma maters, it's easy to forget that college football players across the country are connected to one another. The players have lives off the field -- and past lives and friendships that predate college. Their schools may have no link, but players may be joined at the hip.
Alabama offensive guard Mike Johnson and South Florida defensive end George Selvie, both juniors, have been close since their days as teammates at Pensacola (Fla.) Pine Forest High. They are both 21, with Selvie four weeks older than Johnson. Both played positions that they no longer occupy -- Johnson at tackle; Selvie, one of the best pass-rushers in the nation since the beginning of the 2007 season, at center.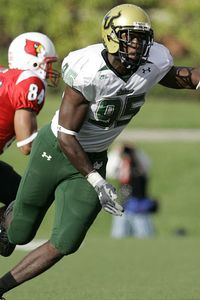 Brad Schloss/Icon SMI
George Selvie keeps an eye on what Mike Johnson and the Crimson Tide are doing each week.
They remain as close as if they still lined up together, even though they are no longer teammates, and even though defensive linemen don't always get along with offensive linemen.
"I just wrote [Johnson] and told him I was going to be interviewed about him," Selvie said Tuesday. "He texted back and said, 'Tell him I was real popular in high school.' We're real tight. That's my homeboy."
Selvie tagged along with Johnson on his recruiting visits to Alabama. Their dreams of playing together collegiately ended when Crimson Tide coach Mike Shula did not offer a scholarship to Selvie.
"My best friend," Johnson said of Selvie. "I was watching the game [between Cincinnati and Louisville last Friday] and I called him and said, 'Who do you need to win right here?' He said, 'I think we're out of it regardless but I'd like to see Louisville lose.' I said, 'All right, we're cheering for Cincy.'"
Johnson attended the Bulls' bowl game in Birmingham two seasons ago. Selvie will be at Bryant-Denny Stadium on Thanksgiving Saturday to see Johnson and the No. 1 Crimson Tide try to break their six-game Iron Bowl losing streak to Auburn. Selvie said he watches Alabama on TV just to keep an eye on Johnson. He doesn't watch the Tide team. He keeps his eye on No. 78.
"I love watching him," Selvie said. "He explodes off the ball and tries to get pancakes, just like high school. I don't like too many offensive players. I like him."
Johnson has become a dependable sidekick to Alabama star left tackle Andre Smith. Selvie, an All-American last season when he led the nation with 31.5 tackles for loss, is among the Big East leaders in that category this season (11 in nine games).
Selvie and Johnson played against each other once, in a high school intrasquad scrimmage, in which Selvie moved over to defense strictly for grins. If they play against each other again, barring a 2009 bowl game, it will be as professionals. That's a long way from Pine Forest for a friendship that has endured.
Ivan Maisel is a senior writer for ESPN.com. Send your questions and comments to Ivan at ivan.maisel@espn3.com.
3-Point Stance

1. Tennessee officials believe that North Carolina coach Butch Davis will be lured to Knoxville because they can increase his salary, and because UT is a football school (unlike Chapel Hill). Man, are they breathing their own exhaust. First, Tennessee is a hard job (small recruiting base; Georgia, Florida and Alabama every year). Second, they just ran off Phillip Fulmer, who is batting .743 over 16 seasons. That's not exactly a "Welcome" mat for the next guy.

2. Even if Michigan upsets No. 10 Ohio State on Saturday, the Buckeyes will continue to close one gap between the rivals. As of this writing, Michigan is No. 1 in all-time appearances in the Associated Press poll at 752. Ohio State is No. 2 with 748 -- and closing fast. With four more polls this season, the Buckeyes should finish tied with the Wolverines at No. 1. And when next season begins, the Buckeyes should move into first place.

3. Texas' decision to lock in defensive coordinator Will Muschamp as head coach-in-waiting is good news for the contenders for the Clemson job. Virginia Tech defensive coordinator Bud Foster interviewed well with Clemson athletic director Terry Don Phillips on Friday, and if the Tigers' offense continues to improve, interim coach Dabo Swinney may keep the inside track.
Podcast: Ivan and Beano
Beano Cook joins Ivan in the ESPNU College Football Podcast to discuss some of this week's rivalry games and the big Texas Tech-Oklahoma showdown. Listen

Orange Crush

Syracuse athletic director Daryl Gross may be 0-for-1 in hiring football coaches, but he is not clueless. Did you check out that Kabuki dance he performed with UConn coach Randy Edsall in the 24 hours after Gross fired Greg Robinson? Gross has been hearing from his enraged constituents about Edsall, a former Syracuse player and assistant, for years. Gross knew that Edsall doesn't want to leave UConn for Syracuse. So Gross puts Edsall's name out there Sunday. Edsall knocks it down Monday. Syracuse fans will now quiet down about Edsall, and Gross will go on about the business of hiring a coach. All in all, pretty shrewd.
When it gets to the real hiring of a coach, however, Gross has more than his job at stake. Big East football needs a healthy Syracuse.
"When we lost Miami, Boston College and Virginia Tech," Big East commissioner Mike Tranghese said Tuesday, "I said to our presidents, 'There are no other Miamis out there.' What we have to have are eight programs who all can play at a very, very high level. Our strength continues to be our depth. We're gotten that with seven of eight teams."
Syracuse has history and tradition -- twin pillars of every successful program. And Tranghese believes a winning Syracuse will give the league a firmer grip on New York City.
"I just don't think they had the same type of players as many of the other teams had," Tranghese said. "I don't question Greg's coaching ability. They've got to get somebody … who can get them the players they need to be successful."
Turning The Corner

Maryland's 17-15, come-from-behind victory over North Carolina turned on quarterback
Chris Turner
's 9-yard scramble on fourth-and-5 at the Tar Heels' 32-yard line with 4:58 to play. Turner stretched the drive to 19 plays and 73 yards. It ended when Obi Egekeze hit a 26-yard field goal with 1:42 to play.
What pleased offensive coordinator James Franklin about the play -- besides the result -- was that Turner had been reluctant to pull the ball down and take off. To do so at such a critical juncture of the game, Franklin said, was a threshold crossed.
"He's a big kid, and once he gets going, he's tough to bring down," Franklin said Tuesday. "Especially in the red zone, any yardage he gets is important. It was a perfect time for it to happen. When you make a play like that, it gives you confidence."
Maryland (7-3, 4-2) leads the ACC Atlantic by a half-game over Wake Forest and Florida State, and the Terps host FSU on Saturday night (ESPN, 7:45 ET). Maryland leads Boston College by one game and travels to face the Eagles on Nov. 29. In a division race in which four of the teams are still alive, Maryland controls its destiny.
"It's like the NFL," Franklin said. "You lose a couple and you can still win. It's normally not like that in college."
Touchdown Or Not ...

Florida long-snapper James Smith's dive for the end zone Saturday against South Carolina may not be the most famous Touchdown That Wasn't. That remains Rocket Ismail's 91-yard punt return in the final minute of the 1991 Orange Bowl. The Irish's Greg Davis got flagged for holding the Buffaloes' Tim James; Colorado held on to a 10-9 lead and survived to win a share of the national championship.
But the play Smith made will be celebrated as long as there are athletes whose desire and work ethic are their greatest assets.
To recap: South Carolina, down 14-0 early in the first quarter, tried a throw-back kickoff return to stunt the Gators' momentum. Smith's duty on the kickoff team is to be the contain man on the field side. Florida likes to kick deep left, which means Smith mans the right side of the field.
"Keep [the returner] inside and in front," Smith said of his assignment.
As the Gamecocks set up for Dion LeCorn's return, Smith noticed South Carolina's Chris James by himself. LeCorn stopped, pivoted and threw the ball across the field to James.
"When I saw No. 29 hanging around," Smith said, "I thought something might be up. I need to go cover him. ... In three years of [being the contain man], this was the first time they did something like that. But I was ready."
LeCorn's throw sailed high enough that James couldn't bring it in. Smith beat him to the loose ball and plucked it off the ground inside the 5. James grabbed him and they both fell at the goal line. The official ruled touchdown. The replay official overruled him and placed the ball at the 1-foot line.
Instead of Smith's scoring the first touchdown of his career, quarterback Tim Tebow scored his 42nd.
"I saw the replay on CBS," Smith said. "They show my knee down. I watched it on film here. It looks pretty close."
Smith carries a 3.5 GPA, graduated in August and has been one of the team leaders for three seasons. His hustle created a touchdown, and even if it didn't count, he got to celebrate as if it did. Touchdown or not, Smith made one of the best heads-up plays of this or any season.