Enjoy the early season crushes while you can
Summer Loving, Had Me A Blast
By Ivan Maisel, ESPN.com
It is mid-September, late summer on the calendar and spring in the college football heart. Love is blooming, love that may not survive the heat and struggle of midseason, but love nonetheless. When unexpected success flashes that come-with-me smile, the sports fan drops everything and turns giddy with possibility.
Young love doesn't usually translate into longevity (I'll pause here while we all think about our seventh-grade loves). But a guy can dream. And that spark can flare all over campus.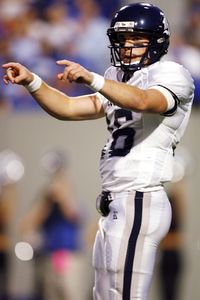 Joe Murphy/Getty Images
Chase Clement has Rice pointed in the right direction ... for now.
In 2001, the nation swooned over Fresno State after the Bulldogs opened the season with victories over Colorado, Oregon State and Wisconsin. The love affair cooled, first when Sept. 11 interrupted the season, then when the Bulldogs lost to Boise State at midseason.
Fresno State came to mind when East Carolina topped its season-opening upset of Virginia Tech by dominating West Virginia. Now we are all Pirates, and we want to know: If East Carolina is better than North Carolina or South Carolina, then why isn't East Carolina a state?
Love, you see, can cloud your judgment.
The Pirates have set up a road to the BCS. Victories over Virginia Tech and West Virginia, teams that still could win the ACC and Big East, respectively, give East Carolina two strong pieces of evidence come the postseason. There's a little matter of winning 11 more games, of course, but let us not cool the ardor of young love.
Arizona's blowouts of Idaho and Toledo by a combined score of 111-16 don't compare to what East Carolina has achieved. Try telling that to Wildcats fans looking for their first bowl trip in a decade.
Even the learned among us have a skip in their step. When Vanderbilt and Rice play in Nashville on Saturday, the winner will leave 3-0. The Owls haven't begun the season with a 3-0 record since 1953, when Frank Leahy still coached Notre Dame. By the way, Rice opened that season by beating Florida.
These crushes don't just apply to perennial underdogs. Penn State has come out of the gate with decisive victories over Coastal Carolina and Oregon State, and pulses are quickening in Happy Valley. At Oregon, blowouts of Washington and Utah State have made life after Dennis Dixon and Jonathan Stewart blossom with hope.
And in Los Angeles and Columbus, fans of USC and Ohio State are excited about their undefeated teams. Maybe you've heard that the Trojans and the Buckeyes will play Saturday night. What with everything that East Carolina and Rice have done, it's an easy game to overlook.
As the season matures, these early loves will seem silly. We should have known to keep our hearts with the USCs and the Ohio States, the Georgias and Oklahomas. My advice: Enjoy the Arizonas and the Vandys while you can.
Nearly The Big Least
By Brian Bennett, ESPN.com
Three inches.
That's about how far the Big East came from not having a single legitimate BCS title contender after the second week of the season.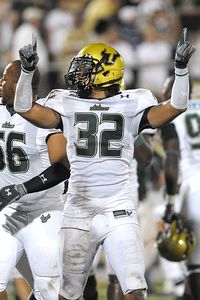 AP Photo/Phelan M. Ebenhack
South Florida needed overtime to dispatch Central Florida.
South Florida stopped Michael Greco on fourth down by that approximate distance to outlast Central Florida 31-24 in overtime. If the Bulls had lost, the only undefeated team left in the entire conference would have been Connecticut, which hardly looked national title worthy with a 12-9 overtime win at Temple (though the weather conditions made it tough on the offenses).
So after two weeks, the Big East's best two victories have come in overtime -- against Temple and Central Florida.
No offense to UConn, which might very well win this league, but it's probably on South Florida now to carry the banner for the conference. West Virginia bombed out with a 24-3 loss at East Carolina, a result so ugly that it's hard to imagine the Mountaineers climbing back into the national title picture.
Elsewhere, Pittsburgh pulled out a much-needed victory against Buffalo, but the Panthers hardly inspire as much confidence as they did in the preseason. Louisville scored 51 points but did so against a badly overmatched Tennessee Tech team. We won't really know anything about the Cardinals for another 11 days, when they play Kansas State. Cincinnati put up a fight for a while but eventually got clobbered at Oklahoma, perhaps exposing how far off the Big East really is from the upper echelon. The Bearcats also lost their QB to injury.
And Syracuse, well, there are really no words to describe how bad Syracuse is right now.
No doubt the conference will get hammered nationally this week, and deservedly so. Probably no Big East team belongs in the top 15 right now. If there's a plus side, every team in the league must feel that it can win the conference title.
Well, everyone except Syracuse, that is.
Battling Through
By Tim Griffin, ESPN.com
RENO, Nev. -- It hadn't been the best of nights for Graham Harrell, who had the scrapes and bruises to prove it.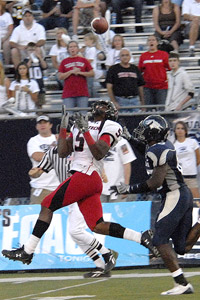 AP Photo/Tim Dunn
Even with Graham Harrell struggling, Michael Crabtree caught seven passes.
The Tech quarterback had struggled through a miserable first half, completing only four of his first 10 passes. It wasn't much better after halftime; the Red Raiders just didn't seem to be clicking against an aggressive and opportunistic Nevada defense that was in Harrell's face throughout the game.
"During the first half we were sloppy and just out of rhythm," Harrell said. "After halftime, we still weren't in a great rhythm, but we did start playing better. And we were able to come out with the win."
Harrell turned the game around after his early struggles, hooking up on an 82-yard TD pass to Michael Crabtree early in the fourth quarter that served as the clinching blow in the Red Raiders' 35-19 victory over Nevada.
The play appeared to be there throughout the game as Crabtree had a size and speed advantage over Nevada cornerbacks, who had no starts coming into the season. But Harrell invariably overthrew the Biletnikoff Award winner throughout the game.
"We just had a miscommunication earlier," Harrell said. "It just seemed like we were a little off all night. We missed some opportunities and it was frustrating. But we knew we could get it if we tried again."
Harrell finished by completing 19 of 46 passes for 297 yards. Much of the yardage was accounted for on two huge plays to Crabtree: the 82-yard TD strike and a 50-yarder that set up another score.
To read the rest of Tim Griffin's story, click here.
Opportunity Lost
By Adam Rittenberg, ESPN.com
COLUMBUS, Ohio -- Ohio State players insisted their eyes were locked on the players in front of them, not on the bigger, stronger and faster men 2,000 miles away.
They insisted the energy level was high, even higher than it had been before the season opener against Youngstown State. Ohio U wouldn't be a trap game. Letdowns happen in sports all the time, but not to this team, not to these seniors, not to this coaching staff.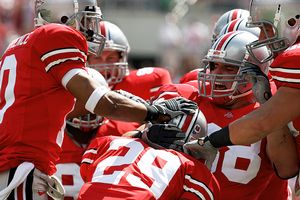 Matthew Emmons/US Presswire
Surviving Ohio was cause for celebration for the Buckeyes.
"Everybody was ready to play," cornerback Malcolm Jenkins said.
Ohio State emerged with a W on Saturday, the 800th victory in team history, but for the most part, the game had all the ingredients of that L word.
"It kind of looked like everyone predicted you might look like in between your opener and your big 'national stage game,' which is disappointing because we really needed to make progress," Buckeyes head coach Jim Tressel said.
Ohio State made some progress in a 26-14 victory. The defense forced four of Ohio's five turnovers, quieting the takeaway talk. Wideout Ray Small emerged as a big-play threat, and defensive end Lawrence Wilson caused havoc in the backfield.
But the Buckeyes should have accomplished so much more. Taking the field a week before a mega matchup at top-ranked USC, Ohio State had a lengthy to-do list. Most of the items were never crossed out.
"We didn't get better this week," center Jim Cordle said. "We were supposed to."
Added running back Maurice Wells: "We really didn't expect the game to go how it did. It wasn't pretty. We're going to have to make a lot of improvements next week if we want to get a win out there."
This game provided a unique opportunity, particularly on offense. Playing without their best player, running back Chris "Beanie" Wells, the Buckeyes had the opportunity to experiment with different plays and personnel groups.
But when their bread-and-butter schemes didn't produce a comfortable early lead, the script changed. Creativity was tabled to next week.
To read the rest of Adam Rittenberg's story, click here.
Todd Takes The Reins
By Chris Low, ESPN.com
AUBURN, Ala. -- Auburn has its quarterback.
Chris Todd established himself as the clear-cut starter heading into the SEC part of the schedule with a steady, mistake-free performance Saturday in the Tigers' 27-13 win over Southern Miss.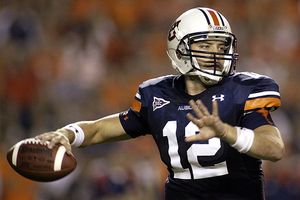 John Reed/US Presswire
Chris Todd threw for 248 yards in a win against Southern Miss.
"Chris did a good job, and barring anything happening, he'll be our starter next week [against Mississippi State]," Auburn coach Tommy Tuberville said.
Now that the Tigers have settled on their quarterback, the next question becomes: Can they beat the elite teams in this league with Todd working primarily the underneath routes and the shorter swing passes to receivers and running backs?
"We've got to get better, and we will get better," Todd said. "We didn't take a lot of chances down the field today. We took a few, but the big thing was being smart. If you don't have to take chances, you don't have to."
Todd finished 21-of-31 for 248 yards. He didn't throw any touchdowns, but he also didn't throw any interceptions. He started and went the whole way in the first half.
Auburn offensive coordinator Tony Franklin decided to give Kodi Burns the first possession of the second half, which resulted in a three-and-out. Burns returned on the Tigers' next drive and scored a touchdown on fourth-and-goal from the 1.
But on the next series, Burns tried to float one on the run that was intercepted, which didn't sit well with Tuberville.
"Kodi got a little lackadaisical," Tuberville said. "You can't come in and do what he did. Every snap in college football is important. He took it for granted. He threw the ball down the field, and it got tipped. A good lesson learned, but you don't play much when you do that."
Franklin blamed himself for breaking Todd's rhythm in the second half, but he wanted to at least give Burns another shot.
It's obvious now that Todd is the Tigers' quarterback, and Franklin said the whole offense would prosper just by knowing that Todd was the guy. Franklin added that Burns would still play situationally.
"We'll get better. We're going to get better, and I don't think there's any doubt about it," said Franklin, who was peeved about the Tigers' four turnovers, including three fumbles by three different running backs. "With Chris taking most of the snaps now, it will help everybody kind of come together a little bit."
To read the rest of Chris Low's story, click here.
Three Weekend Observations
By Ivan Maisel, ESPN.com

1.
It would be easy to mock Notre Dame's struggle to win 21-13 at home against lowly San Diego State. But you can't underestimate the importance of this victory. The Fighting Irish found a way to win in the fourth quarter. That not only demonstrates a change from last season, but should serve as a wellspring of confidence in the weeks to come. History will look back fondly at this game.

2.
Florida's 26-3 final margin over Miami shows the rout that wasn't. Oklahoma's 52-26 final margin over Cincinnati makes objects in that score appear closer than they actually were. The Sooners gave up one touchdown on special teams, a common early-season miscue, and gave up another as time expired. Oklahoma looks mighty impressive. Or maybe just mighty.

Skinner
3.
Recruiters flock to California, Texas, Florida and Georgia for their talent. It's always interesting to see where winning teams that aren't from those states go to get their players. Alabama coach Nick Saban, we learned last week, is moving in on Atlanta. And Wake Forest beat Ole Miss thanks to a last-minute drive led by quarterback
Riley Skinner
and finished by kicker Sam Swank, both from Jacksonville. It seems that there are pipelines everywhere.
GameDay Crew Recap
GameDay Crew Final Thoughts
RECE DAVIS

Pac-10 referee Larry Farina said the penalty given to Washington's
Jake Locker
was "not a judgment call," but by definition, every call in some respect is a judgment call. If you ask me, in this case the judgment was wrong.
Helmet Stickers Go To:
• QB
Joe Craddock
, MTSU
28-for-40, 256 yards, 2 TDs vs. MD
• WR
Marshwan Gilyard
, Cincinnati
School-record 365 all-purpose yards vs. Oklahoma
---
LOU HOLTZ

It wasn't a great effort Saturday, but Ohio State will play an outstanding game at USC. You never have the same team two weeks in a row. They will redeem themselves out in California. They're a very talented football team and I think they'll win at the Coliseum.
Helmet Stickers Go To:
• QB
Patrick Pinkney
, ECU
22-for-28, 236 yards, TD vs. WVU
• QB
Sam Bradford
, Oklahoma
29-for-38, career-high 395 yards, 5 TDs vs. Cincinnati
---
MARK MAY

Locker
You have the emotion of 19- and 20-year-old kids ... it's a huge play in the final seconds. He wasn't taunting. It wasn't premeditated. For the officials to step in and help determine the outcome of the game -- when the players and coaches should -- it's inexcusable.
Helmet Stickers Go To:
• WR
Dez Bryant
, Oklahoma State
236 rec yards, 3 rec TD, 71-yard punt ret TD vs. Houston
• RB
Donald Brown
, UConn
Career-high 214 rush yards, GW TD in OT vs. Temple
Blog Network: Helmet Stickers
Every week our bloggers will hand out helmet stickers to the week's top players, coaches, teams or anything else worth this honor.
Highlights: West Virginia-East Carolina
Blog Network: What We Learned

The ACC didn't do too much to hurt itself this week, but then again, it's not like Saturday was highlight filled.
ACC

The Big 12 had its most productive nonconference week in history with a 12-0 record.
Big 12

On the plus side, the Big East doesn't have to worry about getting called for too many celebration penalties.
Big East

The Big Ten achieved perfection in Week 2, winning all 11 games, all but one by 10 points or more.
Big Ten

Rudy Carpenter is good when he has time and the state of Washington has an ugly year in store.
Pac-10

Knowshon Moreno is a legit Heisman candidate while Tim Tebow is still Tim Tebow.
SEC

Non-BCS:
Now everyone knows that East Carolina is good, but there are question marks about BYU.
Around the nation
Highlights: Florida-Miami
Battle For Bad
By Brett Edgerton, ESPN.com
Apparently the Big East and ACC are going to great lengths to win the normally not coveted title of worst BCS conference. In nonconference play through the first two weeks, each league is just 3-7 against FBS schools. One of those ACC victories came against Kent State and the other two were provided by Wake Forest, the league's lone Top 25 team. As for the Big East, one of its victories came against Buffalo and the other two came in overtime, against Central Florida and Temple. At this point, it appears the best nonconference win by an ACC or Big East team is Wake's 30-28 squeaker against Ole Miss, a team that finished 0-8 in the SEC last season. When does Midnight Madness start again?
Highlights: Ohio-Ohio State
History Avoided
By Brett Edgerton, ESPN.com
As if losing to the team that lost to Cal Poly last week wouldn't have been bad enough, Notre Dame also avoided a major history headache by staging a fourth-quarter comeback against San Diego State.
How historic would a loss have been? Well, for starters, it would've only been the second time Notre Dame has lost its home opener to a team not currently in a BCS conference. The other? A heartbreaking 4-0 setback to the always-healthy College of Physicians and Surgeons in 1896. In case you don't remember, that was during Grover Cleveland's second go-around as U.S. president. The Fighting Irish also avoided losing back-to-back season openers at home for the first time since 1887 and '88. Those two years are also known as the first two years of Notre Dame football. Talk about waking up the echoes!
Gopher Ball
By Brett Edgerton, ESPN.com
It's not every day you see a team double its win total from the previous year -- by the end of Week 2. But with a convincing 42-17 road win at Bowling Green, Minnesota did just that. After a horrendous 1-11 debut season for coach Tim Brewster (the one win was in double OT), the Golden Gophers are 2-0 and are home wins over Montana State and Florida Atlantic (revenge game) away from 4-0.