Think things are figured out? Not so much
Not So Fast
By Mark Schlabach, ESPN.com
The weekend started with everyone wondering whether Oregon should be ranked ahead of Boise State, which beat the Ducks on the very first day of the 2009 season.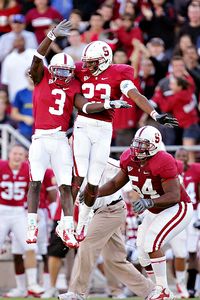 Ezra Shaw/Getty Images
Stanford's upset of Oregon took care of any outside shot the Ducks had at the BCS title.
We also debated whether an undefeated Iowa team was worthy of playing in the BCS National Championship Game because of its difficult schedule, and whether a 10-2 Notre Dame team or 11-1 Penn State squad would be too attractive for BCS bowl executives to pass up at season's end.
Once again, college football fans -- including me -- got ahead of themselves while trying to figure out how the rest of the college football season would play out.
Oregon, which looked like one of the country's best teams after blasting then-No. 5 Southern California 47-20 on Oct. 31, gave up 505 yards of offense and more than half-a-hundred points in a 51-42 loss at Stanford on Saturday. The loss knocked the No. 8 Ducks out of the BCS national championship race, and they'll have to regroup quickly to stay in the Pac-10 title race.
After hosting Arizona State on Saturday, Oregon plays at No. 18 Arizona on Nov. 21 and hosts rival Oregon State in the Dec. 3 Civil War.
"We got beat by a better team," Ducks coach Chip Kelly told reporters in Palo Alto, Calif., after his team's seven-game winning streak ended. "If you say we got caught looking behind or looking ahead, it takes away from Stanford. Stanford is a heck of a football team."
Iowa's 17-10 loss to Northwestern on Saturday was even more costly. The No. 4 Hawkeyes lost quarterback Ricky Stanzi to an ankle injury in the second quarter, and then couldn't continue their late-game magic. Iowa's 13-game winning streak ended, and it will have to win at Ohio State on Saturday to win the Big Ten and claim its first trip to the Rose Bowl since 1990.
The Buckeyes walloped Penn State 24-7 on the road Saturday to regain control of the Big Ten race. The Nittany Lions won eight of their first nine games while playing one of the country's softer schedules. But No. 11 Penn State mustered only nine first downs and 201 yards of offense against the Buckeyes. The loss knocked the Nittany Lions out of the Big Ten championship race and probably eliminated any chance of their playing in a BCS bowl game.
Notre Dame won't be going to a BCS bowl game, either. The No. 22 Fighting Irish suffered perhaps the weekend's most stunning loss, losing to Navy 23-21 at home. After beating the Midshipmen 43 straight times from 1964 to 2006, Notre Dame has lost to them twice in the past three seasons. The Irish gave up 348 rushing yards and never got their high-powered passing game going until the game's final minutes.
"We kind of felt like we had them in a perfect storm," Navy coach Ken Niumatalolo told reporters in South Bend, Ind. "Just looking to the postseason, a very, very good Pitt team coming next week, and it's us coming."
With the Fighting Irish still facing a road game at Pittsburgh, home game against Connecticut and road game at Stanford, an even bigger storm might be brewing at Notre Dame.
Always Getting It Done
By Chris Low, ESPN.com
TUSCALOOSA, Ala. -- This is Alabama's last shot.
That is, the Crimson Tide's last shot to do something nobody else in the SEC has done -- win at least one SEC championship in every decade since the league was formed in 1933.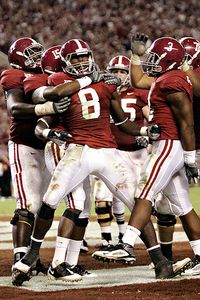 AP Photo/Dave Martin
With one play, Julio Jones put Alabama in line for a chance at history.
Go back and check the records. Alabama won two in the 1930s, one in the 1940s, one in the 1950s, four in the 1960s, eight in the 1970s, two in the 1980s, two in the 1990s and … well, you get the idea.
After Saturday's 24-15 win over LSU at Bryant-Denny Stadium, we now know the Crimson Tide (9-0, 6-0) will get their chance to extend that streak in the 2000s. They clinched the Western Division title and will get another shot at Florida in the SEC championship game Dec. 5.
It would be a stretch to call this a great Alabama team, and there have been games this season in which the Crimson Tide looked like a flawed team.
But as they roll along (sometimes plod along) toward a rematch with the Gators, there's no debating the fact that they're a resilient team.
And this time of year, the combination of resilience, perseverance and a little luck can go a long way.
"We're going to do whatever it takes," Alabama running back Mark Ingram said. "We've worked so hard to get to this point, and we don't want to let anything get in the way. We're focused. We have each other's backs, and we've overcome adversity.
"We just have to keep doing that, keep getting better as a team and finish strong."
To read the rest of Chris Low's story, click here.
Magic Runs Out
By Adam Rittenberg, ESPN.com
IOWA CITY, Iowa -- Derrell Johnson-Koulianos had forgotten what it felt like to have someone other than Ricky Stanzi calling signals at the line of scrimmage.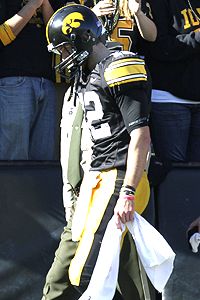 AP Photo/Charlie Neibergall
Without Ricky Stanzi, Iowa lost its comeback magic.
Johnson-Koulianos also had forgotten what it felt like to lose.
Unfortunately for the Iowa wide receiver, he experienced both sentiments Saturday against Northwestern. And he won't forget either feeling any time soon.
The fourth-ranked Hawkeyes lost their quest for perfection Saturday, unable to summon enough magic without Stanzi as they fell 17-10 to Northwestern at Kinnick Stadium.
"That was always in the back of my mind, something I really wanted for everybody," Johnson-Koulianos said of going undefeated. "It's never been done here. We had the opportunity to do something prestigious.
"Now that dream, in a blink of an eye, is gone."
Iowa lost its undefeated season, its quarterback and possibly the inside track to the Rose Bowl on Saturday. The Hawkeyes saw their 13-game win streak, the second-longest in the nation, snapped in front of a stunned crowd of 70,585, thousands of whom remained in their seats long after the game ended.
The margin for error had always been slim at Iowa, both on the field and the depth chart. Until Saturday, the Hawkeyes had overcome every challenge, from losing running backs Jewel Hampton and Adam Robinson, to playing several games without left tackle Bryan Bulaga and tight end Tony Moeaki, to facing eight deficits in nine weeks.
But the loss of Stanzi to a right ankle sprain in the second quarter proved too big an obstacle.
To read the rest of Adam Rittenberg's story, click here.
Surviving A Scare
By Brian Bennett, ESPN.com
CINCINNATI -- Brian Kelly encountered an odd situation in the locker room after Cincinnati's game against Connecticut on Saturday night. He had to give his players a pep talk -- after a victory.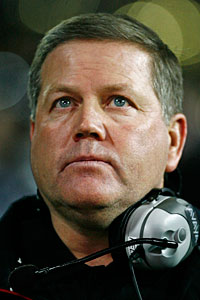 AP Photo/David Kohl
Brian Kelly's Bearcats faced and overcame adversity for the first time this season.
Judging from their muted shuffle off the Nippert Stadium turf or the downcast stares on some defensive players' faces, you might not have known the No. 5 Bearcats beat UConn. That's what a white-knuckle 47-45 game will do to a team that's contending for the national title.
"I had to tell a lot of guys in there, 'We just won a football game,'" Kelly said. "They had that look about them defensively. But you've got to enjoy a win like this. It's hard to win."
Actually, winning hadn't been too difficult for Cincinnati (9-0, 5-0 Big East) before Saturday. Only one opponent had come within 10 points all season, and Fresno State never seriously threatened in that 28-20 decision.
It looked like another easy stroll for the Bearcats once they built a 30-10 halftime lead and a 37-17 cushion over UConn in the third quarter. But the ever-resilient Huskies stormed back, coming within a missed two-point conversion of erasing the entire deficit.
In the process, they exposed the warts, moles and scar tissue on the Big East's beauty queen.
"It was actually good for our guys," Kelly said. "Because we hadn't been in this kind of adversity all year."
To read the rest of Brian Bennett's story, click here.
Alabama Doing Just Enough
By David Bearman, ESPN Stats & Information
Leigh Tiffin FGs (Past Four Games)
| | |
| --- | --- |
| vs. LSU | 3-3 |
| vs. Tennessee | 4-4 |
| vs. South Carolina | 2-3 |
| at Mississippi | 5-5 |
Alabama is in its second consecutive SEC title game versus Florida, and with wins the next three weeks, the Tide will be playing for a berth in the BCS national title game. However, the Alabama offense is not exactly lighting up the scoreboard in a fashion that would have you believe they can beat Florida and Texas. Before two second-half touchdowns to rally and beat LSU, the Crimson Tide had gone 12 quarters with one offensive TD. The red zone numbers were even worse. Alabama has scored a TD in only 41 percent of its trips in the red zone, among the worst in the nation (ranked 110th entering the weekend).
So how is Alabama scoring points? Meet Leigh Tiffin, the nation's leader in field goals made. Tiffin has made 23 of 26 FG this season, including 14 FG in the past four games. He went 4-4 two weeks ago, scoring all 12 points in a two-point win over Tennessee, a game that ended on a blocked FG by the Alabama defense. The senior kicker was a Lou Groza Award semifinalist last season and is on pace to be there again this year.
Of course, the staple of Alabama's undefeated run has been the defense. The Tide defense is ranked in the top five in almost every major statistical category. But so is Florida, meaning Alabama will need more than field goals in the red zone to advance to Pasadena.
Three Weekend Observations
By Ivan Maisel, ESPN.com

1.
On one side of the BCS at-large pool will be the 10-2 conference runners-up, teams with big names and sputtering offenses, teams like Penn State, Iowa and USC. On the other side of the at-large pool will be teams with 10-12 wins, exciting styles and no names, teams like TCU, Boise State, Houston and Oklahoma State. Bowls want teams with ticket-buying fans who will attract TV viewers. It doesn't bode well for the latter group.

2.
Michigan and Notre Dame, together again. How? Both teams are improved from last year but maybe not enough to satisfy their fans. Michigan, 3-9 last season, is 5-5 and thoroughly mediocre. But Wolverine fans don't acknowledge that mediocre is better than bad. The Irish, 6-3, could win their last three (Pitt, UConn, Stanford). They also could lose them. Charlie Weis is a proud guy. If his future comes into question, he may not wait around for the university to pass judgment.

3.
The fourth-quarter interception that LSU corner Patrick Peterson did (according to video) or didn't (according to the SEC officials) make enthralled conspiracy theorists. I think they need a hobby. If the Tigers had gotten the ball, they would have been on the Alabama 37, trailing 21-15, with a backup quarterback and a backup tailback. On the Tigers' last two possessions,
Jarrett Lee
went 1-for-7 with two sacks and one pick. In other words, that call didn't decide the game.
GameDay Crew Recap
GameDay Crew Final Thoughts
RECE DAVIS

There are some crazy conference races as we head down the stretch with the Big 12 North and the Pac-10, but I want to focus on the Pac-10 here. Arizona looks like a legitimate contender for the Rose Bowl. I also really like Stanford. If the Cardinal defense can play up to the level of its very explosive offense (big fan of
Toby Gerhart
,
Andrew Luck
and
Chris Owusu
), then Stanford will have a say on who plays in Pasadena.
Helmet Stickers Go To:
• RB
Toby Gerhart
, Stanford
38 rushes, 223 rushing yards, 3 TDs in 51-42 win vs. Oregon
• S Matt O'Hanlon, Nebraska
12 tackles, 3 INT in 10-3 win vs. Oklahoma
---
LOU HOLTZ

Another crazy football day, but great teams keep finding ways to win (Florida, Texas, Alabama, Cincinnati, TCU). To find ways to win, you have to catch some breaks and have a little bit of luck involved. Ultimately, it's going to come down to Texas and the winner of Alabama/Florida. If that isn't the matchup for the national title game I'll be really shocked.
Helmet Stickers Go To:
• FB
Vince Murray
, Navy
14 rushes, 158 rushing yards, TD in 23-21 win at Notre Dame
• QB
Zach Collaros
, Cincinnati
555 total yards, 3 total TDs in 47-45 win vs. Connecticut
---
MARK MAY

Nothing has changed, as the top three teams all won impressively. That was a really tough break for Iowa and
Ricky Stanzi
. I thought they had a good chance of going undefeated if he stayed healthy all season. I'm also really happy and proud for Navy. That was a huge win for them and it makes it even more special with Veterans Day right around the corner.
Helmet Stickers Go To:
• WR
Jordan Shipley
, Texas
11 rec, 273 rec yards, TD in 35-3 win vs. UCF
• DE Cameron Heyward, Ohio State
11 tackles, 3 TFLs, 2 sacks in 24-7 win at Penn State
Highlights: Northwestern-Iowa
Blog Network: What We Learned

Riley Skinner. Thaddeus Lewis. Christian Ponder. Three of the ACC's most productive, efficient passers and leaders all lost this past weekend.
ACC

The Big 12 was supposed to have become clearer after Saturday's games. Instead, it's much more scrambled.
Big 12

The Panthers are on a major roll right now, having won their past two games by a combined margin of 78-24.
Big East

Once again, Ohio State is the team to beat, but the Big Ten won't be playing for the national title.
Big Ten

With Oregon's defeat at Stanford, every Pac-10 team now has at least two losses.
Pac-10

The SEC championship game is all set. Alabama and Florida will play for the title for the second year in a row Dec. 5 in Atlanta.
SEC

Non-AQ:
All eyes will be on Fort Worth next weekend as TCU and Utah meet up for the biggest game of both of their regular seasons.
Around the nation
Highlights: LSU-Alabama
Blog Network: Helmet Stickers
Every week our bloggers will hand out helmet stickers to the week's top players, coaches, teams or anything else worth this honor.
Highlights: UConn-Cincinnati