Even the top teams have failed to really impress this season
Show Us Something
By Pat Forde, ESPN.com
Impress us. Please.
Three weeks into this college football season, we're still waiting to be wowed. Waiting to see someone step up and play like a champion. Waiting to see a team fully capable of grabbing that crystal football with two hands and not let go.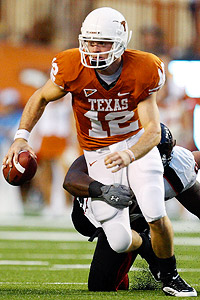 Ronald Martinez/Getty Images
Colt McCoy threw for 205 yards but was intercepted twice against Texas Tech on Saturday night.
The 1-2 teams in the polls, Florida and Texas, took center stage Saturday. They were playing their first high-profile game of the season. They were playing at home. They were playing with ample motivation: the Gators wanting a pound of Tennessee coach Lane Kiffin's flesh, the Longhorns looking for revenge upon Texas Tech.
There was an anticipated show of force. It didn't happen.
Both delivered rather ho-hum 10-point victories. Neither put away the opposition.
The Longhorns were outgained by the Red Raiders. The Gators scuffled to just 13 first-half points.
Yes, winning was the most important thing, but there was no accompanying shock and awe.
It's true that Florida wasn't awe-inspiring at this point of the season last year. Or in 2006, when it also won the national title. But this veteran team was supposed to be so fully stocked it would dominate every step of the way to Pasadena.
For Texas, the absence of an explosive running back remains the same issue it was in 2008. The Horns have only one run of longer than 20 yards this year and it was by a receiver, John Chiles. They have a few weeks to figure it out, with only home games against UTEP and Colorado (with a combined 2-4 record) between now and Oklahoma on Oct. 17.
Behind those two in the rankings, USC was doing what it does with numbing regularity: losing to an unranked Pacific-10 opponent. For the second straight season, the buzz from beating Ohio State evaporated in a week's time. There were injury factors in the Trojans' loss to Washington, but champions must be able to overcome adversity, especially against an opponent they beat 56-0 last year.
BYU went from potential BCS buster to flat busted, being routed at home by Florida State. One week the Seminoles scrape to score 19 points at home against Jacksonville State; the next week they drop 54 on the Cougars.
So who has dilated our pupils so far?
Alabama, anyone? The Crimson Tide are the only top-five team with a victory over a ranked opponent, having beaten No. 11 Virginia Tech in Atlanta to open the season. Since then the Tide have trampled two bad opponents. They return to varsity competition this week by hosting Arkansas.
How about California? The Bears are one of just three top-10 teams that have two victories over opponents from big-six conferences. They crushed Maryland the first week and posted a two-touchdown victory at Minnesota on Saturday.
The other two are LSU (with victories over Washington and Vanderbilt) and Miami (victories over Florida State and Georgia Tech). The Tigers' win in Seattle gains added value after the Huskies beat USC. The Hurricanes probably have the best résumé to date but must fight uphill in the rankings after starting the season outside the Top 25.
Mississippi and Penn State are only ranked in the top five based on attrition and reputation. They started the season highly ranked and have moved up without beating anyone of consequence. Both will finally play someone this week, with the Rebels visiting South Carolina on Thursday and the Nittany Lions hosting Iowa on Saturday.
Maybe this will be the week when somebody starts to look like a champion.
Cal Starting To Believe
By Adam Rittenberg, ESPN.com
MINNEAPOLIS -- After finding all the answers on the field, California quarterback Kevin Riley struggled to find the words to describe what had just taken place.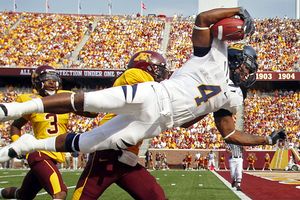 Bruce Kluckhohn/US Presswire
Jahvid Best scored all five of the Bears' touchdowns Saturday versus Minnesota.
Cal proved Saturday it can win a road game, something the Golden Bears had done only five times in their past 16 trips away from Strawberry Canyon. The Bears won a nonconference road game several time zones away, which they failed to do in embarrassing fashion last year at Maryland.
Perhaps more importantly, Cal won the hard way, breaking a fourth-quarter deadlock against Minnesota to prevail 35-21.
If only the Bears' quarterback could pinpoint the reason …
"Offensively, we're just more comfortable with each other," Riley said. "We have a tremendous amount of, uh, I don't know, I lost a word. I'm just lost. Go ahead, Jahvid. I can't think of the word."
Fittingly, running back Jahvid Best was there for the save.
"It's about belief," Best said.
"That's it," a smiling Riley said. "There ya go."
Cal is starting to believe it can do special things this season, and Saturday's victory only reinforced the sentiment. The Bears have been here before under head coach Jeff Tedford. Ranked in the top 10. On the cusp of a real breakthrough. They've had the talent, the game-changers on both sides of the ball, but for one reason or another, it hasn't worked out.
Whether it's expectations, me-first stars, chemistry issues or lack of execution between the lines, Cal hasn't taken the step from very good to great.
The Bears might finally be ready.
To read the rest of Adam Rittenberg's story, click here.
Tigers Ready To Win
By Chris Low, ESPN.com
AUBURN, Ala. -- There was thunder and lightning, a vaunted Auburn running game that never really showed up and a shaky start to the game that probably would have doomed the Tigers a year ago.
Then again, nobody on the Plains can really remember last year.
"All I'm worried about is right now," said junior linebacker Josh Bynes in the aftermath of Auburn's 41-30 win over West Virginia on Saturday night. "We got it done, and that's all that matters."
The Tigers got it done on a soggy night at Jordan-Hare Stadium when they had to wait more than an hour just to start the game because of the weather.
It wasn't their best tackling performance on defense, particularly early. Their running game was AWOL, and they fell behind 14-0 less than five minutes into the game.
"This game shows that we can push through anything and endure," junior running back Mario Fannin said.
It's also the most convincing evidence yet that these Tigers (3-0) are for real.
If they weren't already believing, they are now.
To read the rest of Chris Low's story, click here.
Practice Makes Perfect
By Heather Dinich, ESPN.com
BLACKSBURG, Va. -- Every Tuesday, Virginia Tech goes through a drill called "deep balls," and it's exactly what it sounds like: Quarterback Tyrod Taylor practices throwing the ball deep. And at least twice a week, he practices scrambling drills, trying to establish some organized chaos.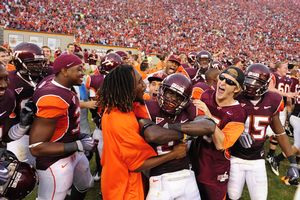 David Allio/Icon SMI
Virginia Tech will remember this one for a long time.
If practice doesn't make perfect, it sure goes a long way in winning football games.
Taylor's 81-yard pass to Danny Coale with about a minute remaining set up the game-winning touchdown pass to lead the Hokies to a 16-15 come-from-behind win over Nebraska. It was the longest pass completion since Bryan Randall threw a pair of 87-yard receptions against Syracuse in 2002.
And then came the scramble. Taylor took the shotgun snap and scrambled for just over nine seconds -- nine seconds -- before releasing the ball for an 11-yard game-winning touchdown to Dyrell Roberts.
"He fired that one," Roberts said. "He put something on that one. That's one of the fastest balls Tyrod ever threw to me."
After almost four quarters of nearly no offense, Virginia Tech put together two game-changing plays that will keep the Hokies among the nation's top teams. After losing to Alabama in its season opener, Virginia Tech's national title chances took a significant hit, but the Hokies haven't given up on that goal, and they didn't give up against Nebraska.
The last time Virginia Tech came from behind to win in the last minute was in 1999, when Shayne Graham kicked a 44-yard field goal as time expired to give the Hokies a 24-22 win at Morgantown, and coach Frank Beamer said this one was definitely comparable.
"It's right up there," Beamer said, "I promise you that."
To read the rest of Heather Dinich's story, click here.
A Familiar Refrain
By David Bearman, ESPN Stats & Information
They used to say USC was one or two bad losses away from three or four national titles. Now, USC has lost to an unranked team in four consecutive seasons, the latest being an unexplainable loss to a Washington team that was seven days removed from ending a 15-game losing streak. Most college football fans would love a 36-6 record over the past four seasons. However, it's the who and when of USC losses that will continue to haunt Trojans fans and befuddle college football analysts.
• In 2006, the Trojans rebounded from a two-point loss at Oregon State to climb back into the national title picture, and only needed to defeat crosstown rival UCLA (6-5) to play for the national title. They lost, scoring nine points, 23 points below their average.
• In 2007, as the top-ranked team in the coaches' poll (second in the AP poll), the Trojans lost at home to 41-point underdog Stanford, ending a 35-game home winning streak. Stanford finished 4-8 that season.
• Last year, one game after a huge win over Ohio State, the top-ranked Trojans fell behind 21-0 in the first half to Oregon State in a six-point loss. The Beavers went on to a nine-win season, but the early loss in a down year for the Pac-10 sent 11-1 USC to the Rose Bowl, while one-loss Florida and one-loss Oklahoma played for the national title.
• And there is 2009. Washington went 0-12 this past season and lost to USC 56-0. The Huskies had not won a Pac-10 game since November 2007. The Trojans, again coming off a win over Ohio State, had won seven straight in the series, scoring at least 26 points in every game.
Not even college football fans in the Upper Northwest, even those celebrating last week's win over Idaho, saw this one coming.
Three Weekend Observations
By Ivan Maisel, ESPN.com

Holt
1.
The fuss over the mentor-pupil matchup between USC and Washington may have focused on the wrong pupil. It shouldn't have been Huskies coach Steve Sarkisian but Nick Holt, the defensive coordinator he brought with him from USC. After Sarkisian offered Holt the job last winter, Trojans coach Pete Carroll worked Holt so hard to stay in that same job at USC that Washington had to postpone the news conference to introduce Holt twice. After the Huskies' 16-13 win, it's obvious why Carroll and Sarkisian wooed Holt so.

2.
Is the SEC turning into the Big 12? Georgia wins at Arkansas 52-41, and Auburn defeats West Virginia 41-30. Let the debate over whether the offenses are really good or the defenses really bad begin. I'll say this: SEC quarterback play -- from
Joe Cox
of Georgia to
Chris Todd
of Auburn to
Greg McElroy
of Alabama to
Ryan Mallett
of Arkansas -- is much better than expected. And kudos to the Dawgs and Tigers, both of whom came back from early double-digit deficits to win.

Harris
3.
Miami's newest Hall of Famer, 1992 Heisman winner Gino Torretta, said he admires Hurricanes sophomore quarterback
Jacory Harris
for his cool. "When he had to run a two-minute drill against Florida State, he never got excited," Torretta said. "… He drops back and he stands there, perfectly still. It looks like guys slow down around him, even though you know they don't. He makes throws with velocity and he makes throws with touch." Harris completed 20 of 25 passes for 270 yards and three touchdowns Thursday in Miami's 33-17 victory over Georgia Tech.
GameDay Crew Recap
GameDay Crew Final Thoughts
RECE DAVIS

I feel that the conference measuring-stick stuff is overrated. It's all about individual teams within those conferences and how they match up. However, the ACC got a much-needed shot in the arm Saturday. Virginia Tech saved its season on a national scale by beating Nebraska. And Florida State looked like an elite-level program, much like the Seminoles of old.
Helmet Stickers Go To:
• QB
Greg Paulus
/WR
Mike Williams
, Syracuse
Paulus: 24-35, 346 pass yards, 3 total TDs; Williams: 11 rec, 209 yards, 2 TDs in 37-34 win vs. Northwestern
• CB Greg Reid, Florida State
63-yard interception return TD in 54-28 win at BYU
---
LOU HOLTZ

Every week has different upsets, but you can always count on great games and great individual performances. Those are always standard. And another thing: I know most people are conceding the national title to Florida, but you better take a long, hard look at Alabama.
Helmet Stickers Go To:
•RB
Jahvid Best
, California
26 rushes, 131 rush yards, 5 TDs in 35-21 win at Minnesota
• LB Donald Butler, Washington
12 tackles, 2 tackles for loss, forced fumble, interception in 16-13 win vs. USC
---
MARK MAY

All the talk about the Mountain West getting an automatic bid into the BCS can stop. The best two teams from the conference (BYU and Utah) fell flat on their faces to unranked opponents. Also, I know there are no such things as moral victories. However, if there were, Tennessee earned one with its performance Saturday at Florida.
Helmet Stickers Go To:
• QB
Jimmy Clausen
, Notre Dame
22-31, 300 pass yards, 2 TDs in 33-30 win vs. Michigan State
• QB
Joe Cox
, Georgia
18-26, 375 pass yards, 5 TDs in 52-41 win at Arkansas
Highlights: USC-Washington
Blog Network: What We Learned

Florida State and Miami are to be taken seriously this year. And the Coastal Division is still up for grabs.
ACC

Baylor had better improve its rush defense, with the meat of the Big 12 schedule still to come.
Big 12

The Big East didn't have any head-scratching defeats, and Saturday was a very good day for the league.
Big East

Iowa is back in the mix thanks to defense, but the league still missed some opportunities.
Big Ten

Jahvid Best is a legitimate Heisman Trophy candidate, and Washington is nobody's patsy.
Pac-10

Could it be the SEC isn't Florida's own little playground this season?
SEC

Non-AQ:
With Utah and BYU losing this week, the race to bust the BCS just got a little tighter.
Around the nation
Highlights: Texas Tech-Texas
Blog Network: Helmet Stickers
Every week our bloggers will hand out helmet stickers to the week's top players, coaches, teams or anything else worth this honor.
Odds And Ends
By David Bearman, ESPN Stats & Information
Two of the top three active win streaks ended Saturday, with Utah (16 consecutive wins) and USC (12) both falling. Here's how the new list looks: Florida -- 13; Southern Miss -- 8; Ole Miss -- 8.
• A couple of former NFL coaches are making some noise on campus. Dave Wannstedt's Pitt Panthers and Butch Davis' North Carolina Tar Heels are both 3-0.
• Who needs the Heisman Trophy winner? Oklahoma backup QB Landry Jones set a school record and tied an FBS freshman record with six passing touchdowns. Louisiana Tech's Luke McCown (2000) and Indiana's Bob Hoernschemeyer (1943) are the only other freshmen to hit the mark.
Highlights: Nebraska-Virginia Tech