It's more than chemistry in Iowa's and Oregon's winning formula
The Right Elements
By Ivan Maisel, ESPN.com
EUGENE, Ore. -- What coaches and players refer to as chemistry is really not chemistry at all. Chemistry is a science subject to irrefutable law. It is what it is.
That's not football. What coaches and players refer to as chemistry is really alchemy. Alchemy isn't subject to the laws of science. Alchemy takes a substance of lesser value and transforms it into something greater.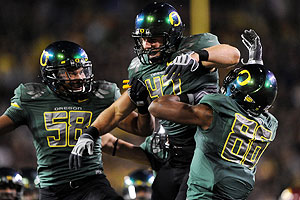 Kirby Lee/US Presswire
Oregon's sum is greater than its parts.
That pretty much describes what is going on at Iowa and at Oregon these days. The Hawkeyes commit six turnovers and beat Indiana 42-24. Quarterback Ricky Stanzi throws five interceptions and still averages 26 yards a completion. Iowa had no business beating Indiana -- and Michigan State, Northern Iowa, Michigan and so forth -- yet the Hawkeyes are 9-0.
Submit every position at Oregon and USC to the eyeball test and you'd take a Trojan almost every time. Ask Ducks defensive tackle Brandon Bair.
"They've got amazing athletes," Bair said. "If you had all of their talent they have on their team functioning as one unit, they'd be unstoppable."
That's where the alchemy takes place. USC didn't have that at Autzen Stadium on Saturday night. Oregon did. The Ducks won 47-20.
"We have a unit -- defensively, offensively -- we love to play with each other," Bair said. "We love to be out there on the field with each other. We feed off of each other's energy. We know if we mess up, somebody is going to be right there behind us. We don't have any fear of going out on the field together. We absolutely love being on the field together. The unity we have is absolutely unbelievable. I've never felt anything like it."
It may be unity. It may be love. It may have a little to do with blocking and tackling. Oregon head coach Chip Kelly said Friday he has never had a team listen to its coaches as well as this team does. "Everything we ask them to do, they do," Kelly said.
As coaches will tell you, that trait has a value greater than gold. Alchemy may not be a strong enough word to describe what is happening at Iowa and Oregon.
Instead of a word, try a phrase: "Rose Bowl opponents."
No Hole Too Deep
By Adam Rittenberg, ESPN.com
IOWA CITY, Iowa -- The thought crossed Kirk Ferentz's mind. The Iowa head coach started to worry that his team's edge-of-the-cliff dance would finally come to a painful end.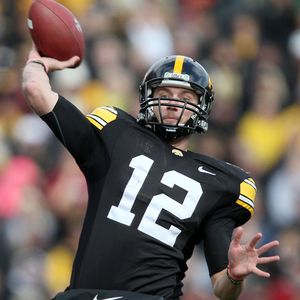 AP Photo/Charlie Neibergall
Ricky Stanzi gave and took away from Indiana on Saturday.
"I thought maybe we had dug too deep a hole today," Ferentz said.
As it turns out, there's no hole too deep for Iowa. There aren't enough interceptions to keep Ricky Stanzi from rallying his team. There aren't enough mistakes to keep these Hawkeyes from believing and, eventually, prevailing.
And after escaping a 14-point canyon Saturday against Indiana, Iowa might end up on top of the mountain after all.
Team Comeback did it again, rallying for the eighth time in nine games -- this time from its largest deficit of the season -- to remain perfect at 9-0. It didn't come down to the final play this time, as Iowa actually could relax in the final three or four minutes of a 42-24 win.
But Ferentz and his players agreed Saturday's rally was the most improbable.
"It's got to be up at the top," Ferentz said. "I know I haven't been in a game like this, and I doubt I've seen one like this because it was just so, so different. You never survive five turnovers, let alone five picks. The odds are, I would almost say, nil."
Almost. Iowa defied the odds once again, and the biggest boost came from the man who put the team in the hole.
To read the rest of Adam Rittenberg's story, click here.
Secondary Becomes Primary
By Tim Griffin, ESPN.com
STILLWATER, Okla. -- The memories of Texas' only 2008 loss were never far away for Curtis Brown, Blake Gideon and Earl Thomas.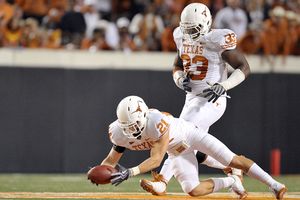 John Rieger/US Presswire
Texas safety Blake Gideon produced a pair of turnovers Saturday.
A nightmarish ending in the Longhorns' loss at Texas Tech last season boiled down to two plays that group didn't make. Gideon dropped a chance at a game-sealing interception with a celebrated drop on the next-to-last Tech offensive snap on a throw by Graham Harrell. And Michael Crabtree split Brown and Thomas on his game-winning touchdown grab on the next play.
The similarities with that game were striking this season as a tough trip to Oklahoma State materialized in exactly the same place on the Longhorns' schedule. Texas was playing its most difficult road opponent in front of a stadium packed with the largest crowd in school history.
Except this time around, the trio of Texas defensive backs slayed those memories with a masterful defensive game. All of them produced interceptions in a convincing 41-14 victory over Oklahoma State.
"I'm so proud of Blake Gideon and Earl Thomas and Curtis Brown," Texas coach Mack Brown said. "It was very fitting for all three of them to intercept balls -- two for touchdowns -- and put that thought to rest."
To read the rest of Tim Griffin's story, click here.
All Clear Now?
By David Bearman, ESPN Stats & Information
One thing we do know: Florida, Texas and Alabama are the teams in the driver's seat in the race for the BCS National Championship Game. Florida and Alabama, first and second in the BCS standings, will have to face each other for the SEC title if they win out. Texas, at No. 3, waits in the wings to move up. Lurking in the shadows are a couple of undefeated teams that don't look like they want to yield to the powerhouses.
Iowa Falling Behind (2009)
Trailed
Result
Indiana
21-7
W, 42-24
Michigan State
13-9
W, 15-13
Wisconsin
10-0
W, 20-10
Michigan
7-0
W, 30-28
Penn State
10-0
W, 21-10
Arizona
10-7
W, 27-17
Iowa State
3-0
W, 35-3
Northern Iowa
13-3
W, 17-16
Only game did not trail: Arkansas State
The fourth-ranked Iowa Hawkeyes continue to be the cardiac kids. For the eighth time in nine games this season, Iowa fell behind its opponent. Once again it did not matter, as the Hawkeyes scored 28 points to improve to 9-0. Iowa had six turnovers, including five picks by quarterback Ricky Stanzi, yet managed to pull out the win.
Iowa has home games with Northwestern and Minnesota, sandwiched in between a trip to Columbus and a battle with the 17th-ranked Buckeyes, a game that will most likely decide the Big Ten title. Iowa's regular season ends Nov. 21, so the Hawkeyes will have to wait and see where the chips fall. At the very least, a trip to the Rose Bowl would await a 12-0 Iowa team.
The Cincinnati Bearcats aren't going anywhere either. However, unlike Iowa, the Bearcats are rolling opponents. Saturday's 21-point win over Syracuse was the fourth consecutive double-digit win, and the seventh in eight games this season. And lately, Cincinnati has been without starting quarterback Tony Pike. Cincinnati dropped from fifth to eighth in the BCS last week, but still has conference games left with Connecticut, 21st-ranked West Virginia and 15th-ranked Pittsburgh, and a nonconference game with Illinois remaining. The Pittsburgh game is Dec. 5 during all the conference title games, giving the Bearcats one last chance to impress the voters.
The Hawkeyes and Bearcats will need to win out impressively and hope for help to reach the BCS title game, but the two teams look like they plan on being in the discussion come early December.
Three Weekend Observations
By Ivan Maisel, ESPN.com

1.
Colleges have been operating under the 85-scholarship limit for nearly two decades, and the belief that it has established parity is accepted on faith. But there's a difference between parity and depth. Indiana, Northwestern and Wake Forest all coughed up fourth-quarter leads Saturday to teams with more talent than they have. I can't think of anything more frustrating to a coach.

2.
Meet tight end
Anthony McCoy
, the MVP of the USC offense. Quarterback
Matt Barkley
leaned on McCoy against Notre Dame. McCoy didn't make the trip to Oregon because of injury. Barkley found backups
Rhett Ellison
and
Blake Ayles
open early. Both dropped passes, and Barkley not only rarely looked at them again; he also rarely threw downfield again. Without that, the Ducks' defense closed in against Barkley in the second half and finished with two sacks.

3.
So
Tim Tebow
has a breakout game against Georgia and all in the Heisman race is forgiven? Boy, I don't know. The way Tebow performed against the Dawgs makes you wonder where that has been all season. Yes, the concussion against Kentucky had a lot to do with Tebow's tentative play in the past couple of weeks. Perhaps in another month, Tebow's early play will be forgotten. The polls sure seem to work that way.
GameDay Crew Recap

How do you figure out the ACC and the Big 12 North? The Big 12 North appears to be a mosh pit of mediocrity. The ACC does have talented teams, but which ones show up week to week? How does Clemson lose to Maryland and win at Miami? You can criticize the mediocrity, but it sure does make for exciting football.
Helmet Stickers Go To:
• WR
DeMarco Sampson
, San Diego State
15 rec, 257 rec yards, 3 TDs in 42-28 win at Colorado State
• RB
MiQuale Lewis
, Ball State
26 rushes, 301 rushing yards, TD in 29-27 win at Eastern Michigan
---
LOU HOLTZ

It's a lot tougher to go through the SEC unbeaten than it is in any other conference. Alabama dodged a bullet, but it didn't get lucky. The Tide made the necessary plays to win the game. The way the landscape sits now, it wouldn't surprise me to see three or four undefeated teams at the end of the regular season.
Helmet Stickers Go To:
• QB
Bill Stull
, Pittsburgh
18-25, 245 passing yards, 2 TDs in 41-14 win vs. South Florida
• LB Jesse Smith, Iowa State
12 tackles, 2 TFL, INT, forced fumble, passes broken up in 9-7 win at Nebraska
---
MARK MAY

Florida and Alabama survived to stay unbeaten. However, the two best performances from undefeated teams Saturday came from the state of Texas. The Longhorns and the Horned Frogs both went on the road and dominated two good teams.
Mark Ingram
stays at the top of my Heisman list, but
Colt McCoy
has moved up the Heisman board after his performance at Missouri.
Helmet Stickers Go To:
• RB
C.J. Spiller
, Clemson
88 rushing yards, 104 rec yards, 125 kickoff return yards, 2 TDs in 40-37 win at Miami
• QB
Ricky Stanzi
, Iowa
TD pass with no time left in 15-13 win at Michigan State
-->
Highlights: USC-Oregon
Blog Network: What We Learned

There is a new undisputed heavyweight in the Coastal Division -- and the entire ACC, for that matter: Georgia Tech.
ACC

Texas has a clear path to the Big 12 title game and beyond after an impressive victory over Oklahoma State.
Big 12

West Virginia's loss means that only Pitt and Cincinnati remain unbeaten in the Big East.
Big East

Unlike the SEC and the Pac-10, the Big Ten never comments on officiating, but the league can't be pleased with what took place Saturday.
Big Ten

Jacquizz Rodgers should be a leading Heisman candidate, and California is getting off the carpet.
Pac-10

Alabama took the week off, giving Florida a chance to state its case as the best team in the SEC, and ultimately the country.
SEC

Non-AQ:
Neither Boise State nor TCU was rattled this week by weaker opponents, and they remain the top two contenders for a potential BCS bowl berth.
Around the nation
Highlights: Texas-Oklahoma State
Blog Network: Helmet Stickers
Every week our bloggers will hand out helmet stickers to the week's top players, coaches, teams or anything else worth this honor.
Highlights: Georgia-Florida