Pirates Cove
East Carolina coach Skip Holtz knew it had been a while since the Pirates had accomplished something that left jaws dropping from coast to coast.
East Carolina beat Boise State 41-38 in the Hawaii Bowl at the end of the 2007 season, but even that victory didn't garner the same attention as the upset of a nationally ranked opponent from a BCS conference.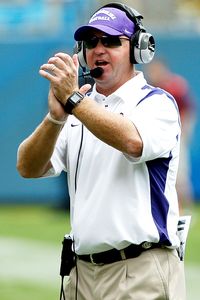 Streeter Lecka/Getty Images
Skip Holtz has rebuilt the Pirates in his fourth season at East Carolina.
"We're not going to get any national recognition unless we line up and compete with the West Virginias and Virginia Techs," Holtz said. "We've been close, but we've got to line up and compete with those teams and win."
The Pirates finally did that Saturday, upsetting No. 17 Virginia Tech 27-22 at Bank of America Stadium in Charlotte. After falling behind 22-13 on the first play of the fourth quarter, East Carolina won the game when T.J. Lee blocked a punt and ran 27 yards for the winning touchdown with 1:52 to play.
"It's only one game, but it goes a long way in what we're trying to do and build at East Carolina," said Holtz, who received a three-year contract extension from the school last week. "I think it's definitely a step in the right direction."
The Pirates can take another huge step on Saturday when they host No. 8 West Virginia at Dowdy-Ficklen Stadium in Greenville, N.C. It's a rare home game for East Carolina against a nationally ranked opponent.
"I'm sure the fear of getting your brains beat in is a huge motivation for our guys," Holtz said. "We have their attention, but you've still got to play on Saturday. It's going to be extremely difficult to play with the same amount of emotion in back-to-back games. I think West Virginia will be a very emotional game."
It's been nearly a decade since East Carolina last found itself in this kind of spotlight. In 1999, the Pirates upset West Virginia, South Carolina, Miami and NC State. East Carolina beat the Hurricanes 27-23 at Carter-Finley Stadium in Raleigh, N.C., only days after Hurricane Floyd caused severe flooding at its campus.
Holtz, the son of former Notre Dame coach Lou Holtz, inherited a program that hadn't had consecutive winning seasons since 1999 and 2000. East Carolina climbed from 5-6 in 2005 to 7-6 in 2006 and 8-5 last season.
Holtz believes his team will compete for a Conference USA championship even after losing star running back Chris Johnson, who had 2,960 all-purpose yards last season.
"Winning a conference championship is something that has eluded us the last couple of seasons," Holtz said. "We've been close, but didn't get it done at the end of the season."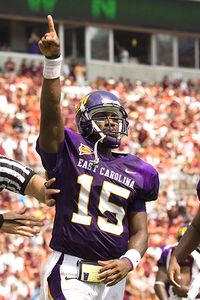 Chris Keane/Icon SMI
Patrick Pinkney rebounded after a slow start to lead the Pirates.
Quarterback
Patrick Pinkney
remembers the Pirates' golden days. His father and uncle played at East Carolina during the 1970s, and Pinkney spurned scholarship offers from more accomplished programs such as Kansas State, NC State and Wake Forest because the Pirates were the only team that promised him a chance to play quarterback.
But Pinkney's gaffe helped put the Pirates in a 14-0 hole in the first half. Early in the first quarter, he tried to zip a lateral to receiver Dwayne Harris. Pinkney's pitch was fumbled away and picked up by Virginia Tech cornerback Stephan Virgil, who ran 30 yards for a touchdown.
"We practiced that play every day in practice, and that never happened," Pinkney said. "It was my mistake, and I should have given him a better ball."
When Pinkney reached the East Carolina sideline, Holtz was waiting for him.
"I told him, 'That mistake isn't going to cost us the game, but it's going to make it harder for us to win,'" Holtz said. "I just wanted to make sure he knew our players believed in him. If we flinched and started screaming and hollering and throwing things, our players would think something was broken. I thought he was focused and intense the rest of the game."
Pinkney completed 19 of 23 passes for 211 yards with one touchdown. His 3-yard touchdown run pulled the Pirates to within 22-20 with 3:36 left. Then Lee beat the Hokies at their own game when he blocked the punt.
"It's a great win for the program," Pinkney said. "You don't get respect -- you earn it. As players, you have to put in your mind that you want the program to grow and have a winning record and go to a bowl game every season. We want to put this program back to where it once was."
The Pirates have another chance to do that against West Virginia.
Fumbling Away
Clemson defensive coordinator Vic Koenning turned a lot of heads when he joked last week that a couple of Alabama's highly regarded freshmen were driving luxury SUVs.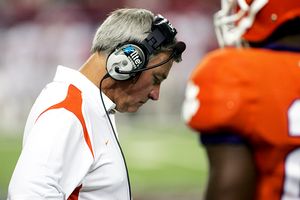 Brian Schneider/US Presswire
Tigers coach Tommy Bowden was unapologetic about giving freshman Jamie Harper the team's first carry.
After what happened on Clemson's first offensive possession in its 34-10 loss to Alabama in Atlanta's Georgia Dome, Tigers coach Tommy Bowden might have been better off handing freshman running back
Jamie Harper
the keys to a new Mercedes.
Harper, a highly regarded recruit from Jacksonville, Fla., spurned scholarship offers from Florida, Florida State, Illinois and Miami before signing with Clemson. He chose the Tigers even though star tailbacks James Davis and C.J. Spiller were returning to the team.
During his recruiting pitch, Bowden promised Harper he would get the first carry of the season, regardless of the circumstances. Bowden had made similar promises while recruiting Davis and Spiller.
On Clemson's second play on offense, Harper fumbled after taking a handoff. Alabama recovered the football and eventually kicked a field goal for a 3-0 lead. Harper had been bothered by a sprained ankle during preseason camp but still got the call ahead of Clemson's more accomplished running backs.
"I did it for C.J., did it for James, did it for [former cornerback] Justin Miller," Bowden said during a teleconference with reporters Sunday. "Those have been pretty productive players. You get 1,000 offensive snaps in one year. That fumble, what did they do, kick a field goal? We could've scored one touchdown and rectified that turnover.
"But to do that for a good player? Oh, man alive. Yeah. That fumble didn't lose the game. That was the first drive, second play of the game. We're down 6-0, a touchdown wins the game. Yeah, I'd do that."
Long Way Down
San Diego State hasn't been relevant in college football in forever, having won 22 games the past five seasons combined.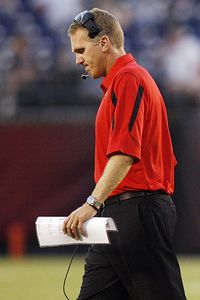 AP Photo/Denis Poroy
Chuck Long's tenure at San Diego State has been a losing one.
The Aztecs tried to dip into their once-storied past before Saturday night's opener, giving fans in attendance replica jerseys bearing former running back Marshall Faulk's name. Faulk, the former NFL star, even watched the Aztecs play from the sideline.
Faulk might have left Qualcomm Stadium wishing someone else's name was on the jerseys. For the second time in coach Chuck Long's three seasons, the Aztecs lost to Cal Poly by two points. The Mustangs, who were ranked No. 14 in the preseason FCS poll, won 29-27 on kicker Andrew Gardner's 21-yard field goal with no time left.
The Aztecs, who had one of the country's worst run defenses last season, allowed Cal Poly to run for 101 yards in the first quarter and never figured out how to stop its triple-option attack. The Mustangs finished with 263 rushing yards. San Diego State had four turnovers in the first half and finished the game with five. The Aztecs suffered a safety and crossed midfield only three times in the first half.
"Anytime you have five turnovers, you're going to let teams hang around and find yourself scratching and fighting until the end," Long told the San Diego Union-Tribune. "For some reason, in both games [against Cal Poly], we found a way to beat ourselves."
The Aztecs have been beating themselves throughout Long's tenure. The former Iowa quarterback is 7-18 in two-plus seasons at San Diego State. Last season, the Aztecs' only victories were against FCS foe Portland State and three FBS teams that finished 2007 with losing records: Colorado State (3-9), Wyoming (5-7) and UNLV (2-10).
San Diego State plays at Notre Dame on Saturday.
Houston Goodbye
For many of the country's best teams, the offseason was littered with off-the-field problems and arrests.
Texas defensive tackle Lamarr Houston didn't wait long to become the first casualty once the games actually started. Only a few hours after Houston started for the Longhorns in a 52-10 rout of Florida Atlantic, he was arrested for misdemeanor DUI. Police arrested Houston after he was involved in a minor traffic accident in the entertainment district of downtown Austin around 3:15 a.m. Sunday.
Longhorns coach Mack Brown suspended Houston from playing in Saturday's game against UTEP.
"We've talked with Lamarr and his family and decided that he will not be making the trip to El Paso to play in this week's game," Brown said Sunday night in a statement. "He asked to apologize to the team and did so at our team meeting earlier today. The issue will be handled within the team and any further action will be addressed at the appropriate time."
Money For Nothing

Tupou
Also from the "What was he thinking?" file: Oregon offensive tackle Fenuki Tupou was suspended from playing in the Ducks' 44-10 rout of Washington on Saturday night after he accepted a $10 meal and $100 in cash from a representative of a sports-management firm this past summer.
Tupou reported his actions to Oregon's NCAA compliance department and tried to return the money several times. The agent's representative gave Tupou the money during a parting handshake.
The NCAA suspended Tupou for one game and ordered him to donate the money to charity.
Ups And Downs Of Debuts
New coaches had a mixed bag of results in their openers. Ole Miss' Houston Nutt and Southern Miss' Larry Fedora might have enjoyed the most impressive debuts. The Rebels routed Memphis 41-24 on Saturday, and Texas transfer Jevan Snead played very well in his first game. Fedora's spread offense produced 633 yards of offense in a 51-21 victory over Louisiana-Lafayette. The Golden Eagles ran for 427 yards and take their high-octane attack to Auburn on Saturday.
There were plenty of alarming results for new coaches, too. Texas A&M was upset by Arkansas State 18-14 in coach Mike Sherman's debut. Hawaii had no chance in a 56-10 loss at Florida in coach Greg McMackin's debut. June Jones, who left Hawaii for SMU, watched the Mustangs lose to Rice 56-27 on Friday night.
Way Off The Mark
How's this for misfiring? About an hour before Duke kicked off against James Madison at Wallace Wade Stadium on Saturday, two men jumped out of an airplane and parachuted into the stadium to deliver the game ball. One problem: The men were supposed to jump in North Carolina's Kenan Stadium, which was about eight miles away. The men quickly ran off the field at Wallace Wade Stadium when they realized their mistake and never made it to North Carolina.
On The Mark: Ground-Churning RBs

White
1. Shun White, Navy
Who needs Paul Johnson? White ran for a school-record 348 yards and three touchdowns in a 41-13 win over Towson.
2. Charles Scott, LSU
Scott helped Tigers fans forget about Jacob Hester when he ran for 160 yards and two touchdowns in a 41-13 rout of Appalachian State.
3. P.J. Hill, Wisconsin
The junior is still at the top of the hill in the Badgers' crowded backfield. He gained 210 yards with two touchdowns in a 38-17 rout of Akron.
4. Damion Fletcher, Southern Mississippi
Fletcher looked right at home in new coach Larry Fedora's spread offense with 222 yards and two touchdowns in a 51-21 blowout of Louisiana-Lafayette.
5. Jeremiah Johnson, Oregon
Johnson hasn't slowed down after tearing his right ACL last season. He ran for 124 yards and two touchdowns in a 44-10 victory over Washington.
Off The Mark: Running In Place
1. Clemson
Thunder and Lightning? James Davis ran six times for 13 yards in a 34-10 loss to Alabama; C.J. Spiller ran two times for seven yards. The Tigers had zero rushing yards.
2. Arkansas
The team that blessed us with Darren McFadden and Felix Jones last season ran for only 76 yards in a 28-24 win over Western Illinois.

3. Western Michigan
Five opponents ran for 250 rushing yards or more against Nebraska last season. The Broncos mustered eight yards on 25 attempts in a 47-24 loss on Saturday night.
4. Michigan
This couldn't have been what Rich Rodriguez had in mind for his offense. Brandon Minor was the Wolverines' leading runner with 21 yards on four carries in a 25-23 loss to Utah.
5. Emmanuel Moody, Florida
The much-ballyhooed transfer from Southern California ran two times for two yards before spraining his ankle in a 56-10 rout of Hawaii. His teammates ran 36 times for 253 yards.
On The Mark: Precise Passers
1. Mark Sanchez, Southern California
Who needs a left kneecap? Sanchez completed 26 of 35 passes for 338 yards with three touchdowns in a 52-7 victory at Virginia.

Williams
2. Juice Williams, Illinois
Was Missouri's secondary that bad? Or is Williams that much better? The junior threw for a career-high 451 yards with five touchdowns in a 52-42 loss to the Tigers.
3. Brian Johnson, Utah
The senior is one of the country's best passers when he's healthy. Ask Michigan, which Johnson torched for 305 yards with one touchdown on 21-for-33 passing in a 25-23 victory.
4. Pat White, West Virginia
New Mountaineers coach Bill Stewart wants White to pass the ball more often, and now we know why. The senior completed 25 of 33 passes for 208 yards with five touchdowns in a 48-21 win over Villanova.
5. Max Hall, BYU
Not to be outdone by rival Utah, Hall completed 34 of 41 passes for 486 yards with two touchdowns in a 41-17 win over Northern Iowa.
Off The Mark: Struggling QBs
1. Hunter Cantwell, Louisville
Brian Brohm's replacement threw three interceptions on 20-for-43 passing in a 27-2 loss to rival Kentucky.

Burns
2. Kodi Burns, Auburn
Burns struggled in coordinator Tony Franklin's spread offense, as did juco transfer
Chris Todd
. They were a combined 13-for-27 for 85 yards in a 34-0 rout of Louisiana-Monroe.
3. Jordan Steffy, Maryland
Steffy finally won the Terps' starting job, then handed it back to Chris Turner. Steffy completed 10 of 18 passes for 115 yards with two interceptions in a 14-7 win over Delaware.
4. Wesley Carroll, Mississippi State
For the second season in a row, the Bulldogs suffered a nightmarish opener. This year Carroll threw four interceptions in a 22-14 loss to Louisiana Tech.
5. Stephen McGee, Texas A&M
The senior threw two interceptions and was largely ineffective in an embarrassing 18-14 loss to Arkansas State.
On The Mark: Big-Play WRs
1. Dante Love, Ball State
The senior gave Northeastern a whole lotta love, catching nine passes for 171 yards with one touchdown.
2. Naaman Roosevelt, Buffalo
The homegrown junior from Buffalo caught four passes for 154 yards with two touchdowns in a surprising 42-17 rout of UTEP.

3. Sammie Stroughter, Oregon State
It didn't take Stroughter long to return to form. He caught 12 passes for 157 yards with two touchdowns in a 36-28 loss to Stanford.
4. Nate Swift, Nebraska
The senior looked pretty swift against Western Michigan with five catches for 121 yards with two touchdowns in a 47-24 rout.
5. Chase Coffman, Missouri
Chase Daniel's favorite target caught nine passes for 120 yards with one touchdown and leaped over a few Illinois defenders.
Off The Mark: Porous Defenses

1. Missouri's secondary
The Tigers surrendered touchdown passes of 30, 20, 26 and 65 yards and another 53-yard gain in a 52-42 win over Illinois. Not a good sign in the pass-happy Big 12.
2. Texas A&M
The Aggies allowed 421 yards, including 260 rushing, in an 18-14 loss to Arkansas State in coach Mike Sherman's debut in College Station, Texas.
3. Washington
Playing with its third-string quarterback, Oregon torched the Huskies for 496 yards, including 256 yards on the ground.
4. Syracuse
Greg Robinson's season on the hot seat opened with Northwestern running for 269 yards in a 30-10 victory over the Orange.
5. Virginia
Without star defensive ends Chris Long and Jeffrey Fitzgerald, the Cavaliers were helpless against Southern California, allowing 558 yards in a 52-7 loss.
On The Mark: The Right Moves
1. Nick Saban, Alabama
SEC coaches hoped it would be another year before they'd have to deal with Saban at full strength. If they watched the Crimson Tide dominate Clemson, they know they were wrong.

2. Derek Dooley, Louisiana Tech
The Bulldogs' second-year coach guided his team to its biggest victory in a long time -- a 22-14 victory over Mississippi State.
3. Jim McElwain, Alabama
The Crimson Tide's new offensive coordinator helped Fresno State quarterback Tom Brandstater salvage his career last season. He'll do the same with Alabama quarterback John Parker Wilson.
4. Paul Rhoads, Auburn
With their new defensive coordinator, the Tigers shut out Louisiana-Monroe, 34-0. Without Rhoads, Pitt lost to Bowling Green, 24-17.
5. Jim Harbaugh, Stanford
The former Michigan quarterback has the Cardinal playing with intensity and passion. They rarely did in the past.
Off The Mark: The Wrong Moves
1. Frank Beamer, Virginia Tech
Is Beamer second-guessing his decision to redshirt quarterback Tyrod Taylor? He might be after the Hokies lost to East Carolina.
2. Dave Wannstedt, Pittsburgh
So much for keeping momentum after ending last season with a 13-9 upset of West Virginia. The 27-17 loss to Bowling Green seriously deflates Pitt's high expectations.

Willingham
3. Tyrone Willingham, Washington
The Huskies spent all summer preparing for Oregon and didn't have a chance in a 44-10 loss.
4. Chuck Long, San Diego State
The Aztecs were the only FBS team to lose to an FCS team in Week 1, falling to, ahem, Cal Poly in a 29-27 loss.
5. Mike Sherman, Texas A&M
The Aggies fired Dennis Franchione for this? Even Franchione beat Arkansas State in his first game at Texas A&M.