Former Glory
There was Wide Right I, Wide Right II and Wide Right III.
There was the 1987 classic between Florida State and Miami, when 10 future NFL first-round draft picks took the field at Doak Campbell Stadium for a "Game of the Century" that actually lived up to its lofty billing. The Hurricanes took the lead on a memorable touchdown by Michael Irvin, then knocked down FSU's two-point conversion pass in the closing minute of a 26-25 victory.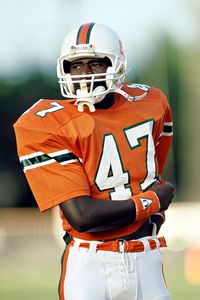 US Presswire
Michael Irvin helped Miami own the 1980s, when the Hurricanes captured three national titles.
Throughout the 1980s and '90s, the Sunshine State battle between Florida State and Miami was
the
game to watch in college football. From 1987 to '93, both teams came into the game ranked in the top 10, and four times both the Hurricanes and Seminoles were ranked in the top five.
The Hurricanes won five national championships from 1983 to 2001. The Seminoles won two national titles, in 1993 and '99, and would have won more if they hadn't lost to the Hurricanes so many times.
Before FSU finally won its first national championship, Seminoles coach Bobby Bowden joked his epitaph would read, "At least he played Miami."
"I probably made that statement back in the 1980s," Bowden said. "They'd beat us by a field goal or we'd have a great team and they'd beat us. It made me mad because everybody else dropped them. Notre Dame dropped them. Penn State dropped them. Florida dropped them. I couldn't drop them, and we kept losing to them because we couldn't make a kick."
Miami was the college football's team of the '80s, winning three national titles and playing for two others. FSU was the team of the '90s, winning a pair of national titles and finishing with 10 victories or more in 14 consecutive seasons from 1987 to 2000.
But as the No. 18 Seminoles and Miami prepare to open their seasons at Doak Campbell Stadium on Labor Day night, their glorious pasts seem like ancient history. Florida State is coming off a 9-4 season, its best finish in five years. The Hurricanes went 7-6 in 2008, a two-game improvement from the previous season.
Florida, which watched its in-state rivals dominate the sport until Steve Spurrier arrived as its coach in 1990, has won two of the last three BCS national championships under coach Urban Meyer.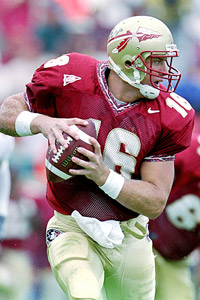 Andy Lyons/Getty Images
Florida State quarterback Chris Weinke led the Seminoles to their second national title in 1999.
"We've both been around the circle," Bowden said. "Miami had their day in the 1980s. We had our day in the '90s. Now Florida is having their day. We both think we've turned the corner and there's no reason we can't get back to where we were."
Since the turn of the 21st century, FSU and Miami have struggled to return to their glory days. The Seminoles have won 10 games or more only once in the past eight seasons. In the past four seasons, their 21 combined defeats were more than they lost during their historic run from 1987 to 2000, when they finished in the top five of the final Associated Press poll every season.
The Hurricanes have been even worse the last four seasons. Coach Larry Coker, who led Miami to its last national championship in 2001, was fired after a 7-6 finish in 2006. Former defensive coordinator Randy Shannon was promoted to head coach, and his teams went a combined 12-13 the past two seasons.
As Shannon begins his third season as coach of his alma mater, inquiring minds want to know if the Hurricanes are any closer to returning to their glorious past.
"I can't even count the number of times I've been asked," Shannon said. "It's always that same question. You never know how close you are until you play some football games."
The Hurricanes and Seminoles both have reasons to be optimistic. Miami will look different on both sides of the ball, after Shannon hired offensive coordinator Mark Whipple and defensive coordinator John Lovett. Quarterback Jacory Harris played well as a freshman in 2008, and should be more comfortable in Whipple's pro-style offense.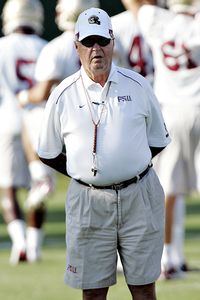 AP Photo/Phil Coale
Bobby Bowden has won two national championships and 12 ACC titles in his time at Florida State.
"It's a huge game because you need to figure out what you're going to do as a football team, which way you're going to go," Shannon said. "I feel a whole lot better than the times before because our freshmen are older and can handle a lot more. You're always going to put your gloves on them, but you can be a lot more gentle with them now."
The Seminoles looked better in 2008, after limping through consecutive 7-6 finishes in 2006 and '07. FSU was in contention to win its 13th ACC title last season, before losing to Boston College 27-17 at home. The Seminoles blasted Wisconsin 42-13 in the Champs Sports Bowl.
"I think we're definitely going in the right direction and moving forward," FSU quarterback Christian Ponder said. "I think Miami is the same way. I think this year is important for both of us. We're both getting better and getting back to the point we used to be. We'll find out which team is better."
The Hurricanes might need to win their opener more than FSU. After playing the Seminoles on the road, Miami hosts No. 15 Georgia Tech, plays at No. 7 Virginia Tech and hosts No. 3 Oklahoma.
"When you make up schedules, the conference usually schedules the games and where you're going," Shannon said.
Monday night's opener will go a long way in determining which way each team's season will go.
"I hope we get back," Shannon said. "You always want that, especially for the state of Florida. It goes in cycles. That's the thing about college football. It would be great for TV and for college football if we both get back to where we were."
On The Mark: Passing Fancy

Clausen
1. Jimmy Clausen, Notre Dame
It's never too early to put a Notre Dame quarterback in the Heisman Trophy discussion, right? Clausen completed 15 of 18 passes for 315 yards with four touchdowns in a 35-0 rout of Nevada.
2. Max Hall, BYU
Hall threw for 329 yards and two touchdowns in a 14-13 upset of No. 3 Oklahoma, throwing the winning score with 3:03 to play.
3. Jerrod Johnson, Texas A&M
Johnson gives the Aggies hope in coach Mike Sherman's second season. He completed 31 of 41 passes for 349 yards with two touchdowns in a 41-6 blowout of New Mexico.
4. Blaine Gabbert, Missouri
Chase Daniel's replacement didn't show many jitters in a surprisingly easy 37-9 victory over Illinois. Gabbert threw for 319 yards with three touchdowns and ran for another score.
5. Case Keenum, Houston
One of the country's most underrated players, Keenum went 23-for-30 for 359 yards with four touchdowns in a 55-7 rout of FCS opponent Northwestern (La.) State.
Off The Mark: Bad Beginnings
This wasn't the kind of start these teams (or leagues) had in mind.
1. Oklahoma
The defending Big 12 champions not only lose to BYU, but they also lose reigning Heisman Trophy winner Sam Bradford to an injured shoulder and tight end Jermaine Gresham to a knee injury.
2. ACC
One league team beat an FBS opponent -- Clemson defeated Middle Tennessee 37-14. But ACC teams went 0-2 against Colonial Athletic Association schools, with Virginia falling to William & Mary and Duke losing to Richmond.

3. Illinois
The Illini were believed to be a dark horse in the Big Ten. Instead, they looked lifeless in another loss to rival Missouri.
4. New Mexico
The state's two FBS schools both kicked off new coaching eras with losses. New Mexico was drilled by Texas A&M, and New Mexico State lost 21-6 to Idaho.
5. Chip Kelly, Oregon
Few coaching changes have been worse in an opener. The Ducks had 152 yards of offense in a 19-8 loss at Boise State, then lost star tailback LeGarrette Blount for the season because of his infamous punch.
On The Mark: Playmakers
These playmakers carried their teams on Saturday.
1. Ralph Bolden, Purdue
The sophomore ran 21 times for 234 yards with two touchdowns in a 52-31 win over Toledo. It was the third-highest single-game rushing total in Purdue history.
2. Mark Ingram, Alabama
Ingram helped the Crimson Tide wear down Virginia Tech's defense in the second half of a 34-24 victory, running for 150 yards and one touchdown on 26 carries. He also caught a touchdown in the fourth quarter.
3. Jahvid Best, California
If a tailback is going to win the Heisman Trophy this season, it might very well be Best, who ran for 137 yards and two touchdowns in a 52-13 rout of Maryland.

Floyd
4. Michael Floyd, Notre Dame
The sophomore from Saint Paul, Minn., might be the Fighting Irish's best big-play threat since Raghib "Rocket" Ismail. He caught four passes for 189 yards with three touchdowns against the Wolf Pack.
5. Eric Decker, Minnesota
The All-American candidate hauled in nine catches for 183 yards in the Gophers' 23-20 victory in overtime at Syracuse.
Off The Mark: Coaches On The Hot Seat
These coaches' back sides are heating up after only one game.
1. Al Groh, Virginia
The Cavaliers' new spread offense produced seven turnovers and 12 first downs in the inexcusable loss to William & Mary.

Hawkins
2. Dan Hawkins, Colorado
So much for 10 wins this season. The Buffaloes lost to rival Colorado State 23-17 at home on Sunday night.
3. Mark Snyder, Marshall
The Thundering Herd trailed FCS opponent Southern Illinois 14-7 at the half, before rallying for a 31-28 victory at home.
4. Steve Kragthorpe, Louisville
The Cardinals trailed Indiana State, one of the worst FCS programs in the country, by a 7-3 score at the end of the first quarter. Louisville won the game, 30-10.
5. Mike Price, UTEP
In what might be a make-or-break season for Price, the Miners committed 12 penalties in a 23-17 loss to Buffalo.