Revenge Week
"If you prick us do we not bleed? If you tickle us do we not laugh? If you poison us do we not die? And if you wrong us shall we not revenge?" -- William Shakespeare, "The Merchant of Venice"
Welcome to Revenge Week in college football.
It's the time when teams make amends for others' past transgressions. It's about getting even for shattered dreams and squaring the score for ill-advised words.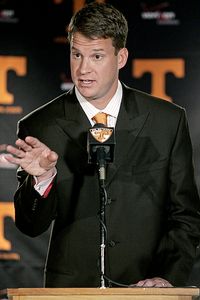 AP Photo/Wade Payne
Tennessee coach Lane Kiffin has stirred things up in the SEC.
Revenge is what makes college football fans' blood boil, and it's what will cause Tennessee coach Lane Kiffin perhaps several sleepless nights as his team prepares for Saturday's road game at No. 1 Florida.
To quote the venerable Hollywood film "Top Gun," Kiffin's ego has been writing checks his team can't cash.
Kiffin, 34, a former Southern California assistant, was hired to replace longtime Volunteers coach Phillip Fulmer in December. During his introductory news conference, Kiffin boasted that he looked forward to "singing 'Rocky Top' all night long after we beat Florida next year. It will be a blast."
Never mind that the Gators blasted the Volunteers in each of their past two meetings. In Tennessee's last visit to The Swamp in 2007, Florida won 59-20. The Gators beat the Vols 30-6 at Neyland Stadium last season en route to winning their second BCS national championship in three years.
Florida has won nine of its past 11 home contests against Tennessee. And, lest we forget, Gators coach Urban Meyer is a whopping 11-1 against his team's three biggest rivals: Florida State, Georgia and Tennessee.
Kiffin's opening salvo might have been ignored as an ill-advised mistake by an overly energetic coach. But in February, Kiffin personally attacked Meyer when he accused the Gators of cheating during their recruitment of wide receiver Nu'Keese Richardson, who reneged on his verbal commitment to Florida and signed with the Volunteers.
Kiffin told a group of boosters that Meyer violated NCAA rules when he phoned Richardson during his official visit to Tennessee. But it wasn't a violation of NCAA rules, and SEC commissioner Michael Slive publicly reprimanded Kiffin, who later apologized to Meyer and the Gators.
In a conference call with reporters Sunday, Meyer called Kiffin's comments "water under the bridge a long time ago.
"We're trying to find a way to move the ball against a very good Tennessee defense and contain two very good backs," Meyer said. "That has nothing to do with this."
But history shows Meyer isn't quick to forgive. In Florida's 49-10 rout of Georgia last season, Meyer called two timeouts in the final minute. He apparently wanted the Bulldogs to endure every miserable second of their 39-point loss after they'd danced in the end zone after their first touchdown in a 42-30 win over Florida in 2007.
Odds are Kiffin will pay for his mistakes on Saturday, too.
According to sources close to the situation, several Gators players sent text messages to Meyer shortly after Kiffin's accusations of cheating became public in February.
The messages' general consensus: "Save some timeouts for Tennessee."
The Volunteers are coming off a 19-15 loss to UCLA at home. Tennessee had only 93 passing yards and turned the ball over on four straight possessions.
After a slow start, Florida steamrolled Troy 56-6 on Saturday. The Gators had 663 yards of offense and 32 first downs.
After beating Troy, Meyer tried to defuse his rift with Kiffin, telling reporters the upcoming game is about the players.
"I want to make sure this game is about the Tennessee football players versus the Florida football players," Meyer said. "There are going to be a bunch of great athletes on both sides of the ball. One thing that we'll never let happen around here is that it's about a coach or coaches. I told those players that. This is about preparation and playing a game. That's what it is. Period."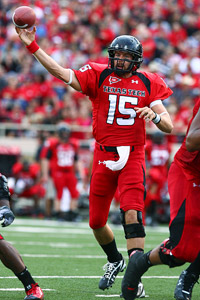 Karl Anderson/Icon SMI
Texas Tech QB Taylor Potts will face a hungry Texas.
Second-ranked Texas also will have revenge on its mind when it hosts Texas Tech in Austin on Saturday night. The Red Raiders stunned the then-No. 1 Longhorns 39-33 last season when quarterback Graham Harrell threw a 28-yard touchdown to Michael Crabtree with one second to play. The loss knocked Texas out of the Big 12 championship game and cost it a chance to play for a national title.
Crabtree and Harrell have moved on, but the Red Raiders are coming off an impressive 55-10 rout of Rice on Saturday. Taylor Potts, Harrell's replacement, threw for 456 yards with seven touchdowns.
"Obviously, that was tough for us," Texas quarterback Colt McCoy said. "But there's no revenge or anything like that coming into this game. We have a new team and it's a new year. If you look back to last year, I remember standing on the sideline and saying, 'That's probably the greatest play I've ever seen in my life, and I can't do anything about it.'"
Thursday night, Miami will look to avenge last season's 41-23 loss at Georgia Tech that knocked the Hurricanes out of the ACC Coastal Division race. The Hurricanes allowed 472 rushing yards, the second-highest total in school history.
Miami was so embarrassed by its performance that it specifically asked ACC officials to play Georgia Tech in a Thursday night game this season. The No. 20 Hurricanes will get another crack at the No. 14 Yellow Jackets this week.
No. 3 Southern California hasn't lost to Washington since 2001 and has beaten the Huskies seven times in a row, including a 56-0 rout last season. But Trojans coach Pete Carroll might have a small score to settle. Washington coach Steve Sarkisian was his offensive coordinator and quarterbacks coach, then poached two USC assistants when he left for Seattle. Former USC defensive coordinator Nick Holt and defensive backs coach Demetrice Martin now work for Sarkisian instead of Carroll.
The Trojans received even more motivation when Washington cornerback Quinton Richardson all but guaranteed a victory over USC. Richardson made the bold prediction only moments after the Huskies beat Idaho 42-23 to end a 15-game losing streak, the longest in school history.
"We've got to keep going with the wins, and we can eventually beat SC," Richardson told the Everett (Wash.) Herald. "It starts now."
As Shakespeare might have said, payback is indeed hell.
Not So Fast With USC
Give Southern California a lot of credit for driving 86 yards for a winning touchdown in the final minutes of its 18-15 victory at No. 8 Ohio State on Saturday night.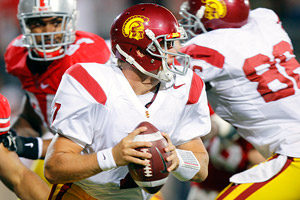 AP Photo/Jay LaPrete
Matt Barkley was good, but he wasn't that good to start any Heisman talk.
Heck, give USC coach Pete Carroll a boatload of credit for having the guts to play a team like the Buckeyes on the road.
But don't hand the Trojans the BCS national championship trophy yet. And don't put USC freshman quarterback Matt Barkley on your Heisman Trophy list.
This version of USC still doesn't look like the great Trojans teams of the past. The Trojans had problems running against Ohio State's defense, which whipped USC's vaunted offensive line for most of the game. USC ran the ball 40 times and averaged only 3 yards per attempt.
Barkley, 19, will continue to improve, but he's not as good as Florida's Tim Tebow or Texas' Colt McCoy right now. And don't forget the Trojans still face a gauntlet of difficult road games: at California on Oct. 3, at Notre Dame on Oct. 17 and at Oregon on Oct. 31.
At this point, I'm still betting on the teams with the experienced quarterbacks -- Florida and Texas -- to meet in the BCS National Championship Game.
On The Mark: Precision Passers

Keenum
1. Case Keenum, Houston
The dark-horse Heisman Trophy candidate completed 32 of 46 passes for 366 yards with four total touchdowns in a 45-35 upset at No. 5 Oklahoma State.
2. Dan LeFevour, Central Michigan
The Chippewas senior threw for 328 yards with three touchdowns and led two late scoring drives in a 29-27 upset of Michigan State.
3. Tate Forcier, Michigan
The freshman had 310 yards (240 passing and 70 rushing) with three touchdowns, including the winning pass with 11 seconds left in a 38-34 upset of No. 18 Notre Dame.
4. Taylor Potts, Texas Tech
Graham Harrell's replacement had a coming-out party in the Red Raiders' 55-10 rout of Rice, throwing for 456 yards with seven touchdowns.
5. Jarrett Brown, West Virginia
The senior helped the Mountaineers avenge a 2008 loss to East Carolina, throwing for 334 yards and four touchdowns in a 35-20 victory over the Pirates.
Off The Mark: Poor Starts
These teams couldn't have envisioned worse starts in the first two weeks of the season.
1. Miami, Ohio
The RedHawks opened the Michael Haywood era by losing to Kentucky and Boise State by a combined score of 90-0. Ouch.
2. Colorado
Did anyone have a worse week than Buffaloes coach Dan Hawkins? His team lost games to rival Colorado State and Toledo in a five-day span.

Groh
3. Virginia
The Cavaliers had seven turnovers in an embarrassing 26-14 loss to FCS foe William & Mary in Week 1, then had seven first downs in a 30-14 loss to TCU.
4. Rice
The Owls knew this season would be a struggle. It has been even worse, as Rice has allowed 99 points and more than 1,000 yards combined in losses to UAB and Texas Tech.
5. Western Kentucky
The Hilltoppers can't climb the hill on offense. In losses to Tennessee and South Florida, they combined for 22 first downs and 22 penalties.
On The Mark: Ground-Churning Tailbacks
These running backs carried their teams on Saturday.

Grigsby
1. Nic Grigsby, Arizona
Grigsby ran for a career-high 207 yards and two touchdowns in the Wildcats' 34-17 victory over FCS foe Northern Arizona. Grigsby had a 94-yard run, the second-longest in school history.
2. Dion Lewis, Pittsburgh
The Panthers freshman ran 24 times for 190 yards and two touchdowns in a 54-27 rout of Buffalo. Lewis has had more than 100 rushing yards in each of the Panthers' first two games.
3. Ryan Williams, Virginia Tech
Williams helped the Hokies forget about losing Darren Evans by running for 164 yards and three touchdowns in a 52-10 blowout of Marshall. Freshman David Wilson added 165 rushing yards.
4. Jacquizz Rodgers, Oregon State
The Quiz ran 26 times for 166 yards and a touchdown and caught 10 passes for 65 yards in a 23-21 win over UNLV.
5. Joe McKnight, USC
The speedy junior didn't put up huge numbers in USC's 18-15 victory at Ohio State (60 yards rushing, 45 receiving), but he made big play after big play on the Trojans' winning drive.
Off The Mark: Hangovers
These teams seemed to still be moping (or celebrating) about their Week 1 outcomes.
1. Florida State
After losing to Miami 38-34 on Monday night, the Seminoles made myriad mistakes in a 19-9 win over FCS foe Jacksonville (Ala.) State. FSU scored twice in the final minutes to win.
2. Oklahoma State
The Pokes gained a lot of headlines after beating Georgia 24-10 in their opener. Their loss to Houston sent them crashing back to earth.
3. Maryland
The Terps seemed to have jet lag during their 52-13 loss at Cal in the opener. They needed overtime to beat FCS opponent James Madison 38-35.

Kiffin
4. Tennessee
Were the Vols looking ahead to Saturday's SEC East showdown at Florida? New coach Lane Kiffin sure hopes so after Tennessee lost to UCLA 19-15.
5. Oregon
The Ducks had a few extra days to stew over their 19-8 loss at Boise State. They nearly blew an eight-point lead in the final minutes of a 38-36 win over Purdue.
On The Mark: Big-Play Defenders
These defensive players helped their teams' offenses with game-changing plays.
1. Leon Wright, Duke
The cornerback returned interceptions for touchdowns on consecutive plays to help Duke beat Army 35-19. Wright also had a fumble recovery and four tackles.

Sash
2. Tyler Sash, Iowa
The safety tied a school record with three interceptions, forced a fumble and had 10 tackles in the Hawkeyes' 35-3 rout of rival Iowa State.
3. Nate Triplett, Minnesota
The Gophers linebacker made a career-high 17 tackles and returned a fumble 52 yards for a score in a 20-13 win over Air Force.
4. Brandon Boykin, Georgia
The Bulldogs cornerback set a school record with a 100-yard kickoff return for a touchdown and intercepted a pass in a 41-37 victory over South Carolina.
5. Jerry Hughes, TCU
The All-American defensive end was a one-man wrecking crew at Virginia with 11 tackles, 2½ tackles for loss and 1½ sacks.
Highlights: Saturday's 10 Best