Making A List
As we head into the last Saturday of September, most college football teams have reached the quarter pole of the season.
USC looks more dominant than ever, albeit against rebuilding Virginia and Ohio State, which has laid more eggs than the Easter bunny. The race to the SEC championship game looks tougher than ever, with four SEC teams ranked in the top 10 of The Associated Press Top 25 poll.
The Big 12 also has four teams ranked in the top 10, and three of them -- No. 2 Oklahoma, No. 7 Texas and No. 10 Texas Tech -- reside in the Big 12 South.
The first month of the season showed us that Alabama and Penn State are back where they belong. Florida State and Notre Dame? Not so much.
Here's a closer look at a dozen other observations from the first four weeks of the 2008 season:
Christian Petersen/Getty Images
Pete Carroll has the team to beat in the Pac-10, but is that good enough nationally?
1. We're headed toward another BCS disaster.
Southern California is ranked No. 1 and probably won't get much resistance in the Pac-10. But what if the champions of the Big 12 and SEC also finish unbeaten? Which team will be left out? Believe it or not, USC might have the weakest résumé at season's end. California and Oregon are struggling, and the rest of the Pac-10 isn't very good. And how impressive will USC's 35-3 victory over Ohio State look once all the games are played?
2. The SEC is a four-team race.
The SEC has four BCS national championship contenders: No. 3 Georgia, No. 4 Florida, No. 5 LSU and No. 8 Alabama. The Bulldogs have the toughest road the rest of the way, starting with Saturday night's game against the Crimson Tide at Sanford Stadium. Georgia plays at LSU on Oct. 25 and against the Gators in Jacksonville, Fla., on Nov. 1. Florida plays LSU at home and Georgia close to home, but doesn't play Alabama during the regular season. LSU plays each of the other three contenders. Of course, two of the aforementioned teams also figure to meet in the Dec. 6 SEC championship game in Atlanta's Georgia Dome.
3. The Mountain West is pretty darn good.
For the first time in history, the Mountain West has three teams ranked in The Associated Press Top 25: No. 11 BYU, No. 17 Utah and No. 24 TCU. The league has more ranked teams than the ACC (two), Big East (one) and Pac-10 (one). Mountain West teams are 5-0 against Pac-10 foes and have posted victories over Michigan and Iowa State.
4. Don't forget about Boise State.
If a Mountain West team doesn't finish unbeaten, the Broncos might be the team from a non-BCS conference that crashes the BCS party. Boise State is the class of the WAC after upsetting Oregon 37-32 on the road Saturday. Quarterback Kellen Moore is playing well, and tailback Ian Johnson is still running on the blue artificial turf. The Broncos might be 11-0 heading into a Nov. 28 home game against No. 25 Fresno State.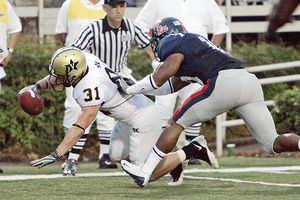 AP Photo/Rogelio V. Solis
Vanderbilt is off to a brilliant start in the SEC.
5. It's great to be smart again.
Vanderbilt is 4-0 and ranked in the Top 25 for the first time in 24 seasons. The Commodores won at Ole Miss 23-17 on Saturday and seem to be well on their way toward ending a 25-year drought without a bowl game. To accomplish that feat, Vanderbilt will have to beat the teams it's supposed to beat: Mississippi State, Duke and, ahem, Tennessee. Northwestern also is 4-0 for the first time since 1962 after beating Ohio 16-8. Wake Forest is 3-0 after winning 12-3 at Florida State and seems to be in control of the ACC's Atlantic Division. Even Duke is off to a 2-1 start in coach David Cutcliffe's first season.
6. Ohio State is only third-best -- in the Big Ten.
With so many starters and seniors returning, the Buckeyes again were supposed to be the team to beat in the Big Ten this season. Ohio State had so much talent coming back that it even was supposed to be good enough to redeem itself with a national championship. Instead, the Buckeyes laid another egg in a big game, losing badly at USC on Sept. 13. Quarterback Terrelle Pryor is very talented, but his inexperience will rear its ugly head at some point this season. Penn State and Wisconsin are better and more balanced, especially if Buckeyes tailback Chris "Beanie" Wells doesn't return to action soon.
7. Tim Tebow won't win a second straight Heisman Trophy.
The reigning Heisman Trophy winner is still as valuable as any player in college football, but Tebow isn't putting up the numbers he did a year ago. And that's a good thing for the Gators, who were too one-dimensional in 2007. Quarterbacks Chase Daniel of Missouri, Sam Bradford of Oklahoma and Mark Sanchez of USC, and tailback Knowshon Moreno of Georgia, are the early front-runners for the Heisman Trophy. And don't forget about Texas Tech quarterback Graham Harrell and BYU quarterback Max Hall.
8. Oklahoma is best equipped to win the Big 12.
The Big 12 is loaded with good teams and great quarterbacks. Oklahoma is the league's best team. The Sooners are very balanced on offense. Tailback DeMarco Murray is averaging 104 rushing yards per game, and Bradford has completed 79 percent of his passes with 12 touchdowns and only two interceptions in three games. What separates Oklahoma from other Big 12 teams is its defense. Among Football Bowl Subdivision teams, the Sooners rank No. 10 in total defense, No. 11 in rushing defense and No. 15 in pass-efficiency defense. Defense will win games that matter in such a pass-happy conference. Illinois showed us that Missouri's secondary is suspect (the Illini threw for 451 yards in a 52-42 loss on Aug. 30), and Texas Tech allowed nearly 350 yards per game in an early four-game schedule against Football Championship Subdivision opponents Eastern Washington and Massachusetts, Nevada and SMU.
9. Nick Saban is worth every penny.
Alabama is 4-0 and ranked in the top 10 heading into Saturday's game at Georgia. The Crimson Tide weren't supposed to be there yet. Alabama was expected to be really good a year from now, when Saban's first two recruiting classes would start to mature. But a season-opening 34-10 win over Clemson showed that SEC teams would have to contend with Alabama this season. Whether you love him or hate him, it's hard to argue that Saban isn't one of the best coaches in the country.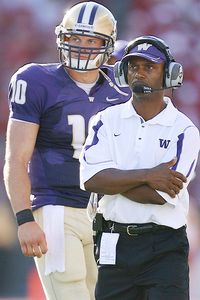 Otto Greule Jr/Getty Images
Ty Willingham is on the hot seat and could be on the unemployment line this offseason.
10. Plenty of coaches are in trouble.
Odds are, many of these coaches will be looking for a job after the season: Washington's Tyrone Willingham, Syracuse's Greg Robinson, Memphis' Tommy West, UTEP's Mike Price, Miami's (Ohio) Shane Montgomery, Kent State's Doug Martin, Wyoming's Joe Glenn, San Diego State's Chuck Long and Utah State's Brent Guy. Pittsburgh's Dave Wannstedt, Tennessee's Phillip Fulmer and Clemson's Tommy Bowden need to finish strongly to silence their critics.
11. Two legendary coaches may be nearing the end.
Bobby Bowden and Steve Spurrier changed the landscape of college football by turning Florida State and Florida into national powers. Bowden, 78, seems determined to turn the Seminoles into winners again, but it might be too late. FSU's loss to Wake Forest showed the Seminoles are nowhere close to returning to national prominence. With offensive coordinator Jimbo Fisher waiting to take over, Bowden might not be able to delay his retirement much longer. Spurrier has reached a point of frustration in his fourth season at South Carolina. The Gamecocks not only aren't good enough to challenge Florida and Georgia in the SEC East, they can't even beat Vanderbilt. Spurrier detests losing, and it's happening too often at South Carolina.
12. Texas A&M and West Virginia will have to be patient.
Fans of both those schools already are second-guessing their new coaches. The Mountaineers have lost consecutive games under new coach Bill Stewart, who was a statewide hero after leading West Virginia to a 48-28 rout of Oklahoma in the 2008 Fiesta Bowl. But the Mountaineers looked overmatched in a 24-3 loss at East Carolina and ill-prepared in a 17-14 overtime loss at Colorado. Nothing has gone right for the Aggies under new coach Mike Sherman. Texas A&M was embarrassed in an 18-14 loss to Arkansas State in the opener and again in a 41-23 loss to Miami on Saturday. The Aggies had never lost consecutive nonconference games at Kyle Field before this season.
On The Mark: Ground-churning tailbacks

Dwyer
1. Jonathan Dwyer, Georgia Tech
The featured back in Paul Johnson's triple-option spread offense ran for 141 yards, including an 88-yard touchdown (the longest in school history), in a 38-7 rout of Mississippi State.
2. Javon Ringer, Michigan State
It's time to add the powerful Spartan to the Heisman Trophy list. Ringer ran for 201 yards and two touchdowns in a 23-7 victory over Notre Dame.
3. Darrell Mack, Utah
Mack ran for 101 yards and three touchdowns, including the winning run with 58 seconds left, in a 30-23 win over Air Force.
4. Charles Scott, LSU
Scott became the first LSU player to run for 100 yards at Auburn. He gained 132 yards in a 26-21 victory.
5. Knowshon Moreno, Georgia
Moreno looked even more explosive in the desert. He ran for 149 yards and two touchdowns in a 27-10 win at Arizona State.
Off The Mark: Running in place

1. SMU
The Mustangs don't even try to run the ball in June Jones' offense. They finished with minus-8 yards on 12 attempts in a 48-7 loss to TCU.
2. Arizona State
The Sun Devils mustered only four yards rushing in a 27-10 loss to Georgia.
3. Notre Dame
The Fighting Irish ran for 16 yards on 22 attempts, and their tailbacks ran 15 times for 30 yards, in a 23-7 loss to Michigan State.
4. Arian Foster, Tennessee
The Volunteers' featured back ran 14 times for 37 yards in a 30-6 loss to Florida. Tennessee's longest run in its past three games against Florida is a whopping 12 yards.
5. Antone Smith, FSU
Smith wasn't much better than the Seminoles' quarterbacks against Wake Forest, running eight times for 24 yards in a 12-3 loss.
On The Mark: Precision passers
1. Chase Daniel, Missouri
The Heisman Trophy front-runner completed 36 of 43 passes for 439 yards with two touchdowns in a 42-21 win over Buffalo.
2. Kellen Moore, Boise State
Moore was sensational in a 37-32 upset of Oregon. He completed 24 of 36 passes for 386 yards with three touchdowns.

McCoy
3. Colt McCoy, Texas
The junior completed 19 of 23 passes for 329 yards with four touchdowns and ran for 83 yards and one score in a 52-10 rout of Rice.
4. David Johnson, Tulsa
Johnson has been as good as former QB Paul Smith, completing 24 of 39 passes for 469 yards with six touchdowns in a 56-14 blowout of New Mexico.
5. Tom Brandstater, Fresno State
Brandstater was 22-for-28 for 231 yards with four touchdowns and ran for the winning score in double overtime in a 55-54 win at Toledo.
Off The Mark: Struggling quarterbacks

Dick
1. Casey Dick, Arkansas
The senior threw three picks, including two that were returned for TDs in a 49-14 loss to Alabama.
2. Wesley Carroll, Mississippi State
Who can't wait for the Arkansas-Mississippi State game? Carroll threw for 120 yards and two interceptions in a 38-7 loss at Georgia Tech.
3. Kevin Craft, UCLA
The juco transfer's struggles continued, as he threw for 81 yards and averaged 2.6 yards per completion in a 31-10 loss to Arizona.
4. Jonathan Crompton, Tennessee
The first-year starter continued to struggle against Florida, losing a fumble at the Gators' 2-yard line and throwing an interception in the end zone in a 30-6 loss.
5. Christian Ponder, Florida State
After all but guaranteeing a victory over Wake Forest, Ponder threw three interceptions and was benched at halftime in a 12-3 loss.
On The Mark: Big-game freshmen
1. A.J. Green, Georgia
The rookie has emerged as Georgia's big-play threat, catching eight passes for 159 yards and one touchdown in a 27-10 win at Arizona State.
2. Rodney Stewart, Colorado
The undersized tailback from Columbus, Ohio, ran for 166 yards in a 17-14 victory over West Virginia on Thursday night.

Pryor
3. Terrelle Pryor, Ohio St.
Pryor became the first Buckeyes freshman to start at quarterback since Art Schlichter in 1978.
4. Russell Wilson, NC State
After recovering from a concussion, Wilson completed 21 of 31 passes for 210 yards with three touchdowns in a 30-24 upset in overtime of East Carolina.
5. Victor Anderson, Louisville
Anderson ran for 176 yards and three touchdowns in a 38-29 victory over Kansas State on Wednesday night.
Off The Mark: Struggling leaders

Stewart
1. Bill Stewart, West Virginia
Mountaineers fans were second-guessing their new coach's clock management and offensive game plan after losing consecutive games for the first time since 2004.
2. Sylvester Croom, Mississippi State
The Bulldogs are terrible on offense. They went more than eight quarters without offensive points before scoring a touchdown in garbage time at Georgia Tech. The Bulldogs allowed 500 yards, including 438 rushing, against the Yellow Jackets.
3. Greg Schiano, Rutgers
The Scarlet Knights can't reverse their early-season struggles. They lost to Navy 23-21 on Saturday to fall to 0-3.
4. Phillip Fulmer, Tennessee
Fulmer has to be second-guessing his changes on offense after losing to Florida for the fourth year in a row. A road trip to Auburn is next.
5. Bobby Bowden, Florida State
The Seminoles looked great against two FCS opponents and terrible against their first FBS opponent. How long will Bowden stay around?