So Much For That Idea
This was supposed to be a college football season to remember.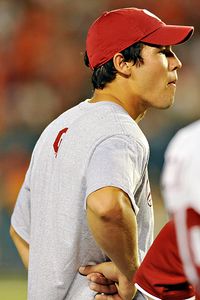 Steve Mitchell/US Presswire
Sam Bradford will spend the rest of the season watching Oklahoma in street clothes.
We were supposed to be witnessing one of the most compelling Heisman Trophy races in history. With quarterbacks Sam Bradford, Colt McCoy and Tim Tebow coming back to school, the trio was supposed to light up scoreboards and jockey for position on Heisman Trophy ballots, while their teams jockeyed for the No. 1 ranking in the Bowl Championship Series standings.
Instead, with six weeks to go in the 2009 regular season, Bradford's college career is over (along with Oklahoma's national championship hopes) because of an injured right shoulder, and McCoy and Tebow have rarely looked like the players who were Heisman Trophy finalists a year ago.
With apologies to Boise State, Cincinnati, Iowa and TCU, the 2009 college football season has been a flop by most accounts.
This past weekend showed us more than ever that there simply isn't a dominant team in college football. No. 1 Florida struggled for the third week in a row before beating Mississippi State 29-19 on the road Saturday night. Tebow, who rarely makes mistakes, had two interceptions returned for touchdowns and has been sacked nine times in the last two games.
With Tebow and every defensive starter coming back, the Gators were an overwhelming favorite to win their third BCS National Championship in four seasons. Instead, Florida looks like it can be beat on any Saturday.
Alabama, which looked like the most complete team in the country during the first two months of the season, has revealed its own warts.
The Crimson Tide had to block a last-second field goal to beat Tennessee 12-10 on Saturday, and they have as much trouble scoring in the red zone as Florida does.
No. 4 Iowa has hardly been dominant, either. The Hawkeyes had to block field goals on consecutive plays to beat FCS foe Northern Iowa 17-16 in their Sept. 5 opener, and then needed a touchdown on the final play of the game to win at Michigan State 15-13 on Saturday night.
We spent a Wednesday night in mid-October dismissing Boise State as a legitimate BCS championship contender, only to wonder if the Crimson Tide and Gators are really that much better than the Broncos only three days later.
The games that were supposed to be the season's best were hardly instant classics. USC's 18-15 victory at Ohio State on Sept. 12 had a great ending, with freshman quarterback Matt Barkley leading the Trojans on a game-winning drive in the final minutes. But the game also showed us Ohio State and USC aren't as good as their dominant teams of the recent past.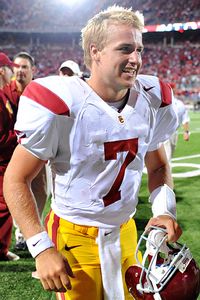 Kirby Lee/US Presswire
Even the top-billed games have shown the flaws in ranked teams.
No. 5 Southern California, which has been college football's most consistent team over the past decade, lost at unranked Washington 16-13 a week after beating the Buckeyes. The Huskies had ended a 15-game losing streak, the longest in Pac-10 history, only the week before.
Ohio State, which played in two of the last three BCS National Championship Games, lost at lowly Purdue 26-18 on Oct. 17.
After last season's Big 12 South controversy, Oklahoma and Texas were supposed to settle their score in the Red River Rivalry game in Dallas on Oct. 17. But the Sooners lost Bradford and their Sept. 5 opener, falling to BYU 14-13 at Cowboys Stadium in Arlington, Texas. The Sooners also lost star tight end Jermaine Gresham to a season-ending knee injury in preseason camp.
Oklahoma lost two games before playing the Longhorns, and the Sooners lost again in the Longhorns' unsightly 16-13 victory. The game featured eight turnovers and 21 penalties, and left us questioning Texas' overall strength as much as Oklahoma's shortcomings.
Other traditional powers have struggled to become relevant again. This was supposed to be the season Notre Dame finally returned to a BCS bowl game. The Fighting Irish have played better, but they lost the only games on their schedule that really mattered (Michigan and Southern California).
The Wolverines looked like a Big Ten title contender after beating Notre Dame, but they've lost three of their last four games (the win came against FCS foe Delaware State). Nebraska also looked much better under coach Bo Pelini, but the Cornhuskers have dropped consecutive home games to Texas Tech and Iowa State.
The SEC might still be the sport's best conference, but it's hardly as dominant as it was the past few seasons. Three of its teams -- No. 1 Florida, No. 2 Alabama and No. 9 LSU -- are ranked in the top 10 of the BCS standings. But Georgia and Ole Miss struggled out of the gates, and Auburn has collapsed after its fast start.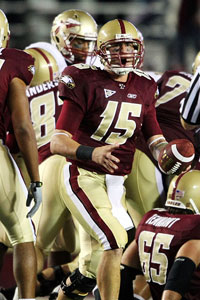 Elsa/Getty Images
Florida State has three conference losses halfway through the ACC season.
The ACC was supposed to make major strides this season, and there was hope after Miami and Florida State played an instant classic on Labor Day night. The Hurricanes won 38-34 at Doak Campbell Stadium, but only after the Seminoles threw incomplete into the end zone on the final play of the game.
Who knew the Seminoles would have to score two touchdowns in the final 35 seconds to beat FCS opponent Jacksonville (Ala.) State 19-9 five days later, and would later lose three games in a row? The Hurricanes had a clear path to the ACC championship game and a BCS bowl game, before losing to Clemson 40-37 in overtime on Saturday.
It didn't take us long to realize the ACC wouldn't be very good again.
Virginia lost to FCS foe William & Mary. Duke lost to FCS opponent Richmond. Every team in the ACC's Atlantic Division has at least two losses in league play. How does a Boston College-Georgia Tech matchup sound for the ACC championship game in Tampa?
As bad as the first eight weeks of the 2009 college football season turned out, the final six weeks might be as memorable.
With as many as a dozen teams having a chance to play for the BCS national championship, no one really knows how they'll play out.
On The Mark: Precision Passers

Ponder
1. Christian Ponder, Florida State
Ponder is FSU's best quarterback since Heisman Trophy winner Chris Weinke. He completed 33 of 40 passes for 395 yards with three touchdowns, leading the Seminoles to a 30-27 win at North Carolina on Thursday.
2. Colt McCoy, Texas
McCoy finally played like he did last season, throwing for 269 yards with three touchdowns on 26-for-31 passing in a 41-7 rout at Missouri. McCoy completed his first 11 passes against the Tigers.
3. Kyle Parker, Clemson
The strong-armed freshman threw for 326 yards with three touchdowns on 25-for-37 passing in a 40-37 upset of Miami. Parker threw a winning 26-yard touchdown to Jacoby Ford in overtime.
4. Ryan Lindley, San Diego State
The Aztecs surpassed their win total from last season, with Lindley throwing for 459 yards with six touchdowns on 29-for-43 passing in a 42-28 victory at Colorado State.
5. Colin Kaepernick, Nevada
The Wolf Pack's dual threat passed for 178 yards and two touchdowns and ran 15 times for 230 yards with four scores in a 70-45 rout of Idaho.
Off The Mark: Defenseless
1. North Texas
The not-so-Mean Green allowed 697 yards of offense -- 492 passing and 205 rushing -- in a 50-26 loss at Troy.

2. Virginia
The Cavaliers' second-half resurgence hit a major bump, as Georgia Tech ran for 362 yards in a 34-9 win at Scott Stadium. It was the Yellow Jackets' first win in Charlottesville since 1990.
3. Minnesota
The Gophers allowed 509 yards of offense (239 passing and 270 rushing) in a 38-7 loss to Ohio State, which limped into the game with its struggling offense.
4. Rice
The country's worst scoring defense allowed 465 yards and touchdown drives on Central Florida's first three possessions in the Owls' 49-7 loss.
5. Western Kentucky
The Hilltoppers surrendered 646 yards and 28 points in the second quarter of a 62-24 loss at Middle Tennessee State.
On The Mark: Playmakers

Devine
1. Noel Devine, West Virginia
Devine did his damage in the second half of the Mountaineers' 28-24 win over Connecticut, gaining all but seven of his 178 yards after the half. His 56-yard touchdown run with 2:10 left put WVU ahead for good.
2. C.J. Spiller, Clemson
Spiller set a school record with 310 all-purpose yards against the Hurricanes. He had 81 rushing yards, 104 receiving yards and returned a kickoff 90 yards for a touchdown.
3. Dexter McCluster, Ole Miss
The Rebels finally got their electrifying tailback involved on offense, as McCluster ran for 123 yards and caught seven passes for 137 yards with one touchdown in a 30-17 win over Arkansas.
4. DeMarco Sampson, San Diego State
Lindley's favorite target caught 15 passes for 257 yards with three touchdowns at Colorado State, helping the Aztecs rally from a 21-7 deficit at the half. It was the ninth-highest receiving total in school history.
5. Rod Owens, Florida State
Owens had a career night at North Carolina on Thursday, catching nine passes for 199 yards with a touchdown, helping the Seminoles end a three-game losing streak. He had a 98-yard touchdown catch, tying for the longest in FSU history.
Off The Mark: Offensive
1. Nebraska
The Cornhuskers had eight turnovers -- five fumbles and three interceptions -- in a 9-7 loss to Iowa State. It was the Cyclones' first victory in Lincoln since 1977.
2. South Florida
The Bulls could muster only 212 yards of offense (90 passing and 122 rushing) and had three interceptions in a 41-14 loss to Pittsburgh.

3. Michigan
The Wolverines lost four turnovers and went 3-for-15 on third down in a 35-10 loss to Penn State in the Big House.
4. Texas Tech
The Red Raiders had five turnovers and 10 penalties in their head-scratching 52-30 loss to Texas A&M at home. Even more offensive: Texas Tech fans chanting "No more Potts" at the end of the game, after quarterback Taylor Potts struggled in returning from a concussion.
5. Auburn
The Tigers have lost three games in a row after a 5-0 start, totaling only 193 yards of offense (81 passing) in a 31-10 loss to LSU.
Highlights: Saturday's 10 Best