Matchups To Watch
Six down. Six to go. Maybe more.
As we reach the halfway point of the 2008 season, we've already learned a lot about college football.
Texas, Alabama and Penn State? They're back. Michigan, Nebraska and Tennessee? Not so much.
With six teams ranked in the Top 25, the Big 12 is the best conference in college football. The SEC -- with three teams ranked in the top 10 -- isn't far behind.
Here's a closer look at a half-dozen things we learned in the first seven weeks of the season, and six things I can't wait to see in the second half:
Six Things We Learned In The First Half Of The Season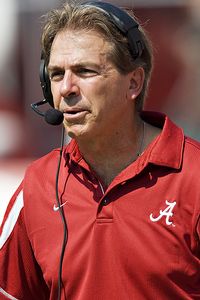 Wesley Hitt/Getty Images
Nick Saban has brought back the good old days at Alabama.
1. It's still about tradition
Look at the top three teams in The Associated Press poll: Texas, Alabama and Penn State. The upper crust of college football in 2008 looks like something from the 1970s. It's almost like we've gone back in time. The Longhorns, who upset No. 1 Oklahoma 45-35 in Dallas on Saturday, are the fourth No. 1 team this season, following Georgia, USC and the Sooners. Texas will have to earn its place at the top: it plays No. 11 Missouri, No. 8 Oklahoma State and No. 7 Texas Tech the next three weeks.
2. The Big 12 is better than the SEC
The Big 12 has six teams ranked in the latest Top 25 polls, including four schools from the Big 12 South. Texas, Oklahoma State and Texas Tech are still unbeaten, but chances are they won't stay undefeated for long. Alabama is the last SEC team with an unblemished record, and Florida and Georgia are ranked in the top 10. Top to bottom, the Big 12 has more depth this season than the SEC.
3. The ACC isn't as bad as the Pac-10
The ACC was ridiculed after several early-season losses. But Virginia Tech recovered from its opening 27-22 loss to East Carolina, and North Carolina is much-improved in coach Butch Davis' second season. No. 21 Wake Forest is the team to beat in the Atlantic Division, and Florida State and Georgia Tech might end up in the Top 25 before the season is over. The Pac-10 has two ranked teams: No. 6 USC and No. 25 California. Oregon has struggled with injuries, and the rest of the Pac-10's teams are mediocre or worse.
4. Clemson is the country's biggest bust
The Tigers entered the season ranked No. 9, but coach Tommy Bowden and the Tigers parted ways on Monday after losing at Wake Forest 12-7 on Thursday night. Bowden was so desperate to keep his job he benched senior quarterback Cullen Harper after his team's most recent loss. Sophomore Willy Korn was to take over the starting job on Saturday against Georgia Tech. But Harper wasn't Clemson's biggest problem. The Tigers can't block and have no identity on offense. Bowden's ultimate demise was he once again failed to meet the Tigers enormous expectations.
5. The spread offense doesn't work everywhere
Auburn and Michigan made radical changes coming into the 2008 season. The Wolverines replaced longtime coach Lloyd Carr with former West Virginia coach Rich Rodriguez. The Wolverines are 2-4, and their streak of playing in 33 consecutive bowl games is in serious jeopardy. Auburn hired offensive coordinator Tony Franklin to install a spread offense shortly before the Chick-fil-A Bowl at the end of last season. Franklin's tenure lasted five games this season; he was fired by coach Tommy Tuberville last week.
6. Minnesota is the season's biggest surprise
Vanderbilt was college football's feel-good story before losing at Mississippi State 17-14 on Saturday. Duke and Northwestern are big surprises, too. But no team has come as far as Minnesota, which was 1-11 in coach Tim Brewster's first season in 2007. Last season, the Gophers lost to Bowling Green, Florida Atlantic and FCS member North Dakota State. This year, Minnesota is 6-1 and has already beaten Indiana and Illinois.
Six Things I Can't Wait To See In The Second Half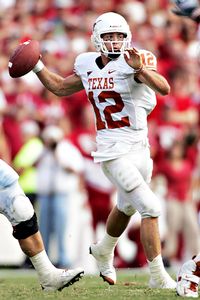 Tim Heitman/US Presswire
Colt McCoy not only has a chance at a national title; he's also jumped to the top of the Heisman race.
1. Which team wins the Big 12?
As many as five Big 12 teams seem capable of winning a BCS National Championship: Texas, Oklahoma, Oklahoma State, Texas Tech and Missouri. Oklahoma State beat Missouri 28-23 on the road Saturday, and still plays road games at Texas and Texas Tech. The Red Raiders needed overtime to beat Nebraska 37-31 on Saturday, and open November with this three-game gauntlet: home games against Texas and Oklahoma State and a road game at Oklahoma.
2. Happy hour in Jacksonville
Florida and Georgia each has suffered a loss this season, but their Nov. 1 showdown in Jacksonville, Fla., will probably still decide which team wins the SEC East. The Gators dismantled defending national champion LSU 51-21 in the Swamp on Saturday night. Florida finally has tailbacks to complement quarterback Tim Tebow's running. The Bulldogs keep losing offensive tackles, but still have enough firepower to challenge the Gators. No. 2 Alabama's biggest test comes at LSU on Nov. 8, when Nick Saban returns to Baton Rouge, La., as coach of the Crimson Tide.
3. Which coach gets fired next?
There are candidates scattered across the country: Syracuse's Greg Robinson, Washington's Tyrone Willingham and Tennessee's Phillip Fulmer. The Volunteers are 2-4, 0-3 in the SEC, their worst start to a season since 1988. The Huskies are 0-5 and won't have quarterback Jake Locker for the next several weeks because of his broken thumb. The Orange are 1-5 and their only victory came against FCS opponent Northeastern.
4. Who will win the Heisman Trophy?
The preseason odds favored a Big 12 quarterback taking home college football's greatest individual honor. But who really thought it would be Texas junior Colt McCoy? Missouri's Chase Daniel, Oklahoma's Sam Bradford, Texas Tech's Graham Harrell and Kansas' Todd Reesing received more preseason publicity than McCoy. But McCoy stole the spotlight in the Red River Rivalry, and played spectacularly in Texas' first six games. One year after throwing 18 interceptions, McCoy has completed a whopping 79.4 percent of his passes for 1,557 yards with 17 touchdowns and three interceptions. He also leads the Longhorns in rushing with 348 yards and four touchdowns.
5. Can Penn State go undefeated?
The Nittany Lions are winning with offense (38-24 over Illinois), defense (20-6 at Purdue) and everything in between (48-7 at Wisconsin). Quarterback Daryll Clark has directed the spread offense to perfection, throwing for 1,360 yards with 10 touchdowns and only two interceptions. Tailback Evan Royster has been better than expected, running for 719 yards and nine touchdowns. Maybe Joe Paterno should have coached from the press box all along. Penn State's biggest tests come at Ohio State on Oct. 25 and at home against Michigan State on Nov. 22.
6. Which team busts up the BCS?
There are three teams from non-BCS conferences that are capable of earning a BCS spot: No. 9 BYU, No. 14 Utah and No. 15 Boise State. The Cougars have two major hurdles: at TCU on Thursday night and at rival Utah on Nov. 22. The Broncos are 5-0 and should cruise through their schedule until their final two games -- at Nevada on Nov. 22 and home against Fresno State on Nov. 28. The Utes play TCU and BYU at home.
On The Mark: Precision passers

McCoy
1. Colt McCoy, Texas
The junior thrust himself into serious Heisman Trophy consideration, completing 28 of 35 passes for 277 yards with one touchdown in a 45-35 upset of No. 1 Oklahoma.
2. Sam Bradford, Oklahoma
The sophomore was nearly flawless in the Sooners' loss, completing 28 of 39 passes for 387 yards with five touchdowns in Dallas.
3. Daryll Clark, Penn State
The signal-caller in Penn State's spread offense ran for two touchdowns and passed for another score in a 48-7 rout at Wisconsin.
4. Josh Freeman, Kansas State
The junior is really good when he is on his game, throwing for 234 yards and running for four touchdowns in a 44-30 victory at Texas A&M.
5. Tim Hiller, Western Michigan
Hiller kept the Broncos unbeaten in MAC play, throwing for 345 yards and four touchdowns on 42-for-63 passing in a 34-28 overtime win over Buffalo.
Off The Mark: Big disappointments

1. Arizona State
The Sun Devils were supposed to challenge USC in the Pac-10, but lost to the Trojans 28-0, their fourth defeat in a row.
2. Clemson
The Tigers started the season ranked in the top 10, but are 1-2 in ACC play after Thursday night's 12-7 loss at Wake Forest.
3. Wisconsin
The Badgers' 48-7 loss to Penn State was their worst defeat since 1989 and dropped their record in Big Ten play to 0-3.
4. Tennessee
The Volunteers are off to their worst start in two decades after Saturday's 26-14 loss at Georgia.
5. Rutgers
The Scarlet Knights lost at Cincinnati 13-10, their 12th defeat in their past 23 games.
On The Mark: Big-play receivers

Harvin
1. Percy Harvin, Florida
The Florida offense is much better when Harvin is healthy. Exhibit A: His six catches for 112 yards and two touchdowns in a 51-21 rout of LSU.
2. Jordan Shipley, Texas
McCoy's roommate caught 11 passes for 112 yards and one touchdown and returned a kickoff 96 yards for a score against Oklahoma.
3. Nick Moore, Toledo
The Rocket man caught 20 passes -- most ever against Michigan -- in Toledo's stunning 13-10 upset in the Big House.
4. Hakeem Nicks, North Carolina
Nicks was a steady force for the Tar Heels in a 29-24 win over Notre Dame, catching nine passes for 141 yards.
5. Austin Collie, BYU
The junior caught nine passes for 162 yards with one touchdown in a 21-3 victory over New Mexico.
Off The Mark: Pushing the panic button

1. Auburn
Something really strange must have happened on the Plains last week for coach Tommy Tuberville to fire offensive coordinator Tony Franklin.
2. Michigan
The Wolverines might want to ditch the spread offense after losing to a MAC school for the first time.
3. Washington State
The Cougars had more penalty yards (145) than total yards (132) in a 66-13 loss to Oregon State.
4. Illinois
After going to the Rose Bowl in 2007, the Illini are 3-3 after a 27-20 loss to Minnesota at home.
5. LSU
The defending national champions were exposed in a 51-21 loss at Florida. How long will coach Les Miles stick with a two-quarterback system?
On The Mark: Ground-churning tailbacks

Peerman
1. Cedric Peerman, Virginia
The senior has regained his form from 2007, running 16 times for 173 yards and two touchdowns in a 35-20 win over East Carolina.
2. Michael Smith, Arkansas
Smith ran 35 times for 176 yards with one touchdown, helping the Razorbacks stun Auburn 25-22.
3. Noel Devine, West Virginia
Devine finally took off in a 17-6 win over Syracuse, running 18 times for 188 yards with one touchdown.
4. Kendall Hunter, Oklahoma State
The 5-foot-8 sophomore ran 24 times for 154 yards and one touchdown in a 28-23 upset of No. 3 Missouri.
5. Jeffrey Demps, Florida
The freshman ran 10 times for 129 yards and one touchdown against LSU.