Losing Caroline Doty a blow to UConn
August, 12, 2010
08/12/10
5:14
PM ET
Connecticut has now lost Caroline Doty to a serious knee injury twice as often as it has suffered defeat on the court since the promising guard arrived on campus. And for a team renowned for margin of victory, the margin of error is shrinking in pursuit of a milestone and another title.
[+] Enlarge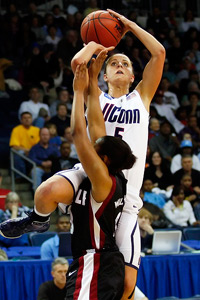 Geoff Burke/US PresswireCaroline Doty is a shooter, a scorer -- a back-breaking, how-did-we-forget-about-her assassin.
About to begin her junior year, Doty was to be one of three returning players who averaged at least 20 minutes per game last season for the national champions. Instead, she will miss the entire 2010-11 season after suffering a torn ACL for the third time since her senior year in high school. The same injury also sidelined Doty for the final 22 games of her freshman season at Connecticut.
As far as returning starters in Storrs, Conn., it's Maya Moore, Tiffany Hayes and a whole lot of opportunity -- if you're of the optimistic persuasion -- for a program just 10 games away from matching UCLA's men's basketball NCAA Division I record of 88 consecutive victories. In Doty, the Huskies lose a player who was easy to overlook as she averaged 6.8 points, 3.5 assists and 2.5 rebounds in the shadows cast by the spotlight on Moore and Tina Charles.
Easy, that is, unless you were on the other sideline trying to stop the entirety of the Connecticut onslaught.
"The one thing with Caroline that I was always impressed with is her ability to play within their system, her ability to make her teammates around her better," Louisville coach Jeff Walz said after he learned of the injury. "And then the other thing is, you always knew she had the ability to hit big shots and score if she had to."
When people talk about Geno Auriemma's teams winning as a result of accumulating the most talent, they're reading the words but missing the author's ability to craft a story between the lines. The Huskies do perennially have the best talent, or at the very least, talent as good as any other program in the country. And there's every reason to think anyone as competitive as Auriemma savors those recruiting wins almost as much as the ones on the court.
That talent gives Connecticut a successful program. How it fits together is what produces seven national titles and 78 consecutive wins.
One of the most impressive things about watching Connecticut on a regular basis the past two seasons was how pieces picked up the slack when one piece failed, whether missing in body because of injury or merely in spirit because of focus for a game, a half or a possession. Put a lot of high-performance pieces together and you can end up with a situation in which knocking the smallest thing out of kilter causes a total breakdown. The Huskies were more like something out of a "Terminator" movie, morphing to patch any wound.
Moore memorably did that on the biggest stage, lighting up Stanford in the opening minutes of the second half of the championship game after the Cardinal went to the break leading by eight points. But the same sort of process happened in far less dramatic ways all season, a big reason why the Huskies had so few -- as in, no -- close calls until that 12-point first half against Stanford.
Consider the point guard position for a team that lost Renee Montgomery to the WNBA after the 2008-09 undefeated season and still finished with more assists and only slightly more turnovers last season than its similarly undefeated predecessor.
Doty isn't a pure point guard any more than Troy Brown was a pure defensive back when called on to play there for the Patriots during one of their Super Bowl runs. A more than capable ball handler and a willing passer, she surely isn't out of her depth at point guard, but she's a shooter, a scorer -- a back-breaking, how-did-we-forget-about-her assassin. Playing alongside Montgomery as a freshman, she shot 40 percent from the 3-point line until sidelined by the ACL injury. That shooting tailed off to 32 percent last season, perhaps in part because of the knee, perhaps in part because of sheer bad luck, but perhaps also because of the added responsibilities she took on with Montgomery gone.
Connecticut had everything last season except a pure point guard ready to step in for Montgomery from the get-go. Filling that role was going to make Hayes or Doty less effective than they could have been in more natural roles, but Doty embraced it, played through mistakes and finished No. 24 in the nation in assist-to-turnover ratio -- including three assists and no turnovers in the NCAA title game.
Yes, the Huskies won because they had Moore and Charles and nobody else did, but Moore and Charles were also able to be Moore and Charles because Doty, Hayes, Kalana Greene and Kelly Faris played the part of role players to perfection.
"The year we were fortunate enough to play them for the championship, we didn't have five players like they did on the floor at the same time," Walz said of the 2008-09 season. "But you've got to have a team who is willing to play together, you've got to have individuals who are willing to give up individual success for team success.
"That's one thing that has always impressed me with their teams is the fact that you've got high school players who were all high school All-Americans -- could score 20 or 30 points a game in high school -- but they're willing to come in and play for the one goal. And that goal is to compete for a national championship every year."
Now it begins again. Moore will be Moore, and in Hayes and Faris, the Huskies have a secondary scorer and a do-everything stopper, respectively. Lorin Dixon, too, might be ready to make the most of her senior season after once again flashing potential last season. But already operating with a thin foundation before Doty's injury, Connecticut's season might well be determined by how quickly its lauded and loaded freshmen, particularly point guard Bria Hartley, stop playing like blue-chip recruits and start playing like cogs in one of the most successful systems in the game's history.
History suggests it won't take long, but the path just got considerably more difficult.