Editor's note: ESPN.com's Graham Hays is tracking every move of the Green Bay Phoenix on Thursday and Friday as they navigate through the Horizon League tournament in search of an automatic NCAA tournament bid. Through constant blog entries and photos, Hays will chronicle what takes place in between practice sessions and games, and who the personalities are behind the players we merely see on the court. Check back throughout the next two days for more updates.
[+] Enlarge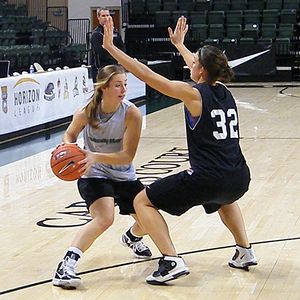 Graham HaysFreshman Megan Lukan is redshirting this season. But she still plays a vital role on the team.
GREEN BAY, Wis. -- The championship banners crowding the rafters in the Kress Center are evidence of Green Bay's place on the college basketball map, but the program understands it isn't the center of the sport's universe.
After watching a Canadian junior team at a tournament, Green Bay coach Matt Bollant was convinced that one of the team's guards, 5-foot-7 Megan Lukan, was the perfect kind of player for his program. She wasn't the player on the team most programs were interested in, but the Phoenix have a way of winning by finding the players other teams should have been interested in.
This program doesn't pretend to be Storrs, Conn., or Knoxville, Tenn., two places Lukan might not have needed an atlas to find when a coach left a voice mail offering a full scholarship.
"After I got that message, I didn't know where Green Bay was at all," Lukan said. "So I went home, told my mom and we looked them up."
Lukan was just another body at practice on Thursday, as Green Bay prepared for the next day's semifinal against Wright State. That is to say, the true freshman was doing exactly what the team needed her to do. Redshirting this season on a roster with plenty of backcourt depth, she is often the three-dimensional representation of all those lines on the play diagrams, a chess piece the coaches move around as the team walks through an opponent's plays.
She doesn't have to look far to know it need not always be so. Built in a similarly compact manner, senior Celeste Hoewisch redshirted her first season at Green Bay and will leave after this season as one of the most successful players in program history -- and one of its best leaders. Listen to people around the program, and you get a sense that, without applying the pressure of a direct comparison, they think Lukan has the potential to follow a similar path.
It doesn't hurt to spend a year watching someone like Hoewisch, just as it didn't hurt Hoewisch to spend a redshirt year learning from former Green Bay standout point guard Natalie Berglin.
"The biggest thing is she has no fear," Lukan said of Hoewisch. "Being 5-7, and I'm 5-7, it doesn't matter. If there's a 6-4 girl on her or a 5-7 girl on her, she will take them on; it doesn't matter. Just seeing that confidence in her has helped me to just, in practices, not get down on myself and stick to my confidence and know that I can do everything that she can do, I can do everything that anybody can do."
A team earns one championship banner because of great senior leaders. A program earns a rafter full of banners because it sets out to find those players long before their time in the spotlight arrives.
"It was nice just that he really saw a lot of potential of me as a player," Lukan said of her coach. "He says I'm a Green Bay kid."
Even if she needed some help finding it on a map.