Not even nephew can distract Hoewisch
March, 11, 2011
03/11/11
1:29
AM ET
Editor's note: ESPN.com's Graham Hays is tracking every move of the Green Bay Phoenix on Thursday and Friday as they navigate through the Horizon League tournament in search of an automatic NCAA tournament bid. Through blog entries and photos, Hays will chronicle what takes place in between practice sessions and games, and who the personalities are behind the players we merely see on the court. Check back for more updates.
[+] Enlarge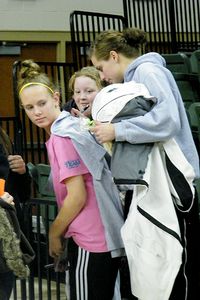 Graham HaysSenior point guard Celeste Hoewisch always has plenty of autograph seekers.
GREEN BAY, Wis. -- Celeste Hoewisch will meet her newest fan for the first time on Friday.
In and of itself, this is not a particularly unique development for someone who signs her share of autographs. If not at quite the pace a certain Hollywood train wreck adds Twitter followers, Hoewisch nonetheless stockpiles new fans just about every time she takes the court at home, as she will against Wright State in a Horizon League tournament semifinal on Friday. The senior point guard has a way of winning over people watching her play for the first time. Their affection grows every time she throws her body between larger opponents -- a mostly redundant term in the case of the 5-foot-7 Hoewisch -- in pursuit of a rebound, or when she chases down an errant pass against Green Bay's pressure, looking for all the world like the proverbial little sister finally sticking it to her tormenters in a game of keep away.
At halftime of Wednesday's win against Loyola, having been knocked to the ground more than half a dozen times during the first half, Hoewisch asked for an ibuprofen for her headache. It's precisely because she's an incurable pain in the you-know-what for opponents that fans adore her and fans elsewhere grudgingly respect her.
It's just that most of those new fans, short of a late Green Bay marketing idea for a strange timeout contest, won't ever have one of the best guards in the history of the Horizon League on call to babysit for them.
Friday, Hoewisch will meet her newest nephew, Micah, for the first time, a little more than a week after his birth.
Just don't expect the Horizon League co-player of the year to be distracted. Like the best efforts of every other team in the conference, aunthood (in addition to marriage for someone who got engaged over the Christmas break) has thus far failed to distract her from the tunnel vision with which she competes on the court.
Barely a week ago, Hoewisch was preparing to play a game on the road against Wright State when she received a text that one of her older sisters, Kaylin, was going into labor with her second child back in Wisconsin.
"She did that last year to me with Elijah; I was on the road at, I think, Cleveland State," Hoewisch said of her first nephew. "She likes to do that."
In this instance, Hoewisch handed off her phone to trainer Dusty Lang to track updates and then put up 11 points, four assists and four steals in a 21-point Phoenix victory. Of course, when coach Matt Bollant entered the locker room to deliver his postgame comments, he found his players huddled around Hoewisch's cell phone, looking at pictures of Micah.
Playing point guard is one thing, but it doesn't measure up to playing aunt -- if for no other reason than she's the one on the hook to discipline her teammates if they start looking like they need a nap.
"You never realize how much you can love someone you only know for a day," Hoewisch said. "You don't even know them, and you just love them so much. It's an amazing feeling. You kind of feel a big part of their life -- and you don't have to deal with them when you don't want them. When they're acting up, you give them to mom and dad.
"But you still get to enjoy them and feel a part of their lives."