Penn State nets first tourney win since '04
March, 19, 2011
03/19/11
12:01
PM ET
STATE COLLEGE, Pa. -- Penn State hadn't lost an NCAA tournament game at Bryce Jordan Center in eight previous attempts. It also hadn't lost an NCAA tournament game of any kind since 2005 -- because it hadn't played one, a streak of five consecutive March misses since losing to Liberty in the first round of that year's tournament.
[+] Enlarge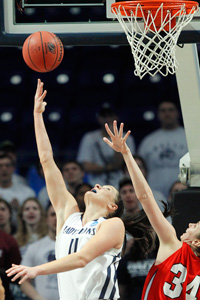 AP PhotoJulia Trogele and Penn State held off Dayton.
Only one of those streaks came to an end Saturday.
Here's a quick look at Penn State's 75-66 victory against Dayton, the first NCAA win for the Lady Lions since 2004.
Turning point: Trailing 65-63, Dayton had a pair of chances to tie the score in the final two minutes, but Penn State senior Julia Trogele came up big both times. On the first possession, Trogele tipped away a post entry that deflected off a Dayton player and out of bounds (one official initially ruled the ball off Trogele before reversing it on consultation with the far-side official). On the second possession, Dayton's Brittany Wilson missed a runner from the right side and Trogele pulled down the defensive rebound, leading to an Alex Bentley basket and a four-point lead on the other end.

Key stat: 1-for-6 FG. Dayton junior Justine Raterman, the team's leading scorer and a player who put up 32 points when the teams played in the regular season, never got going offensively and finished 1-for-6 from the floor. Coming into the game, Raterman said the knee she injured in the Atlantic 10 tournament was fine, but after hitting her first field goal attempt of the game, she didn't seem to have the normal quickness or confidence that makes her one of the best players in the country outside the six major conferences. Odds are neither Raterman nor Jim Jabir will make any sort of excuse because of the injury, but Dayton's best player clearly gave full effort on a less than fully healthy knee. Said Jabir postgame: "Justine's the toughest kid I've ever been around. I think there might be more damage in [the knee] than we think."
Key player: Alex Bentley. Penn State's point guard was more finisher than distributor on this night, and the Lady Lions needed all of her 18 points. Dayton did a nice job maintaining contact, literally and figuratively, with Penn State shooting sensation freshman Maggie Lucas, so Bentley had to become her team's primary scoring option. She was big in the first half with 14 points and came through with two must-have field goals down the stretch. Her final shooting numbers don't look efficient, but she played the role her team needed to perfection.
Miscellany: Dayton looked the more awake of the two teams when the game tipped at a few minutes after 11 a.m. ET, jumping to a 16-8 lead in the first five minutes, but the game turned as soon as Penn State's energy picked up. With Flyers starting point guard Patrice Lalor on the bench for a breather and her team up eight points, Penn State forced six turnovers in the span of two minutes, at the end of which it was in possession of an 18-16 lead. Dayton never really regained its rhythm in the first half, and by the time it made a run in the second half, Penn State had enough cushion to withstand it.
What's next: Penn State awaits the winner of third-seeded DePaul and No. 14 seed Navy. Barring a monumental upset, that likely means the Blue Demons. Penn State is 4-0 all time against the team from Chicago, including 2-0 at home, but given that many of the players weren't walking the last time the teams played in 1992, history won't mean much.