Walz's plan works for Louisville
March, 20, 2011
03/20/11
1:46
PM ET
Louisville's Jeff Walz has an entry on his résumé that few young coaches can claim -- a championship game appearance in 2009, just his second season in charge of the Cardinals. But if not quite as glitzy as that feat, Sunday's 81-62 first-round victory against 10th-seeded Vanderbilt offered something of significant import.
His first NCAA tournament win without Angel McCoughtry.
What Walz did with the runner-up team two years ago established on a national scale what people in the Big East knew almost from his arrival -- the guy can coach a little bit. It can be difficult for a new coach to take a mix of players, some of his choice and some wary holdovers from a previous regime, and get them operating on the same page. It's a borderline Herculean task when the new boss had as distinctive and demanding (and, well, loud) a style as Walz on the sideline. And when the incumbent star, McCoughtry, was herself unique in both personality and skills.
[+] Enlarge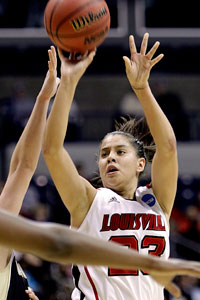 AP PhotoShoni Schimmel (19 points) was one of four Louisville players with at least 16 points.
It all worked for that particular group. Walz gave McCoughtry, a player with Team USA talent even then, the freedom to be herself on the basketball court, and at the same time folded those skills and that personality into the whole. The team's best players, McCoughtry and Candyce Bingham, carried the offensive load, but everyone played defense and most stepped up on offense on an as-needed, if not regular, basis.
And if you've got a good blueprint, you might as well stick with it.
Walz again has a team playing outstanding, opportunistic defense (the Cardinals forced "only" 14 turnovers Sunday but pressured the Commodores all game and force as many turnovers per game as the Final Four team). The coach again has two players leading the way offensively. Junior Monique Reid and freshman Shoni Schimmel combined for 39 points against Vanderbilt and had scored nearly 43 percent of the team's points through the regular season and conference tournament. Others step up as needed, as sophomore Tia Gibbs did Sunday with 19 points and five 3-pointers.
And the single most identifiable figure, Schimmel, is again exactly the kind of basketball talent whose instinctive, improvisational, eye-catching game might otherwise be expected to drive a hands-on coach crazy.
At one point early in the second half against the Commodores, Schimmel tried to throw a skip pass from one corner to the other, only to have the ball smack off the backboard and out of bounds for a turnover. Cameras then cut to Walz, who sported a wry grin as he mimicked a shooting motion to the freshman, as if to suggest that if she had the space to throw the skip, she might just as well have put up a shot. It was not exactly the reaction Walz's reputation might suggest likely in the wake of a miscue during a tournament game (although during the Big East tournament, he jokingly objected at being lumped in with a notorious yeller like West Virginia's Mike Carey).
Schimmel finished with five turnovers on the day, in line with her season average of 4.2 per game. But she also scored 19 points, including 3 of 7 shots from the 3-point line. And when Vanderbilt cut a 17-point lead to five in the second half, she made big plays and big passes to steady the ship and get the ball inside to Keshia Hines. Schimmel will try things she perhaps shouldn't try because she can do things others can't do.
And if Walz can sometimes sound on the sideline like he expects perfection every possession, he's well aware a net surplus is what matters when it comes to the final score.
"There's time where she's going to turn the basketball over, but there's also times she makes some passes that not every player can see, which really gets our team going," Walz said during the Big East tournament. "We've worked a lot together to try and make sure she knows, 'Hey, this is when I want things slowed down; this is what we have to do.' And she's really done a great job of adjusting her own game as well."
And turnovers aside, Schimmel is the kind of player who gets her other numbers as she makes her teammates better -- not at their expense. Reid's game-high 22 points against Vanderbilt came on 10-of-15 shooting. For the season, she's shooting 56 percent from the floor, up from 45 percent as the team's first, second and third option last season.
"Mo's not having to work as hard for every basket now," Walz said. "Shoni's getting her the ball -- a lot of times in a place just for her to go up and finish. She's not having to score over two or three anymore. That's definitely made things easier for Monique and the rest of our team."
Louisville took a season to reload after reaching the final game. But as Sunday demonstrated, Walz had a plan all along, and it's one that works well for the Cardinals.