Juggling March and motherhood
March, 20, 2010
03/20/10
1:10
PM ET
Not everyone loves March Madness.
Take, for example, my 8-year-old daughter, who despite my best efforts was born March 22, 2001. By "best efforts" I mean she was born a month prematurely. I wasn't planning on attending the Final Four in St. Louis that season anyhow -- who wants to see a woman the size of a basketball actually courtside at a basketball game? -- but Jillian's arrival put the job on hold and me in a hospital bed the Thursday before the Sweet 16.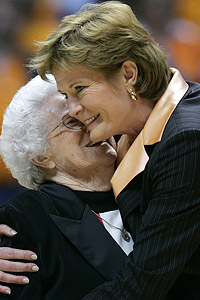 AP Photo/Susan WalshUndoubtedly one of Pat Summitt's mother-daughter memories: A hug from Hazel Head after Summitt got win No. 880 to become the NCAA's all-time leader on March 22, 2005.
I think life and women's basketball have gotten a lot better since then. But while Jillian came first and was my top priority in 2001, that hasn't always been the case in the month of March since then. Especially when the 22nd is a game day, like this season, when the third day of games falls on Jillian's birthday.
Don't get me wrong. Up until there are four teams left in the bracket each year, I'm there to tuck her in every night. I've squeezed birthday parties in between 16 games on opening day. We've colored eggs before I board a plane for the Final Four. But there's less time to cuddle, to help with homework, to just be … Mom. It's the same thing every working parent goes through (I can only imagine life for the coaches' families). But while it's springtime and the flowers are blooming, so is the workload.
Which is why, not too long ago, and maybe for even the second day in a row, my ever-outspoken, hasn't-learned-to-filter-yet kiddo declared "I HATE MARCH MADNESS."
Now, she said it with a teasing smile on her lips and a hand on her hip, knowing very well at a very young age how to manipulate her mother. But we've covered this topic before -- Mom's job is much more appreciated during trips to say, Toys R Us or GameStop -- and she knows our whole family has to be flexible this time of year (especially when Mom's alma mater -- Go, Washington Huskies! -- is alive in the men's bracket). But somehow, the daughter of two sports-loving, ESPN-employee parents can't stand sports. Especially this month.
Brackets? She can't hack it. Selection Monday? Anything but a fun day. Geno Auriemma? Childhood dilemma.
In the end, of course, it all works out. When the Madness settles down each season, a champion has been crowned and Jillian's mom has been re-found.
But as I was posting President Barack Obama's bracket on ESPN.com in between wrapping Barbie dolls, thoughts of Jillian's impending birthday turned into thoughts of … Pat Summitt. Not because Mechelle Voepel had written another column on the Tennessee coach once going into labor on an airplane and warning the pilot not to land in Virginia because there was no way she was going to deliver her son anywhere but in the Volunteer State. Or because Graham Hays had written another column the Lady Vols had pinned up in their locker room for motivation.
Like Pavlov's dog, thoughts of Jillian's special day for me now go hand-in-hand with Lady Vols basketball. That's because, aside from actually crowning the champion, some of the biggest things that have happened in the women's NCAA tournament since I began covering it in 1999 have occurred on March 22.
Jillian had just turned 4 when Summitt beat Purdue in the second round to win her 880th career game in 2005, surpassing Dean Smith as the all-time winningest Division I coach. That night -- after a My Little Pony-themed party at our house earlier that afternoon -- Tennessee's court was christened "The Summitt." And you bet when Pat embraced her then-79-year-old mother, Hazel Head -- who hadn't made the trip to Thompson-Boling Arena in years -- with a teary-eyed hug, I thought of my own daughter home in bed.
But the Lady Vols' "gifts" on March 22 haven't always come wrapped with a pretty bow on top. In fact, the Ides of March came a little late for Tennessee last season. It was Jillian's eighth birthday (with a "Wonder Woman" theme this time), Ball State's first NCAA tournament appearance and the first time in the 28-year history of the NCAA tournament that Tennessee failed to reach the Sweet 16. The 12th-seeded Cardinals pulled off the second-biggest upset in women's tourney history, toppling the fifth-seeded Lady Vols in the first round.
That time, I remember thinking it was a good thing Jillian was already in bed, because it was going to be a long night.
And guess what? Top-seeded Tennessee's victory Saturday over Austin Peay means the Lady Vols will take the court Monday -- March 22 -- in the second round.
What will happen to Tennessee this time around? Will there be more bad March 22 mojo? We'll see, but one thing is for certain: There won't be a birthday party crammed in for us.
That's right. I've finally wised up. We're holding a blowout party for our nearly-9-year-old next month when things calm down. And neither Auriemma nor Summitt is invited.
Until next year …