Riley much more than her reputation
March, 22, 2010
03/22/10
1:45
PM ET
No matter what happens in the Georgia-Oklahoma State game (ESPN2/ESPN360.com, 9:40 p.m. ET) -- whether Andrea Riley's college career comes to an end or she leads the Cowgirls to the Sweet 16 -- I know what a lot of folks' reaction will be.
"Andrea Riley is selfish! She shoots too much! She takes crazy shots! She stands around too much on defense! She's got a lousy attitude! She's …"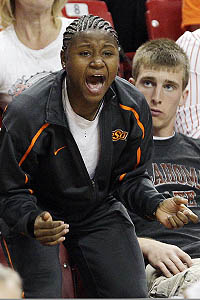 AP Photo/Ross D. FranklinOklahoma State won in the first round despite Andrea Riley -- who accounts for 36 percent of the Cowgirls' offense -- sitting out on a one-game suspension.
I hear that stuff from a lot of people. I think Riley is the most criticized star I've seen in the Big 12, and I'm not even sure who would be No. 2.
But consider that Riley is not just the Big 12's all-time leading scorer. She's also her school's all-time assists leader. And she joined an Oklahoma State program that had won a grand total of eight Big 12 games in the four seasons before she got there. The Cowgirls had finished 0-16 in the league in coach Kurt Budke's first season in Stillwater, the year before Riley's arrival.
In Riley's four seasons, Oklahoma State has been 8-8, 11-5, 4-12 and 9-7 in the Big 12. The Cowgirls have reached the NCAA tournament three times. Riley's freshman season brought Oklahoma State's first NCAA tournament berth since 1996 -- the year before the Big 12 started.
No one could possibly argue that Riley hasn't dramatically changed the Oklahoma State program for the better in terms of results. Yet her style of play is criticized, and many fans usually paint her in unflattering ways.
Yes, Riley shoots a lot. She also passes a lot. Yes, she let her emotions get the best of her when she popped Texas' Earnesia Williams during a ball scramble in the 2008 Big 12 tournament and then did the same to LSU's Erica White as they were jostling back and forth during a Sweet 16 game not long after.
The first incident did not cost Riley any playing time, but the second did. The NCAA suspended her for one NCAA tournament game, a penalty she did not have a chance to pay until this year. Riley sat out Saturday as the Cowgirls followed a horrible first half with an inspired second half and beat Chattanooga 70-63.
Riley knows that a lot of people have a negative opinion of her. She wishes she could change it. She would like them to see someone different -- the person she thinks she is.
"I wish people would see who I am around my teammates and everybody at Oklahoma State every day," she said. "I have the biggest heart, and I'm very sensitive. I'm not disrespectful. I try to do the best thing possible. I know I made mistakes."
The person Riley wishes people saw is someone who loves basketball more than pretty much anything else in the world. Taught -- drilled, in fact -- from a young age by her father, Roosevelt, Riley started playing when she was a toddler.
"From the time I was born, I was in the gym," Riley said. "I was always around basketball. I really grew up willing to learn it, and it took up most of my time.
"Coach Budke talks about the basics all the time: You focus on defense and rebounding. And that's what my daddy always talked about. He never cared about offense. So people ask me, 'Why don't you care about breaking scoring records?' And I say, 'I want to do the other things, too.'"
Indeed, when asked about the scoring records she set at the Big 12 tournament, Riley seemed embarrassed and turned the topic toward the record she was proud of, which was the Cowgirls' career assists mark.
I understand all this. We're constantly bombarded with this message from coaches about how great it is to be unselfish and get your teammates involved. Coaches and observers of the sport compliment players for sharing the ball and being selfless and all that.
But you know what? It makes no sense to me for someone to feel she needs to downplay a scoring record. Last I checked, you can win a game even if your team has fewer assists than the other team. But you can never win if your team has fewer points.
I know that it's a team sport, you get everyone involved … but it's still about putting points on the board. And if you've done more of that than any player in the history of your league, plus helped your program completely change its status, shouldn't you get a fair amount of credit for what you've done?
But, again, people see Riley's game as selfish and say, "But are those shots she's taking always the best the team could get in that possession?"
No, probably not every possession. However, Budke has decided that Riley shooting a lot, lot, lot is the best way for his team to win. So Riley is doing what she's told. And again: She is the assists leader for her program. So she hasn't just been shooting.
There are also criticisms of movement without the ball, her defense, etc. I'm not saying there aren't things to point out wrong; that can be done with most players. It just seems to me that what bothers observers most about Riley is that they don't like the way her game looks.
Folks might not realize that after every game, the first thing Riley hears after Budke's analysis is what her father thinks. If Roosevelt isn't at the game, she calls him.
"He is not the type to just give me a compliment," Riley said. "He might say it in his own way, but he's never going to just say, 'Good job, Andrea.' Because he wants me to do better. We always talk about how he wants me to get my degree, go to the WNBA and be as successful as I can as a person. He was always hard on me, and he stays on me now.
"I grew up playing in this hot gym, with no windows, just putting in work. We would do these drills he was really specific about. He wanted the expectations to be very high, and I wanted to be perfect. That's why I'm hard on myself when I mess up."
And Riley admits she messed up with the in-game hitting-another-player incidents during her sophomore year. It pains her that those things seem to have permanently altered the perception a lot of people have of her. Riley became, in their eyes, a "bad apple" who is always trying to stir things up on court.
As someone who has watched her career, I think people see these things even when they aren't actually happening. It became difficult for fans to distinguish between Riley just being enthusiastic and scrappy and her being a so-called trouble-maker.
An aggressive play that some other player might make would be called competing hard. Riley would make it, and it would be called something else.
Consider that one of the more universally popular players in the Big 12, Kansas State's Shalee Lehning, got all these titles: "tough," "scrappy," "great leader." She was indeed all those things, and because K-State was size-challenged her entire career, she also had to be a phenomenal rebounder. She finished her career last season with 1,189 points, 800 assists, 914 rebounds and 235 steals.
Riley, entering Monday night's game against Georgia, has 2,804 points, 700 assists, 399 rebounds and 287 steals. At 5-foot-5, she's 4 inches shorter than Lehning.
I bring up the comparison -- even though they are different types of guards -- just because each put up a lot of big numbers and was/still is absolutely essential to her team's success.
Lehning richly deserved all the bouquets that fans tossed her way during her career. But I don't think Riley deserves all the criticism that fans have thrown at her.
Now, you might hasten to say, "But what about the punches Riley threw?" And, again, I realize that has permanently changed how some fans view her.
Last season, the Cowgirls did have chemistry problems, and that did have something to do with how some players felt the shots and the glory were distributed at Oklahoma State. But not the bulk of the players.
The way the Cowgirls competed in the second half of their comeback win over Chattanooga -- and the comment by senior Ally Clardy that she "couldn't imagine" playing her final game without her roommate, Riley, on the floor -- showed how much the team rallied around Riley even when she couldn't play.
And I would think even the most hard-core Riley critics had to be at least a little moved at the shot of her crying tears of relief and gratitude in the stands as the Cowgirls closed out that victory.
Some might say Riley's dad has been too hard on her. I must admit I've considered that myself. But those things are always very difficult to judge for outsiders. The dynamic between talented child and encouraging parent is always a tightrope that even the best of parents fall off from time to time. That Riley credits her father so much tells you of her gratitude.
And whatever you think of Riley, at least consider this image of what she thinks of herself as a player.
"I do always go back to the basics, the fundamentals, that I did all the time when I was growing up," she said. "I still think about that every day. I used to pray to be a little bigger, but around sixth grade, I accepted my size. My dad told me, 'Because you're small, you have to work harder than everybody else.' I have to have a different kind of mindset.
"He knew how to motivate me: 'You can't do it because you're too little.' That would burn me up and make me so fiery. It's why I'm so competitive."