Guard play leads Iowa past Ohio State
January, 8, 2011
01/08/11
10:15
PM ET
IOWA CITY, Iowa -- We're already anticipating a headache near the end of the Big Ten season when it comes down to figuring out tiebreakers. Because it looks like it could be quite a logjam-type finish in a league that has had the same regular-season champion -- Ohio State -- for the last six years.
Admittedly, we're very early in January, and maybe some team is, in fact, going to firmly establish itself atop the Big Ten. Michigan State -- 2-0 in league play going into Sunday's game at Michigan -- is the highest ranked (No. 13) of the Big Ten teams in the polls. But don't be surprised if even the league champ is a little battered-looking by the time it's all over.
Saturday in Iowa City, the league's other two ranked squads faced off in a game that, before the season started, projected to be the premier matchup in the Big Ten. And while No. 21 Ohio State and No. 22 Iowa got off to rather rough starts in league play, this game definitely still had the feel of a meeting of league heavyweights.
[+] Enlarge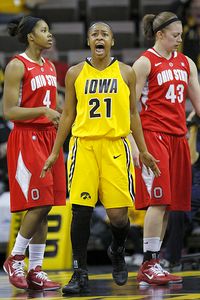 AP Photo/Charlie NeibergallGuard Kachine Alexander had 16 points and 13 rebounds for Iowa, which shot 8-of-19 on 3-pointers.
And this time, the Hawkeyes won. Led by a very strong backcourt performance, Iowa prevailed 89-76 in front of 9,865 fans at Carver-Hawkeye Arena. Not all of them spent the entire game booing Ohio State's Samantha Prahalis -- she's not very popular in these parts after last season's Big Ten tournament title game -- but the junior guard certainly got an earful all afternoon.
It didn't seem to hurt her game too much -- she still had a team-high 22 points -- but what did bother Ohio State was the struggle that Prahalis and the rest of the team is having behind the 3-point arc.
The Buckeyes were 4 of 22 on 3-pointers Saturday, and that difficulty from long range helped shrink the space that senior center Jantel Lavender had to work with inside. She had 14 points and 17 rebounds, but needed to get more than the 11 shots she took.
"It was packed in pretty tight," Lavender acknowledged of the Hawkeyes' zone, which the Buckeyes -- with their shooting woes -- had a hard time loosening.
"We led the country last year, and now we're last in the league -- and it's the same players," Ohio State coach Jim Foster said of his team's 3-point shooting. "We know what we're capable of. We are going to have to adjust some things, and I'll have to figure out how to get more quality looks for them. We know how to win games; we've just got to start making shots the way we need to."
The Buckeyes (10-5, 1-2) had defeated the Hawkeyes in 13 of their last 14 meetings, including an emotional, come-from-behind win in the Big Ten tournament title game last season.
So while Iowa didn't want to make too big a deal of this game, there's no doubt it was circled on some calendars. The Hawkeyes opened Big Ten season with losses to Penn State and Michigan, then had a shaky victory at Minnesota. But Saturday, Iowa looked like the team coach Lisa Bluder figured she really has.
"Today we came out and played like we were playing last year, and it feels so good," Bluder said of the Hawkeyes' surge in finishing the 2009-10 season. "We were disciplined. Our shooting was back to what we expect out of our players."
Sophomore Jaime Printy had 25 points, making 8-of-10 shots. Fellow guard Kachine Alexander had 16 points and 13 rebounds. The Hawkeyes (14-2, 2-2) hit 8-of-19 3-pointers.
Both Bluder and Foster talked about the improvement of the Big Ten from top to bottom, and how that has impacted the difficulty of each game. That's why there might not be very much at all separating a large group of teams in the standings by tournament time.
"It's going to make it interesting at the end of the year," Bluder said. "Because I think the margin of error is going to be very slight."