One upset still paying off for both teams
March, 10, 2011
03/10/11
12:32
AM ET
KANSAS CITY, Mo. -- Kansas State's upset victory over Texas A&M on March 2 seems like it actually did a lot of good for both teams.
For K-State, it was the signature win needed to help assure the Wildcats of an NCAA tournament berth. They followed that with a victory over Kansas that helped earn them the No. 4 seed in the Big 12 tournament, which they upheld Wednesday with a 56-53 quarterfinal victory over No. 5 Iowa State.
Meanwhile, the Aggies bounced back from that loss in Manhattan, Kan. -- the only other Big 12 team that has defeated them this season is Baylor, twice -- and have punished their two subsequent foes.
Texas A&M pounded Nebraska in the regular-season finale, then did the same to Texas in the Big 12 quarterfinals. Wednesday's 77-50 triumph over the Longhorns was the Aggies' 11th victory in a row in the series with Texas.
"Right now, we just happen to have their number," Texas A&M coach Gary Blair said. "And Baylor sort of has our number now. We need to change that."
[+] Enlarge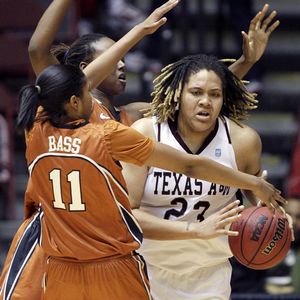 AP Photo/Jeff RobersonDanielle Adams had 23 points and nine rebounds for defending Big 12 tournament champion Texas A&M.
For the No. 2 seed Aggies to get a third chance at top-seeded Baylor, they'll need to get past third-seeded Oklahoma in Friday's semifinals. Of course, Baylor will also have to win its semifinal game, but that's expected. No offense to K-State, but the Wildcats fell 75-48 at Waco, Texas, on Feb. 23 and have lost their past nine in a row to Baylor.
Friday's semifinal will be on the neutral court of Municipal Auditorium, but top-seeded Baylor obviously is a huge favorite.
Meanwhile, even though Texas A&M beat Oklahoma in both their meetings during the regular season, Blair knows the Sooners are a daunting matchup. OU lost three of its last four games entering the Big 12 tournament, but the Sooners won their quarterfinal Wednesday against Texas Tech 71-69.
"You always worry about Danielle Robinson first," Blair said of the Sooners' senior point guard, who had a team-high 19 points against Tech. "And try to make sure that Whitney Hand does not go off on you.
"They live off [3-pointers] a lot of the time. Their post play -- no, it's not great offensively, but defensively, they play help defense well. We did a great job against Texas' guards to force them into a low shooting percentage, and we have to do the same thing against Oklahoma."
The Aggies beat the Sooners by just a basket, 80-78, when the met in Norman, Okla., on Jan. 26. Texas A&M was more dominant -- 92-71 -- in their win against OU in College Station, Texas, on Feb. 9.
However, the Sooners have gone to the Final Four the past two seasons, and coach Sherri Coale's program has won the Big 12 tournament four times.
"What worries you about Oklahoma is their big-game experience," Blair said. "They're not afraid to play the Connecticuts of the world, even when this might be sort of a rebuilding year. I'd love to have a rebuilding year as good as what they have had. There's always good players there, good recruits coming in, and Sherri never graduates."
Neither, though, does Blair, and he was very happy with every aspect of his team's win over Texas, which was held to 32 percent shooting and had 31 turnovers. The Longhorns (19-13) now have to wait to see if they get an at-large bid to the NCAA tournament.
Blair thinks they should, and did his politicking for his fellow league school. He also praised his own squad. Danielle Adams had 23 points and nine rebounds to lead the Aggies, who are the defending Big 12 tournament champions. They also got 14 points each from Tyra White and Sydney Colson, nine from Sydney Carter and eight from Adaora Elonu.
"That was the best defensive game we've played in a long time," Blair said. "And we said we wanted to have balanced scoring. We almost had all five of them in double figures."