Fast-paced UNC up next for Stanford
March, 22, 2011
03/22/11
2:12
AM ET
Stanford successfully protected Maples Pavilion for the 63rd time in a row Monday. Next, the Cardinal's objective will be to protect the glass and their style of play.
That's because No. 5 seed North Carolina will try to get the Cardinal into an up-and-down battle of possessions in their Spokane Regional semifinal on Saturday. It's not that Stanford can't win that way, but the Cardinal would prefer to do it with a more disciplined and controlling offense. Also, the Tar Heels hit the boards hard from all positions, and Stanford will have to counter that.
Spokane Regional No. 1 seed Stanford got off to a bit of a slow start against St. John's in Monday's second round, but then floored it. Stanford left the Red Storm in a cloud of dust, surging to a 75-49 victory behind Nneka Ogwumike's 22 points.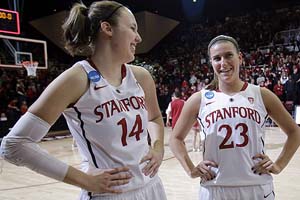 AP Photo/Paul SakumaKayla Pedersen and Jeanette Pohlen never lost at Maples Pavilion in their careers. Stanford has won 63 straight there.
Meanwhile in Albuquerque, N.M., the Tar Heels committed 22 turnovers to No. 4 seed Kentucky's eight, but were the far more successful attacking team. North Carolina was 27 of 30 from the foul line in an 86-74 victory.
The Tar Heels have been a little all over the map in the last month, losing four in a row to end the regular season, then making the ACC tournament title game where they fell to rival Duke, and now advancing to the Sweet 16.
Senior Jessica Breland had 18 points, 10 rebounds and five blocks for the Heels, who also got 22 points and seven rebounds from guard Italee Lucas.
If there's one thing that's usually consistent with North Carolina, it's how relentlessly the Tar Heels rebound. Monday, they walloped Kentucky on the boards, 52-23. Along with Breland, two other Tar Heels snagged 10 rebounds against the Wildcats: guards Krista Gross and Tierra Ruffin-Pratt.
That will be a concern for Stanford, but coach Tara VanDerveer's team has the personnel to be big on the glass, too. Freshman Chiney Ogwumike led Stanford with 12 rebounds against St. John's.
Kayla Pedersen and Chiney Ogwumike average 7.8 rebounds this season, while Nneka Ogwumike is at 7.7. Against North Carolina, the Cardinal might also need some help on the boards from Joslyn Tinkle, who had seven rebounds off the bench Monday.