Gonzaga advances to first Elite Eight
March, 26, 2011
03/26/11
10:20
PM ET
SPOKANE, Wash. -- Gonzaga coach Kelly Graves summed up the effect that his point guard, Courtney Vandersloot, has not just on the outcome of a game, but on those watching it.
"She's mesmerizing," Graves said. "It's hard to take your eyes off her."
It certainly was Saturday, as the senior point guard led the Bulldogs to the program's first Elite Eight and broke an NCAA record while she was at it. Gonzaga beat Louisville 76-69. The No. 11 seed Bulldogs are a victory away from becoming the lowest-seeded team to make the Women's Final Four.
The No. 7 seed Cardinals lost starting post player Monique Reid to a groin injury; she hurt herself stretching before the game, much to the dismay of Louisville coach Jeff Walz. And while Reid tried to come back, she wasn't effective, finishing with just two points in five minutes. That was a tremendous blow to Louisville's hopes in this game, as Reid is so important to the Cardinals' attack. Even so, just as they did in their second-round upset of Xavier, the Cardinals rallied and made Saturday's semifinal a close game.
"They definitely picked up the intensity, and I don't think we really went with them," Vandersloot said of the Cardinals. "It was kind of like we settled for that 20-point lead we had, and this time of year, you can't do that. They also switched that zone, which I think really effected us. Especially me, I wasn't doing the things I had to get us to that point. But down the stretch, we had enough of a lead, and we were lucky enough to make some plays and big steals at the end."
[+] Enlarge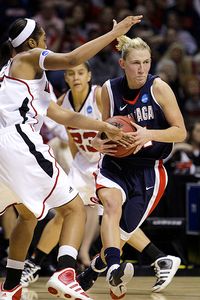 AP Photo/Elaine ThompsonCourtney Vandersloot had 29 points, seven assists, seven steals and five rebounds, and broke the NCAA D-I season assists record.
Yes, unlike Xavier, Gonzaga was able to hold off the comeback. It was a team effort, but Vandersloot was still the story of the night. She had 29 points, seven assists, seven steals and five rebounds. She was all over the court, to the delight of the Spokane Arena crowd that was heavily -- to say the least -- in favor of the hometown Bulldogs.
With her fifth assist of the night, Vandersloot broke the NCAA Division I season assists record (355) held by Penn State's Suzie McConnell. Vandersloot now has 358, and a chance to keep adding to it in Monday's regional final (ESPN, 9 p.m. ET).
The lowest seed previously to make it to the Final Four was No. 9 Arkansas in 1998, but there is a little asterisk with that. The Razorbacks that season were in the region with Stanford as the No. 1, but the Cardinal lost two players to ACL injuries shortly before the tournament started. Stanford was upset by No. 16 seed Harvard in the first round, which most definitely opened up the region.
This year, Gonzaga also has gotten a "lucky" break, if you will, as the school hosted the first two rounds of the NCAA tournament in its gym and now are in Spokane Arena, about five minutes from campus, for the regional.
No doubt it has been a tremendous advantage for the Bulldogs, but so has the play of Vandersloot. She continues to be one of the big stars of the NCAA tournament, and those who haven't see her before now realize what they've been missing.
"She's really a step or two ahead of everybody on the basketball court," Graves said. "Quite frankly, I've run out of adjectives, there's just so much to describe her. No. 1, competitive, No. 2, very skilled. Her vision out on the basketball court is amazing."
The Bulldogs (31-4) led by 11 points at halftime, and it appeared Gonzaga was going to win comfortably. But the Cardinals refused to go down without a fight, led by freshman Shoni Schimmel, who redeemed herself after struggling mightily with her shooting in the first half (1-for-12 from the field).
She finished with a team-high 18 points on 8-of-23 shooting. Keshia Hines had 17 points and Tia Gibbs 16 for Louisville, which ended its season 22-13.
Janelle Bekkering had 15 points for Gonzaga, Kelly Bowden 12 and Katelan Redmon 10. Kayla Standish, after scoring 30 in each of the Bulldogs' first two games, had just eight against the Louisville defense.
But Vandersloot made up for that, and now the regional final is guaranteed to draw another big crowd. There's another chance for the city of Spokane to see the Vandersloot show.
"We expected to be here. We all believed," Vandersloot said. "Regardless of our seed, we knew we had the opportunity of a lifetime. Not a lot of teams get this. And we feel like we have the ability, the team, the fan support to do it. Everything seems to be in the right place at this point."