Ogwumikes help Stanford hold off Tar Heels
March, 27, 2011
03/27/11
1:58
AM ET
Stanford's Tara VanDerveer talks about the Ogwumike sisters' performance against North Carolina and facing Gonzaga in the Elite Eight.
SPOKANE, Wash. -- Last season, Stanford's heart-stopping victory on the way to the Women's Final Four came in the Elite Eight. This year, while it wasn't quite as dramatic as Jeanette Pohlen's coast-to-coast winning layup over Xavier, the Cardinal's 72-65 survival against North Carolina in the Sweet 16 was very tense.
This time, Pohlen -- who had an awful night from the field at 1-of-9 -- sewed up the victory with free throws in the closing seconds. But it was the Ogwumike sisters -- Nneka had 19 points; Chiney 16 points and 11 rebounds -- who primarily saved Stanford.
As anyone who has ever faced the Ogwumikes -- in a game, in practice, on a playground -- could tell you, if one sister doesn't get you, the other one probably will.
"Stanford is fortunate to have even just one of them, but with both of them there, they're going to win a lot of games," North Carolina coach Sylvia Hatchell said. "Even when you get a box-out on them, they're still just everywhere. And they can intimidate on defense, too, with how athletic they are."
Senior Kayla Pedersen also did her part, with 15 points, nine rebounds, five assists and a steal with 25 seconds left that helped the No. 1-seeded Cardinal advance to an Elite Eight matchup with No. 11 Gonzaga on Monday (ESPN, 9 p.m. ET).
While Tennessee did get pushed in the second round against Marquette, Saturday's Stanford-UNC game really was the closest call any of the No. 1 seeds have yet faced in this tournament. It was a two-point game in the final minute, when Chiney Ogwumike made the play of the night for Stanford.
With 40 seconds left and Stanford up just 67-65, Nneka missed a shot inside, but Chiney grabbed the rebound and scored, getting fouled in the process. She missed the free throw, but Stanford still had a four-point lead.
"I always have faith that Chiney is there," Nneka said. "She's very aggressive in every way she can possibly be on the court. I'm just really glad she got that, because it changed the dynamic of the game."
She's right -- even though it was the final minute. With that play, the game went from a feeling of "Wow, Stanford could lose this," to "the Cardinal are in control now."
[+] Enlarge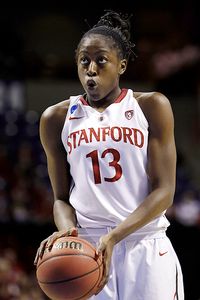 AP Photo/Elaine ThompsonFreshman Chiney Ogwumike tallied 16 points (on 8-for-14 shooting) and a game-high 11 rebounds.
Both Ogwumike sisters -- who were a combined 15-of-32 from the field -- asserted themselves inside at crunch time.
"I definitely felt like I was shooting 3-pointers from the block because it's hard to get the accuracy down in between everybody's arms," Nneka said of the Tar Heels' swarming defenders. "It's like their arms go forever. Really, it was difficult.
"They were fighting hard, and we couldn't extend the lead. I guess you could say that I felt I needed to do a little extra in the closing minutes. But at the same time, I wasn't trying to do too much -- because sometimes then you get crazy and out of control."
Those are adjectives that are sometimes used to describe the Tar Heels' style of play, but give them credit for this effort. In her final college game, guard Italee Lucas had 22 points to lead UNC (28-9). Fellow senior Jessica Breland didn't fare as well. She had just two points on 1-of-13 shooting and seven rebounds.
Every season, North Carolina is loaded with great athletes. Whether they are all very good basketball players is sometimes another story.
But this year's Tar Heels team grew in its basketball ability as the season went along. It might not have seemed like it when the Tar Heels lost their last four games of the regular season, but it became obvious as they advanced to the ACC tournament title game, which they lost to Duke.
Anyone who saw the things the Tar Heels were capable of doing knew they would not be an easy out in the NCAA tournament. And they weren't. While most folks in North Carolina likely were asleep -- the game started around 11:30 p.m. on the East Coast -- and dreaming of Sunday's Elite Eight men's game between the Tar Heels and Kentucky, the UNC women came close to earning their own regional final berth.
Of course, it has always been like this for the Tar Heels women. Even more than at most schools with a hugely popular and successful men's team, the UNC women are typically lost in that large shadow. Plus, the UNC women fell short in recent years on attempts to win their second NCAA title. The Tar Heels might well have been the best women's team in the country in 2006, and perhaps in 2007, too. But both seasons, they lost in the semifinals of the Final Four to the eventual national champion (Maryland, Tennessee).
Saturday, the Tar Heels did a lot right, but when it came down to the final minute-plus and executing, the Cardinal did that better.
"I was hungry. I wanted it so bad, not just for me, but my teammates," Lucas said. "And we were so close. In the last two-minute stretch, it was in our hands."
In the second semifinal of the night at Spokane Arena, the biggest cheers came when Gonzaga's players took their seats to watch Stanford-UNC following their victory over Louisville. Those folks will be back to cheer for the Bulldogs on Monday against Stanford. The Cardinal won at Gonzaga, 84-78, on Nov. 21, so these teams have familiarity with each other.
By contrast, Stanford and North Carolina had not faced each other since the 1995 NCAA tournament. But those who thought this would be a cruise for the top-seeded team against the No. 5 seed Tar Heels were wrong. Stanford really had to sweat for this one.
After Stanford's big victory over UConn on Dec. 30, the Cardinal didn't face many challenges save a comeback win over UCLA in the Pac-10 tournament title game. That is, until Saturday, when the Tar Heels' rebounding was a big factor, as expected.
"They're a very big team, they're very aggressive," Pedersen said. "They're very scrappy. They rebound really hard. They send four to five people to the offensive boards, and that's tough to deal with."
Indeed, UNC did outrebound the Cardinal 50-47. And the Tar Heels' defense used their quickness and physicality to really disrupt Stanford's offensive flow. The Cardinal entered Saturday averaging 80 points per game, and were shooting 49.4 percent from the field. Against UNC, they shot just 36 percent (27-of-75).
Another key issue for Stanford was the struggle from 3-point range, particularly for Pohlen. As a team, the Cardinal were 4-of-21 from behind the arc, with Pohlen 0-for-7. But she did make the big free throws with 16 seconds left.
And Stanford had only seven turnovers, preventing the Tar Heels from getting many easy baskets.
So Stanford was able to breathe a sigh of relief after this one. Now comes a Gonzaga team that might be seeded 11th, but is playing very well and will have the loud crowd behind them.
But Stanford, after such as scare from the Tar Heels, has to be glad to have the opportunity to face that.
"The matchup is going to be a challenge," Nneka Ogwumike said of meeting the Bulldogs. "They have a lot of fine shooters, and I think it's going to be up to our aggressive defense, taking care of the ball and hitting shots. Because tonight we didn't shoot too well."
Yet when the Cardinal most needed a basket, they got one.