After a forgettable first half, defending champs sharpen up
AP Photo/Michael Conroy
Sizing up the defending champs
By Graham Hays
ESPN.com
WEST LAFAYETTE, Ind. -- Oral Roberts didn't shock it and Tennessee didn't set it on fire, so it would seem the world can sleep easy for at least one more night. Although if the rest of the Oklahoma City Regional still finds itself shuddering involuntarily at the sight of traffic cones or orange soda, we'll understand. Top-seeded Tennessee's title defense began with a sometimes sluggish but ultimately decisive 94-55 win against No. 16 seed Oral Roberts. This wasn't Maryland struggling into the second half against Coppin State, but it might not end up on many highlight reels, either. It took Pat Summitt all of 54 seconds to spring out of her seat on the bench, dismayed at an early miscue by Alberta Auguste, starting for just the fourth time this season. And it didn't get better much better before halftime. With less than three seconds left in the first half, Summitt called a timeout after an Oral Roberts free throw cut the lead to 48-34. The ensuing inbounds was nearly picked off before being deflected out of bounds, a sequence that actually improved Tennessee's situation until that inbounds landed squarely in the hands of an Oral Roberts player. Given that her team ultimately pulled away to win by a margin that can only be classified as a rout, Summitt almost could have been expected to break out a sarcastic reprise of John McKay's suggestion that when it came to the team's execution, he was in favor of it. Instead, coming off a more clinical closing run, Summitt was stoic after the game. "I thought in the fist half we played like we'd had a two-week break," Summitt said. "[We] obviously had a very difficult time just getting our defensive intensity where it needed to be. Second half, much better effort. I thought we settled down, played better defense … It was hard for us at times to get into a rhythm; the game didn't flow very well at times. But it's a win, and when you get in the postseason, it's all about survive and advance. We're going to take this one and move forward." And there were reasons for future opponents, beginning with Purdue on Tuesday (ESPN2, 7 p.m. ET), to worry about what they saw. Re-establishing herself as one of the best big-game players around, Alexis Hornbuckle was one of the only Lady Vols who looked ready to play in a championship game (although a couple of debatable fouls had more to do with Candace Parker's quiet night than anything else she did on her way to 14 points in 18 minutes). Just as important, considering Hornbuckle wasn't a question mark to begin with entering March, freshman Angie Bjorklund came off the bench and produced. A non-factor in 19 minutes in the SEC championship game, Bjorklund chipped in 16 points and seven rebounds against Oral Roberts. She also hit 4-of-10 shots from behind the arc after dropping off from distance during conference play. On Saturday, Summitt talked about her team's need for bench production. And while one of Bjorklund, Auguste and Alex Fuller will technically be a starter each game, all three essentially represent the additional contributions -- and consistency -- the coach was talking about behind Parker, Hornbuckle, Nicky Anosike and Shannon Bobbitt. Speaking of Anosike, the senior offered a prescient take on what would follow during Saturday's news conference. "We know from experience that when you don't start out the way you should, that kind of has a trickle effect on the rest of the way," Anosike said. But perhaps when you have the experience of knowing what it takes to play six games and come out with a trophy, 20 forgettable minutes just free up the highlight reel for better material.
Houston, Hunter come up big for Huskies
By Mechelle Voepel
ESPN.com
BRIDGEPORT, Conn. -- Brittany Hunter's reconstructed right knee isn't ever going to allow her to develop into the superstar that many envisioned she'd be when she came out of high school. She has had to make peace with that. When was she able to do it? "Probably the end of last season," Hunter said. "I was saying it to myself before that, but I don't think I really bought into it. I was still trying to do stuff like take off from the foul line for a layup, or trying to rebound over five people. "I had to change things and be more tactical. I had to pay attention to detail more. In some ways, I think it made my game that much better. It feels really good now -- like everything's coming full circle.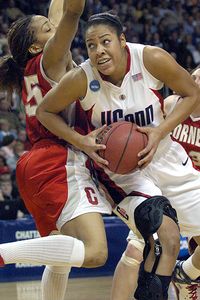 AP Photo/Jessica Hill
Brittany Hunter scored 11 points on 5-for-6 shooting and blocked two shots.
Hunter, of course, spent her first season at Duke before following her heart and going to Connecticut. Now here she is, a senior for a top-seeded Huskies team that is gunning for another national championship. UConn looked great -- really clicking on all cylinders -- in its 89-47 first-round victory over Cornell in the first round here Sunday night. These types of early-round games can sometimes be deceiving -- such as when the favorite wins big, but doesn't play particularly well. That wasn't the case with UConn, though. Coach Geno Auriemma was very clearly pleased -- and how often is that the case? -- with the all-business mentality his Huskies showed. Freshman sensation Maya Moore led four Huskies in double figures with 17 points. "I thought we were in a great frame of mind," Auriemma said. "I wanted to see us play with a lot of energy and come out where our defense was going to dictate what happened in this game. And I thought we did that." And you could tell he was also happy for Hunter, as well as fellow senior Charde Houston. Both started their final NCAA tournament as true contributors.
More …
France's last stand
By Graham Hays
ESPN.com
WEST LAFAYETTE, Ind. -- Over a game or a career, it's not necessarily about how many points you score. It's about when you score them. Kalika France got a late start on her Purdue basketball career, so it's understandable that she was eager to add one more night to the team's schedule at Mackey Arena. And thanks in large part to 17 points from France, including 12 first-half points, ninth-seeded Purdue will get another game at home this season after beating 8-seed Utah 66-59. France's final points came with more than 16 minutes left to play, but the final 33 points provided by her teammates might not have meant much without them. Held in check by Utah's half-court sets through a first half in which neither team reached 30 points, Purdue found itself on the wrong end of momentum when Morgan Warburton scored four consecutive points early in the second half to extend Utah's lead to 33-28. But after providing most of the offense in the first half, France came through once more with five quick points on a 3-pointer and a transition layup off FahKara Malone's steal. "That's what she did for us in the Big Ten tournament; that's what she did Senior Night," Malone said. "She carried us, and that's what she continues to do for us. We talked before the game, and I just told her, 'Don't hesitate.' Because when she hesitates, it's not in rhythm. And she was in rhythm the entire first half and even going into the second half." A transfer who played her first two and a half college seasons at Maryland and will get just this one full season in West Lafayette, France is Purdue's fourth-leading scorer. She's also the only player who scored Sunday who won't be back next season. Purdue has a bright future regardless of what happens Tuesday night. Injured regulars Lindsay Wisdom-Hylton and Jodi Howell will return to a lineup improved by this season's experience. But for France, it's all about right now. "She's a senior leader," coach Sharon Versyp said. "She doesn't want her season to end."
Irish glass more than half full
By Graham Hays
ESPN.com
WEST LAFAYETTE, Ind. -- Fifth-seeded Notre Dame had one post player on the bench in street clothes and a leg brace, another nearby her in uniform but also in foul trouble, and a third on the court with only one healthy hand. In other words, the Fighting Irish had No. 12 seed SMU right where they wanted it. "It's not like they're a big team," SMU coach Rhonda Rompola said after her Mustangs dropped a 75-62 decision that was in doubt until the final few minutes. "They flat outhustled us."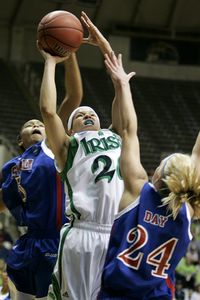 AP Photo/Michael Conroy
Ashley Barlow had 20 points and a career-high 12 rebounds, including five offensive.
Notre Dame finished with 49 rebounds, 23 more than SMU. Muffet McGraw's team almost had as many offensive rebounds -- 24 -- as SMU had in total. Guards Charel Allen and Ashley Barlow led the way on the glass for the Fighting Irish, combining for 23 rebounds (they also totaled 34 points in a command performance). When standout freshman Devereaux Peters was lost for the season with a torn ACL after a game against Pittsburgh on Feb. 10, McGraw called a team meeting with a simple numerical message for her team. "Coach was just like if everyone averages one more point and one more rebound -- I think she [Peters] averaged like eight and eight -- then that would take care of it statistically," Allen recalled. "But we're just missing her presence." A senior in her final NCAA tournament, Allen then paused and added rather wistfully, "She'll be great next year. I'm sorry I won't get to play with her." With Peters out and Erica Williamson, who has played well in expanded minutes since the injury, on the bench in foul trouble against the Mustangs, freshman Becca Bruszewski took over. Playing with her off hand wrapped after recent surgery on a finger, Bruszewski totaled 16 points, four rebounds, a block and a steal in 27 minutes. "You don't expect a freshman to show up in the NCAA tournament and get a career high," McGraw said. Notre Dame rolled to an 18-5 start in part because of the security Peters provided as a source of second-chance points on offense and a line in the sand on defense. And at least on this day, the Fighting Irish recaptured that groove by playing as if each player had a piece of Peters in their game -- one rebound and one point at a time.
Ugly does it for OU
By Graham Hays
ESPN.com
WEST LAFAYETTE, Ind. -- Sunday wasn't the last time this season that Oklahoma will take the court wearing the white uniforms of the higher seed, but the Sooners' NCAA tournament fate might well hinge on how well they play the role of overachievers in red. If they need a blueprint, Sunday's opponent certainly offered one. Despite the fact that it found itself playing defense against an opponent with the ball and a chance to tie the score in the final minute of the game, fourth-seeded Oklahoma held on and advanced to the second round with a 69-61 win against 13-seed Illinois State. The Sooners came out shaky, built a big lead in the opening minutes of the second half and then held on for dear life against a furious rally. It was a win; it wasn't a work of art. All of which means that while Sherri Coale's team might well enter Tuesday's second-round game against fifth-seeded Notre Dame as the favorite based on seeding, Sunday's result will reaffirm the notion that a crowd dominated by green won't be the only thing working against Oklahoma when the ball tips against the Irish. For those looking for an emphatic declaration out of a team that lost its final three games leading up to the NCAA tournament, including a quarterfinal loss to Missouri in the Big 12 tournament, the win against Illinois State was more of a policy statement. But if there wasn't an exclamation mark in a game that saw Illinois State whittle away Oklahoma's 17-point lead and Courtney Paris attempt just five field goals, there was evidence of how the Sooners will make their stand this month. The truth is, they are a team learning how to make the most of attributes which lend themselves to ineloquence. They're learning how to win ugly.
More …
Player of the day

BRIDGEPORT, Conn. -- My best friend in Kansas City -- who I can assure you, having to listen to me yak all the time, pays a
lot
of attention to women's basketball -- called me completely stunned on Sunday afternoon. "If someone would have asked me before today who
Kelsey Nelson
was," my buddy said, "I would have said, 'Is she one of the contestants on 'American Idol?'" Nope. On Sunday, Nelson was the most improbable NCAA Tournament "idol" I can ever remember seeing. Nelson had 20 points and six rebounds in Kansas State's 69-59 victory over Chattanooga. This is like someone going to Vegas for the first time, ending up at a craps table with no previous history of winning a cent, and walking away with $10,000. Actually, it might be more unlikely than that. Nelson had not even played in K-State's last game, a Big 12 tournament loss to Iowa State. In fact, she had played just 77 total minutes in 13 games this season. She had scored 23 points as a Wildcat, playing her first season for K-State after transferring from Cloud County Community College. Until Sunday, the only thing Nelson might have been known for in the K-State community was being the sister of Jordy Nelson, a standout wide receiver for the Wildcats' football team. But that all changed with an unforgettable afternoon -- she proved that even when it seems like someone comes out of nowhere, there is always a reason she was able to do it. In Nelson's case, that reason was she came to practice every day and worked at her game. Sounds simple … yet when a series of events happened to open the door for her, she was ready to walk through. K-State lost senior guard Kimberly Dietz to a knee injury in the Big 12 tournament. Then the player who has been the Wildcats' most consistent reserve, Danielle Zanotti, injured her back and was out for Sunday's game. K-State is not a deep team, and there just weren't a lot of options for coach Deb Patterson. She acknowledged that Nelson had been playing well recently in practice. But still … "For her to perform at this level is really impressive -- certainly not something you could put on someone's shoulders before the game and say, 'Gosh, you need to do this,'" Patterson said. "We knew we were going to need quality play from her and production, but she rose up and was just tremendous." Nelson was born in Manhattan, Kan., which is where K-State is located, and went to Riley County High School. She was a solid junior-college player, but with the senior Dietz being so reliable this season until getting hurt, there wasn't much chance for Nelson to show she could excel at the Division I level. Until the Wildcats reached the biggest stage, that is. She made 6 of 11 shots from the field and all seven of her free-throw attempts in 27 minutes of play. "You've just got to show up every day and work hard," Nelson said. "And that way, if your time comes, you're prepared. And if it doesn't come … well, you just keep working hard until it does."
-- Mechelle Voepel
Nelson lifts K-State past Chattanooga
Sunday's magic number
The Big 12 made a little NCAA tournament history on Saturday and Sunday, becoming the first conference in Division I history to go 8-0 in first-round games. The Big East went 6-2 (DePaul and Syracuse lost). The Big East was 7-1 in the first round last season. A look at how other leagues fared in the first round after placing eight teams in the field of 64: 2004: Big East 5-3
2002: SEC 6-2
1999: SEC 6-2
Sunday's NCAA tournament first-round scores
•
GREENSBORO
Old Dominion 82, Liberty 62
Connecticut 89, Cornell 47
Texas 72, Minnesota 55
Virginia 86, UC Santa Barbara 52 •
NEW ORLEANS
Kansas State 69, Chattanooga 59 North Carolina 85, Bucknell 50 Louisville 81, Miami (Ohio) 67 Georgia 67, Iowa 61 •
OKLAHOMA CITY
Oklahoma 69, Illinois State 61
Notre Dame 75, SMU 62
Purdue 66, Utah 59
Duke 78, Murray State 57
Tennessee 94, Oral Roberts 55
Arizona State 61, Temple 54 •
SPOKANE
Nebraska 61, Xavier 58 Maryland 80, Coppin State 66
For all scores, click here.
UConn cruises past Cornell in opener
On Tap For Monday
All games on
ESPN2
(all times Eastern)
•
GREENSBORO
No. 6 George Washington vs. No. 3 Cal (8 p.m.)
No. 7 Iowa State vs. No. 2 Rutgers (9 p.m.) •
OKLAHOMA CITY
No. 10 Hartford vs. No. 2 Texas A&M (9 p.m.) •
NEW ORLEANS
No. 7 Marist vs. No. 2 LSU (7 p.m.)
No. 11 Florida St. vs. No. 3 Oklahoma St. (7 p.m.)
•
SPOKANE
No. 6 Pittsburgh vs. No. 3 Baylor (7 p.m.)
No. 5 West Virginia vs. No. 4 Vanderbilt (9 p.m.)
No. UTEP vs. No. 2 Stanford (10 p.m.)
Click here for Monday's coverage map. For the full schedule, click here.
Maryland escapes Coppin State
On Tap For Tuesday
All games on
ESPN2
(all times Eastern)
•
GREENSBORO
No. 5 Old Dominion vs. No. 4 Virginia (7 p.m.)
No. 8 Texas vs. No. 1 Connecticut (9 p.m.) •
OKLAHOMA CITY
No. 6 Arizona State vs. No. 3 Duke (7 p.m.)
No. 9 Purdue vs. No. 1 Tennessee (7 p.m.)
No. 5 Notre Dame vs. No. 4 Oklahoma (9 p.m.) •
NEW ORLEANS
No. 5 Kansas State vs. No. 4 Louisville (7 p.m.)
No. 8 Georgia vs. No. 1 North Carolina (9 p.m.) •
SPOKANE
No. 8 Nebraska vs. No. 1 Maryland (9 p.m.)
For the full schedule, click here.
Bucknell no match for North Carolina
If at first you don't succeed …
Coaches love to talk about using the sideline as a sixth defender, but Oklahoma Sherri Coale might as well preach about using the rim as a sixth distributor. Oklahoma collected 15 offensive rebounds and 12 second-chance points against Illinois State, and that was actually a below-average performance for the Sooners. Although Coale suggested after the game that her players were perhaps too willing to keep shooting jump shots late in the game, despite yet another rough day from the field, having Courtney and Ashley Paris in the paint does tend to ward off shot-taking timidity. "We're one of the best rebounding teams in the country," Ashley Paris said. "We're not always going to make them, but I think everybody is pretty confident about our ability to get the rebounds." If at first you don't succeed, wait for one of the Paris sisters to get the rebound. -- Graham Hays
Tennessee routs Oral Roberts