Sweet 16 full of Big East flavor
AP Photo/Ed Betz
Big East's success not exactly a surprise
By Mechelle Voepel
ESPN.com
There wasn't any drama during top-seeded Connecticut's 89-55 demolition of Texas on Tuesday night. But it did get pretty exciting in the Huskies' locker room afterward. That's because the Notre Dame-Oklahoma overtime epic was on television, and the UConn players were keeping an eye on the tube and cheering for the Irish while doing their postgame interviews. "Oh, my goodness," UConn guard Renee Montgomery said, interrupting herself while answering a question. "Notre Dame is going to win this game!" The Irish's 79-75 victory was the second fantastic finish of the night, after ODU beat Virginia 88-85 in overtime. Notre Dame's win meant the Big East has five teams in the Sweet 16, the most of any conference since the Big 12 had that many in 2002. And the Big East's success this year came at the expense of the Big 12. The two leagues both got eight teams in the NCAA tournament, but then the Big East went 5-0 in head-to-head matchups with the Big 12 in the second round. I've lived and worked in Big 12 territory for 12 years now -- and grew up there, too -- so I usually feel pretty plugged in on the Jumbo Dozen. Let's put it this way: I have absolutely no excuse
not
to be plugged in. And I can honestly say -- not trying to sound like some know-it-all -- that I'm not surprised at what has happened. Gosh, I even have "documented evidence" for a change -- I said in an ESPN.com chat in January that I thought the Big East was the best league. Um, now don't go holding me to everything I say in those chats … just the stuff that proves right. It's not like success is new to the Big East, because UConn has five NCAA titles among its eight trips to the Final Four; Notre Dame has one title and an additional trip to the Final Four; and Rutgers has been to the Final Four twice. But with teams such as Pittsburgh and Louisville making their first Sweet 16 appearances in program history, this is a landmark season for the Big East. The Big 12 was a good league this season with exceptional parity, but a lot of teams were young and/or had holes that were bound to show up in NCAA tournament play. Two of the Big 12 teams that made the field, Texas and Iowa State, were both 7-9 in the league. I thought both deserved to get in, but that neither would last past the first round. League regular-season champion Kansas State was a gritty team that really got the most out its ability, but then lost leading scorer Kimberly Dietz to a knee injury in the Big 12 tournament. I don't think the Wildcats would have been able to beat Louisville, though, even with a healthy Dietz. Louisville was too quick, too big, too athletic, too smart and too versatile for K-State to upset the Cardinals, who won 80-63. The other Big East wins against the Big 12 were Pittsburgh over Baylor and Rutgers over Iowa State. Notre Dame beating Oklahoma is an upset in terms of seeding, a No. 5 over a No. 4. But considering how much the Sooners struggled at the end of this season -- they lost four of their last five -- this was hardly unpredictable. And once OU lost to 12th-seeded Missouri in the Big 12 tournament, the Sooners' NCAA prospects were in question. But … that's not to take away from Notre Dame's victory. The Irish really have a thing about beating up on the Big 12 in the NCAA tournament, by the way. The first year of the Big 12, 1997, No. 6 seed Notre Dame beat third-seeded Texas. The next year, the No. 9 Irish shocked top-seeded Texas Tech. And in 2003, No. 11 Notre Dame beat No. 3 Kansas State. All of those Irish victories happened on the Big 12 team's home court. On Tuesday, the UConn players were sending their Irish "sisters" good vibes in West Lafayette, Ind. Montgomery said she was rooting for all the Big East schools in the tournament. "There is a bond after you've played against somebody for a long time," said Montgomery, a junior guard. "Even if you don't really know the players on the other team. That's what it is right now -- I just want everyone in the Big East to win. Including Rutgers, if you were wondering that. They're still in the Big East, so I'm still cheering for Rutgers." The Scarlet Knights, of course, are the Huskies' most contentious rival now in the Big East, and they could meet in the regional final at Greensboro. But until then … the Huskies are saying, "Go Rutgers!" UConn coach Geno Auriemma grinned when asked about the Big East's success. "We knew going in that we had some really good teams in our league," he said. "Then you hope that it plays out in the tournament. I just think our style of play in this league is good enough that it prepares you because of the diversity and variety of styles that you have to face. "The kind of athletes that we have … if you haven't played against [Louisville's] Angel McCoughtry, you're going to have a problem with her. Same with [Pittsburgh's] Marcedes Walker and [Notre Dame's] Charel Allen. And, obviously, the Rutgers kids." It goes without saying that his own kids, led by Maya Moore, are great, too. "We have been saying all along that it's the best league in the country, and what do we have -- five teams in the regionals?" Auriemma said. "Man, that's a lot, huh? Woo-hoo!"
Defending champs get defensive
By Graham Hays
ESPN.com
WEST LAFAYETTE, Ind. -- A sloppy opener behind it, Tennessee got down to the business of defending its national championship Tuesday night against Purdue. And for Pat Summitt, who collected the 100th NCAA tournament win of her career with the 78-52 victory, that task is less a cliché than a game plan. "I'm very proud of our basketball team and how they came in and committed to playing great defense," Summitt said. "I told them after the game we had about 30 minutes of the best defense we've played all season."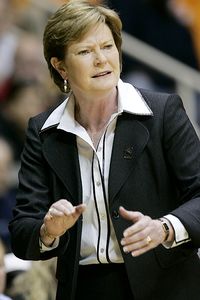 AP Photo/Michael Conroy
Tennessee's win over Purdue on Tuesday marked Pat Summitt's 100th NCAA tournament victory.
That defense forced 24 turnovers against 12 assists, including 15 first-half turnovers, and limited the ninth-seeded Boilermakers to 37 percent shooting and 10 offensive rebounds. Top-seeded Tennessee gave up 34 points on 57 percent shooting in the first half of its first-round game against 16th-seeded Oral Roberts, a team that went 10-8 in the lightly regarded Summit League and lost its best player to an injury in the first minute of Sunday's game. So when Purdue's Lakisha Freeman hit a baseline jumper with just more than a minute to play in the first half of Tuesday's game and brought the black-and-gold portion of the crowd inside Mackey Arena to its feet, you might have thought history was repeating itself. Except Freeman's basket brought the score to 37-20 in favor of the team from Knoxville, Tenn. In a building that has a national championship banner on the wall, it's difficult to imagine too many other standing ovations have greeted the Boilermakers upon their reaching 20 points after playing 19 minutes. Or that this one, however short its shelf life, was well earned by a team that appeared headed for a single-digit total for most of the opening stanza. Not that Summitt shared the compassion; she called a timeout after Freeman's bucket. "I firmly believe if you want to survive and advance and have a chance to win a championship, that you have to bring your defense and your board play every night," Summitt said the day before the game. "We've had some really ugly outings on offense in the postseason. Even in our championship game last year, it was an ugly win -- but much better than a pretty loss. And sometimes that comes at this time of the year. The pressure is much greater, the defense is much better, so we understand we may not shoot the basketball as well."
More …
Notre Dame's Allen puts in performance for the ages
By Graham Hays
ESPN.com
WEST LAFAYETTE, Ind. -- Notre Dame has been reminded time and again this season that there are more important things in life than basketball. And that any game, even one in which the winner goes on and the loser goes home, is ultimately just a game. But oh, what a game this was. Behind a career-high 35 points from senior guard Charel Allen, fifth-seeded Notre Dame recovered after losing a lead in the last minute of regulation and rallied from a five-point deficit in overtime to defeat 4-seed Oklahoma 79-75. With the win, Notre Dame's four seniors advance to the Sweet 16 for the first time and await top-seeded Tennessee on Sunday. Allen's performance was one for the ages, and certainly the top performance of the first two rounds of this year's tournament. Given the back-and-forth nature of the contest at Mackey Arena, it topped even the 44 points Stanford's Candice Wiggins scored Monday. "It's incredibly rewarding to have your team leave it all out there, to play as hard as they can, to continue to fight back after losing the lead," Muffet McGraw said. "You know, they go up five in overtime and we just never gave up. And I think that is something -- we haven't faced a lot of adversity on the court. We've faced plenty of it off the court. But I think that prepared us for it. They're fighters and now they know this is how we can win." None more so than Allen, an unsung first-team All-Big East guard who makes her basketball living hitting mid-range jumpers and getting to the basket off the dribble.
More …
Player of the day

With all due respect to Old Dominion's Jazzmin Walters and her NBA-range, game-winning 3-pointer in overtime,
Charel Allen
played an even bigger role in her team's overtime victory. The Notre Dame senior guard willed the Irish into the Sweet 16, scoring a career-high 35 points -- including 10 points in the final minutes of regulation to send the game into overtime -- despite spending most of the game in foul trouble. Allen's tenacious defense and free throws in the game's final minute sealed the win for Notre Dame, but perhaps even more impressive is her final stats: 3-for-3 from 3-point range, 12-of-12 from the line. That's the definition of clutch.
-- Lauren Reynolds
Notre Dame downs Oklahoma in overtime
Tuesday's second-round scores
•
GREENSBORO
Old Dominion 88, Virginia 85 (OT)
Connecticut 89, Texas 55 •
NEW ORLEANS
Louisville 80, Kansas State 63
North Carolina 80, Georgia 66 •
OKLAHOMA CITY
Tennessee 78, Purdue 52
Duke 67, Arizona State 59
Notre Dame 79, Oklahoma 75 (OT) •
SPOKANE
Maryland 76, Nebraska 64
For all scores, click here.
Old Dominion tops in-state rival Virginia in OT
On Tap For Saturday
(all times Eastern)
•
NEW ORLEANS
No. 4 Louisville vs. No. 1 UNC (ESPN, noon)
No. 3 Oklahoma St. vs. No. 2 LSU (ESPN, 2 p.m.) •
SPOKANE
No. 4 Vandy vs. No. 1 Maryland (ESPN, 9 p.m.)
No. 6 Pitt vs. No. 2 Stanford (ESPN2, 11:30 p.m.)
For the full schedule, click here.
McCoughtry, Bingham lead Louisville
On Tap For Sunday
(all times Eastern)
•
GREENSBORO
No. 5 Old Dominion vs. No. 1 UConn (ESPN, noon)
No. 6 GW vs. No. 2 Rutgers (ESPN2, 2:30) •
OKLAHOMA CITY
No. 3 Duke vs. No. 2 Texas A&M (ESPN2, 7 p.m.)
No. 5 Notre Dame vs. No. 1 Tenn. (ESPN2, 9 p.m.)
For the full schedule, click here.
UNC puts away Georgia with 20-0 run
New Orleans at a glance
Saturday's Louisville-North Carolina matchup has the makings for a very entertaining game, especially with North Carolina averaging more than 80 points a game and Louisville not far behind at 75 ppg. Both teams are well balanced and good rebounding clubs that are at their best when they play up-tempo. Louisville's Angel McCoughtry has proven she can score on the best defenders in the country, and North Carolina's Erlana Larkins is a relentless low post player who could create problems for the Cardinals. Their strengths are similar. Led by Rashanda McCants, the Tar Heels have been a balanced team offensively all season, with five players averaging double figures. Louisville has learned to play better with McCoughtry and has become an attack with multiple weapons, like forward Candyce Bingham. Both sides have strong front lines and speedy perimeter players. Rebounding will be a key statistic as both teams rely on controlling the glass to win. The key should be the play at the point. UNC freshman Cetera DeGraffenreid has been consistently steady without making costly mistakes. She can be a disruptive defender who leads the Heels in steals. Louisville's Patrika Barlow is a dazzling distributor who led the Big East in assists -- but also fouled out of five games. Taking care of the ball will be at a premium for these two. In the regional's second game, LSU will have a decided home-court advantage -- not to mention a significant edge in experience. The Lady Tigers have a roster of players that have been here before, while none of the Cowgirls have played in a Sweet 16 -- let alone consecutive Final Fours. The key matchup will be the "matchup" -- as in the zone Oklahoma State likes to play and hopes it can use to force someone other than Sylvia Fowles to produce points. Oklahoma State will provide several different looks out of the zone, looking to limit Fowles as much as possible -- and hope none of the other Tigers has a big night.
-- Beth Mowins
(* Check back later this week for more.)
Top-seeded Terps hold off Huskers