Welcome to the party, Texas A&M
AP Photo/Sue Ogrocki
Texas A&M establishes itself as one of nation's eight best teams
By Mechelle Voepel
ESPN.com
NEW ORLEANS -- It worked out the way it was supposed to, or at least as it was seeded by the selection committee. Every regional final is a No. 1-No. 2 matchup … and the bet here is that most women's basketball fans are going to zoom in on the Oklahoma City Regional as the most "uneven" of those games. That's because second-seeded Texas A&M is the new kid on the block in this Elite Eight. The other seven programs -- UConn, Rutgers, Tennessee, North Carolina, LSU, Stanford and Maryland -- all have been to the Final Four. Five of them have won an NCAA title; Rutgers and LSU being the exceptions. Then there's A&M, the "football school" where games on the gridiron are treated like these weird religious -- or maybe pagan is more accurate -- rituals that Aggies fans think are perfectly normal. Except … A&M isn't just a football school at all. That's certainly what people there are most passionate about, and always will be. It is
Texas
, after all. But A&M seems to have a vibrant athletic department, and women's hoops coach Gary Blair has been building a fan base for his program since he arrived in 2003. With Texas A&M's 77-63 victory over Duke and Tennessee's 74-64 win over Notre Dame in Oklahoma City, Blair finds himself again facing Pat Summitt, with whom he is quite familiar from his days at Arkansas. They met in the 1998 Final Four, when Blair's Arkansas team became the lowest seed (No. 9) ever to get that far. Arkansas was not much of a match for the greatest Tennessee team ever, the exalted 39-0 bunch, but Blair got the most out of his group that season. He has done the same this year, getting A&M past a rocky start in Big 12 play and then guiding the Aggies as they got things on track and picked up confidence as each game went by. A&M has never made it to a regional final before, whereas it seems as if Tennessee is in the Elite Eight even before each season even starts. Not that the Irish didn't make Summitt's crew work for it Sunday. Notre Dame probably won't take much solace in that, but it should. It was yet another example of how well the Big East prepared teams for the NCAA tournament this season. The Irish have a history of playing better than their seed anyway, but it was pretty clear that Big East competition made a difference in this tournament. Which, of course, means Big East followers are all the more chagrined that their two teams left in the field, UConn and Rutgers, have to face each other in the Greensboro Regional final. They don't think they should have to battle for a spot in the Final Four. Meanwhile in New Orleans, North Carolina and LSU are thinking the same thing: "Hey, why are we playing now? Shouldn't we both be No. 1 seeds?" Out west in Spokane, Maryland and Stanford are pretty sure the game they will play is virtually the equivalent of a national championship matchup. From 2004-06, the Cardinal lost three consecutive Elite Eight games, by two, seven and three points. Now Stanford fans are probably vacillating between an outward offended feeling of, "What, does nobody think we can do this? Hah! We'll show them!" and an inner fear of, "Oh, no, what if we can't do this? Can I live through this disappointment again?" And what I would wager that fans (and probably coaches, although they wouldn't admit it) of six teams other than Tennessee are thinking: "Why didn't
we
get to play Texas A&M in the regional final?" Because the new kids are typically going to be thought of as the weakest link. There isn't a history at Texas A&M to look back on the way there is with the other seven. The Aggies' only previous Sweet 16 was in 1994, when they were run over by a Purdue team on its way to the Final Four. As recently as March 2003, when A&M completed its seventh consecutive losing season, I figured there was as much chance the Aggies could go to a Final Four as there was that I would win the Olympic gold in downhill skiing someday. It was that ridiculous, because A&M wasn't even a competitive program in the Big 12. Things changed as soon as Blair came in because he brought years of credibility and success with him. Still, A&M is the team that actually could deliver that hackeyed sports cliché, "Nobody expected us to be here," and it wouldn't make me roll my eyes. With the other seven, I would. In exaggerated, silent-movie fashion. Seven of the eight still alive are "supposed" to be here. They'd been identified for pretty much the entire season. Who that eighth team was -- that has been more of a mystery. Now that team has stepped forward, and no matter what anybody else thinks, the Aggies are sure they belong. You know what? They do. People might gripe at the "predictability" of having all 1-2 regional finals, but that's only because people always need something to gripe about. I'd rather see the best eight teams, and with the exception of respectful nods to the Irish and Louisville (Big East props again), these are the eight best. What more could you want from regional finals?
Hobbled Hunter still finds ways to help Huskies
Graham Hays
ESPN.com
GREENSBORO, N.C. -- Perhaps she's not quite on par with Willis Reed or Kirk Gibson in the canon of one-legged sporting saviors, but Brittany Hunter can limp the limp. As much as the final score made Sunday's 78-63 win against Old Dominion look like little more than business as usual for the tournament's top seed, it didn't start out that way. For most of the first half, Connecticut looked about as focused as a typical college student at the end of the weekend. One of the best rebounding teams in the country ceded control of the paint for long stretches against the Lady Monarchs. By coach Geno Auriemma's own count, only two of Old Dominion's 13 field goals in the first half came on jump shots.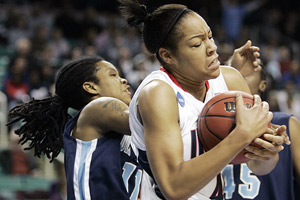 AP Photo/Elise Amendola
Brittany Hunter's troublesome knee didn't get in the way Sunday. "Unless it falls off, I'm playing on it," she said.
The Huskies owned a 43-33 halftime lead because they were the better team, not because they had played a better -- or even equivalent -- game. "[Thirty-three points] is not a lot until you figure that 27 of them came from layups and second shots and stuff around the basket," Auriemma said. "Once we took care of that, and it's all that -- contain the dribble, get a hand up on a shot, box out, no second shots. If you do those things every night, you can win every game. You can win every game." If not for an opening salvo out of the break from Hunter that staked her team's claim to the post space Auriemma coveted on both ends of the court, it may have cost them.
More …
Rutgers finds no satisfaction in Sweet 16 win
By Graham Hays
ESPN.com
GREENSBORO, N.C. -- Lots of teams talk about not wanting to beat themselves, but Rutgers put a new spin on the old adage in proving it had learned how not to lose to itself.
One year and six days after one of the biggest wins in program history on the same Greensboro Coliseum court on which it played Sunday's game, second-seeded Rutgers held off No. 6 seed George Washington 53-42. With the win, Rutgers earned a rubber match with top-seeded Connecticut on Tuesday night (ESPN, 9 p.m. ET) after the teams split regular-season games. Not that any of the Scarlet Knights seemed all that pleased with the accomplishment. Sunday's game wasn't a thing of beauty, as promised to be the case in a battle of two outstanding defensive teams, and the victors seemed more sullen than satisfied.
More …
UNC seeks third straight Final Four; LSU wants fifth in a row
By Mechelle Voepel
ESPN.com
NEW ORLEANS -- Coach Van Chancellor would prefer that this not be about him. You know, none of that "Let's get the old guy to his first Final Four!" stuff. He dismissed such sentimentality, saying it's really all about the players. That said, Chancellor's long history in this sport is indeed a part of the story when second-seeded LSU meets No. 1 seed North Carolina in the New Orleans Regional final Monday (ESPN, 7:30 p.m. ET). And we're going to get to that -- whether he wants us to or not. First, though, we'll give you a gauge of these two squads, both of whom have so much experience. All the players on both sides seemed pretty loose Sunday, and it's understandable why. They've been here before. LSU is trying to make its fifth consecutive appearance in the Final Four, while Carolina is going for three in a row. The nerves might set in during the afternoon before Monday night's game, as they think about how much is as stake. LSU will get the advantage of playing 80 miles from its campus and having more purple people than sky-blue people in the stands. Plus all five LSU starters -- Sylvia Fowles, Quianna Chaney, RaShonta LeBlanc, Ashley Thomas and Erica White -- are seniors. So LSU does have that edge, too, in that UNC has one starter -- guard Cetera DeGraffenreid -- who is a freshman and hasn't been at this stage before. Then again, she has never looked rattled all season.
More …
All chips on the table for Terps, Cardinal
By Ted Miller
ESPN.com
SPOKANE, Wash. -- Forget a trip to the Final Four. That's secondary. This is a good old-fashioned grudge match, which is admittedly peculiar considering these two teams have almost no history of knocking heads. Between Maryland and Stanford, it's difficult to figure out which is flaunting a bigger boulder on its shoulder. It's East Coast (they play basketball out West?) vs. West Coast (that darned, biased East Coast media!). It's the team that many thought deserved a No. 1 seed from the NCAA selection committee (the Cardinal) and the one that got it (the Terrapins). It's Stanford going all hoity-toity and stealing a recruit from Maryland by bragging about its fancy-pants academic reputation (the nerve!). Heck, it's even dueling B-list celebrities, with Stanford showcasing its close encounter with Cuba Gooding Jr. ("Show me the money!") and Maryland countering with The Fonz ("Aaay!"), sometimes known as Henry Winkler. While the weather outside is frightful -- three days of slushy snow -- the basketball figures to be red hot inside Spokane Arena as two programs that feel -- wait for it -- disrespected seek validation. Media exaggeration? Well, just ask any player from either team if she is playing with a chip on her shoulder because of perceived slights. The responses will range from "Yes" to "Absolutely."
More …
Paint battle one X factor in New Orleans
NEW ORLEANS -- North Carolina thinks the experience it has had playing the big women of the ACC this year and in the recent past will help as the Tar Heels face LSU's 6-foot-6 center Sylvia Fowles in the regional final. UNC's starting front line of Erlana Larkins (6-1) and LaToya Pringle (6-3) cited former Duke player Alison Bales (6-7), former NC State player Gillian Goring (6-7) and current Blue Devil Chante Black (6-5) as players who presented challenges similar to Fowles. What Fowles has, though, is a combination of the best of everything in a low-block threat. "She's an incredible player," UNC coach Sylvia Hatchell said. "Not only with her size, but she's so athletic. Her feet are good, her hands are good; she's so mobile in there." Among Fowles, Pringle and Larkins in the regional semifinals, Pringle had the best game with 27 points and 11 rebounds. If Larkins and Fowles get in kind of a wrestling match in the paint, Pringle will try to take advantage of mismatches she will have against other LSU players. And let's not forget that Rashanda McCants is 6-1 and can be a very hard matchup for most teams -- especially if she gets off to a good start shooting -- and that 6-3 Jessica Breland is the kind of sub a lot of teams would like to have as a starter. If this game become a high-scoring battle, the edge goes to North Carolina. But if Fowles establishes herself in the paint and manages to get Larkins or Pringle in foul trouble, then LSU's perimeter players could step forward and close the deal. -- Mechelle Voepel
Texas A&M tops Duke to reach first Elite Eight
A little research goes a long way
• All four No. 1 seeds on the men's side reached the Final Four for the first time. That has happened once in the women's tournament, in 1989, when Auburn, Louisiana Tech, Tennessee and Maryland all advanced (interestingly, that's the only other time the Terps were a top seed). At least three No. 1 seeds have advanced on six occasions, the most recent in 2006. • Just how often have the No. 1 and 2 seeds met in every region in the Elite Eight? Not as often as you'd think. Since the field expanded to 64 teams in 1994, it has occurred only one other time: 2003. In fact, dating back to the very first tourney in 1982 -- even including the years when there were just 32 teams and top seeds got byes -- the 1-2 matchups happened only twice (1988 and 2003). • The North Carolina men's win and subsequent spot in the Final Four might be bad news for the Tar Heel women -- at least if one trend continues. This marks the 11th time a school has had both programs awarded No. 1 seeds in the same season. Amazingly, each of the previous 10 times, only one of the two has reached the Final Four -- but never both. • The Connecticut-Rutgers game will be the fifth regional final in the past seven years between two teams from the same conference. The SEC has been involved in three of the five. In 2007, Tennessee topped Ole Miss. In 2004, LSU beat Georgia. And in 2002, the Lady Vols ousted Vanderbilt and Oklahoma knocked out Colorado. • LSU-North Carolina is largely regarded as the best game in the Elite Eight. But despite all the tradition between the programs, LSU and UNC have met only one other time. On Nov. 29, 1986, in Baton Rouge, the Lady Tigers beat the Heels 79-63. It was Sylvia Hatchell's second game as UNC's coach. Stanford-Maryland and Tennessee-Texas A&M will also be meeting for just the second time ever. • Stanford is riding the nation's longest win streak at 21 games. North Carolina has won 16 straight, followed by UConn's 14-game streak, 12 in a row by Texas A&M and 11 consecutive wins by Tennessee. • Tennessee's win gives the SEC multiple teams in the Elite Eight for the 25th time. The conference has had at least one team make the regional finals in all 27 women's NCAA tournaments. The only years the league didn't have multiple representatives were 1994 and 2001. • Just how eerily similar have the men's and women's tournaments been? In the men's Sweet 16, the first game was decided by four points (Xavier over West Virginia, 79-75). The next seven games were all decided by double-digits. In the women's Sweet 16, the first game was decided by four points (UNC over Louisville, 78-74) -- and the next seven games were all decided by double digits. Even the two close games had almost the exact same scores. So if the mirror-image trend continues, three of the women's Elite Eight matchups will be decided by double digits, and one of them will be a two-point game. And, of course, all four 1-seeds will march on.
-- ESPN researcher Brett Edgerton

Parker nets 34 to lead Lady Vols past Irish
Sunday's Sweet 16 scores
• GREENSBORO
Connecticut 78, Old Dominion 63
Rutgers 53, George Washington 42 • OKLAHOMA CITY
Texas A&M 77, Duke 63
Tennessee 74, Notre Dame 64
UConn eliminated Old Dominion
On Tap For Monday
(all times Eastern)
• NEW ORLEANS
No. 2 LSU vs. No. 1 North Carolina
(ESPN, 7:30 p.m.) • SPOKANE
No. 2 Stanford vs. No. 1 Maryland
(ESPN, 9:30 p.m.)
Notre Dame's silver lining?
Tennessee did the smart thing and concentrated on its interior game against Notre Dame. Candace Parker had 34 points and 13 rebounds, Nicky Anosike 10 points and 10 rebounds. Tennessee got another Elite Eight trip out of this game, but what did Notre Dame get? More experience for post players who might be the strength of this Irish squad next year. Freshman Becca Bruszewski tied senior guard Charel Allen for a team-best 16 points. Sophomore Erica Williamson got in foul trouble and played just eight minutes, scoring two points. But Bruszewski, Williamson and sophomore-to-be Devereaux Peters -- provided she rehabs well from her ACL injury suffered in February -- will provide the Irish a lot of muscle inside next season. -- Mechelle Voepel
Carson, Rutgers cruise past GW
On Tap For Tuesday
(all times Eastern)
• OKLAHOMA CITY
No. 2 Texas A&M vs. No. 1 Tennessee
(ESPN, 7 p.m.) • GREENSBORO
No. 2 Rutgers vs. No. 1 Connecticut
(ESPN, 9 p.m.)
Rutgers coach Stringer disappointed with effort