With Final Four finally set, this way to Tampa Bay
Daniel Plassmann-US PRESSWIRE
Nothing left but to sit back, soak up the fun, and en … joy
By Mechelle Voepel
ESPN.com
OKLAHOMA CITY -- Candice Wiggins and her Stanford teammates looked as giddy as those "Price is Right" contestants who'd start hyperventilating and then tackle Bob Barker in ecstasy when they bid so accurately that they won
both
showcases. That's what we think it's supposed to look like when a team advances to the Final Four. Crazy, wild, passionate, unfiltered joy. Come to think of it, maybe that will be the name of Cardinal coach Tara VanDerveer's next piano-playing CD. (Last I'd heard, TVD had made CDs called "Joy," "Pure Joy" and "More Joy" … but she might have recorded additional joy since then that I'm just unaware of.) You could certainly hear the joy on court from Cardinal players after their 98-87 Elite Eight victory over Maryland on Monday, the only one of the regional finals where the ball actually went through the hoop a lot. LSU beat UNC 56-50, using defensive pressure to make the Tar Heels look like Glue Heels, not moving like they always do on offense. Tennessee defeated Texas A&M 53-45 here in Oklahoma City, and UConn managed to put up 66 points to Rutgers' 56, although it looked for a while like that game might end up in the 40s. LSU has been to four previous Final Fours, but this is the first for coach Van Chancellor. And in a really charming scene, the 64-year-old's youthful glee made his 20-something seniors light up with smiles and laughter. It didn't seem like old hat to Sylvia Fowles and her teammates at all. UConn also went to five consecutive Final Fours (2000-2004) and has won five NCAA titles … but absence makes the heart grow fonder. The Huskies haven't been to the Final Four since the final curtain fell on the Spectacular Diana Taurasi Show in 2004, so coach Geno Auriemma and his players were excited, too, after advancing to Tampa. For Tennessee, though … well, making this Final Four was pretty businesslike, despite the worries over Candace Parker's shoulder. It's No. 18 for the Orange Crush, and this time the regional final entailed grinding it out against a master grinder, Texas A&M coach Gary Blair. Afterward, he said, "For the basketball purists out there, it was great defense from both teams. The second half … we scored six baskets, they scored five. Is that good for women's basketball? Damn straight, if you can appreciate defense." OK … but watching the ball go through the net -- at least a little more often -- is kind of more fun. Texas A&M was bidding to become the fourth Big 12 team to make the Final Four since the league began in 1996-97. Instead, Tennessee goes again. And UConn is there for the ninth time. Which begs the question, "Is
that
good for women's basketball?" Well, let's put it this way, it's really not bad. The potential Tennessee-UConn national championship game has been floating on the horizon as a bigger-than-ever TV ratings bonanza since Pat Summitt cancelled the regular-season series last summer. The already frosty relationship between her and Auriemma has deteriorated further, and as far as made-for-television drama, that matchup sells big. The casual and never-except-the-Final Four viewers can be drawn to UConn-Tennessee. But you know what? They were also drawn to Baylor-Michigan State in 2005, Maryland-Duke in 2006 and Tennessee-Rutgers last year. Sports viewers like to watch championship games, period. Since there hasn't been a Connecticut-Tennessee final since 2004 -- egad, four entire years -- it's not as if the story lines are repetitive the way they were that season. Because then, those teams were meeting in the final for a second year in a row, and it seemed a bit recycled. This year, the Pat vs. Geno story line is the same old song and dance, but it's so amusing that it doesn't have an expiration date. All that said, most of the full-time women's basketball fans who are not Orangebloods or Bluebloods won't mind one single bit if either UConn or Tennessee or both lose before the final. Wiggins, the most gracious of superstars, is universally liked by women's hoops fans -- who recognize a title by a West Coast team would be a welcome boost for the sport. There hasn't been one since Stanford did it in 1992. Similarly, if the long-running plot of "LSU vs. Adversity" -- be it former coach Sue Gunter's illness and death, Hurricane Katrina, the Pokey Chatman saga -- ends with a Bayou Bengal triumph, who isn't going to feel good for Fowles and the LSU crew? Pretty much whatever happens in Tampa is going to be compelling and interesting and fun to watch.
Huskies learn to win by any means necessary
By Graham Hays
ESPN.com
GREENSBORO, N.C. -- For much of the night, in a game against an old rival it knew all too well, Connecticut looked like a team that didn't know where it was going. Then it felt something as comfortably familiar as it was foreign to past Connecticut teams.
Geno Auriemma's team felt the wall at its back and knew it had been here before.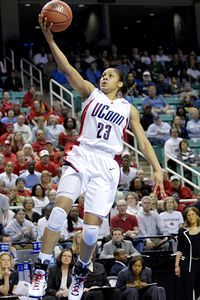 AP Photo/Sara D. Davis
Maya Moore faced tough pressure all night but came up with a game-changing 3 when UConn needed it most.
After rallying from a 14-point deficit in the first half, the Huskies are headed back to the Final Four for the first time in four years after a 66-56 win against Rutgers. And if the win wasn't exactly scintillating, it was more than satisfying for the architect of a flawed favorite. "We don't have all of the answers to every question like we have in other years," Auriemma said. "We struggle at times, just like other teams struggle. But this particular team didn't necessarily get to the Final Four on talent and the experience of having been there and having three or four college All-Americans. This team got there on a lot of intangibles that make you appreciate coaching." Even after the tide had turned for good in the second half, with the clock ticking down under two minutes to play and Connecticut clinging to a 55-52 lead, Renee Montgomery was dropped to the ground by a solid screen from behind by Kia Vaughn. What was the distraction that prevented her from seeing, or at least sensing, the impending chiropractic event? Her own coach shouting out defensive instructions from the sideline. It was just that kind of night.
More …
Sheer gritty toughness leads Tennessee to Tampa
By Mechelle Voepel
ESPN.com
OKLAHOMA CITY -- Pat Summitt stopped on a dime to pick up a penny. Her 18th Final Four berth secured -- not without considerable drama -- Summitt was walking back to Tennessee's locker room Tuesday night. In a not-all-that-brightly-lit hallway of the Ford Center, Summitt still spotted the coin. Good grief, does she miss anything?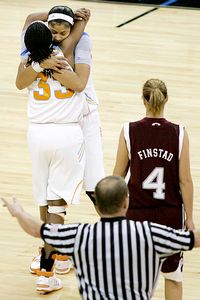 AP Photo/Tony Gutierrez
Candace Parker's teammates, including Alberta Auguste, kept the Lady Vols in the game when she missed more than 10 minutes with her shoulder injury.
"Let's see if it's head's up," Summitt said, then tossed it back on the floor. "Nope. It's tails." She's not in need of spare change, but she is a bit superstitious. However, maybe that penny was proof that Tennessee doesn't need luck. This program will be going for its eighth NCAA title because of its sheer gritty toughness. Top-seeded Tennessee beat 2-seed Texas A&M 53-45, with star Candace Parker missing 10 minutes of the game because of a dislocated shoulder suffered with 3:50 left in the first half after she had stolen the ball. Parker left the game, came back, dislocated the shoulder again, left the game again, the second half started … and No. 3 wasn't on the floor. During halftime, Tennessee trainer Jenny Moshak started doing muscle activation exercises with Parker. Then there was the hunt for a sleeve to put on the shoulder. "I think they were under the bus going through laundry to find the sleeve," Summitt said, "and I'm about to have a fit as to why we don't have it right there." Summitt had her own shoulder dislocation a few weeks ago in a battle with a raccoon on her back deck in Knoxville. "Mine went right back in," Summitt joked. "So I thought if at my age I can come back, she'll be back. That flashed through my head. When I saw Jenny go right to Candace, I thought she would be able to return. "What bothered me was when it went out the second time. That really scared me, and I thought, 'She may be finished for the game.'" And at that juncture, Parker pretty much was the game offensively for Tennessee. She had 18 first-half points on 9-of-12 shooting. Texas A&M, a team that prides itself on defense, just couldn't stop her. It looked instead as if an injury would.
More …
UConn-Rutgers coaching matchup the game within the game
Graham Hays
ESPN.com
GREENSBORO, N.C. -- As is almost always the case for opponents facing Connecticut, Geno Auriemma left it to the other coach to try and come up with ways to stop his team. And as always when that coach is C. Vivian Stringer, it was a dangerous gambit. Rutgers entered the NCAA tournament with one of the nation's best defenses and one of its shortest benches. Both were on display Tuesday night, and if Rutgers' exit had a lot to do with the latter overtaking the former in the second half, it wasn't without a struggle. "They just came out aggressive," Connecticut's Kaili McLaren said. "They threw a press at us that I don't think we've seen, and we were kind of passive against it." Like a stock-car team taking two tires instead of four, Rutgers had to get creative. Stringer shut down Maya Moore for much of the game and flustered Renee Montgomery and Ketia Swanier with a different press than her typical "55" scheme. Instead of playing Kia Vaughn and Rashidat Junaid together in a likely fruitless attempt to match up with Connecticut's size, Stringer did her best to force Auriemma to adjust to her four guards and aggressive defense. "I knew we were giving up size," Stringer said. "But I thought we would be much more efficient by playing Brittany Ray and Heather Zurich in that one spot, so we could apply a press that we've never used -- a 2-1-2 press -- to slow them down and make them think." In the end, depth counts toward quality, and Rutgers simply bowed out against a better team. Its three games against Connecticut resulted in the three highest point totals all season by its opponents. And the lone win for the Scarlet Knights came thanks in large part to a career night, at least for now, from Epiphanny Prince on offense. The only real question is whether it should have come in Greensboro. "I think they're one of the top four or five teams in America," Auriemma said. "And they don't deserve to be playing the No. 1 No.1 -- if we're the No.1 No.1. I don't think they deserve that. But I just think in the NCAA tournament, their team is built for tournament play. And I think they represented themselves and the Big East conference in a great way." And with a banner recruiting class coming in to help ease the loss of Essence Carson and Matee Ajavon, Rutgers will be back. If not in the early going, then almost certainly, as Auriemma would attest, by tournament time.
"Player" of the night

Robin Roberts limped toward the podium, clutching her back with one hand. "Anyone seen Jenny Moshak?" Roberts asked the crowd of reporters gathered for an ESPN news conference at 8 a.m. on the day before the national semifinals several years ago. Roberts, who was then the studio host for ESPN's coverage of the women's NCAA tournament and has since become a host of ABC's "Good Morning America," was joking, of course. But who could blame her? If only all of us could be so lucky to have someone like Moshak, Tennessee's assistant athletics director for sports medicine, attending to our aches and pains. If anyone's not familiar with Moshak, she's the one with the long ponytail, glasses and fat-free biceps who attended to Tennessee superstar Candace Parker on Tuesday when the junior suffered a dislocated left shoulder with 3:50 to play in the first half. And yes, though it took the Lady Vols' training staff longer than Pat Summitt would have liked to find the brace needed to help stabilize Parker's shoulder (really? Rummaging through dirty laundry!), Moshak's also the one who helped get Parker back on the court to pull out a win that clinched Tennessee a spot in its 18th Final Four. Moshak has famously gotten several big-time Tennessee players -- such as Kellie Jolly and Tamika Catchings -- back on the court faster than expected, nursing them around the clock. And there's no doubt where Moshak will be these next five days leading up to Tennessee's Final Four date with LSU -- right by Parker's side, doing whatever it takes to get her as healthy as possible.
-- Melanie Jackson
Parker perseveres through injury
They'll meet again
We've seen both the Final Four matchups this season. Back on Nov. 22, Connecticut beat Stanford 66-54 at the Paradise Jam Tournament in the U.S. Virgin Islands. In that game, the Huskies started two players they no longer have. Kalana Greene and Mel Thomas both suffered torn ACLs later in the season. SEC rivals Tennessee and LSU have already met twice this season. LSU easily won in Knoxville, Tenn., 78-62 on Feb. 14, but the Lady Vols returned the favor with a 61-55 win in the SEC tournament title game in March. Looking forward to possible title-game matchups, UConn won at LSU 74-69 on Feb. 25. Stanford handed No. 1 Tennessee its first loss of the season, a 73-69 overtime thriller at Maples Pavilion on Dec. 22. The Cardinal's win snapped an 11-game losing streak against Tennessee. And of course, we all know Tennessee and UConn didn't play in the regular season. For the record, the Lady Vols lead LSU in the all-time series 36-11. The teams have met twice before in the NCAA tournament, both ending in two-point victories for Tennessee. The Lady Vols won 67-65 in the 1986 Elite Eight and won 52-50 in the 2004 Final Four in New Orleans. After a late steal in that game, Tennessee won it on a LaToya Davis shot with 1.8 seconds left. The Cardinal lead their all-time series with Connecticut 4-2. Like Tennessee and LSU, these two teams have met twice in the NCAA tournament. UConn defeated Stanford in the 1995 Final Four en route to a perfect 35-0 season, while the Cardinal beat the Huskies in the 2005 Sweet 16. -- ESPN researcher Brett Edgerton
Geno: Huskies 'destined and due'
Research nuggets
• Alexis Hornbuckle's free throw with 29.6 seconds remaining gave Tennessee its 50th point and ensured the continuation of a 26-year-old streak. The Lady Vols have not been held to fewer than 50 points since losing to Louisiana Tech 69-46 on March 26 in the semifinals of the 1982 Final Four. That's 908 consecutive games. • Big East Player of the Year Maya Moore attempted just seven shots Tuesday for Connecticut, making three. The seven points tied a career low for the freshman, who had scored in single digits only one other time in her young career. The Huskies won both games. • C. Vivian Stringer ranks second all-time in most NCAA tournament wins without a national title. Georgia coach Andy Landers leads the way with 48 (with two losses in the national title game). Rutgers' Stringer ranks second at 39 victories (also losing twice in the championship game). Texas coach Gail Goestenkors is third (37), followed by Virginia's Debbie Ryan (32). • Three of the top four coaches in all-time NCAA tournament victories led their teams to Tampa. Pat Summitt (102 wins), Geno Auriemma (65) and Tara VanDerveer (49) also represent the three leaders in that category among active coaches (Leon Barmore won 56 tourney games at Louisiana Tech). Summitt, Auriemma and VanDerveer also coached in the very first NCAA tournament back in 1982. • Having two No. 2 seeds in the Final Four is rare. Before this year, it hadn't happened since Rutgers and Penn State went in 2000.
-- ESPN researcher Brett Edgerton

Tennessee's postgame news conference
Tuesday's Elite Eight scores
• OKLAHOMA CITY
Tennessee 53, Texas A&M 45 • GREENSBORO
Connecticut 66, Rutgers 56
Postgame comments from Summitt, Parker
Final Four schedule
(all times Eastern)
• SUNDAY, APRIL 6
Coverage begins at 6:30 p.m.
Stanford vs. Connecticut (ESPN, 7 p.m.)
LSU vs. Tennessee (ESPN, 9:30 p.m.)
• TUESDAY, APRIL 8
Sunday's winners (ESPN, 8:30 p.m.)
UConn rallies past Rutgers
Tournament Challenge update
Turns out, picking the chalk to hold wasn't as popular a pick as you might think. Just 23 percent of the Women's Tournament Challenge brackets submitted predicted all four No. 1 seeds to reach Tampa. But 35 percent picked a Connecticut-Tennessee final. The brackets were split, though, on whether the Huskies or Lady Vols would walk away with the title. Overall, 31.19 percent tabbed Tennessee to win it all in 2008, while 31.65 percent of the brackets picked UConn as this year's champs.
-- ESPN.com

UConn's postgame news conference