Sun Devils make most of time away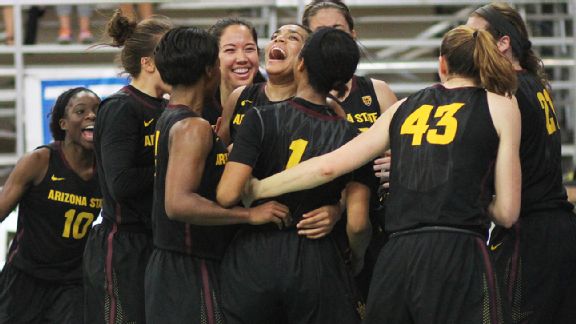 Steve Rodriguez/Sun Devil AthleticsThe Sun Devils surround Adrianne Thomas after her shot forced overtime against North Carolina.
What does a basketball coach do when Thanksgiving requires a pregame speech rather than post-turkey nap?
"We just talked about gobbling up rebounds," Arizona State's Charli Turner Thorne explained, with an appropriate degree of sheepishness, of her message before a game against Illinois on Thursday in Cancun, Mexico.
Even with a light schedule, 24 teams were in action on Thanksgiving, and far more than that spent the holiday traveling or preparing for weekend games in holiday tournaments across the country and beyond -- from Mexico, where Arizona State ventured, to the U.S. Virgin Islands to otherwise deserted college campuses across the map.
In college basketball, the holiday week is a chance to give thanks for the opportunity to squeeze in games while players aren't distracted by pesky papers to write. And no team made better use of its time away from home this season than the Sun Devils, who went 3-0 in Mexico, highlighted by a 94-81 overtime victory against No. 11 North Carolina.
With the exception of an extended run in a conference tournament, these typically neutral-site events are just about the only time a team will play so much basketball in such a short span of time. It can be a valuable infusion of game-speed experience. Even for teams like the Sun Devils that fare well, that doesn't always equate to the crispest basketball.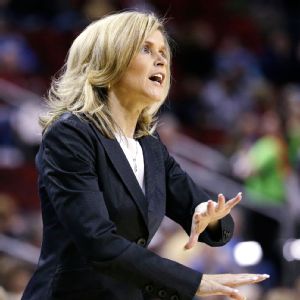 AP Photo/Elaine ThompsonAfter going 13-18 and missing the postseason in 2012-13, Charli Turner Thorne and ASU are 6-1 this season.
Arizona State was at its most effective in an 84-60 win against Illinois to open its stay. It shot 56 percent for the game and limited Illinois to 32 percent shooting. Those shooting numbers converged against North Carolina a day later, but Adrianne Thomas' putback layup as time expired in regulation capped a six-point comeback in the final 27 seconds that sent the game to overtime, where Arizona State cruised to the victory.
By the finale against Arkansas State, Arizona State committed 20-plus turnovers for the third game in a row and allowed its opponent to shoot 54 percent. But free throws in the final minute preserved a 69-66 win.
"We can be so much better," Turner Thorne said from the airport in Cancun as the team prepared to leave. "We won doing some real good things -- rebounding really well, scoring really well at times. But we haven't even scratched the surface in terms of where we want to be with our team offense and defense.
"The thing I'm excited about and that really carried the day this past weekend was just our toughness."
For a team coming off its first losing season in more than a decade and picked this season to finish 10th in the Pac-12, as in ahead of only Arizona and Oregon, both the intangible toughness and tangible win against a ranked foe represent welcome developments.
Arizona State returned three starters from a season ago, along with three other players who averaged double-digit minutes in Turner Thorne's familiarly extended playing rotation. They welcomed back Deja Mann, the team's assists leader and third-leading scorer in 2011-12 who missed last season with an injury, and welcomed in transfer Katie Hempen and freshmen Sophie Brunner, Quinn Dornstauder and Kelsey Moos. With all of the above playing roles in Cancun and through the season's first month, that gives Turner Thorne ample depth to work with. It's also a mix of new and old that helps both improve on and move beyond last season.
The freshmen are the first class to sign with Turner Thorne after she returned to the sideline last season following a one-year leave for personal reasons. Moos has started all seven games this season, and she and Brunner, who had 10 points and 10 rebounds against the Tar Heels and their vaunted freshman class, are two of the team's top three rebounders. Mann is the team's leading scorer, and along with Hempen, gives the team 3-point shooting it didn't have a season ago. But holdovers like Thomas, who finished with 23 points and eight assists against North Carolina, are also part of it.
At its best in seasons past, Arizona State was always a collection of more parts than most teams dared try to fit together. For whatever reason, things didn't fit seamlessly in Turner Thorne's first season back, perhaps in part because it was her first season.
"It really did take a year because when somebody else is there it's just a different culture," Turner Thorne said. "And it did change, and I feel like we're kind of back to the way at least I'm used to having, the kind of culture and team that I think lends itself to outworking teams, the discipline and the team chemistry. We still have a lot of growth to go with this team, but it's just got a lot better vibe."
Arizona State was far from the only team to spring an upset. Ranked teams lost six times between Thursday and Sunday, including a pair of losses by Texas A&M against Texas and Syracuse, and Michigan State and Nebraska losing at home against Indiana-Purdue-Fort Wayne and Washington State, respectively. But for the Sun Devils, the hope is this is more than one good week in the sun.
"I'm excited about this group," Turner Thorne said. "They definitely are getting back to the teams that we've had in the past, basically, just the toughness and discipline and chemistry and stuff."
Talk about something for which to be thankful.
espnW.com
Graham Hays covers college sports for espnW, including softball and soccer. Hays began with ESPN in 1999.
Wildcats' new weapon: 3-point shot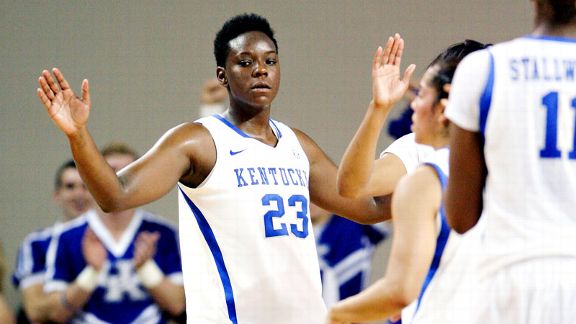 Mark Zerof/USA TODAY SportsSamarie Walker and No. 7 Kentucky topped No. 4 Louisville to improve to 8-0.
When a team trails by 14 points early in the first half, as No. 7 Kentucky did in Sunday's Bluegrass derby against No. 4 Louisville, it must be nice to have a shot available that counts for extra points. The 3-pointer certainly proved useful as the Wildcats overcame that double-digit deficit and held on for a 69-64 win. And in some ways, that's not a tool Matthew Mitchell's teams had at their disposal in recent seasons.
Oh sure, Kentucky was always a 3-point shooting team. It just wasn't a particularly good 3-point shooting team.
The Wildcats hoisted 3-pointers by the bucketful -- 321 more attempts than their opponents a season ago, 291 more two seasons ago. But it was generally a case of quantity trumping quality. They hit 32.8 percent of their attempts in 2012-13 and 32 percent in 2011-12, neither mark good enough to crack the top 60 nationally. That's not a problem when they end up with more possessions than their opponents, a common function of the team's trademark pressure defense, but Kentucky didn't end up with that many more possessions than Louisville, which committed its share of turnovers but also collected 20 offensive rebounds. Kentucky had to be efficient, and it was, hitting 8-of-17 3-point attempts, not including Jennifer O'Neill's dagger with a foot on the line and less than a minute to play.
One game is a ridiculously small sample size. So is one month, for that matter, but Kentucky is shooting 39.7 percent from the 3-point line through eight games. Whether that's sustainable remains to be seen, but it had a lot to do with why the Wildcats sent a capacity crowd home happy Sunday afternoon.
Rise of the Norse
Its a small world. Prior to taking over as Northern Kentuckys coach a season ago, Dawn Plitzuweit spent five years as Kevin Borseths associate head coach at Michigan. Her new boss in her second year at Northern Kentucky? First-year athletic director Ken Bothof, the man who first lost and then reclaimed Borseth at Green Bay. Anyway, the six degrees of separation is neither here nor there, except to say that Bothof had few reasons to quibble with any of his womens basketball coaches over the past decade, and it appears that position still wont be a concern.
A holiday week tournament at Robert Morris wasnt the highest profile event on the schedule, but Northern Kentucky came away with reason to savor wins against the host and UT Martin. This is just the second year in Division I for the Norse, and the program based just south of the Ohio River might be in the better shape than its Cincinnati-area counterparts (Northern Kentucky already beat Cincinnati by 16 points this season).
Recruited to what was then a Division II program, like most of her teammates, junior Melody Doss averaged 18.5 points and 11.5 rebounds in the weekend wins and actually saw her season scoring average dip as a result -- all the way to 21.1 points per game for someone who is shooting 57 percent from the 3-point line despite averaging 8.4 rebounds per game. At 4-3 this season and 19-16 in Division I, Northern Kentucky is doing something right.
She Also Starred

Amanda Hyde, IPFW: The reigning Summit League player of the year wasn't perfect last week, but it's hard to imagine how any player in the country was better.
In Indiana-Purdue-Fort Wayne's final game before Thanksgiving, Hyde scored 41 points in a win at Southern Illinois-Edwardsville, hitting 10-of-12 shots from the field and 18-of-21 shots from the free throw line. And lest anyone think she was looking solely for her own shot, she had six assists. But doing even that in an acronym fight like IPFW-SIUE is one thing. Coming up big on the road against a ranked team is quite another. Hyde wrapped up the week by scoring 23 points and adding seven assists in an 81-76 victory against No. 21 Michigan State in East Lansing on Sunday. The victory was the first for the Mastodons (yes, the Mastodons) over a ranked team.
Not bad for a math major with a 4.0 GPA who, in addition to her playing honors a season ago, was also named the Summit League's Scholar Athlete of the Year across all women's sports. Who said "Nerd City" was only a Stanford point of pride?
A nod also to Northwestern freshman Nia Coffey for an impressive Windy City derby against DePaul in which her team jumped in front 22-4, fell behind 36-30 by halftime and eventually rallied for an 82-79 victory. Coffey finished with 20 points and10 rebounds, and had two assists, a block and two steals in the final 100 seconds. She also had 27 points, 11 rebounds, four assists, four steals and four blocks in a 66-64 win against Lafayette earlier in the week.
Hampton's Alyssa Bennett makes us go three deep. The senior forward averaged 26.7 points and 13.3 rebounds in a three-game swing through California that included wins against Utah State and Santa Clara.
Photo courtesy of Lucascarter.com.
Team of the Week
Syracuse: This isn't the Syracuse of old. Well, the Orange did play a game against Maryland Eastern Shore the week before last for no apparent reason, winning 113-43, so there is still a little bit of the old scheduling magic at work. But the schedule continues to improve in upstate New York, and this team's unbeaten record has legitimate heft to it -- heft that ought to earn it a place in the Top 25.
Syracuse improved to 8-0 by sweeping three games at the Paradise Jam in the U.S. Virginia Islands, highlighted by a 78-63 victory against No. 12 Texas A&M but also including a win against a Texas team that similarly beat the Aggies. Key to the early success, which also included a season-opening trip to Washington State, are sophomores Brianna Butler and Brittney Sykes doing what talented former freshmen don't always do -- improving on that early success.
Edged on the boards by both Texas and Texas A&M, the Orange miss Kayla Alexander, but they make up for it in the backcourt. Butler is shooting 44 percent from the 3-point line with 19 assists and three turnovers, while Sykes already has more than half her assist total of a season ago and is averaging 19.1 points per game. In living up to those numbers against the Texas teams, as opposed to Cornell, Dartmouth, Maryland Eastern Shore and the rest, they ought to earn their team some eyeballs as it heads to Iowa for a Big Ten/ACC Challenge game this week.
Before Next Weekend
Nebraska at North Carolina (Wednesday): Nebraska's loss at home against Washington State was a bigger surprise than North Carolina losing on a neutral court. The Huskers held UCLA and Alabama to fewer than 50 points in their first two games of the season. But efforts like 30 points from Southern's Kendra Coleman poked a few holes in the defense -- even before the loss against Washington State in which the visitor shot 50 percent in the first half and 48 percent from the 3-point line for the game. North Carolina isn't shooting 3-pointers well thus far, but it is scoring a ton of points.
Notre Dame at Penn State (Wednesday): As you might hear a few times, Notre Dame coach Muffet McGraw and Penn State coach Coquese Washington are acquainted. McGraw facing her former point guard is a good story, and there is plenty of current backcourt talent on display with Maggie Lucas, Kayla McBride and Jewell Loyd. But Penn State's chances for an upset might hinge on how well it does against a formidable Notre Dame inside game, with Natalie Achonwa healthy and Taya Reimer coming off a 15-point, 14-rebound effort last week against DePaul.
Michigan State at Florida State (Wednesday): Put Michigan State's Tori Jankoska near the top of any list of freshmen making their presences felt. Michigan's Miss Basketball a season ago at Freeland High School, she is the leading scorer for the Spartans at 15.2 points per game and a much-needed 3-point option. Jankoska was perhaps the biggest reason the Spartans escaped Philadelphia with a win against Temple this past week, totaling 19 points, 11 rebounds and four assists in 35 minutes. She couldn't save them against IPFW, and now comes another tough road trip to Tallahassee.
Purdue at Duke (Thursday): The Blue Devils host Purdue and Connecticut and travel to Oklahoma and Kentucky before Christmas, with a potentially pesky trap game against a good Albany team wedged in there, too. With or without Haley Peters, absent the past four games with a knee injury, the Blue Devils present a problem in the post for the undersized Boilermakers. Freshman Oderah Chidom stepped in and totaled 27 rebounds in Duke's three wins in the Paradise Jam, including 24 in the final two wins against Central Michigan and Kansas.
Baylor at Kentucky (Friday): Life doesn't get any easier for Kentucky, which in addition to Louisville, will face Baylor in Arlington, Texas, and host Duke before Christmas. Baylor plays San Jose State on Tuesday but should enter Friday's game well rested after taking Thanksgiving week off. Kim Mulkey's team is committing just 11 turnovers per game, but it also hasn't faced a defense anything like Kentucky (or faced any team outside of Waco, for that matter). This will be the first chance to see Odyssey Sims running the show in a meaningful game without Brittney Griner.
Marist at Quinnipiac (ESPN3, 6 p.m. ET Friday): Are you ready for some conference play? The league opener for both teams is also the first MAAC game for Quinnipiac. Both teams will enter without winning records thanks to brutal early season schedules, but one of the two will likely be the conference representative in the NCAA tournament. The silver lining of myriad injuries for the Red Foxes is playing time has allowed sophomore Madeline Blais to emerge as a budding shooting star alongside Emma O'Connor and Leanne Ockenden.