Cats, Cards cap strange week in Commonwealth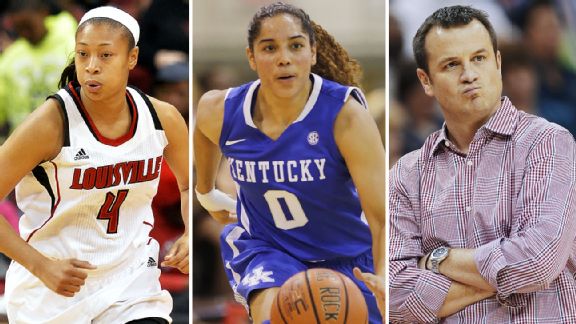 AP PhotosJennifer O'Neill, center, led Kentucky to an epic four-overtime victory, while Louisville coach Jeff Walz and the Cardinals regrouped after losing Antonita Slaughter for the season.
Expressing that magnanimity that perhaps comes with a second-half comeback in front of a full house in your arena, Kentucky coach Matthew Mitchell heaped praise on Louisville counterpart Jeff Walz after last Sunday's rivalry game, and then offered what surely seemed a benediction without any hint of foreboding.
"It's a good time for basketball in the Commonwealth of Kentucky," Mitchell said.
Little did he know he was also about to play his part in what proved to be the strangest of weeks for women's basketball in the Bluegrass State, one that turned the basketball court into something of a refuge for Louisville in the aftermath of Antonita Slaughter's collapse and subsequent season-ending diagnosis of blood clots, and a labyrinth impossible to escape for Kentucky in a four-overtime game against Baylor.
So where does basketball in the Commonwealth stand a week later?
That Kentucky ultimately came away with a 133-130 win against Baylor might prove marginally important come NCAA tournament seeding. The victory surely has some measure of mental benefits to those involved -- it at least must have been easier to stretch those tired legs and walk to class Monday morning after winning than it would have been limping in after a loss. But had Kentucky won by three or lost by three, the result probably isn't as important as what the Wildcats got from their guards to keep the game going.
Kastine Evans, Bria Goss, Jennifer O'Neill and Janee Thompson combined to play 175 minutes in the game and accounted for 64 of 93 field goals attempts by the Wildcats. O'Neill's school-record 43 points obviously carried the day, and Goss and Evans didn't shoot all that well, but the guards collectively shot 39 percent and recorded nine assists.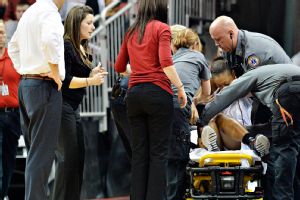 AP Photo/Timothy D. EasleyLouisville senior Antonita Slaughter, who collapsed during Tuesday's game, will miss the rest of the season after she was diagnosed with a blood clot in her lung.
Friday's game was not deep in the NCAA tournament with a season on the line. It was an early December game in a venue, AT&T Stadium, that is unlike anything these teams will experience throughout the remainder of the regular season or postseason. But it was a big game -- big opponent, big atmosphere, big gut check by the end.
Now consider that over the past four seasons, Kentucky's top four guards shot a combined 30 percent from the floor in the games in which Kentucky was eliminated (three quarterfinals and a second-round game). The best shooting percentage in any of those four games was last season's 31.6 percent against Connecticut. And in those same four games, the four guards at the top end of the rotation totaled 16 assists -- in 417 minutes on the court.
Kentucky's inability to get off the court in Arlington, while wearying for those involved, was kind of bizarrely fun, a rarely seen quirk of circumstances like the snow in Sunday's football game between the Philadelphia Eagles and Detroit Lions, or tennis players at Wimbledon playing for days on end.
What happened in Louisville on Tuesday night, by contrast, was simply scary, Slaughter collapsing while on the bench early in the first half and leaving the arena unresponsive on a stretcher.
Walz said there was never a thought of calling off the game after the incident, but that he received updates on Slaughter's status from the medical staff throughout the game and passed on the information to players during timeouts and even dead-ball situations. Louisville went on to beat Missouri State handily.
"She'd want us to sit there and finish the ball game," Walz said in talking Wednesday about the incident. "That's what our players did, and I was so impressed with them. Just because Antonita wasn't able to tell them, 'Hey, I'm OK; I'm doing fine.' She wasn't able to respond. So when she's being taken off the floor, there is a sense of 'What's going on, is she OK, what's happening?'"
Walz also noted Wednesday that the focus at that time was on Slaughter, that once she knew, and her teammates and coaches knew, what caused the collapse, then they would worry about what came next. That came with the diagnosis of a blood clot, necessitating she take blood thinners that make it impossible to play this season. After all of that, and after she was released from the hospital and visited her teammates, Louisville went out and beat a Wright State team that is better than you think, 99-40.
The form it took was frighteningly new, but this is what Louisville does. Whether it was Monique Reid, Tia Gibbs or Shawntá Dyer with more conventional injuries, or now Slaughter, the Cardinals patch lineup holes as well as any program. Walz has talked about an expanded role for Gibbs, but it might just as easily be a forward like Cortnee Walton or a deep reserve like Megan Deines whose role expands.
The recipe that worked against Baylor last March is gone without Slaughter's 3-point shooting, but ingredients remain in the pantry. Walz is the guy who took a 5-foot-4 walk-on Shelby Harper and saw not a end-of-blowout fan favorite but useful minutes.
It was a strange week, a frightening and bizarre week. But Mitchell was right. Good times are still ahead for basketball in the Commonwealth.
espnW.com
Graham Hays covers college sports for espnW, including softball and soccer. Hays began with ESPN in 1999.
Make room in the rafters
Stores generally seem just a bit too anxious to celebrate the next holiday, any holiday, before it arrives. The displays for Halloween go up right around Labor Day. As soon as the candy and pumpkins are gone, elves and snowmen appear on the shelves instead. It all feels just a tad premature. All of which came to mind when Florida International retired Jerica Coley's jersey during halftime of a men's game on Saturday. It's a wonderful and well deserved honor for a player with 2,316 career points. But, well, doesn't she still need that jersey for another few months?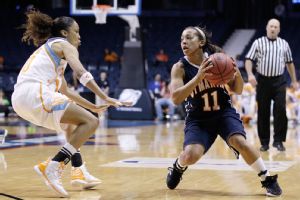 AP Photo/Nam Y. HuhHeather Butler, right, and UT Martin beat Alabama in Tuscaloosa on Dec. 4. The senior guard is averaging 22.2 points this season.
All the same, it's impossible to argue that the distinction was deserved at some point. Coley scored 25 points with five assists in Friday's win against Prairie View A&M, FIU's lone game this past week. In addition to all the points, and she's averaging 25.9 per game this season, Coley is also averaging a career-best five assists per game.
Obviously seniors like Chiney Ogwumike, Odyssey Sims and Alyssa Thomas will see their legacies honored in due time, but some other players reminded us this past week why they, too, should take their jerseys with them after this season.
• Heather Butler, UT Martin: Presumably the Skyhawks will retire Butler's and Jasmine Newsome's jerseys at the same time. It wouldn't be right to split them up after the fact. The two seniors combined for 40 points, 10 rebounds and five assists in a 75-57 win at Alabama on Wednesday, Butler's 22 points leading the way. That was a standard day for a player right on Coley's heels as the leading active scorer in Division I (Newsome is third on the same list).
• Jessica Kuster, Rice: Even in a game in which she eventually fouled out after 29 minutes, Kuster finished with 19 points and 18 rebounds in a win against Texas State on Thursday. She's averaging 20.7 points and 13.4 rebounds per game this season. That's nothing new. She averaged a double-double in each of her first three seasons for the Owls and is four rebounds behind the next player on the list for third among all active players.
• Ebony Rowe, Middle Tennessee: Putting aside her jersey is a no-brainer. Four players rank among the top 10 active leaders in both points and rebounds: Ogwumike, Thomas, Jordan Hooper and Rowe. She added to her totals with 29 points and 20 rebounds in a win against Austin Peay on Wednesday.
She Also Starred
Melissa Dixon, Iowa: Make it two weeks in a row as part of this discussion for Iowa's, dare we say, archer-like heroine catching fire. The trip back from a holiday tournament in Cancun, Mexico, to winter's onset in Iowa didn't cool Dixon's 3-point hot hand. Not coincidentally, Iowa kept up its head of steam, too, with a 97-93 win against Syracuse on Thursday, its second win this season against a ranked team, and a 48-point romp against Idaho State on Saturday.
Paired opposite reigning espnW player of the week Brianna Butler in the game against the Orange, Dixon connected on 7-of-10 3-point attempts and finished with 27 points. Not bad for a day's work -- and phenomenal for a half's work. The junior guard had no points on just two attempts in a first half that ended with Iowa trailing by 10 points.
Dixon added six more 3-pointers against Idaho State, part of a program-best 17 for the Hawkeyes. All of which means that over Iowa's past five games, Dixon is converting 50.9 percent from the 3-point line (28 of 55). That after the proven long-range asset began the season in a 7-of-46 funk from behind the arc.
Honorable mention: Sabina Oroszova scored 146 points in 31 games as a freshman. She bumped that up to 189 points as a sophomore. Those aren't poor efforts, particularly when paired with an even greater number of rebounds, but they still worked out to a modest average of 5.3 points per game in her first two seasons.
Wednesday, the Eastern Illinois junior scored 38 point in 39 minutes against Bradley, hitting 16-of-29 shots from the field. She added 15 rebounds, four assists and three blocks, for the best day anyone from Bratislava, Slovakia, had last week. And it might not be a passing thing. The outburst marked the third time in the past five games that she scored at least 26 points.
Team of the Week
Saint Joseph's: Saint Joseph's was clearly the team of the week in Philadelphia, but road wins against Temple and Villanova resonate beyond just the City of Brotherly Love.
The Hawks lost their lone game of the season against a ranked team, falling in Baton Rouge against LSU on opening weekend, but they have since run off seven wins in a row without any real weak links among the opponents and with five of the seven games coming on the road. They remain an outstanding 2-point shooting team (51.7 percent), but the 3-point shot also started to drop over the past week. Including a win at Quinnipiac a week ago Sunday, Saint Joseph's hit 16-of-33 3-point attempts in its past three games, bumping its season average from 29.5 percent to 34.4 percent. Pair that with outstanding ball control, and it starts to look like the kind of team that might stick around.
If not included with her team here, Natasha Cloud would deserve a place at the table for weekly individual accolades. The redshirt junior guard totaled 21 points and 13 assists in the win against Temple. The assists matched a career high that she had established just three days earlier in that road win against Quinnipiac. She followed those two efforts by coming close to a triple-double with 14 points, eight assists and seven rebounds in the win against Villanova.
A nod also to Sacramento State, which knocked Saint Mary's from the ranks of unbeaten on Thursday and closed the weekend with a win against San Jose State. The Big Sky team already beat Oregon this season because, frankly, it might be better at playing Oregon's game than Paul Westhead's team is. Sacramento State is averaging 92.3 points per game and better than a 3-point field goal attempt per minute. Just between the three of them, Alle Moreno, Hallie Gennett and Andrea Chenier average 22.4 3-point attempts per game.
Before Next Weekend
Gonzaga at Wisconsin (Tuesday): If you're going to give up an 18-point lead on the road, as Gonzaga did Sunday at Ohio State, it might as well be for a good cause. The Bulldogs rescued a win when Shaniqua Nilles hit a shot as time expired. Duplicating that formula might be unwise as they head to Madison, Wis., for another game against a Big Ten team, but duplicating the rebounding advantage they held over the Buckeyes might not be. The Badgers are coming off their own last-second win against Marquette but lost the boards in each of its past three games.
Penn State at South Dakota State (Wednesday): Full marks to Coquese Washington for taking her team all the way to Brookings, S.D., to play the Jackrabbits. It's good for the sport, and it will be a good test for her team. South Dakota State beat Green Bay on the road over the weekend, but home is where its heart is. In its past three games at Frost Arena against teams from major conferences, South Dakota State beat Georgetown and Nebraska and lost to Marquette in overtime.
Kentucky at DePaul (Thursday): Is there a team less ideal to play coming off the dead legs of a four-overtime encounter? Wasn't Villanova available? This wasn't a close game a season ago in Lexington, but the Blue Demons can be a different team in Chicago. Chanise Jenkins had eight turnovers as a freshman in that loss last December. DePaul's assists leader has just nine turnovers in eight games this season. The boards will be an issue, but DePaul has shooters if it can take care of the ball.
Iowa at Iowa State (Thursday): Iowa State is not going to win any awards for challenging nonconference schedules, so that 8-0 record it brings into the in-state rivalry needs some validation (especially considering its next game against a ranked team will likely be Jan. 5 at Oklahoma in Big 12 play). It was much the same case last season when the Cyclones managed just 42 points against the Hawkeyes. Nikki Moody struggled with turnovers in that game but has been strong so far this season, competition aside, with 49 assists against just 22 turnovers.
Army at Ohio State (Friday): Army is 7-1 at the moment because it has played the kind of schedule that makes sense for a Patriot League team, but it still makes for an interesting opponent for an Ohio State team that needs something to go its way after four losses in five games, including at home against Bowling Green and Gonzaga. Awful against the 3-pointer early in the season, Ohio State hasn't suffered much against it recently. Army's Kelsey Minato and Jen Hazlett are capable of testing how much of that is good fortune and how much is improvement.