West Coast Conference flexes its muscle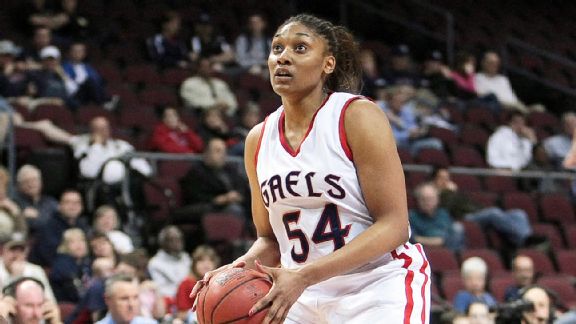 Kelley L Cox/USA TODAY SportsDanielle Mauldin is averaging 19.0 points and 14.5 rebounds for Saint Mary's.
It took Gonzaga winning for a lot of people in women's basketball to notice the West Coast Conference. A Gonzaga loss should help people see how much the league has grown.
If you aren't keeping an eye on the WCC, you're missing a good show.
First and foremost, Saturday's game between Saint Mary's and Gonzaga was just that, a good show. It started as a duel between Saint Mary's guard Jackie Nared and Gonzaga guard Haiden Palmer, proven scorers who combined for 33 first-half points. It turned into a chase, as Saint Mary's first fell behind by double digits in the second half and then slowly chipped away. It finished with a frantic sprint to the line, Nared's 3-pointer that appeared to win the game in regulation, a foul on the ensuing in-bounds play after officials put 0.3 seconds back on the clock and one make and one miss from the free throw line that sent the game to overtime.
Then came the extra period, which saw Danielle Mauldin total five points and four rebounds for Saint Mary's, the final two points coming on free throws after an offensive rebound and foul left her sprawled on the court in visible pain.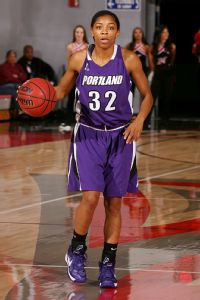 Jeff Golden/Getty ImagesJasmine Wooton's 36 points paced Portland past Pacific.
This wasn't about the last one standing. This was about the last one able to get back up.
"She is probably 5-11, and she's just a beast," Saint Mary's associate coach Tracy Sanders said Sunday of Mauldin after a night to reflect on the game. "When she turns it on, there is no one that can stop her. As far as rebounding, she just has a knack for going to get the ball. There are times where we're like, 'D, you've got to box out,' but she has a nose for the ball. She's going to go get it. She has really just become such a consistent player for us and someone we know is going to make big plays at the end of games."
Nared finished with 27 points, including the buzzer beater that nearly became the set-up for a bizarre loss. Palmer totaled 31 points in defeat. Neither was the game's best player, Mauldin earning accolades for her 24 points and 23 rebounds.
And on the opening day of conference play in the WCC, they had company.
• Portland's Jasmine Wooton scored 36 points in a win against Pacific that offered the latter anything but a hospitable welcome to its new conference. Only 10 players ever scored more points in a WCC game than Wooton.
• The Pilots needed all those points because Pacific's Kendall Kenyon nearly pulled a Mauldin. The junior finished with 22 points and 21 rebounds in a 73-65 loss, the fourth 20-rebound game of her career.
• BYU center Jennifer Hamson, who might just be the nation's best center, scored a career-best 31 points and added 11 rebounds and five blocks in a 90-72 win against Loyola Marymount.
With few marquee games across a light schedule nationwide, the WCC picked a good time to put on a show.
Then again, the WCC went 14-10 against teams from the ACC, American, Big 12, Big East, Big Ten, Pac-12 and SEC during nonconference play. BYU, Gonzaga, Saint Mary's and San Diego, the top four teams in the conference preseason poll, went 12-3 in those games. For much of the 1990s, the WCC was a multiple-bid league, six times sending two teams to the NCAA tournament between 1994 and 2000. But even Sanders -- one of the stars of that period when she won conference player of the year honors in 1998-99 while playing for current Gonzaga coach Kelly Graves at Saint Mary's -- cedes superiority to Nared, Mauldin and the rest of the players in the present.
"I think this is the highest level that it's been at," Sanders said. "I think Gonzaga really has set the bar with what they've done and how they've gone into the NCAA tournament and gone deep in the tournament. I think it has made everyone else have to step their game up."
"

Believe me, I've been on some teams in this conference where I could just show up and it was probably going to end well for us. Those days are over.

"

-- Gonzaga coach Kelly Graves
Graves never accepted the mid-major label. He didn't when he coached Sanders (then Morris) at Saint Mary's. He doesn't now after multiple trips to the Sweet 16 and one regional final. For a long time now that made his program look a little like the old UNLV men's teams, a giant among Lilliputians. En route to nine straight conference titles, an active streak, his teams went 120-10 in the league. But what Saint Mary's is and what it did Saturday is the best-case scenario for such dominance. The Gaels, and others, got better because the Bulldogs weren't going to suddenly get worse.
"Look at the coaches of the teams on top," Graves said. "All those coaches have been here for a while. They're committed to the WCC. I love that. They're coaches who like where they're at and are building something. They're not looking for what's next."
He has a point. He has been in the conference in some capacity for essentially two decades, at Gonzaga for 14 seasons. BYU is a newcomer to the league but Jeff Judkins has been its coach for 13 seasons. Saint Mary's coach Paul Thomas, whose program has now beaten Gonzaga in each of the past three seasons and is 11-1 this season, has been in that position for eight seasons, one fewer than Cindy Fisher at San Diego. The coaches with less seniority are the ones at programs trying to catch up with the leaders. That's how things look in a major conference, not a mid-major one.
Even as word spread the classic played out between them, Saint Mary's and Gonzaga readied for new challenges Monday; Kenyon and Pacific host the Bulldogs, and Saint Mary's hosts Wooton and Portland.
One game won't decide the WCC, even one as good as that which transpired Saturday.
"Believe me, I've been on some teams in this conference where I could just show up and it was probably going to end well for us," Graves said. "Those days are over."
espnW.com
Graham Hays covers college sports for espnW, including softball and soccer. Hays began with ESPN in 1999.
Undefeated teams? Unanswered questions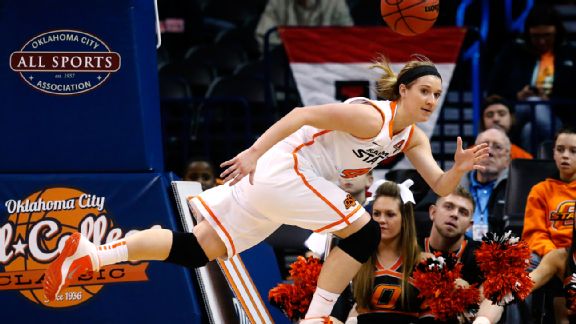 AP Photo/Sue OgrockiOklahoma State's Liz Donohoe had 21 points and 16 boards in Sunday's 42-point rout.
The AP Top 25 offers an interesting check this week on the value of scheduling. After its win against Gonzaga, Saint Mary's should be a strong contender to break into the rankings, likely at the expense of the team it beat. On the other hand, the Gaels didn't attract a single vote a week ago. Arizona State and Arkansas, the unranked teams with the most votes in the most recent poll, didn't hurt their cases in the abbreviated week, so will one of those two replace Gonzaga instead?
Arizona State, with a résumé that includes a win against North Carolina, is a deserving candidate, but from Arkansas to Indiana to ranked teams like Georgia, there were a number of teams receiving votes last week apparently based on quantity, rather than quality, of wins. For some programs, it's play at home, play low-major teams and play it safe.
If growing the game is such a sport-wide focus, should that be rewarded?
Purdue put a more laudable philosophy on display over the past week and a half, when it traveled to Green Bay and hosted Bowling Green and Central Michigan. All three were obvious challenges when they went on the schedule. All three were games in which perception-harmful losses were possible and wins wouldn't necessarily guarantee appropriate credit for the work involved. The Boilermakers won all three but couldn't rest easy until the final buzzer in any of them.
"We just don't have the fear to go in and think we're going to lose," Purdue coach Sharon Versyp said after the Green Bay game. "No one wants to go in there because they just assume they're going to lose. I've been ingrained, when I was a student-athlete [at Purdue], always plays against the best because you're going to be the best. …
"It's the only way we're going to get better. If we're beating teams by 40 or 50, we're not getting any better."
With that in mind, some weekend results offered a reminder that there are some teams we know little about beyond the number of wins they pile up.
Arkansas (13-0): To its credit, unbeaten Arkansas played Middle Tennessee this season (and will travel to Murfreesboro next season). It also went to Kansas and came away with a win. But there was a purpose behind scheduling Furman, Western Michigan, Southeast Missouri, Binghamton, Northwestern State and Tennessee Tech, with two of those games on neutral courts and the rest at home. Saturday's 100-54 victory (at home, of course) against Mississippi Valley State was more of the same. The season statistics are gaudy -- the team is shooting nearly 44 percent from the 3-point line and junior point guard Calli Berna is fifth in the nation in assist-to-turnover ratio. But does another SEC fade await?
Indiana (13-0): Coach Curt Miller was on the other side of the divide for a long time at Bowling Green, so he deserves the benefit of the doubt on this count. There are scenarios in which soft scheduling makes sense, and building up a program that was down as long as Indiana qualifies. That said, for a team that hosts Iowa this week as one of the few remaining unbeaten teams in the country, we don't know much about the Hoosiers. Sunday's victory at Xavier was one of their more challenging games, and Xavier isn't what it used to be.
Oklahoma State (11-0): I like this Oklahoma State team on paper. I picked it to win the Big 12 this season. But as January arrives, there is no more evidence to prove that wise or foolish than there was in October. A recent run of neutral-court games added some weight to the schedule, but Sunday's 90-48 win at home against Texas Pan-American was sadly emblematic of an embarrassing slate of games. All the routs reveal little about whether this team has the rebounding and scoring consistency to thrive without Toni Young.
She Also Starred

Chelsea Douglas and Dearica Hamby, Wake Forest: They're not Nared and Mauldin, but this Wake Forest duo is also a winning combination. The Demon Deacons beat Florida A&M and Florida International on back-to-back days to win a tournament hosted by the latter.
And while it was not exactly a surprise that someone went for 48 points in the championship game, given that NCAA active leading scorer Jerica Coley was involved, it was a surprise that it wasn't Coley but Douglas who got close to 50 points (Coley settled for a mere 47 points). Douglas' 48 points were plenty for the school record and came on 15-of-25 shooting, including 9-of-13 shooting from the 3-point line.
So why is she sharing the stage? Because in addition to 24 points and 12 rebounds against FIU, Hamby (pictured) led the way with 23 points, 18 rebounds, five assists and five steals a day earlier against Florida A&M.
Also spotted: Erica Martinez, College of Idaho. It would have qualified as an upset had Utah State, a high mid-major with quality wins this season, lost to the University of Idaho. Saturday's loss to the College of Idaho, an NAIA school of barely more than 1,000 students, begs for a stronger word.
Then again, maybe teams want to stop scheduling the Lady Yotes, as they are rather unfortunately nicknamed. The College of Idaho has played two games against Division I teams and is still unbeaten, the win against Utah State added to a win against Weber State in 2008.
Give Martinez a lot of credit for the latest giant slaying. The senior with Division I experience at Boise State scored a season-best 34 points and added 10 rebounds.
Team of the Week
Oregon State: This space is usually about teams that win because, simply put, there are a lot of winners in a given weekend. Still, it would be a mistake to move on without a tip of the cap to Oregon State, which put a scare into No. 2 Notre Dame a few days after that team inherited its new ranking. The Fighting Irish got out of Corvallis with a 70-58 win behind 20 points from Kayla McBride, but it was a two-possession game with minutes to play.
And if scheduling is the theme of the day, then full marks to Oregon State coach Scott Rueck. Getting the Fighting Irish to come to Oregon might have been a coup, but there is hardly a forgettable game on the schedule. Can we agree that what Oregon State gained in losses against Penn State, Florida and Creighton was of more use Sunday than anything that would have been gained in mismatch wins?
Oregon State might have been the single worst major-conference program when Rueck arrived in 2010, losses and transfers piling up at alarming rates. After Sunday's loss, he is exactly .500 in the past three seasons (and getting nine wins out of the team the season before that might have been his best effort).
When you look at Sunday's game and see 18 points from sophomore Jamie Weisner, the team's leading scorer for the season, 15 points from freshman Sydney Weise and 12 points and eight rebounds from 6-foot-6 sophomore Ruth Hamblin, it was a good day whatever the scoreboard said.
Also spotted: How many people knew Grand Canyon University was a Division I program when the season began? There are no arms going up here. But as a new year begins, the school in the Phoenix area is 9-2 against Division I opponents.
A season after playing the likes of Dixie State, Holy Names and Eastern, Northern and Western New Mexico (there is no Southern New Mexico, if you're curious), Grand Canyon this weekend added Long Island University to a list of wins that includes previously unbeaten East Carolina, and closes losses against Mississippi State and UCLA.
Before Next Weekend
Syracuse at Arizona State (Monday): There are some big-time games to kick off conference play in the SEC and Big 12, but this might be the week's most intriguing matchup. Arizona State is one of the season's most pleasant surprises, but it didn't have a lot of challenges in December. Syracuse takes care of the ball. That isn't always so for Arizona State, but it can turn its opponents over, too. So can the Orange's Rachel Coffey keep things running and get the ball to Brittney Sykes and Brianna Butler?
James Madison at North Carolina (Thursday): What better way to start 2014 than with a trip to Chapel Hill? It's a fine idea, unless you have to play a basketball game while there. The Tar Heels are operating in the black when it comes to turnovers and assists, but that breaks down as minus-16 against Tennessee, South Carolina, Nebraska, Arizona State, Illinois and UCLA, and plus-46 against Air Force, Coastal Carolina, Coppin State, Arkansas State, Charleston Southern, High Point and New Orleans.

LSU at Tennessee (Thursday): The SEC didn't skimp on the big matchups for the opening night of conference play, and any Knoxville visit by Nikki Caldwell is worth watching. Theresa Plaisance is coming off just her third game of 18 or more points. She had nine such games by New Year's a season ago and then turned in one of her best performances in a two-point loss against Tennessee. The Lady Tigers aren't going to spring an upset by hitting a lot of 3-pointers. They need points from Plaisance.
Georgia at Vanderbilt (Thursday): If it's a new year, it must be time for Georgia to play a tough road game. All right, that's not fair. The Lady Dogs played at Rutgers. And lost. They did erase some of that sting with a comfortable win against Illinois on Saturday (a game they lost on the road a season earlier). Paced by Krista Donald's 15 rebounds as she made a run at a triple-double, Georgia piled up a 21-rebound advantage on the Illini. This hasn't been a great rebounding team in recent seasons, but the schedule notwithstanding, it is reversing that trend this season.
Texas at Oklahoma State (Thursday): The SEC won't have all the fun Thursday. After playing absolutely nobody, and playing them all at home, Oklahoma State is coming off three reasonably good wins against USF, Georgia Tech and Michigan State on neutral courts. Even better news, Liz Donohoe had some of her best scoring efforts in two of those games. The Cowgirls need both Donohoe and Brittney Martin as offensive cornerstones. Meanwhile, Texas has earned its gaudy rebounding numbers against much tougher competition than those against which Oklahoma State piled up its boards.